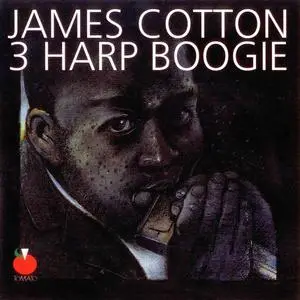 James Cotton - 3 Harp Boogie [Recorded 1963-1967] (1993)
XLD Rip | FLAC (image+.cue+log) - 146 MB | MP3 CBR 320 kbps (LAME 3.93) - 65 MB | Covers - 47 MB
Genre: Blues | RAR 3% Rec. | Label: Tomato (598.1097.20)
The music featured here is actually all right, but the set suffers due to its odd patchwork assembly. Five of the tracks come from a 1963 acoustic session recorded at an apartment on the South Side, featuring Elvin Bishop on guitar, Cotton on vocals and harmonica, Paul Butterfield on harmonica, and Billy Boy Arnold on harmonica (hence the title 3 Harp Boogie). The other four selections are taken from his 1967 Verve album James Cotton Blues Band.
Tracklist:
01. Jelly Jelly
02. South Side Boogie
03. So Glad You're Mine
04. Good Time Charly
05. Diggin' My Potatoes
06. There's Something On Your Mind
07. V-Ford Blues
08. Turn On Your Love Light
09. Dolly Put The Kettle On
Total time:
27:41
X Lossless Decoder version 20141109 (148.0)

XLD extraction logfile from 2014-11-14 13:37:12 +0200

James Cotton / 3 Harp Boogie

Used drive : GENERIC CDRCB06 (revision 1.00)
Media type : CD-Recordable

Ripper mode : XLD Secure Ripper
Disable audio cache : OK for the drive with a cache less than 1375KiB
Make use of C2 pointers : NO
Read offset correction : 102
Max retry count : 20
Gap status : Analyzed, Appended

TOC of the extracted CD
Track | Start | Length | Start sector | End sector
––––––––––––––––––––––––––––-
1 | 00:00:00 | 05:37:02 | 0 | 25276
2 | 05:37:02 | 02:33:63 | 25277 | 36814
3 | 08:10:65 | 03:06:37 | 36815 | 50801
4 | 11:17:27 | 02:27:03 | 50802 | 61829
5 | 13:44:30 | 02:07:07 | 61830 | 71361
6 | 15:51:37 | 03:41:70 | 71362 | 88006
7 | 19:33:32 | 03:56:70 | 88007 | 105776
8 | 23:30:27 | 02:23:15 | 105777 | 116516
9 | 25:53:42 | 01:47:33 | 116517 | 124574

AccurateRip Summary
Disc not found in AccurateRip DB.

All Tracks
Filename : /Users/Home/Music/my rips/james cotton -3 harp boogie-1993/James Cotton - 3 Harp Boogie.flac
Album gain : -2.45 dB
Peak : 0.946869
CRC32 hash (test run) : 6804C366
CRC32 hash : 6804C366
CRC32 hash (skip zero) : 7D8CCDC7
Statistics
Read error : 0
Jitter error (maybe fixed) : 0
Retry sector count : 0
Damaged sector count : 0

Track 01
Pre-gap length : 00:02:00

Track gain : -2.01 dB
Peak : 0.782318
CRC32 hash (test run) : CA20B62F
CRC32 hash : CA20B62F
CRC32 hash (skip zero) : 041A19A1
AccurateRip v1 signature : FF7B1E06
AccurateRip v2 signature : B52E6CEB
->Track not present in AccurateRip database.
Statistics
Read error : 0
Jitter error (maybe fixed) : 0
Retry sector count : 0
Damaged sector count : 0

Track 02

Track gain : -3.78 dB
Peak : 0.893005
CRC32 hash (test run) : 480D2DB0
CRC32 hash : 480D2DB0
CRC32 hash (skip zero) : F59E3B98
AccurateRip v1 signature : 46C41391
AccurateRip v2 signature : 783CF123
->Track not present in AccurateRip database.
Statistics
Read error : 0
Jitter error (maybe fixed) : 0
Retry sector count : 0
Damaged sector count : 0

Track 03

Track gain : -5.83 dB
Peak : 0.946869
CRC32 hash (test run) : 5B1BD64D
CRC32 hash : 5B1BD64D
CRC32 hash (skip zero) : 56D8D116
AccurateRip v1 signature : 5E90A9A8
AccurateRip v2 signature : B486107A
->Track not present in AccurateRip database.
Statistics
Read error : 0
Jitter error (maybe fixed) : 0
Retry sector count : 0
Damaged sector count : 0

Track 04

Track gain : -1.87 dB
Peak : 0.726288
CRC32 hash (test run) : 0250A0D4
CRC32 hash : 0250A0D4
CRC32 hash (skip zero) : 2738A300
AccurateRip v1 signature : 9F8FA470
AccurateRip v2 signature : 6D8833D0
->Track not present in AccurateRip database.
Statistics
Read error : 0
Jitter error (maybe fixed) : 0
Retry sector count : 0
Damaged sector count : 0

Track 05

Track gain : -4.22 dB
Peak : 0.946869
CRC32 hash (test run) : 5EBA9473
CRC32 hash : 5EBA9473
CRC32 hash (skip zero) : 0959AC11
AccurateRip v1 signature : F7E9E7B1
AccurateRip v2 signature : 0018448E
->Track not present in AccurateRip database.
Statistics
Read error : 0
Jitter error (maybe fixed) : 0
Retry sector count : 0
Damaged sector count : 0

Track 06

Track gain : -1.62 dB
Peak : 0.714600
CRC32 hash (test run) : 107BCDDA
CRC32 hash : 107BCDDA
CRC32 hash (skip zero) : F42AFBE2
AccurateRip v1 signature : 0397DE64
AccurateRip v2 signature : E3294CA2
->Track not present in AccurateRip database.
Statistics
Read error : 0
Jitter error (maybe fixed) : 0
Retry sector count : 0
Damaged sector count : 0

Track 07

Track gain : -1.34 dB
Peak : 0.857971
CRC32 hash (test run) : F0A392A7
CRC32 hash : F0A392A7
CRC32 hash (skip zero) : BCD58520
AccurateRip v1 signature : 6EC0BBDE
AccurateRip v2 signature : A81F3892
->Track not present in AccurateRip database.
Statistics
Read error : 0
Jitter error (maybe fixed) : 0
Retry sector count : 0
Damaged sector count : 0

Track 08

Track gain : -2.00 dB
Peak : 0.667755
CRC32 hash (test run) : 05E52AA1
CRC32 hash : 05E52AA1
CRC32 hash (skip zero) : 43AFF123
AccurateRip v1 signature : BEE555F5
AccurateRip v2 signature : 929DF27B
->Track not present in AccurateRip database.
Statistics
Read error : 0
Jitter error (maybe fixed) : 0
Retry sector count : 0
Damaged sector count : 0

Track 09

Track gain : -3.40 dB
Peak : 0.839691
CRC32 hash (test run) : 42998682
CRC32 hash : 42998682
CRC32 hash (skip zero) : 53ECC14E
AccurateRip v1 signature : FCEAFE5D
AccurateRip v2 signature : 89B5572D
->Track not present in AccurateRip database.
Statistics
Read error : 0
Jitter error (maybe fixed) : 0
Retry sector count : 0
Damaged sector count : 0

No errors occurred

End of status report

[CUETools log; Date: 06.02.2020 1:57:18; Version: 2.1.4]
[CTDB TOCID: Nwhm8ZHNdMHVD_mN9UlrruX.Z58-] disk not present in database.
[AccurateRip ID: 000a6402-004a2156-7d067d09] found.
Track [ CRC | V2 ] Status
01 [ff7b1e06|b52e6ceb] (0+1/1) Accurately ripped
02 [46c41391|783cf123] (0+1/1) Accurately ripped
03 [5e90a9a8|b486107a] (0+1/1) Accurately ripped
04 [9f8fa470|6d8833d0] (0+1/1) Accurately ripped
05 [f7e9e7b1|0018448e] (0+1/1) Accurately ripped
06 [0397de64|e3294ca2] (0+1/1) Accurately ripped
07 [6ec0bbde|a81f3892] (0+1/1) Accurately ripped
08 [bee555f5|929df27b] (0+1/1) Accurately ripped
09 [fceafe5d|89b5572d] (0+1/1) Accurately ripped

Track Peak [ CRC32 ] [W/O NULL]
– 94,6 [6804C366] [7D8CCDC7]
01 78,2 [CA20B62F] [041A19A1]
02 89,3 [480D2DB0] [F59E3B98]
03 94,6 [5B1BD64D] [56D8D116]
04 72,6 [0250A0D4] [2738A300]
05 94,6 [5EBA9473] [0959AC11]
06 71,4 [107BCDDA] [F42AFBE2]
07 85,7 [F0A392A7] [BCD58520]
08 66,7 [05E52AA1] [43AFF123]
09 83,9 [42998682] [53ECC14E]
Thanks to
igaannSee also:
James Cotton - High Compression (1984)
James Cotton, Junior Wells, Ca...y Branch - Harp Attack! (1990)
James Cotton - Giant (2010)
James Cotton - Cotton Mouth Man (2013)