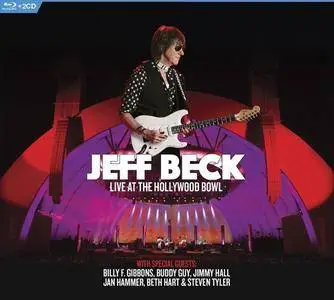 Jeff Beck - Live At The Hollywood Bowl (2017)
Blu-ray: MPEG-4 AVC 1920*1080i, 29,970 fps, 16:9, High Profile 4.1
DTS-HD MA 5.1, 48 kHz, 5237 kbps, 24-bit / LPCM 2.0 48 kHz, 2304 kbps, 24-bit
Blues Rock, Hard Rock | 01:37:09 | ~ 32.58 Gb
In the summer of 2016, guitar virtuoso Jeff Beck celebrated 50 years of his musical career with an extraordinary concert at the famous Hollywood Bowl. Beck set the stage ablaze with incredible live versions of "For Your Love", "Beck's Bolero", "'Cause We've Ended As Lovers", "Big Block", "Over Under Sideways Down", "A Day In The Life", "Blue Wind", and more. The night also included a legendary list of special guests including Steven Tyler, Billy F. Gibbons, Jan Hammer, Beth Hart, Jimmy Hall and the great Buddy Guy.
Over the course of Beck's illustrious 50-year career, the trailblazing guitarist has earned many accolades. He's been inducted into the Rock & Roll Hall of Fame – twice! First, as a member of the Yardbirds in 1992 and then again, as a solo artist in 2009. Rolling Stone Magazine ranked him as one of the "100 Greatest Guitarists of All Time" and he has earned a total of 8 Grammy Awards during his long career. From his time with The Yardbirds, to the Jeff Beck Group and his solo career, Jeff Beck's sound and stylistic exploration has mesmerized fans and critics worldwide. This concert captures his musical journey, with a set list spanning from his first Yardbirds' recordings to recent tracks from 2016's Loud Hailer. As the evening progressed, Beck was joined onstage by those legendary peers. The show climaxed with all guests delivering a stirring encore performance of "Purple Rain" in tribute to Prince, who had passed away a few months before the concert.
Jeff Beck - Live At The Hollywood Bowl (2017):
Tracklist:
1 The Revolution Will Be Televised
2 Over Under Sideways Down
3 Heart Full Of Soul
4 For Your Love
5 Beck's Bolero
6 Rice Pudding / Morning Dew
7 Freeway Jam
8 You Never Know
9 'Cause We've Ended As Lovers
10 Star Cycle
11 Blue Windr
12 Big Block
13 I'd Rather Go Blind
14 Let Me Love You
15 Live In The Dark
16 Scared For The Children
17 Rough Boy
18 Train Kept A-Rollin'
19 Shapes Of Things
20 A Day In The Life
21 Purple Rain
Disc Title: Jeff Beck.Live At The Hollywood Bowl.2017.BD1080i
Disc Size: 33 414 506 111 bytes
Protection: AACS
BD-Java: No
BDInfo: 0.5.8
Notes:
BDINFO HOME:
Cinema Squid
http://www.cinemasquid.com/blu-ray/tools/bdinfo
INCLUDES FORUMS REPORT FOR:
AVS Forum Blu-ray Audio and Video Specifications Thread
http://www.avsforum.com/avs-vb/showthread.php?t=1155731
WARNING: Report is incomplete because: Scan has not been run.
********************
PLAYLIST: 00000.MPLS
********************
<–- BEGIN FORUMS PASTE –->

                                                                                                                Total   Video                                             
Title                                                           Codec   Length  Movie Size      Disc Size       Bitrate Bitrate Main Audio Track                          Secondary Audio Track
-----                                                           ------  ------- --------------  --------------  ------- ------- ------------------                        ---------------------
00000.MPLS                                                      AVC     1:37:09 0               33 414 506 111  0,00    0,00    LPCM 2.0 2304Kbps (48kHz/24-bit)          DTS-HD Master 5.1 (48kHz/24-bit)



DISC INFO:

Disc Title:     Jeff Beck.Live At The Hollywood Bowl.2017.BD1080i
Disc Size:      33 414 506 111 bytes
Protection:     AACS
BD-Java:        No
BDInfo:         0.5.8

PLAYLIST REPORT:

Name:                   00000.MPLS
Length:                 1:37:09.990 (h:m:s.ms)
Size:                   0 bytes
Total Bitrate:          0,00 Mbps

VIDEO:

Codec                   Bitrate             Description     
-----                   -------             -----------     
MPEG-4 AVC Video        0 kbps              1080i / 29,970 fps / 16:9 / High Profile 4.1

AUDIO:

Codec                           Language        Bitrate         Description     
-----                           --------        -------         -----------     
LPCM Audio                      English         2304 kbps       2.0 / 48 kHz / 2304 kbps / 24-bit
DTS-HD Master Audio             English         0 kbps          5.1 / 48 kHz / 24-bit (DTS Core: 5.1 / 48 kHz / 1509 kbps / 24-bit)

FILES:

Name            Time In         Length          Size            Total Bitrate   
----            -------         ------          ----            -------------   
00000.M2TS      0:00:00.000     1:37:08.989     0               0               
00300.M2TS      1:37:08.989     0:00:01.000     0               0               

CHAPTERS:

Number          Time In         Length          Avg Video Rate  Max 1-Sec Rate  Max 1-Sec Time  Max 5-Sec Rate  Max 5-Sec Time  Max 10Sec Rate  Max 10Sec Time  Avg Frame Size  Max Frame Size  Max Frame Time  
------          -------         ------          --------------  --------------  --------------  --------------  --------------  --------------  --------------  --------------  --------------  --------------  
1               0:00:00.000     0:03:40.153     0 kbps          0 kbps          00:00:00.000    0 kbps          00:00:00.000    0 kbps          00:00:00.000    0 bytes         0 bytes         00:00:00.000    
2               0:03:40.153     0:02:27.480     0 kbps          0 kbps          00:00:00.000    0 kbps          00:00:00.000    0 kbps          00:00:00.000    0 bytes         0 bytes         00:00:00.000    
3               0:06:07.633     0:01:55.315     0 kbps          0 kbps          00:00:00.000    0 kbps          00:00:00.000    0 kbps          00:00:00.000    0 bytes         0 bytes         00:00:00.000    
4               0:08:02.949     0:02:39.092     0 kbps          0 kbps          00:00:00.000    0 kbps          00:00:00.000    0 kbps          00:00:00.000    0 bytes         0 bytes         00:00:00.000    
5               0:10:42.041     0:03:30.276     0 kbps          0 kbps          00:00:00.000    0 kbps          00:00:00.000    0 kbps          00:00:00.000    0 bytes         0 bytes         00:00:00.000    
6               0:14:12.318     0:05:29.395     0 kbps          0 kbps          00:00:00.000    0 kbps          00:00:00.000    0 kbps          00:00:00.000    0 bytes         0 bytes         00:00:00.000    
7               0:19:41.713     0:05:02.201     0 kbps          0 kbps          00:00:00.000    0 kbps          00:00:00.000    0 kbps          00:00:00.000    0 bytes         0 bytes         00:00:00.000    
8               0:24:43.915     0:02:48.067     0 kbps          0 kbps          00:00:00.000    0 kbps          00:00:00.000    0 kbps          00:00:00.000    0 bytes         0 bytes         00:00:00.000    
9               0:27:31.983     0:04:02.775     0 kbps          0 kbps          00:00:00.000    0 kbps          00:00:00.000    0 kbps          00:00:00.000    0 bytes         0 bytes         00:00:00.000    
10              0:31:34.759     0:05:59.125     0 kbps          0 kbps          00:00:00.000    0 kbps          00:00:00.000    0 kbps          00:00:00.000    0 bytes         0 bytes         00:00:00.000    
11              0:37:33.884     0:04:24.998     0 kbps          0 kbps          00:00:00.000    0 kbps          00:00:00.000    0 kbps          00:00:00.000    0 bytes         0 bytes         00:00:00.000    
12              0:41:58.883     0:05:27.193     0 kbps          0 kbps          00:00:00.000    0 kbps          00:00:00.000    0 kbps          00:00:00.000    0 bytes         0 bytes         00:00:00.000    
13              0:47:26.076     0:06:49.008     0 kbps          0 kbps          00:00:00.000    0 kbps          00:00:00.000    0 kbps          00:00:00.000    0 bytes         0 bytes         00:00:00.000    
14              0:54:15.085     0:04:47.854     0 kbps          0 kbps          00:00:00.000    0 kbps          00:00:00.000    0 kbps          00:00:00.000    0 bytes         0 bytes         00:00:00.000    
15              0:59:02.939     0:04:19.125     0 kbps          0 kbps          00:00:00.000    0 kbps          00:00:00.000    0 kbps          00:00:00.000    0 bytes         0 bytes         00:00:00.000    
16              1:03:22.064     0:07:14.967     0 kbps          0 kbps          00:00:00.000    0 kbps          00:00:00.000    0 kbps          00:00:00.000    0 bytes         0 bytes         00:00:00.000    
17              1:10:37.032     0:05:24.924     0 kbps          0 kbps          00:00:00.000    0 kbps          00:00:00.000    0 kbps          00:00:00.000    0 bytes         0 bytes         00:00:00.000    
18              1:16:01.957     0:03:25.004     0 kbps          0 kbps          00:00:00.000    0 kbps          00:00:00.000    0 kbps          00:00:00.000    0 bytes         0 bytes         00:00:00.000    
19              1:19:26.962     0:03:11.057     0 kbps          0 kbps          00:00:00.000    0 kbps          00:00:00.000    0 kbps          00:00:00.000    0 bytes         0 bytes         00:00:00.000    
20              1:22:38.019     0:06:01.961     0 kbps          0 kbps          00:00:00.000    0 kbps          00:00:00.000    0 kbps          00:00:00.000    0 bytes         0 bytes         00:00:00.000    
21              1:28:39.981     0:06:27.987     0 kbps          0 kbps          00:00:00.000    0 kbps          00:00:00.000    0 kbps          00:00:00.000    0 bytes         0 bytes         00:00:00.000    
22              1:35:07.968     0:02:01.020     0 kbps          0 kbps          00:00:00.000    0 kbps          00:00:00.000    0 kbps          00:00:00.000    0 bytes         0 bytes         00:00:00.000    
23              1:37:08.989     0:00:01.001     0 kbps          0 kbps          00:00:00.000    0 kbps          00:00:00.000    0 kbps          00:00:00.000    0 bytes         0 bytes         00:00:00.000    

STREAM DIAGNOSTICS:

File            PID             Type            Codec           Language                Seconds                 Bitrate                 Bytes           Packets         
----            ---             ----            -----           --------                --------------          --------------          -------------   -----           
00000.M2TS      4113 (0x1011)   0x1B            AVC                                     1,001                   0                       0               0               
00000.M2TS      4352 (0x1100)   0x80            LPCM            eng (English)           1,001                   0                       0               0               
00000.M2TS      4353 (0x1101)   0x86            DTS-HD MA       eng (English)           1,001                   0                       0               0               
00300.M2TS      4113 (0x1011)   0x1B            AVC                                     0                       0                       0               0               
00300.M2TS      4352 (0x1100)   0x80            LPCM            eng (English)           0                       0                       0               0               
00300.M2TS      4353 (0x1101)   0x86            DTS-HD MA       eng (English)           0                       0                       0               0               


<–– END FORUMS PASTE ––>
QUICK SUMMARY:
Disc Title: Jeff Beck.Live At The Hollywood Bowl.2017.BD1080i
Disc Size: 33 414 506 111 bytes
Protection: AACS
BD-Java: No
Playlist: 00000.MPLS
Size: 0 bytes
Length: 1:37:09.990
Total Bitrate: 0,00 Mbps
Video: MPEG-4 AVC Video / 0 kbps / 1080i / 29,970 fps / 16:9 / High Profile 4.1
Audio: English / LPCM Audio / 2.0 / 48 kHz / 2304 kbps / 24-bit
Audio: English / DTS-HD Master Audio / 5.1 / 48 kHz / 24-bit (DTS Core: 5.1 / 48 kHz / 1509 kbps / 24-bit)
********************
PLAYLIST: 00200.MPLS
********************
<–- BEGIN FORUMS PASTE –->

                                                                                                                Total   Video                                             
Title                                                           Codec   Length  Movie Size      Disc Size       Bitrate Bitrate Main Audio Track                          Secondary Audio Track
-----                                                           ------  ------- --------------  --------------  ------- ------- ------------------                        ---------------------
00200.MPLS                                                      AVC     0:00:20 0               33 414 506 111  0,00    0,00    DD AC3 5.1 640Kbps                        



DISC INFO:

Disc Title:     Jeff Beck.Live At The Hollywood Bowl.2017.BD1080i
Disc Size:      33 414 506 111 bytes
Protection:     AACS
BD-Java:        No
BDInfo:         0.5.8

PLAYLIST REPORT:

Name:                   00200.MPLS
Length:                 0:00:20.053 (h:m:s.ms)
Size:                   0 bytes
Total Bitrate:          0,00 Mbps

VIDEO:

Codec                   Bitrate             Description     
-----                   -------             -----------     
MPEG-4 AVC Video        0 kbps              1080i / 29,970 fps / 16:9 / High Profile 4.1

AUDIO:

Codec                           Language        Bitrate         Description     
-----                           --------        -------         -----------     
Dolby Digital Audio             English         640 kbps        5.1 / 48 kHz / 640 kbps

FILES:

Name            Time In         Length          Size            Total Bitrate   
----            -------         ------          ---- 			  			 	   			 	  		  		  		  		  		  		  		  		   			 	   		 	    		 	    	 			   		  	   		      		      	 			   		 	    		      	 			   		   	  			  	  		 	 				            -------------   
00005.M2TS      0:00:00.000     0:00:20.053     0               0               

CHAPTERS:

Number          Time In         Length          Avg Video Rate  Max 1-Sec Rate  Max 1-Sec Time  Max 5-Sec Rate  Max 5-Sec Time  Max 10Sec Rate  Max 10Sec Time  Avg Frame Size  Max Frame Size  Max Frame Time  
------          -------         ------          --------------  --------------  --------------  --------------  --------------  --------------  --------------  --------------  --------------  --------------  
1               0:00:00.000     0:00:20.053     0 kbps          0 kbps          00:00:00.000    0 kbps          00:00:00.000    0 kbps          00:00:00.000    0 bytes         0 bytes         00:00:00.000    

STREAM DIAGNOSTICS:

File            PID             Type            Codec           Language                Seconds                 Bitrate                 Bytes           Packets         
----            ---             ----            -----           --------                --------------          --------------          -------------   -----           
00005.M2TS      4113 (0x1011)   0x1B            AVC                                     0                       0                       0               0               
00005.M2TS      4352 (0x1100)   0x81            AC3             eng (English)           0                       0                       0               0               


<–– END FORUMS PASTE ––>
QUICK SUMMARY:
Disc Title: Jeff Beck.Live At The Hollywood Bowl.2017.BD1080i
Disc Size: 33 414 506 111 bytes
Protection: AACS
BD-Java: No
Playlist: 00200.MPLS
Size: 0 bytes
Length: 0:00:20.053
Total Bitrate: 0,00 Mbps
Video: MPEG-4 AVC Video / 0 kbps / 1080i / 29,970 fps / 16:9 / High Profile 4.1
Audio: English / Dolby Digital Audio / 5.1 / 48 kHz / 640 kbps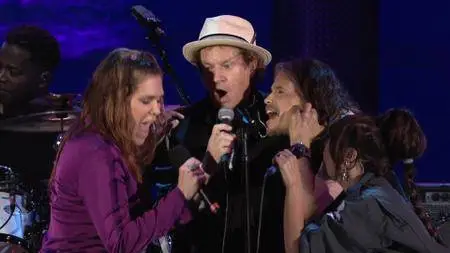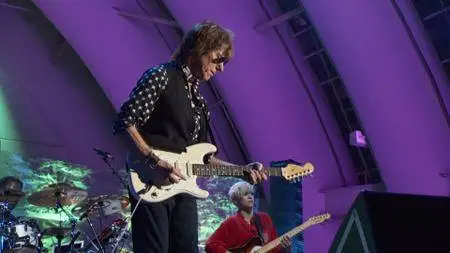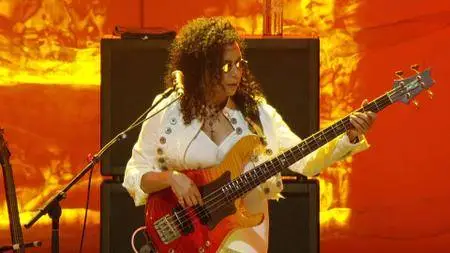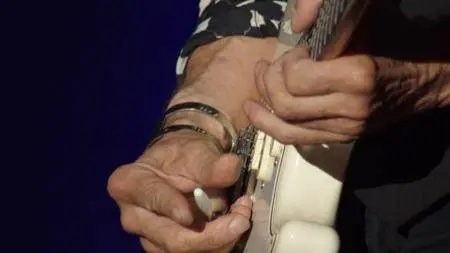 All thanks go to the original releaser