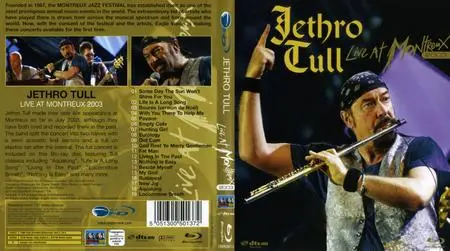 Iron Maiden - The Book Of Souls: Live Chapter (2017)
MKV: MPEG4 Video (H264) 1920x1080, 25fps, 10.3 Mb/s
PCM 48000Hz, stereo, 2304kbps / FLAC 48000Hz, stereo, 1007kbps
Heavy Metal | 01:56:45 | ~ 11.61 Gb
Jethro Tull is one of the most successful British acts of all time with a career reaching from the late sixties to the present day.
In 2003 they made their first (and so far, only) visit to the Montreux Festival.
Split into a semi-acoustic first half and a full on electric second half, the concert was a triumph combining newer songs such as "Dot Com", "Pavane" and "Budapest" with classic favorites.
As ever Ian Anderson leads from the front with his instantly recognizable voice and inimitable style of one-legged flute playing.
Jethro Tull - Live At Montreux 2003 (2008):
Tracklist BD:
01. Some Day The Sun Won't Shine For You
02. Life Is A Long Song
03. Bouree (Version de Noel)
04. With You There To Help Me
05. Pavane
06. Empty Cafe
07. Hunting Girl
08. Eurology
09. Dot Com
10. God Rest Ye Merry Gentlemen
11. Fat Man
12. Living In The Past
13. Nothing Is Easy
14. Beside Myself
15. My God
16. Budapest
17. New Jig
18. Aqualung
19. Locomotive Breath
Disc Title: Jethro Tull - Live at Montreux 2003 - BD
Disc Size: 25 016 591 928 bytes
Protection: AACS
BD-Java: No
Extras: 50Hz Content
BDInfo: 0.7.3.3
Notes:
BDINFO HOME:
Cinema Squid
http://www.cinemasquid.com/blu-ray/tools/bdinfo
INCLUDES FORUMS REPORT FOR:
AVS Forum Blu-ray Audio and Video Specifications Thread
http://www.avsforum.com/avs-vb/showthread.php?t=1155731
WARNING: Report is incomplete because: Scan has not been run.
********************
PLAYLIST: 00004.MPLS
********************
<–- BEGIN FORUMS PASTE –->

                                                                                                                Total   Video                                             
Title                                                           Codec   Length  Movie Size      Disc Size       Bitrate Bitrate Main Audio Track                          Secondary Audio Track
-----                                                           ------  ------- --------------  --------------  ------- ------- ------------------                        ---------------------
00004.MPLS                                                      AVC     1:56:38 0               25 016 591 928  0,00    0,00    LPCM 2.0 1536Kbps (48kHz/16-bit)          DD AC3 5.1 448Kbps



DISC INFO:

Disc Title:     Jethro Tull - Live at Montreux 2003 - BD
Disc Size:      25 016 591 928 bytes
Protection:     AACS
BD-Java:        No
Extras:         50Hz Content
BDInfo:         0.7.3.3

PLAYLIST REPORT:

Name:                   00004.MPLS
Length:                 1:56:38.992 (h:m:s.ms)
Size:                   0 bytes
Total Bitrate:          0,00 Mbps

VIDEO:

Codec                   Bitrate             Description     
-----                   -------             -----------     
MPEG-4 AVC Video        0 kbps              1080i / 29,970 fps / 16:9 / High Profile 4.1

AUDIO:

Codec                           Language        Bitrate         Description     
-----                           --------        -------         -----------     
LPCM Audio                      English         1536 kbps       2.0 / 48 kHz / 1536 kbps / 16-bit
Dolby Digital Audio             English         448 kbps        5.1 / 48 kHz / 448 kbps
DTS-HD Master Audio             English         0 kbps          5.1 / 48 kHz / 24-bit (DTS Core: 5.1 / 48 kHz / 1509 kbps / 24-bit)

FILES:

Name            Time In         Length          Size            Total Bitrate   
----            -------         ------          ----            -------------   
00005.M2TS      0:00:00.000     1:56:37.991     0               0               
00006.M2TS      1:56:37.991     0:00:01.000     0               0               

CHAPTERS:

Number          Time In         Length          Avg Video Rate  Max 1-Sec Rate  Max 1-Sec Time  Max 5-Sec Rate  Max 5-Sec Time  Max 10Sec Rate  Max 10Sec Time  Avg Frame Size  Max Frame Size  Max Frame Time  
------          -------         ------          --------------  --------------  --------------  --------------  --------------  --------------  --------------  --------------  --------------  --------------  
1               0:00:00.000     0:05:20.987     0 kbps          0 kbps          00:00:00.000    0 kbps          00:00:00.000    0 kbps          00:00:00.000    0 bytes         0 bytes         00:00:00.000    
2               0:05:20.987     0:04:21.260     0 kbps          0 kbps          00:00:00.000    0 kbps          00:00:00.000    0 kbps          00:00:00.000    0 bytes         0 bytes         00:00:00.000    
3               0:09:42.248     0:05:25.224     0 kbps          0 kbps          00:00:00.000    0 kbps          00:00:00.000    0 kbps          00:00:00.000    0 bytes         0 bytes         00:00:00.000    
4               0:15:07.473     0:07:37.523     0 kbps          0 kbps          00:00:00.000    0 kbps          00:00:00.000    0 kbps          00:00:00.000    0 bytes         0 bytes         00:00:00.000    
5               0:22:44.996     0:05:14.314     0 kbps          0 kbps          00:00:00.000    0 kbps          00:00:00.000    0 kbps          00:00:00.000    0 bytes         0 bytes         00:00:00.000    
6               0:27:59.310     0:03:08.855     0 kbps          0 kbps          00:00:00.000    0 kbps          00:00:00.000    0 kbps          00:00:00.000    0 bytes         0 bytes         00:00:00.000    
7               0:31:08.166     0:06:30.690     0 kbps          0 kbps          00:00:00.000    0 kbps          00:00:00.000    0 kbps          00:00:00.000    0 bytes         0 bytes         00:00:00.000    
8               0:37:38.856     0:04:14.988     0 kbps          0 kbps          00:00:00.000    0 kbps          00:00:00.000    0 kbps          00:00:00.000    0 bytes         0 bytes         00:00:00.000    
9               0:41:53.844     0:05:19.552     0 kbps          0 kbps          00:00:00.000    0 kbps          00:00:00.000    0 kbps          00:00:00.000    0 bytes         0 bytes         00:00:00.000    
10              0:47:13.397     0:04:58.665     0 kbps          0 kbps          00:00:00.000    0 kbps          00:00:00.000    0 kbps          00:00:00.000    0 bytes         0 bytes         00:00:00.000    
11              0:52:12.062     0:05:05.972     0 kbps          0 kbps          00:00:00.000    0 kbps          00:00:00.000    0 kbps          00:00:00.000    0 bytes         0 bytes         00:00:00.000    
12              0:57:18.034     0:06:49.175     0 kbps          0 kbps          00:00:00.000    0 kbps          00:00:00.000    0 kbps          00:00:00.000    0 bytes         0 bytes         00:00:00.000    
13              1:04:07.210     0:05:49.115     0 kbps          0 kbps          00:00:00.000    0 kbps          00:00:00.000    0 kbps          00:00:00.000    0 bytes         0 bytes         00:00:00.000    
14              1:09:56.325     0:06:42.468     0 kbps          0 kbps          00:00:00.000    0 kbps          00:00:00.000    0 kbps          00:00:00.000    0 bytes         0 bytes         00:00:00.000    
15              1:16:38.794     0:08:29.008     0 kbps          0 kbps          00:00:00.000    0 kbps          00:00:00.000    0 kbps          00:00:00.000    0 bytes         0 bytes         00:00:00.000    
16              1:25:07.802     0:11:28.287     0 kbps          0 kbps          00:00:00.000    0 kbps          00:00:00.000    0 kbps          00:00:00.000    0 bytes         0 bytes         00:00:00.000    
17              1:36:36.090     0:01:29.289     0 kbps          0 kbps          00:00:00.000    0 kbps          00:00:00.000    0 kbps          00:00:00.000    0 bytes         0 bytes         00:00:00.000    
18              1:38:05.379     0:09:26.399     0 kbps          0 kbps          00:00:00.000    0 kbps          00:00:00.000    0 kbps          00:00:00.000    0 bytes         0 bytes         00:00:00.000    
19              1:47:31.778     0:09:06.212     0 kbps          0 kbps          00:00:00.000    0 kbps          00:00:00.000    0 kbps          00:00:00.000    0 bytes         0 bytes         00:00:00.000    
20              1:56:37.991     0:00:01.001     0 kbps          0 kbps          00:00:00.000    0 kbps          00:00:00.000    0 kbps          00:00:00.000    0 bytes         0 bytes         00:00:00.000    

STREAM DIAGNOSTICS:

File            PID             Type            Codec           Language                Seconds                 Bitrate                 Bytes           Packets         
----            ---             ----            -----           --------                --------------          --------------          -------------   -----           
00005.M2TS      4113 (0x1011)   0x1B            AVC                                     0                       0                       0               0               
00005.M2TS      4352 (0x1100)   0x80            LPCM            eng (English)           0                       0                       0               0               
00005.M2TS      4353 (0x1101)   0x81            AC3             eng (English)           0                       0                       0               0               
00005.M2TS      4354 (0x1102)   0x86            DTS-HD MA       eng (English)           0                       0                       0               0               
00006.M2TS      4113 (0x1011)   0x1B            AVC                                     0                       0                       0               0               


<–– END FORUMS PASTE ––>
QUICK SUMMARY:
Disc Title: Jethro Tull - Live at Montreux 2003 - BD
Disc Size: 25 016 591 928 bytes
Protection: AACS
BD-Java: No
Playlist: 00004.MPLS
Size: 0 bytes
Length: 1:56:38.992
Total Bitrate: 0,00 Mbps
Video: MPEG-4 AVC Video / 0 kbps / 1080i / 29,970 fps / 16:9 / High Profile 4.1
Audio: English / LPCM Audio / 2.0 / 48 kHz / 1536 kbps / 16-bit
Audio: English / Dolby Digital Audio / 5.1 / 48 kHz / 448 kbps
Audio: English / DTS-HD Master Audio / 5.1 / 48 kHz / 24-bit (DTS Core: 5.1 / 48 kHz / 1509 kbps / 24-bit)
Tracklist DVD:
Some Day The Sun Won't Shine For You
Life Is A Long Song
Bourée (Version de Noël)
With You There To Help Me
Pavane
Empty Café
Hunting Girl
Eurology
Dot Com
God Rest Ye Merry Gentlemen
Fat Man
Living In The Past
Nothing Is Easy
Beside Myself
My God
Budapest
New Jig
Aqualung
Locomotive Breath
Cheerio
Title: Jethro Tull - Live at Montreux 2003 - DVD
Size: 7.46 Gb ( 7 825 754,00 KBytes ) - DVD-9
Enabled regions: 1, 2, 3, 4, 5, 6, 7, 8

VTS_01 :
Play Length: 00:00:25
Video: PAL 16:9 (720x576) VBR, Auto Letterboxed
Audio:
English (LinearPCM, 2 ch)

VTS_02 :
Play Length: 01:56:39
Video: PAL 16:9 (720x576) VBR, Auto Letterboxed
Audio:
English (LinearPCM, 2 ch)
English (Dolby AC3, 6 ch)
English (DTS, 6 ch)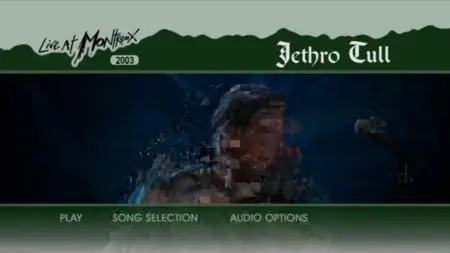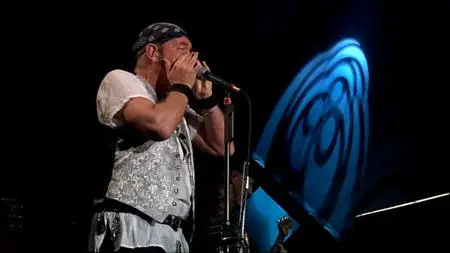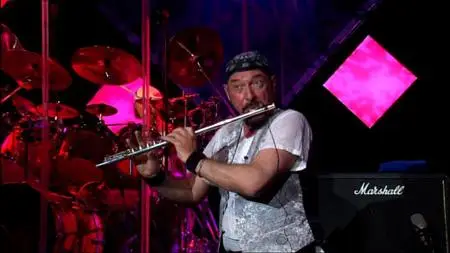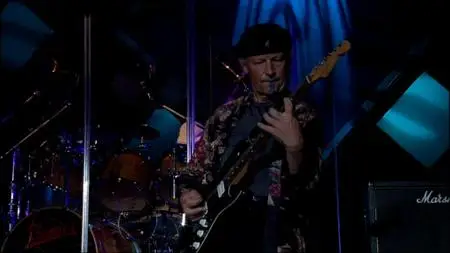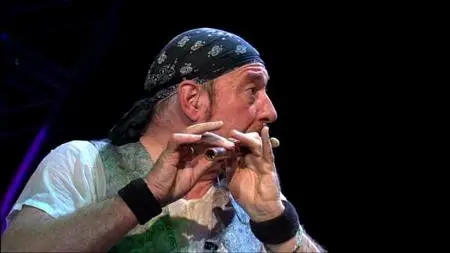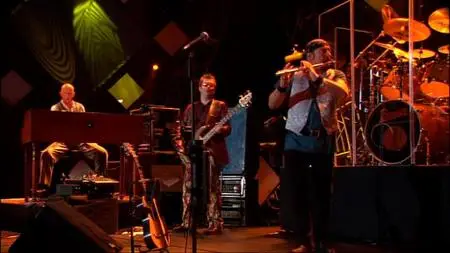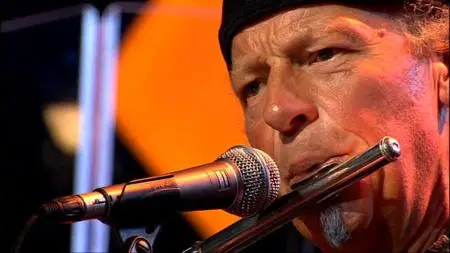 All thanks go to the original releaser
Jethro Tull
in my Blog
Download Jethro Tull - Live At Montreux 2003 (2008):