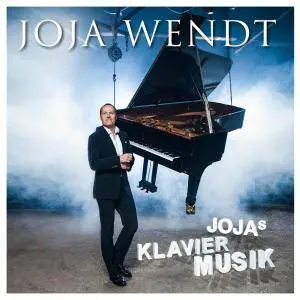 Joja Wendt - Jojas Klaviermusik (2016)
Smooth Jazz, Swing | MP3 320 kbps | 59:31 | ~137 Mb
Label: Electrola (Universal Music) | Tracks: 16 | Rls.date: 2016
Joja Wendt's name is synonymous with the instrument with which he grew up. He is the pianist. Not only in his homeland, but also beyond: from South Africa via Singapore, China and Russia to the stages of New York's Carnegie Hall and other legendary venues, his concert tours have led him. Joja Wendt has traveled the world with piano music - this alone is remarkable. What is unique is that he gained this success not only with dazzling technique, with virtuoso interpretation and as a charismatic entertainer. But also with his very own music. Joja Wendt has collected ideas and pictures, formulated them in sound and put them on stage in many hundreds of concerts.
And after many years of collecting, he finally made an album out of it again: "Joja Wendt's piano music" is as simple as universal. And the music is based on old compositional elements, as well as on Joja Wendt's watchful look for the now. In concert with the Babelsberg film orchestra, conducted by his former fellow student Jörg Achim Keller, they can hear jazz, blues and world music without using a solid genre. It is audible Joja Wendt: today's music of classical beauty.
TRACKLIST
01. Helix 04:04
02. Fuer Elisa 03:29
03. Fulanga (Regenlied) 03:38
04. Eskimo 03:23
05. Pacifique 03:51
06. Der Filius 03:57
07. Just Married 04:35
08. Weihnachtslied 02:39
09. Requiem 02:36
10. L'Eglise 03:54
11. Panta Rhei 04:23
12. Mit 88 Tasten Um Die Welt 04:05
13. Geisterhaus 03:43
14. Mandala 04:14
15. Ping Pong Song 03:14
16. Das Konzert 03:46