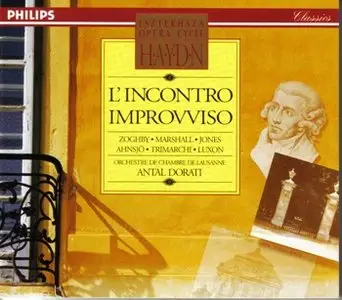 Joseph Haydn - L'Incontro Improvviso
DbPowerAmp, FLAC (tracks, no cue, no log) + MP3 (320 kbps CBR) | 838.98 M (FLAC) + 458.91 Mb (MP3) | 180:36 minutes | Full artwork & covers.
classical, opera | Philips Classics Records, Recorded at the Grande Salle, Epalinges, Switzerland in September 1977. Cd issued in 1993
L'incontro improvviso (The unexpected encounter) is an opera in three acts by Joseph Haydn first performed at Eszterháza on 29 August 1775 to mark the four-day visit of Archduke Ferdinand, Habsburg governor of Milan and his consort Maria Beatrice d'Este. The opera is designated a dramma giocoso (a comic opera) and is an example of the then Austrian fascination with Turkish subjects. The libretto by Carl Friberth was adapted and translated from the French opera-comique by Louis Hurtaut Dancourt, and previously set by Gluck in 1764 as the La rencontre imprévue. In keeping with Italian practice, Friberth constructed longer buffo finale texts at the end of Acts I and II. Although not Haydn's greatest success in the operatic field, L'incontro improvviso does include some high-class and varied music. As well as the 'Turkish' music, amusing scenes for Osmin and Calandro, the 'painting' aria in the last act where Ali describes the contents of a picture with orchestral help, and another aria "Senti, al buio pian" for Osmin with orchestral colouring, there is Italian lyricism evident in arias for Ali ("Deh! se in ciel pietade avete") and Rezia ("Or vicina a te"). Act II has two powerful arias for sopranos; Haydn detached Rezia's "Or vicino a te" and published separately in 1783. The superb first act "Mi sembra un sogno" contrasts a trio for female voices with muted violins, cors anglais and horns is a highlight. The work is scored for an orchestra consisting of 2 oboes (doubling cors anglais), 2 bassoons, 2 trumpets, 2 horns, timpani, percussion, violins I & II, viola, cello, bass and continuo. It is not known if any further performances followed the Eszterháza production, although a German translation was made for Bratislava. Danish musicologist Jens Peter Larsen discovered the autograph score in Leningrad in 1954, and the opera was subsequently broadcast in Russian in 1956. It was first staged in the UK at the Camden Festival in 1966. The first complete recording was made by Philips in 1980 in association with the Radio Suisse Romande and the European Broadcasting Union, conducted by Antal Dorati.
Orchestre de Chambre de Lausanne
Antal Dorati: conductor
Claes H. Ahnsjo: Ali
Linda Zoghby: Rezia
Margaret Marshall: Balkis
Delia Jones: Dardane
Domenico Trimarchi: Osmin
Benjamin Luxon: Calandro
cd1
01. No.1 – Ouverture (7:48)
02. Atto primo: No.2: Introduzione (Che bevanda) (5:18)
03. Atto primo: No.3. Recitativo (Ancor io la mia parte farò) (0:25)
04. Atto primo: No.4. Canzonetta (L'amore è un gran briccone) (1:27)
05. Atto primo: No.5. Recitativo (Eccoci finalmente) (0:42)
06. Atto primo: No.6. Aria (Castagno, castagna) (3:09)
07. Atto primo: No.7. Recitativo (Che il diavolo vi porti) (1:38)
08. Atto primo: No.8. Aria (Noi pariamo santarelli) (4:40)
09. Atto primo: No.9. Recitativo (Via dunque, sior buffone!) (0:54)
10. Atto primo: No.10. Aria. (Quanto affetto mi porprende) (5:58)
11. Atto primo: No.11. Recitativo (Care, entrambe amiche mie) (0:51)
12. Atto primo: No.12. Terzetto (Mi sembra un sogno) (7:59)
13. Atto primo: No.13. Recitativo (Indarno m'affanno di veder Osmin) (3:56)
14. Atto primo: No.14. Aria (Deh! se in ciel pietade avete) (5:16)
15. Atto primo: No.15. Recitativo (Per ora insegnameti il secreto) (0:58)
16. Atto primo: No.16. Duetto (Castagno, castagna) (2:03)
17. Atto primo: No.17. Recitativo (Osmin! Io ti conosco) (1:48)
18. Atto primo: No.18. Aria (Che siano i Calandri) (3:57)
19. Atto primo: No.19. Recitativo (È quello, che sta con il Calandro?) (1:34)
20. Atto primo: No.20. Aria (Siam femmine buonine) (4:38)
21. Atto primo: No.21. Recitativo (Venite, signor) (0:25)
22. Atto primo: No.22. Finale (Sangue d'un ginocchio storto!) (5:22)
cd2
01. Atto secondo: No.23. Recitativo (Che ne dite, signor) (1:24)
02. Atto secondo: No.24 (Canzonetta (Quivi in un seren gentile) (4:51)
03. Atto secondo: No.25. Recitativo (Prendi, Osmin) (1:05)
04. Atto secondo: No.26. Aria (Ho promesso oprar destrezza) (5:12)
05. Atto secondo: No.27. Recitativo (Giusti Cieli! Che miro?) (2:00)
06. Atto secondo: No.28 Canzonetta (Non piangete, putte care) (2:05)
07. Atto secondo: Recitativo (Ma come arrivaste qui in Cairo?) (1:18)
08. Atto secondo: No.29. Aria (Or vicina a te) (5:16)
09. Atto secondo: Recitativo (Prence, siete in cima) (0:30)
10. Atto secondo: No.30. Aria (Il guerrier con armi avvolto) (5:13)
11. Atto secondo: No.31. Recitativo (Felice amanti, andate) (0:40)
12. Atto secondo: No.32. Aria (Ad acquistar già volo) (5:12)
13. Atto secondo: No.33. Recitativo (Dico e ridico) (1:37)
14. Atto secondo: No.34. Canzonetta (Il Profeta Maometto) (1:10)
15. Atto secondo: No.35. Recitativo (Bravo, fratello!) (1:04)
16. Atto secondo: No.36. Aria (Senti, al buio pian pianino) (4:09)
17. Atto secondo: No.37. Recitativo (Come già dissi) (1:28)
18. Atto secondo: No.38. Duetto (Son quest'occhi un stral d'Amore) (7:09)
19. Atto secondo: No.39. Finale (È in ordine la festa) (3:30)
20. Atto secondo: No.39. Finale (Deh! Fuggite in quest'istante) (5:35)
cd3
01. Atto terzo: Recitativo (Amico! Eccoci dunque nelle vostre mani) (3:08)
02. Atto terzo: Canzonetta (S'egli è vero) (8:00)
03. Atto terzo: Recitativo (Principessa amabile!) (2:33)
04. Atto terzo: Aria (Ecco un splendido banchetto) (3:38)
05. Atto terzo: Recitativo (Straniero! Voi già siete tutti scoperti) (3:13)
06. Atto terzo: Intermezzo (0:47)
07. Atto terzo: Recitativo (Ah signor!) (1:37)
08. Atto terzo: Coro (Finale: Or gli affanni son svaniti) (4:29)
09. Tre airie e terzetto: Ifigenia in Tauride (Traetta): Ah, tu non senti, amico (2:18)
10. Tre airie e terzetto: Ifigenia in Tauride (Traetta): QUa destra omicida (3:53)
11. Tre airie e terzetto: Acide e Galaeta (Haydn): Tergi i vezzosi rai (6:16)
12. Tre airie e terzetto: I finti eredi (Sarti): Se tu mi sprezzi, ingrata (5:51)
13. Tre airie e terzetto: La Circe, ossia L'isola incantata (Pasticcio): Lavatevi presto (8:40)
FLAC Part1
FLAC Part2
FLAC Part3
FLAC Part4
FLAC Part5
FLAC Part6
FLAC Part7
FLAC Part8
FLAC Part9
MP3 Part1
MP3 Part2
MP3 Part3
MP3 Part4
MP3 Part5
No mirrors, please