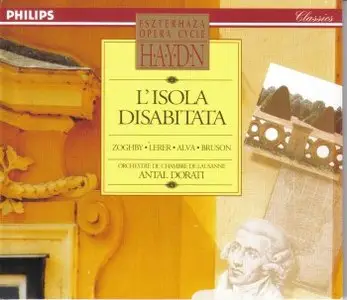 Joseph Haydn - L'Isola Disabitata
DbPowerAmp, FLAC (tracks, no cue, no log) + MP3 (320 kbps CBR) | 423.62 M (FLAC) + 238.52 Mb (MP3) | 82:01 minutes | Full artwork & covers.
classical, opera | Philips Classics Records, Recorded at the Grande Salle, Epalinges, Switzerland in May 1977. Cd issued in 1993
L'isola disabitata ("The Desert Island"), Hob. 28/9, is an opera (azione teatrale in due parte) by Joseph Haydn, his tenth opera, written for the Eszterházy court and premiered December 6, 1779. The libretto by Pietro Metastasio was previously set by Giuseppe Bonno and subsequently used by Manuel García. Nino Rota has set excerpts to music as well. Haydn's work has long been remembered for its dramatic Sturm und Drang ouverture, but the rest of the opera did not see print until H. C. Robbins Landon's 1976 rental edition. A new edition by Tom Busse is to be published on the net in October 2007. The piece is striking for using orchestral accompagnati throughout. There is also a libretto of the same title by Carlo Goldoni (using the pen name Polisseno Fegeio), set by Giuseppe Scarlatti in 1757; it concerns a Chinese woman and Dutch sailors and was revived in 1760 (and again in Vienna in 1773) under the title La cinese smarrita.
Orchestre de Chambre de Lausanne
Antal Dorati: conductor
Norma Lerer: Constanza
Linda Zoghby: Silvia
Luigi Alba: Gernando
Renato Bruson: Enrico
cd1
1. Parte Prima: Sinfonia (8:08)
2. parte prima: Recitativo (Qual contrasto non vince) (3:20)
3. parte prima: Recitativo (Ah germana! Ah Constanza!) (7:32)
4. parte prima: No.1. Aria (Se non piange un'infelice) (4:40)
5. parte prima: Recitativo (Che ostinato dolor!) (2:22)
6. parte prima: Recitativo (Ma sarà poi, Gernando) (3:56)
7. parte prima: No.2. Aria (Chi nel cammin d'onore) (3:55)
8. parte prima: Recitativo (Che fu mai quel ch'io vidi?) (1:39)
9. parte prima: No.3. Aria (Fra un dolce deliro) (4:12)
cd2
1. parte seconda: Recitativo (Ah presaga fu l'alma) (6:47)
2. parte seconda: No.4 Aria (Non turbar quand'io mi lagno (4:30)
3. parte seconda: Recitativo (Non s'irriti fra' primi) (6:02)
4. parte seconda: No.5. Aria (Come il vapor s'ascende) (3:41)
5. parte seconda: No.6. Aria (Ah, che invan per me pietoso) (4:50)
6. parte seconda: Recitativo (Giacché da me lontana) (0:23)
7. parte seconda: No.7 Aria (Giacché il pietoso amico) (7:38)
8. parte seconda: Recitativo (COnstanza…Constanza?) (3:47)
9. parte seconda: No.8. Quartetto (Sono contenta appieno) (10:39)
FLAC Part1
–
FLAC Part2
–
FLAC Part3
–
FLAC Part4
–
FLAC Part5
MP3 Part1
–
MP3 Part2
–
MP3 Part3
No mirrors, please