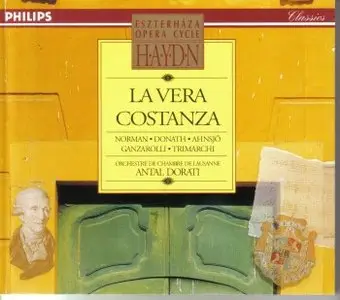 Joseph Haydn - La Vera Costanza
DbPowerAmp, FLAC (tracks, no cue, no log) + MP3 (320 kbps CBR) | 570.42 M (FLAC) + 293.96 Mb (MP3) | 120:05 minutes | Full artwork & covers.
classical, opera | Philips Classics Records, Recorded at the Grande Salle, Epalinges, Switzerland in May 1976. Cd issued in 1993
La vera costanza ("True Constancy"), Hob. 28/8, is an operatic dramma giocoso by Joseph Haydn. The Italian libretto was a shortened version of the one by Francesco Puttini set by Pasquale Anfossi for the opera of the same name given in Rome in 1776. The story explores the troubles of a sentimental heroine abandoned by a mad lover. The work was written for the Eszterházy court and first performed on 25 April 1779. It was revived there in April 1785 when Haydn apparently had to re-create much of the opera from memory, the original having been largely lost. It was given in Bratislava, Budapest, Vienna and Brno between 1786 and 1792 under the title Der flatterhafte Liebhaber. In Paris in 1791, it was performed as Laurette. The opera was recorded in May 1976 by Philips in association with the Radio Suisse Romande and European Broadcasting Union. Since 1980 the opera has revived on stage in Lyons (1980), Assisi (1982) and Vienna (1982).
Orchestre de Chambre de Lausanne
Antal Dorati: conductor
Jessye Norman: Rosina
Helen Donath: Lisetta
Claes H. Ahnsso: Il Comte Ericco
Vladiiro Ganzarolli: Villoto Villano
Domenico Trimarchi: Massino
cd1:
01. Sinfonia (5:39)
02. Atto Primo – Introduzione – Che burrasca! Che tempesta! (5:55)
03. Atto Primo – Recitativo – S'e lecito, signora (2:48)
04. Atto Primo – Aria – Non s'innalza (2:50)
05. Atto Primo – Recitativo – Su via volgete, o bella (0:43)
06. Atto Primo – Aria – So che una bestia sei (2:32)
07. Atto Primo – Recitativo – Evviva allegramente (2:02)
08. Atto Primo – Aria – Non sparate… mi disdico (2:33)
09. Atto Primo – Recitativo – Vanne, sciocco balordo: intendo (2:06)
10. Atto Primo – Aria – Io son, poverina (3:24)
11. Atto Primo – Recitativo – Ah che gia sono ormai (2:23)
12. Atto Primo – Recitativo ed Aria – Mira el campo all'intorno (1:48)
13. Atto Primo – Aria – A trionfar t'invita (4:28)
14. Atto Primo – Recitativo – Cra Lisetta, da qual gelida mano (3:27)
15. Atto Primo – Aria – Con un tenero sospiro (4:35)
16. Atto Primo – Recitativo – Ecco che siamo, o cara (0:37)
17. Finale I: Ah che divenni stupida (2:54)
18. Bel godere la campagna (5:26)
19. Ah no, mio dolce amore (2:29)
20. Che miro, Rosina? (4:09)
cd2:
01. Massima filosofica (2:11)
02. Senti Masino (1:32)
03. Per pieta, vezzosi rai (3:53)
04. Che destino crudel! dover soffrire (0:27)
05. Va pettegola insolente (1:55)
06. Ma che ingiustizia e questa! (3:14)
07. Dove fuggo, ove m'ascondo (2:44)
08. Ah che perfida donna! (1:27)
09. Gia la morte in mante nero (3:48)
10. Ed accio non mi resti per colei (1:40)
11. Ah, non m'inganno, e Orfeo (1:10)
12. Or che torna il vago Aprile (3:25)
13. Eccomi giunta al colmo (2:53)
14. Care spiagge, selve, addio (3:03)
15. Caro figlio, partiamo (2:06)
16. Giro di qua, di la (0:55)
17. Animo risoluto (2:33)
18. Masino, deh, senti (1:34)
19. Perfido, indegno (2:40)
20. Ah, dov'e la mia Rosina? (5:59)
21. Che stupore, che cosa impensata! (2:25)
22. Gia per l'aria a poco a poco (2:24)
23. Che donna ingannatrice! (2:04)
24. Rosina vezzosina (4:20)
25. Si, mia cara (1:39)
26. Ben che gema un'alma oppressa (1:07)
FLAC Part1
–
FLAC Part2
–
FLAC Part3
–
FLAC Part4
–
FLAC Part5
–
FLAC Part6
MP3 Part1
–
MP3 Part2
–
MP3 Part3
No mirrors, please
Visit my blog
here