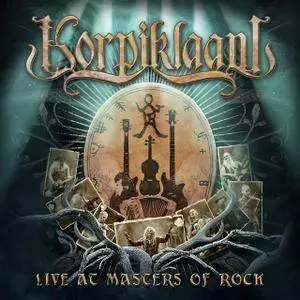 Korpiklaani - Live At Masters Of Rock (2017)
Finland | MP3 CBR 320 Kbps | 2 CD | 330 MB
Folk Metal | Label : Nuclear Blast
When Jonne Järvelä first formed KORPIKLAANI, he always had a vision of perfectly combining the two music worlds he loved the most; heavy metal and folk music. His vision has finally been achieved and the results can be viewed on KORPIKLAANI's first ever DVD/Blu-ray release. »Live at Masters of Rock« illustrates why the band have achieved fame and success around the world, becoming the Folk Metal Superstars that they are today.
Tracklist :CD1: Live At Masters Of Rock 2016
01. Intro (Tanhuvaara)
02. A Man With A Plan
03. Journey Man
04. Pilli On Pajusta Tehty
05. Erämaan Ärjyt
06. Lempo
07. Sahti
08. Ruumiinmultaa
09. Vaarinpolkka
10. Viima
11. Metsämies
12. Kultanainen
13. Kipumylly
14. Ämmänhauta
15. Rauta
16. Kylästä Keväinen Kehto
17. Wooden Pints
18. Vodka
19. Beer Beer
CD2: Live At Masters Of Rock 2014
01. Intro (Tanhuvaara)
02. Tuonelan Tuvilla
03. Ruumiinmultaa
04. Metsämies
05. Kantaiso
06. Juodaan Viinaa
07. Petoeläimen Kuola
08. Sumussa Hämärän Aamun
09. Vaarinpolkka
10. Kultanainen
11. Uniaika
12. Louhen Yhdeksäs Poika
13. Uni
14. Vodka
15. Ievan polkka
16. Rauta
17. Wooden Pints
18. Pellonpekko
19. Happy Little Boozer