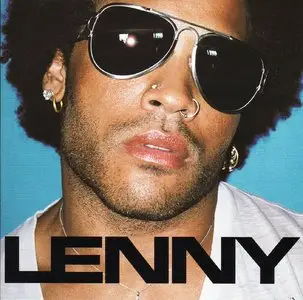 Lenny Kravitz - Lenny (2001)
EAC AccurateRip | FLAC | LOG, no CUE | Scans | 12 Tracks | 49:58 min
346 MB | Label: Virgin | CD Nr. 7243-8-11233-2-4
Rock/Pop
Sure, 5 gave Lenny Kravitz a career revival, thanks to a really big hit with the didactic, clumsy "Fly," and he followed it with a hit that was equally inexplicable — a lumbering, dunderheaded cover of the Guess Who's "American Woman," which surely benefited from its presence on the blockbuster Austin Powers: The Spy Who Shagged Me and Heather Graham's accompanying, chest-grabbing video — and equally distasteful. Combined with the lackluster Circus, it was easy to assume that Kravitz had plateaued, deciding to recycle lame sub-Hendrix stadium rock instead of crafting the kind of lush, post-psychedelic soul that made his first three records so fine. Then, out of nowhere, he threw out the lovely "Again" as a new track for Greatest Hits, setting the stage for the return to form that's Lenny. This, not the empty hard rock of Circus and 5, finds Lenny Kravitz at the peak of his powers, crafting classic rock homages that get by not only on their melodic force but in sterling studiocraft that may shamelessly worship classic rock, but gets the sound and texture right. Kravitz has gotten to the point that his blend of album rock, smooth soul, hippie love, and hipster pop is now his own musical signature — yes, it's still possible to play "spot the influence," but it's all blended better and presented with an offhand grace, particularly in how the gorgeous, enveloping ballads and mid-tempo pop is punctuated by the rockers that sound much fiercer in this context. There may not be singles that are as immediately grabbing as "It Ain't Over Til It's Over," "Let Love Rule," and "Are You Gonna Go My Way," but there are no dull spots, either, and this easily stands alongside his first three albums as a set of classy, near-irresistible pop for listeners weaned on classic and college rock, which is a wholly welcome surprise.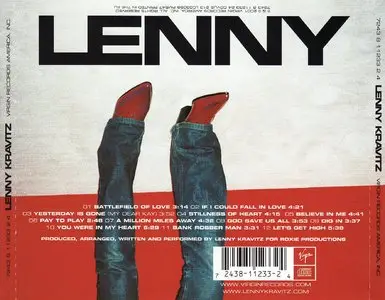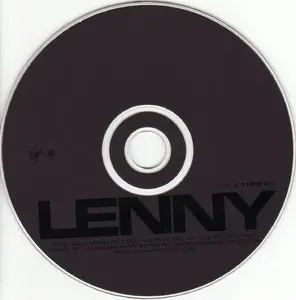 Lenny Kravitz - Lenny
01. Battlefield Of Love 03:14
02. If I Could Fall In Love 04:21
03. Yesterday Is Gone (My Dear Kay) 03:52
04. Stillness Of Heart 04:15
05. Believe In Me 04:40
06. Pay To Play 02:50
07. A Million Miles Away 04:32
08. God Save Us All 03:53
09. Dig In 03:37
10. You Were In My Heart 05:29
11. Bank Robber Man 03:31
12. Let's Get High 05:39
Exact Audio Copy V0.99 prebeta 5 from 4. May 2009

EAC Auslese-Logdatei vom 30. Dezember 2009, 3:54

Lenny Kravitz / Lenny

Benutztes Laufwerk : TSSTcorpDVD-ROM SH-D162C Adapter: 4 ID: 1




TOC der ausgelesenen CD

Track | Start | Länge | Startsektor | Endsektor
–––––––––––––––––––––––––––-
1 | 0:00.00 | 3:14.47 | 0 | 14596
2 | 3:14.47 | 4:21.10 | 14597 | 34181
3 | 7:35.57 | 3:52.18 | 34182 | 51599
4 | 11:28.00 | 4:15.52 | 51600 | 70776
5 | 15:43.52 | 4:40.73 | 70777 | 91849
6 | 20:24.50 | 2:50.35 | 91850 | 104634
7 | 23:15.10 | 4:32.35 | 104635 | 125069
8 | 27:47.45 | 3:53.22 | 125070 | 142566
9 | 31:40.67 | 3:37.40 | 142567 | 158881
10 | 35:18.32 | 5:29.08 | 158882 | 183564
11 | 40:47.40 | 3:31.70 | 183565 | 199459
12 | 44:19.35 | 5:39.07 | 199460 | 224891


Track 1

Lenny Kravitz - Lenny [2001]\01. Battlefield Of Love.wav

Pausenlänge 0:00:02.00

Spitzenpegel 100.0 %
Test CRC 945BCBE8
Kopie CRC 945BCBE8
Akkurat gelesen (Zuversicht 169) [55BB1C63]
Kopie OK

Track 2

Lenny Kravitz - Lenny [2001]\02. If I Could Fall In Love.wav

Timing Problem 0:03:18

Spitzenpegel 100.0 %
Test CRC DCE89C82
Kopie CRC DCE89C82
Akkurat gelesen (Zuversicht 170) [34606C48]
Kopie beendet

Track 3

Lenny Kravitz - Lenny [2001]\03. Yesterday Is Gone (My Dear Kay).wav

Spitzenpegel 100.0 %
Test CRC A31C8098
Kopie CRC A31C8098
Akkurat gelesen (Zuversicht 171) [3E2E1FEA]
Kopie OK

Track 4

Lenny Kravitz - Lenny [2001]\04. Stillness Of Heart.wav

Spitzenpegel 100.0 %
Test CRC 5A97B61A
Kopie CRC 5A97B61A
Akkurat gelesen (Zuversicht 171) [B8E564AF]
Kopie OK

Track 5

Lenny Kravitz - Lenny [2001]\05. Believe In Me.wav

Spitzenpegel 100.0 %
Test CRC ECC53EB7
Kopie CRC ECC53EB7
Akkurat gelesen (Zuversicht 170) [D937B17E]
Kopie OK

Track 6

Lenny Kravitz - Lenny [2001]\06. Pay To Play.wav

Spitzenpegel 100.0 %
Test CRC FF6E6B34
Kopie CRC FF6E6B34
Akkurat gelesen (Zuversicht 170) [97324433]
Kopie OK

Track 7

Lenny Kravitz - Lenny [2001]\07. A Million Miles Away.wav

Pausenlänge 0:00:01.53

Spitzenpegel 100.0 %
Test CRC 8684C667
Kopie CRC 8684C667
Akkurat gelesen (Zuversicht 169) [7591C7FB]
Kopie OK

Track 8

Lenny Kravitz - Lenny [2001]\08. God Save Us All.wav

Spitzenpegel 100.0 %
Test CRC 410C2FFB
Kopie CRC 410C2FFB
Akkurat gelesen (Zuversicht 170) [90CD6B79]
Kopie OK

Track 9

Lenny Kravitz - Lenny [2001]\09. Dig In.wav

Spitzenpegel 100.0 %
Test CRC B425F8B7
Kopie CRC B425F8B7
Akkurat gelesen (Zuversicht 169) [DB427443]
Kopie OK

Track 10

Lenny Kravitz - Lenny [2001]\10. You Were In My Heart.wav

Spitzenpegel 100.0 %
Test CRC 03755DBD
Kopie CRC 03755DBD
Akkurat gelesen (Zuversicht 168) [54FDF5AF]
Kopie OK

Track 11

Lenny Kravitz - Lenny [2001]\11. Bank Robber Man.wav

Spitzenpegel 100.0 %
Test CRC AEAA68EC
Kopie CRC AEAA68EC
Akkurat gelesen (Zuversicht 169) [01EBA2BD]
Kopie OK

Track 12

Lenny Kravitz - Lenny [2001]\12. Let's Get High.wav

Spitzenpegel 100.0 %
Test CRC F8F1EC2D
Kopie CRC F8F1EC2D
Akkurat gelesen (Zuversicht 170) [CF22FD19]
Kopie OK


Alle Tracks wurden akkurat gelesen

Keine Fehler aufgetreten

Ende des Statusreports



Rapidshare
http://rapidshare.com/files/327970439/Lenny1.part1.rar
http://rapidshare.com/files/327975128/Lenny1.part2.rar
http://rapidshare.com/files/327979794/Lenny1.part3.rar
http://rapidshare.com/files/327965466/Lenny1.part4.rar