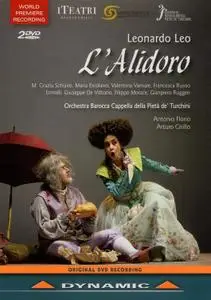 Antonio Florio, Orchestra Barocca Cappella della Pietà de' Turchini - Leonardo Leo: L'Alidoro (2009)
NTSC 16:9 (720x480) | Italiano | LinearPCM, 2 ch | Dolby AC3, 6 ch | 3.76 + 6.53 Gb (DVD5+DVD9) | 165 min
Classical | Dynamic | Sub.: Italiano, English, Francais, Deutsch, Espanol
WORLD PREMIERE in modern times of an unknown comic opera which was recently rediscovered along with other three other Leo operas at the Abbey of Montecassino. L Alidoro (Golden Wings) is a lost-and-found story which explores the themes of love and jealousy from different perspectives in particular age and social status interweaving comedy with more serious reflections. Director Arturo Cirillo explains how in this opera, nothing is happening except a subtle and gorgeous relational game among the seven protagonists.
Cast:
Faustina ‎– Maria Grazia Schiavo
Luigi - Alidoro ‎– Maria Ercolano
Zeza ‎– Valentina Varriale
Elisa - Francesca Russo Ermolli
Don Marcello ‎– Giuseppe De Vittorio
Giangrazio ‎–Filippo Morace
Meo ‎– Gianpiero Ruggeri
Cecco ‎– Nino Bruno
Orchestra Barocca Cappella della Pietà de' Turchini
Conductor ‎– Antonio Florio