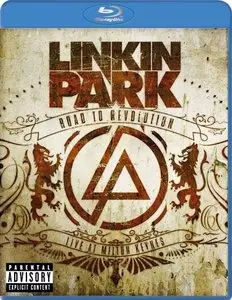 Linkin Park: Road to Revolution (HD Blu-Ray Rip 720p) [2008]
Alternative rock | Blu-Ray Rip 720p | H.264 (mkv) | 1280х720 | ~6 Mbit | 01:37:32 | 4.37 GB
English | AC3 5.1 | 48 KHz | 640 kb/s
The concert was announced months beforehand and promoted heavily; possibly to gain as much of a crowd as possible for the release of a DVD/CD and to compete with the popular Glastonbury Festival which took place over the previous three days. The concert took place on June 29, 2008. It was the first time Projekt Revolution had come to the UK as part of the first Projekt Revolution in Europe (the other three shows took place in Germany). It was also the first time Linkin Park & Jay-Z collaborated outside of the US. Like all Projekt Revolution concerts several bands played before Linkin Park; Innerpartysystem, The Bravery, Enter Shikari, N*E*R*D, Pendulum and Jay-Z (who performed a full solo set, as well as his collaboration with the headliners). On many of the flyers released by the band, and distributed by the Linkin Park Street Team however, H.I.M were listed as performing.
Earlier setlists indicated that "Reading My Eyes" was supposed to be played. "Dirt Off Your Shoulder/Lying from You" was also to be performed but was changed to the regular "Lying from You". Also "Bleed It Out" was originally planned to be after "In the End", but was moved to the end of the setlist.
During "Jigga What/Faint" Shinoda mistakenly forgot to get his guitar in time, however his part was edited in. On the DVD, during the performance of "Bleed It Out", Bennington and Shinoda engage in a "singalong" with the crowd, however due to the length of the show, it was cut out of the CD. (CD's can only hold up to 80 minutes). "Wake 2.0" was also cut from the CD for the same reason, instead the ending fades from the end of "No More Sorrow" to "Given Up". 22 songs in total were played at the concert, "Somewhere I Belong", "Papercut" and "Points of Authority" (which featured verses from the Fort Minor songs "Petrified" and "There They Go") appear on the DVD as "hidden content" after the credits.
Track listing:
1. One Step Closer
2. From The Inside
3. No More Sorrow
4. Wake
5. Given Up
6. Lying From You
7. Hands Held High
8. Leave Out All the Rest
9. Numb
10. The Little Things Give You Away
11. Breaking the Habit
12. Shadow of the Day
13. Crawling
14. In the End
15. Pushing Me Away
16. What I've Done
17. Numb/Encore (featuring Jay-Z)
18. Jigga What/Faint (featuring Jay-Z)
19. Bleed It Out
Hidden content:
20. Somewhere I Belong
21. Papercut
22. Points of Authority