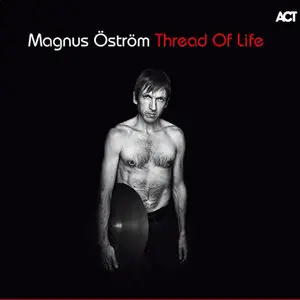 Magnus Ostrom - Thread Of Life (2011)
Contemporary Jazz / Fusion | mp3, CBR 320 kbps | 1:17:14 | 182.3 Mb
Label: Act Music | Release date: March 7, 2011
Ostrom's drumming was a key element in shaping the sound of the Esbjorn Svensson Trio, functioning at two levels, by providing the rhythmic spring to the trio's step, and proving a constantly shifting, shimmering colouristic backdrop that seemed to make the trio somehow sound a 'bigger' ensemble than that of three musicians. His return to the music scene after the devastation of losing a lifelong friend and close musical collaborator is thus a cause for celebration. A strikingly original musician, the first chapter of his new career post-EST provides a panoramic view of his own musical vision and this wide ranging album moves from ambient ('Longing') to jazz-rock ('Piano Break Song') to voice ('Alifia Mia') in an ensemble dominated by the lead voice of Hourdakis' guitar. It is fitting then that the centrepiece of the album, Ostrom's highly personal tribute to Svensson, 'Ballad for E', should have guest Pat Metheny on guitar in this moving musical soliloquy. With former band mate Dan Berglund, they jointly illustrate how music can mean so much more than mere words.
More info: www.magnusostrom.com
Track list:
1. Prelude (2:47)
2. Piano Break Song (8:54)
3. Longing (8:42)
4. Afilia Mi (7:14)
5. Weight Of Death (10:40)
6. Ballad For E (9:55)
7. The Haunted Thoughts And The Endless Fall (3:57)
8. Between (6:26)
9. Hymn (For The Past) Part I (2:55)
10. Hymn (For The Past) Part II (15:42)