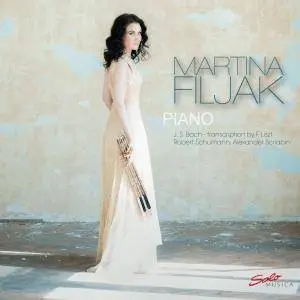 Martina Filjak - Bach, Schumann & Scriabin: Piano Works
Classical | MP3 CBR 320 kbps | 68:14 min | 157 MB
Label: Solo Musica | Tracks: 10 | Rls.date: 2017
One of the most exciting young artists to emerge in recent years, Martina Filjak is garnering international praise for her poetic passion and technical mastery at the keyboard as well as for her charismatic personality and magnetic stage presence.
Martina Filjak came to international attention by winning the Gold Medal, the 1st prize and the Beethoven prize at the Cleveland International Piano Competition in 2009, which brought her numerous engagements in the United States and internationally. Prior to that, she won 1st prizes at the Maria Canals Piano Competition (Barcelona) and the Viotti Piano Competition (Vercelli), and was a laureate at the Busoni Piano Competition.
TRACKLIST
01. Bach - 6 Praludien und Fugen fur die Orgel, S462/R119: Prelude and Fugue in A minor : 6 Preludes & Fugues by J.S. Bach, S. 462: Bach - 6 Praludien und Fugen fur die Orgel, S462/R119: Prelude and Fugue in A Minor
02. Piano Sonata No. 1 in F-Sharp Minor, Op. 11 : Piano Sonata No. 1 in F-Sharp Minor, Op. 11: I. Introduzione: Un poco adagio - Allegro vivace
03. Piano Sonata No. 1 in F-Sharp Minor, Op. 11 : Piano Sonata No. 1 in F-Sharp Minor, Op. 11: II. Aria
04. Piano Sonata No. 1 in F-Sharp Minor, Op. 11 : Piano Sonata No. 1 in F-Sharp Minor, Op. 11: III. Scherzo: Allegrissimo - Intermezzo - Lento
05. Piano Sonata No. 1 in F-Sharp Minor, Op. 11 : Piano Sonata No. 1 in F-Sharp Minor, Op. 11: IV. Finale: Allegro un poco maestoso
06. Piano Sonata No. 1 in F Minor, Op. 6 : Piano Sonata No. 1 in F Minor, Op. 6: I. Allegro con fuoco
07. Piano Sonata No. 1 in F Minor, Op. 6 : Piano Sonata No. 1 in F Minor, Op. 6: II. (Adagio)
08. Piano Sonata No. 1 in F Minor, Op. 6 : Piano Sonata No. 1 in F Minor, Op. 6: III. Presto
09. Piano Sonata No. 1 in F Minor, Op. 6 : Piano Sonata No. 1 in F Minor, Op. 6: IV. Funebre
10. Prelude & Nocturne for the Left Hand, Op. 9 : Prelude & Nocturne for the Left Hand, Op. 9: 2 Pieces for the Left Hand, Op. 9: No. 1. Prelude in C-Sharp Minor