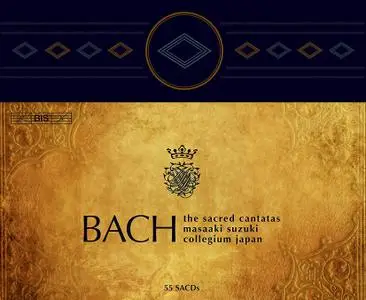 Masaaki Suzuki, Bach Collegium Japan - Bach: The Complete Sacred Cantatas [55 CDs] (2016)
EAC | FLAC | Image (Cue & Log) ~ 17,4 Gb | Total time: 63h 12m 13s | Scans included
Classical | Label: BIS | # BIS-9055 | Recorded: 1995-2015
Throughout most of his professional life, Johann Sebastian Bach composed cantatas for use at church services: it is thought that he probably wrote at least 300 such works. Some 200 of these are still extant, of which the earliest hail from Bach's time as organist in Arnstadt (1703-07) and the last were composed only a year or two before his death in 1750. In 1995, when Masaaki Suzuki and his Bach Collegium Japan began the monumental journey of recording the cantatas, they decided to follow in Bach's footsteps. Consequently the first volume of their series - Disc 1 in the present boxed set - featured three of Bach's very first cantatas (BWV 4, 150 and 196) while the series (and the set) ends with the last one: Lobe den Herrn, meine Seele BWV 69. Recorded and released over a period of 19 years, the BCJ cantata cycle has met with international acclaim, Masaaki Suzuki and his team earning the respect of reviewers and experts through the excellence of their performances, but also through their approach to the music, described by one reviewer as 'seeking devotional depth rather than brilliance for its own sake.'
The remarkable consistency displayed throughout this long-term project is largely due to Masaaki Suzuki, who, when he introduced the series in 1995, expressed his conviction that Bach's music contains 'a message which can touch the human heart, regardless of nationality or cultural tradition'. Many of his musicians - soloists, choristers and instrumentalists - have remained remarkably loyal to the undertaking from the very beginning, as has the Shoin Women's University in Kobe, by providing its chapel as the recording venue throughout the entire series.
Performer:
Bach Collegium Japan
Masaaki Suzuki, conductor

CD 01: BWV 4, 150, 196 (45'12")
'Christ lag in Todesbanden' BWV 4
01. I. Sinfonia
02. II. Christ lag in Todesbanden
03. III. Den Tod niemand zwingen kunnt
04. IV. Jesu Christus, Gottes Sohn
05. V. Es war ein wunderlicher Krieg
06. VI. Hier ist das rechte Osterlamm
07. VII. So feiern wir das hohe Fest
08. VIII. Wir essen und leben wohl
'Nach dir, Herr, verlanget mich' BWV 150
09. I. Sinfonia
10. II. Nach dir, Herr, verlanget mich
11. III. Doch bin und bleibe ich vergnugt
12. IV. Leite mich in deiner Wahrheit
13. V. Zedern mussen von den Winden
14. VI. Meine Augen sehen stets zu dem
15. VII. Meine Tage in dem Leide
'Der Herr denket an uns' BWV 196
16. I. Sinfonia
17. II. Der Herr denket an uns
18. III. Er segnet, die den Herrn furchten
19. IV. Der Herr segne euch
20. V. Ihr seid die Gesegneten des Herrn

Yumiko Kurisu, soprano
Akira Tachikawa, counter-tenor
Koki Katano, tenor
Peter Kooij, bass

CD 02: BWV 71, 106, 131 (1:02'35")
'Gott ist mein Konig' BWV 71
01. I. Gott ist mein Konig
02. II. Ich bin nun achtzig Jahr
03. III. Dein Alter sei wie deine Jugend
04. IV. Tag und Nacht ist dein
05. V. Durch machtige Kraft
06. VI. Du wollest dem Feinde nicht geben
07. VII. Das neue Regiment
'Aus der Tiefe rufe ich, Herr, zu dir' BWV 131
08. I. Sinfonia. Aus der Tiefe
09. II. Erbarm dich mein
10. III. Ich harre des Herrn
11. IV. Und weil ich denn in mei
12. V. Israel hoffe auf den Herrn
'Gottes Zeit ist die allerbeste Zeit' BWV 106
13. I. Sonatina
14. IIa. Gottes Zeit ist die alle
15. IIb. Ach Herr, lehre uns bede
16. IIc. Bestelle dein Haud; denn
17. IId. Es ist der alte Bund
18. IIIa. In deine Hande befehl
19. IIIb. Heut wirst du mit mir
20. IV. Glorie, Lob Ehr und Herrl

Midori Suzuki, soprano
Aki Yanagisawa, soprano
Yoshikazu Mera, counter-tenor
Gerd Turk, tenor/bass
Peter Kooy, bass

CD 03: BWV 12, 54, 162, 182 (1:19'09")
'Weinen, Klagen, Sorgen, Zagen' BWV 12
01. I. Sinfonia
02. II. Weinen, Klagen, Sorgen, Zagen
03. III. Wir mussen durch viel Trubsal
04. IV. Kreuz und Krone sind verbunden
05. V. Ich folge Cristo nach
06. VI. Sie getreu
07. VII. Was Gott tut, das ist wohlgetan
'Widerstehe doch der Sunde' BWV 54
08. I. Widerstehe doch der Sunde
09. II. Die Art verruchter Sunden
10. III. Wer Sunde tut, der ist vom Teufel
'Ach, ich sehe, itzt, da ich zur Hochzeit gehe' BWV 162
11. I. Ach, ich sehe
12. II. O grosses Hochz
13. III. Jesu, Brunnque
14. IV. Mein Jesu, lass
15. V. In meinem Gott
16. VI. Ach, ich habe
'Himmelskonig, sei willkommen' BWV 182
17. I. Sonata
18. II. Himmelskonig, sei willkommen
19. III. Siehe, siehe, ich komme, im
20. IV. Starkes Lieben
21. V. Leget euch dem Heiland unter
22. VI. Jesu, lass durch Wohl und Weh
23. VII. Jesu, deine Passion
24. VIII. So lasset uns gehen in Salem

Yumiko Kurisu, soprano
Yoshikazu Mera, counter-tenor
Makoto Sakurada, tenor
Peter Kooy, bass

CD 04: BWV 163, 165, 185, 199 (1:06'14")
'Mein Herze schwimmt im Blut' BWV 199
01. I. Mein Herze schwimmt im Blut
02. II. Stumme Seufzer, stille Klagen
03. III. Doch Gott muss mir genadig sein
04. IV. Tief gebuckt und voller Reue
05. V. Auf diese Schmerzensreu
06. VI. Ich, dein betrubtes Kind
07. VII. Ich lege mich in diese Wunden
08. VIII. Wie freudig ist mein Herz
'O heiliges Geist- und Wasserbad' BWV 165
09. I. O heiliges Geist- und Wasserbad
10. II. Die sundige Geburt
11. III. Jesu, der aus grosser Liebe
12. IV. Ich habe ja, mein Seelenbraut
13. V. Jesu, meines Todes Tod
14. VI. Sein Wort, sein Tauf
'Barmherziges Herze der ewigen Liebe' BWV 185
15. I. Barmherziges Herze der
16. II. Ihr Herzen, die ihr euch
17. III. Sei bemuht in dieser Zeit
18. IV. Die Eigenliebe schmeichel
19. V. Das ist der Christen Kunst
20. VI. Ich ruf zu dir, Herr Jesu
'Nur jedem das Seine' BWV 163
21. I. Nur jedem das Seine
22. II. Du bist, mein Gott, der Geber aller Gaben
23. III. Lass mein Herz die Munze sein
24. IV. Ich wollte dir
25. V. Nimm mich mir und gib mich dir
26. VI. Fuhr auch mein Herz und Sinn

Midori Suzuki, soprano
Aki Yanagisawa, soprano
Akira Tachikawa, alto
Makoto Sakurada, tenor
Stephan Schreckenberger, bass

CD 05: BWV 18, 143, 152, 155, 161 (1:18'17")
'Gleichwie der Regen und Schnee vom Himmel fallt' BWV 18
01. I. Sinfonia
02. II. Gleichwie der
03. III. Mein Gott
04. IV. Mein Seelensch
05. V. Ich bitt
'Tritt auf die Glaubensbahn' BWV 152
06. I. Sinfonia
07. II. Tritt auf die Glaubensbahn
08. III. Der Heiland ist gesetzt
09. IV. Stein, der ueber alle Schatze
10. V. Es aergre sich die kluge Welt
11. VI. Wie soll ich dich, Liebster der
'Mein Gott, wie lange, ach lange' BWV 155
12. I. Mein Gott, wie lange, ach lange
13. II. Man musst glauben, man musst
14. III. So sei, o Seele, sei zufrieden
15. IV. Wirf, mein Herze, wirf dich noch
16. V. Ob sich anliess, als wollt
'Komm, du Susse Todesstunde' BWV 161
17. I. Komm, du Susse Todesstunde
18. II. Welt, deine Lust ist Last
19. III. Mein verlangen ist, den Heiland
20. IV. Den Schluss ist schon gemacht
21. V. Wenn es meine Gottes Wille
22. VI. Der Leiib zwar in den Erden
'Lob den Herrn, meine Seele' BVW 143
23. I. Lob den Herrn, meine Seele
24. II. Den Friedefurst, Herr Jesu Christ
25. III. Wohl dem, des Hilfe der Gott
26. IV. Tausendfaches Ungluck, Schrecken
27. V. Der Herr ist Konig ewiglich
28. VI. Jesu, Retter deiner Herde
29. VII. Gedenk, Herr, jetzund an dein Amt

Midori Suzuki, soprano
Ingrid Schmithusen, soprano
Yoshikazu Mera, counter-tenor
Makoto Sakurada, tenor
Peter Kooij, bass

CD 06: BWV 21, 31 (1:07'59")
'Der Himmel lacht, die Erde jubilieret' BWV 31
01. I. Sonata
02. II. Der Himmel lacht
03. III. Erwunschter Tag!
04. IV. Furst des Lebens
05. V. So stehe dann, du gotterg
06. VI. Adam muss in uns verwesen
07. VII. Weil dann das Haupt
08. VIII. Letzte Stunde, brich
09. IX. So fahr ich hin zu Jesu
'Ich hatte viel Bekummernis' BWV 21
10. I. Sinfonia
11. II. Ich hatte viel Bekummernis
12. III. Seufzer, Tranen, Kummer, Not
13. IV. Wie hast du dich, mein Gott
14. V. Bache von gesalznen Zahren
15. VI. Was betrubst du dich, meine Seele
16. VII. Ach Jesu, meine Ruh [1:18]
17. VIII. Komm, mein Jesu, und erquicke
18. IX. Sei nun wieder zufrieden
19. X. Erfreue dich, Seele
20. XI. Das Lamm, das erwurget ist
'Ich hatte viel Bekummernis' BWV 21 Alternative Movements
21. III. Seufzer, Tranen, Kummer, Not
22. VII. Ach Jesu, meine Ruh
23. VIII. Komm, mein Jesu, und erquicke

Monika Frimmer, soprano
Gerd Turk, tenor
Peter Kooij, bass

CD 07: BWV 61, 63, 132, 172 (1:17'30")
'Christen, atzet diesen Tag' BWV 63
01. I. Christen, atzet diesen Tag
02. II. O selger Tag! o ungemeines Heute
03. III. Gott, du hast es so wohl gefuget
04. IV. So kehret sich nun heut
05. V. Ruft und fleht den Himmel an
06. VI. Verdoppelt euch demnach
07. VII. Hochster, schau in Gnaden an
'Nun komm, der Heiden Heiland' BWV 61
08. I. Overture Nun komm, der Heiden Heiland
09. II. Der Heiland ist gekommen
10. III. Komm, Jesu, komm zu deiner Kirche
11. IV. Siehe, ich stehe vor der Tur
12. V. Offne dich, mein ganzes Herze
13. VI. Amen, amen
'Bereitet die Wege, bereitet die Bahn' BWV 132
14. I. Bereitet die Wege
15. II. Willst du dich Gottes Kind
16. III. Wer bist du?
17. IV. Ich will, mein Gott
18. V. Christi Glieder
19. VI. Ertot uns durch dein Gute
'Erschallet, ihr Lieder' BWV 172
20. I. Erschallet, ihr Lieder
21. II. Wer mich liebet
22. III. Heiligste Dreieinigkeit
23. IV. O Seelenparadies
24. V. Komm, lass mich nicht
25. VI. Von Gott kommt mir ein Freudenschein

Ingrid Schmithusen, soprano
Yoshikazu Mera, counter-tenor
Makoto Sakurada, tenor
Peter Kooij, bass

CD 08: BWV 22, 23, 75 (1:04'04")
'Jesus nahm zu sich die Zwolfe' BWV 22
01. I. Jesus nahm zu sich die Zwolfe
02. II. Mein Jesu, ziehe mich nach dir
03. III. Mein Jesu, ziehe mich, so werd
04. IV. Mein alles in allem
05. V. Ertot uns durch dein Gute
'Du wahrer Gott und Davids Sohn' BWV 23
06. I. Du wahrer Gott und Davids Sohn
07. II. Ach! gehe nicht voruber
08. III. Aller Augen warten, Herr
09. IV. Chorale - Christe, du Lamm Gottes
'Die Elenden sollen essen' BWV 75
10. I. Die Elenden sollen essen
11. II. Was hilft des Purpurs Majestat
12. III. Mein Jusus soll mein alles sein
13. IV. Gott sturzet und erhohet
14. V. Ich nehme mein Leiden mit Freuden
15. VI. Indes schenkt Gott ein gut Gewissen
16. VII. Was Gott tut, das ist wohlgetan
17. VIII. Sinfonia
18. IX. Nur eines krankt ein christliches Gemute
19. X. Jesus macht mich geistlich reich
20. XI. Wer nur in Jesu bleibt
21. XII. Mein Herze glaubt und liebt
22. XIII. O Armut, der kein Reichtum gleicht!
23. XIV. Was Gott tut, das ist wohlgetan

Midori Suzuki, soprano
Yoshikazu Mera, counter-tenor
Gerd Turk, tenor
Peter Kooij, bass

CD 09: BWV 24, 76, 167 (1:07'16")
'Die Himmel erzahlen die Ehre Gottes' BWV 76
01. I. Die Himmel erzahlen
02. II. So la.t sich Gott
03. III. Hort, ihr Volker
04. IV. Wer aber hort
05. V. Fahr hin, abgottische Zunft!
06. VI. Du hast uns, Herr
07. VII. Es woll uns Gott gnadig sein
08. VIII. Sinfonia
09. IX. Gott, segne noch
10. X. Hasse nur, hasse mich recht
11. XI. Ich fuhle schon im Geist
12. XII. Liebt, ihr Christen
13. XIII. So soll die Christenheit
14. XIV. Es danke, Gott
'Ein ungefarbt Gemute' BWV 24
15. I. Ein ungefarbt Gemute
16. II. Die Redlichkeit
17. III. Alles nun, das ihr wollet
18. IV. Die Heuchelei ist eine Brut
19. V. Treu und Wahrheit sei der Grund
20. VI. O, Gott, du frommer Gott
'Ihr Menschen, ruhmet Gottes Liebe' BWV 167
21. I. Ihr Menschen, ruhmet Gottes
22. II. Gelobet sei der Herr Gott
23. III. Gottes Wort
24. IV. Des Weibes Samen kam
25. V. Sei Lob und Preis mit Ehren

Midori Suzuki, soprano
Robin Blaze, counter-tenor
Gerd Turk, tenor
Chiyuki Urano, bass

CD 10: BWV 105, 179, 186 (1:03'10")
'Herr, gehe nich ins Gericht' BWV 105
01. I. Herr, gehe nich ins Gericht
02. II. Mein Gott, verwirf mich nicht
03. III. Wie zittern und wanken
04. IV. Wohl aber dem
05. V. Kann ich nur Jesum mir zum Freunde
06. VI. Nun, ich weiss, du wirst mir stillen
'Siehe zu, dass deine Gottesfurcht nicht Heuchelei sei' BWV 179
07. I. Siehe zu
08. II. Das heu…
09. III. Falsch…
10. IV. Wer so …
11. V. Liebster…
12. VI. Ich arm…
'Argre dich, o Seele, nicht' BVW 186
13. I. Argre dich, o Seele, nicht
14. II. Die Knechtsgestalt, die Not
15. III. Bist du, der mir helfen soll
16. IV. Ach, dass ein Christo so sehr
17. V. Mein Heiland lasst sich merken
18. VI. Ob sichs anliess, als wollt er nicht
19. VII. Es ist die Welt die grosse Wustenei
20. VIII. Die Armen will der Herr umarmen
21. IX. Nun mag die Welt mit ihrer Lust
22. X. Lass, Seele, kein Leiden
23. XI. Die Hoffnung wart' der rechten Zeit

Miah Persson, soprano
Robin Blaze, counter-tenor
Makoto Sakurada, tenor
Peter Kooij, bass

CD 11: BWV 46, 95, 136, 138 (1:07'56")
'Erforsche mich, Gott' BWV 136
01. I. Erforsche mich, Gott
02. II. Ach, dass der Fluch
03. III. Es kommt ein Tag
04. IV. Die Himmel selber sind nicht rein
05. V. Uns treffen zwar
06. VI. Dein Blut, der edle Saft
'Warum betrubst du dich' BWV 138
07. I. Warum betrubst du dich
08. II. Ich bin veracht
09. III. Ach susser Trost
10. IV. Auf Gott steht mein Zuversicht
11. V. Ei nun
12. VI. Weil du mein Gott und Vater bist
'Christus, der ist mein Leben' BWV 95
13. I. Christus, der ist mein Leben
14. II. Nun, falsche Welt
15. III. Valet will ich dir geben
16. IV. Ach konnte mir doch bald
17. V. Ach, schlage doch bald
18. VI. Denn ich weiss dies
19. VII. Weil du vom Tod erstanden bist
'Schauet doch und sehet' BWV 46
20. I. Schauet doch und sehet
21. II. So klage du
22. III. Ein Wetter zog sich auf
23. IV. Doch bildet euch
24. V. Doch Jesus will auch bei der Strafe
25. VI. O grosser Gott von Treu

Midori Suzuki, soprano
Kai Wessel, counter-tenor
Makoto Sakurada, tenor
Peter Kooij, bass

CD 12: BWV 147, 21 (1:09'19")
'Herz un Mund und Tat und Leben' BWV 147
01. I. Herz und Mund und Tat und Leben
02. II. Gebenedeiter Mund!
03. III. Schame dich, o Seele nicht
04. IV. Verstockung kann Gewaltige
05. V. Bereite dir, Jesu, noch itzo
06. VI. Wohl mir, da. ich Jesum habe
07. VII. Hilf, Jesu, hilf, da. ich
08. VIII. Der hochsten Allmacht Wunder
09. IX. Ich will von Jesu Wundern singen
10. X. Jesu bleibet meine Freude
'Ich hatte viel Bekummernis' BWV 21
11. I. Sinfonia
12. II. Ich hatte viel Bekummernis
13. III. Seufzer, Tranen, Kummer, Not
14. IV. Wie hast du dich, mein Gott
15. V. Bache von gesalzenen Zahren
16. VI. Was betrubst du dich, meine Seele
17. VII. Ach, Jesu, meine Ruhe
18. VIII. Komm, mein Jesu
19. IX. Sei nun wieder zufrieden
20. X. Erfreue dich, Seele
21. XI. Das Lamm, das erwurget ist

Yukari Nonoshita, soprano
Robin Blaze, counter-tenor
Gerd Turk, tenor
Peter Kooij, bass
Concerto Palatino Brass Ensemble

CD 13: BWV 25, 50, 64, 69a, 77 (1:10'58")
'Sehet, welch eine Liebe' BWV 64
01. I. Sehet, welch eine Liebe
02. II. Das hat er alles uns getan
03. III. Geh, Welt!
04. IV. Was frag ich nach der Welt
05. V. Was die Welt in sich halt
06. VI. Der Himmel bleibet mir gewiss
07. VII. Von der Welt verlang ich nichts
08. VIII. Gute Nacht, o Wesen
'Es ist nichts gesundes an meinem Leibe' BWV 25
09. I. Es ist nichts gesundes
10. II. Die ganze Welt
11. III. Ach, wo hol ich
12. IV. O Jesu, lieber Meister
13. V. Offne meinen schlechten
14. VI. Ich will alle meine Tage
'Lobe den Herrn, meine Seele' BWV 69a
15. I. Lobe den Herrn, meine Seele
16. II. Ach, dass ich tausend
17. III. Meine Seele, auf, erzahle
18. IV. Gedenk ich nur zuruck
19. V. Mein Erloser und Erhalter
20. VI. Was Gott tut, dass ist wohl getan
'Du sollt Gott, deinen Herren, lieben' BWV 77
21. I. Du sollt Gott, deinen
22. II. So muss es sein
23. III. Mein Gott, ich liebe dich
24. IV. Gib mir dabei, mein Gott
25. V. Ach, es bleibet in meiner
26. VI. Herr, durch den Glauben
'Nun ist das Heil und die Kraft' BWV 50 (fragment)
27. Nun ist das Heil und die

Yukari Nonoshita, soprano
Yoshie Hida, soprano
Robin Blaze, alto
Kirsten Sollek-Avella, alto
Gerd Turk, tenor
Makoto Sakurada, tenor
Peter Kooij, bass
Concerto Palatino Brass Ensemble

CD 14: BWV 48, 89, 109, 148 (1:06'02")
'Bringet dem Herrn' BWV 148
01. I. Bringet dem Herrn Ehre seines Namens
02. II. Ich eile, die Lehren
03. III. So, wie der Hirsch nach frischem Wasser
04. IV. Mund und Herze steht dir offen
05. V. Bleib auch, mein Gott, in mir
06. VI. Amen zur aller Stund
'Ich elender Mensch' BWV 48
07. I. Ich elender Mensch, wer wird mich erlosen
08. II. O Schmerz, o Elend, so mich trifft
09. III. Solls ja so sein, dass Straf und Pein
10. IV. Ach lege das Sodom der sundlichen Glieder
11. V. Hier aber tut der Heilands Hand
12. VI. Vergibt mir Jesus meine Sunden
13. VII. Herr Jesu Christ, einiger Trost
'Was soll ich aus dir machen' BWV 89
14. I. Was soll ich aus dir machen, Ephraim
15. II. Ja, freilich sollte Gott
16. III. Ein unbarmherziges Gerichte
17. IV. Wohlan! mein Herze legt
18. V. Gerechter Gott, ach rechnest du?
19. VI. Mir mangelt zwar sehr viel
'Ich glaube, lieber Herr' BWV 109
20. I. Ich glaube, lieber Herr, hilf meinem
21. II. Des Herren Hand ist ja noch nicht
22. III. Wie zweifelachtig ist mein Hoffen
23. IV. O fasse dich, du zweifelhafter Mut
24. V. Der Heiland kennet ja die Seinen
25. VI. Wer hofft in Gott und dem vertraut

Midori Suzuki, soprano
Robin Blaze, alto
Gerd Turk, tenor
Chiyuki Urano, bass

CD 15: BWV 40, 60, 70, 90 (1:07'33")
'Darzu ist erschienen der Sohn Gottes' BWV 40
01. I. Darzu ist erschienen
02. II. Das Wort ward Fleisch
03. III. Die Sund macht Leid
04. IV. Hollische Schlange
05. V. Die schlange, so im Paradies
06. VI. Schuttle deinen Kopf
07. VII. Christenkinder, freuet
08. VIII. Jesu, nimm dich deiner
'O Ewigkeit, du Donnerwort' BWV 60
09. I. O Ewigkeit, du Donnerwort
10. II. O schwerer Gang
11. III. Mein letztes Lager
12. IV. Der Tod Bleibt doch
13. V. Es ist genung
'Wachet! betet! betet! wachet!' BWV 70
14. I. Wachet! betet! betet! wachet!
15. II. Erschrecket, ihr verstockten
16. III. Wenn kommt der Tag
17. IV. Auch bei dem himmlischen Verlangen
18. V. Last der Spotter Zungen schmahen
19. VI. Jedoch bei dem unartigen
20. VII. Freu dich sehr, o meine seele
21. VIII. Hebt euer Haupt empor
22. IX. Ach, soll nicht dieser grosse Tag
23. X. Seligster Erquickungstag
24. XI. Nicht nach welt, nach Himmel nicht
'Es reiset euch ein schrecklich Ende' BWV 90
25. I. Es reiset euch
26. II. Des Hochsten Gute wird
27. III. So loschet im Eifer
28. IV. Doch Gottes Auge sieht auf
29. V. Leit uns mit deiner

Yukari Nonoshita, soprano
Robin Blaze, counter-tenor
Gerd Turk, tenor
Peter Kooij, bass

CD 16: BWV 119, 194 (1:02'48")
'Hochsterwunschtes Freudenfest' BWV 194
01. I. Hochsterwunschtes Freudenfest
02. II. Unendlich grosser Gott
03. III. Was des Hochsten Glanz erfullt
04. IV. Wie konnte dir, du hochstes
05. V. Hilf, Gott, dass es uns gelingt
06. VI. Heilger Geist ins Himmels Throne
07. VII. Ihr Heiligen, erfreut euch
08. VIII. Des Hochsten Gegenwart allein
09. IX. Kann wohl ein Mensch zu Gott
10. X. O wie wohl ist uns geschehen
11. XI. Wohlan demnach, du heilige
12. XII. Sprich Ja zu meinen Taten
'Preise, Jerusalem, den Herrn' BWV 119
13. I. Preise, Jerusalem, den Herrn
14. II. Gesegnet Land, Gluckselge Stadt
15. III. Wohl dir, du Volk der Linden
16. IV. So herrlich stehst du, liebe Stadt
17. V. Die Obrigkeit ist Gottes Gabe
18. VI. Nun! wir erkennen es
19. VII. Der Herr hat Guts an uns getan
20. VIII. Zuletzt! da du uns, Herr
21. IX. Hilf deinem Volk, Jesu Christ

Yukari Nonoshita, soprano
Yoshie Hida, soprano
Kirsten Sollek-Avella, alto
Makoto Sakurada, tenor
Jochen Kupfer, baritone
Peter Kooij, bass

CD 17: BWV 73, 144, 153, 154, 181 (1:07'00")
'Schau, lieber Gott, wie meine Feind' BWV 153
01. I. Schau, lieber Gott
02. II. Mein liebster Gott
03. III. Furchte dich nicht
04. IV. Du sprichst zwar, lieber
05. V. Und ob gleich alle Teufel
06. VI. Sturmt nur, sturmt
07. VII. Getrost! mein Herz
08. VIII. Soll ich meinen Lebenslauf
09. IX. Drum will ich
'Mein liebster Jesus ist verloren' BWV 154
10. I. Mein liebster Jesus ist verloren
11. II. Wo treff ich meinen Jesum an
12. III. Jesu, mein Hort und Erretter
13. IV. Jesu, lass dich finden
14. V. Wisset ihr nicht
15. VI. Dies ist die Stimme
16. VII. Wohl mir, Jesus ist gefunden
17. VIII. Meinen Jesum lass ich nicht
'Herr, wie du willt, so schick's mit mir' BWV 73
18. I. Herr, wie du willt
19. II. Ach senke doch
20. III. Ach, unser Wille
21. IV. Herr, so du willt
22. V. Das ist des Vaters Wille
'Nimm, was dein ist, und gehe hin' BWV 144
23. I. Nimm, was dein ist, und gehe hin
24. II. Murre nicht, Lieber Christ
25. III. Was Gott tut
26. IV. Wo die Genugsamkeit regiert
27. V. Genugsamkeit ist ein Schatz
28. VI. Was mein Gott will
'Leichtgesinnte Flattergeister' BWV 181
29. I. Leichtgesinnte Flattergeister
30. II. O ungluckselger Stand
31. III. Der schaedligen Dornen
32. IV. Von diesen wird die Kraft erstickt
33. V. Lass, Hoechster, uns zu allen

Yukari Nonoshita, soprano
Robin Blaze, alto
Gerd Turk, tenor
Peter Kooij, bass

CD 18: BWV 66, 67, 134 (1:09'41")
'Erfreut euch, ihr Herzen' BVW 66
01. I. Erfreuet euch, ihr Herzen
02. II. Es bricht das Grab
03. III. Lasset dem Hochsten
04. IV. Bei Jesu Leben freudig sein
05. V. Ich furchte zwar
06. VI. Alleluja! Alleluja! Alleluja!
'Ein Herz, das seinen Jesum lebend weiss' BWV 134
07. I. Ein Herz, das seinen
08. II. Auf Glaubige, singet
09. III. Wohl dir, Gott hat
10. IV. Wir danken und preisen
11. V. Doch wurke selbst
12. VI. Erschallet, ihr Himmel
'Halt im Gedachtnis Jesum Christ' BWV 67
13. I. Halt im Gedachtnis Jesum Christ
14. II. Mein Jesus ist erstanden
15. III. Mein Jesu, heissest du des
16. IV. Erschienen ist der herrlich Tag
17. V. Doch scheinet fast
18. VI. Friede sei mit euch!
19. VII. Du Friedefurst, Herr Jesu Christ

Robin Blaze, alto
Makoto Sakurada, tenor
Peter Kooij, bass

CD 19: BWV 37, 86, 104, 166 (1:03'51")
'Wahrlich, wahrlich, ich sage euch' BWV 86
01. I. Wahrlich, wahrlich, ich sage
02. II. Ich will doch Rosen brechen
03. III. Und was der ewig gutig Gott
04. IV. Gott macht es nicht gleich
05. V. Gott hilft gewiss
06. VI. Die Hoffnung wart'
'Wer da glaubet und getauft wird' BWV 37
07. I. Wer da glaubet und getauft wird
08. II. Der Glaube ist das Pfand
09. III. Herr Gott Vater
10. IV. Ihr Sterblichen, verlanget
11. V. Der Glaube schafft der Seele
12. VI. Den Glauben mir verleihe
'Du Hirte Israel, hore' BWV 104
13. I. Du Hirte Israel, hore
14. II. Der hochste Hirte sorgt vor mich
15. III. Verbirgt mein Hirte sich zu lange
16. IV. Ja, dieses Wort ist meiner Seelen Speise
17. V. Begluckte Herde, Jesu Schafe
18. VI. Der Herr ist mein getreuer Hirt
'Wo gehest du hin' BWV 166
19. I. Wo gehest du hin
20. II. Ich will an den Himmel denken
21. III. Ich bitte dich
22. IV. Gleichwie die Regenwasser bald verfliessen
23. V. Man nehme sich in acht
24. VI. Wer weiss, wie nahe mir mein Ende

Yukari Nonoshita, soprano
Robin Blaze, counter-tenor
Makoto Sakurada, tenor
Stephan MacLeod, bass

CD 20: BWV 44, 59, 184 (1:02'02")
'Erwunschtes Freudenlicht' BWV 184
01. I. Erwunschtes Freudenlicht
02. II. Gesegnete Christen, gluckselige Herde
03. III. So freuet euch, ihr auserwahlten
04. IV. Gluck und Segen sind bereit
05. V. Herr, ich hoff je, du werdest die
06. VI. Guter Hirte, Trost der Deinen
'Erhohtes Fleisch und Blut' BWV 173
07. I. Erhohtes Fleisch und Blut
08. II. Ein geheiligtes Gemute
09. III. Gott will, o ihr Menschenkinder
10. IV. So hat Gott die Welt geliebt
11. V. Unendlichster, den man doch Vater nennt
12. VI. Ruhre, Hochster, unsern Geist
'Wer mich liebet, der wird mein Wort halten' BWV 59
13. I. Wer mich liebet
14. II. O, was sind
15. III. Komm, Heiliger
16. IV. Die Welt
17. V. Gott, heil'ger Geist
'Sie werden euch in den Bann tun' BWV 44
18. I. Sie werden euch in den Bann tun
19. II. Es kommt aber die Zeit
20. III. Christen mussen auf der Erden
21. IV. Ach Gott, wie manches Herzeleid
22. V. Es sucht der Antichrist
23. VI. Es ist und bleibt
24. VII. So sei nun, Seele, deine

Yukari Nonoshita, soprano
Mutsumi Hatano, alto
Gerd Turk, tenor
Peter Kooij, bass

CD 21: BWV 65, 81, 83, 190 (1:09'35")
'Sie werden aus Saba allen kommen' BWV 65
01. I. Sie werden aus Saba allen kommen
02. II. Chorale - Die Kon'ge aus
03. III. Was dort Jesaias vorhergesehn
04. IV. Gold aus Ophir ist zu schlecht
05. V. Verschmahe nicht
06. VI. Nimm mich dir zu eigen hin
07. VII. Ei nun, mein Gott, so fall
'Jesus schlaft, was soll ich hoffen' BWV 81
08. I. Jesus schlaft, was soll ich
09. II. Herr, warum trittest du so
10. III. Die schaumenden Wellen
11. IV. Ihr Kleinglaubigen, warum
12. V. Schweig, aufgeturmtes Meer!
13. VI. Wohl mir, mein Jesus
14. VII. Unter deinen Schirmen
'Erfreute Zeit im neuen Bunde' BWV 83
15. I. Erfreute Zeit im neuen Bunde
16. II. Herr, nun lassest du deiner Diener
17. III. Eile, Herz, voll Freudigkeit
18. IV. Ja, merkt deine Glaube
19. V. Er ist das Heil und selig Licht
'Singet dem Hernn ein neues Lied' BWV 190
20. I. Singet dem Hernn ein neues Lied
21. II. Herr Gott, dich loben wir
22. III. Lobe, Zion, deinen Gott
23. IV. Es wunsche sich die Welt
24. V. Jesus soll mein alles sein
25. VI. Nun, Jesu, gebe
26. VII. Lass uns das Jahr vollbringen

Robin Blaze, counter-tenor
James Gilchrist, tenor
Peter Kooij, bass

CD 22: BWV 7, 20, 94 (1:13'17")
'O Ewigkeit, du Donnerwort' BWV 20
01. I. O Ewigkeit, du Donnerwort
02. II. Kein Ungluck is in aler Welt zu finden
03. III. Ewigkeit, du machst mir bange
04. IV. Gesetzt, es dau'ret der Verdammten Qual
05. V. Gott ist gerecht in seinen Werken
06. VI. O Mensch, errette deine Seele
07. VII. Solang ein Gott im Himmel lebt
08. VIII. Wacht auf, wacht auf, verlornen
09. IX. Verlab, o Mensch, die Wollust
10. X. O Menschenkind
11. XI. O Ewigkeit, du Donnerwort
'Christ unser Herr zum Jordan kam' BWV 7
12. I. Christ unser Herr zum Jordan kam
13. II. Merkt und hort, ihr
14. III. Dies hat Gott klar
15. IV. Des Vaters Stimme lieb sich horen
16. V. Als Jesus dort nach seinen Leiden
17. VI. Menschen, glaubt doch dieser
18. VII. Das Aug allein das Wasser sieht
'Was frag ich nach der Welt' BWV 94
19. I. Was frag ich nach der Welt
20. II. Die Welt ist wie ein Rauch
21. III. Die Welt sucht Ehr und Ruhm
22. IV. Betorte Welt, betorte Welt!
23. V. Die Welt beckummert sich
24. VI. Die Welt kann ihre Lust und Freud
25. VII. Es halt es mit der blinden Welt
26. VIII. Was frag ich nach der Welt!

Yukari Nonoshita, soprano
Robin Blaze, counter-tenor
Jan Kobow, tenor
Peter Kooij, bass

CD 23: BWV 10, 93, 107, 178 (1:15'43")
'Meine Seel erhebt den Herren' BWV 10
01. I. Meine Seel erhebt den Herren
02. II. Herr, der du stark und machtig bist
03. III. Des Hochsten Gut und Treu
04. IV. Gwaltige stosst Gott vom Stuhl
05. V. Er denket der Barmherzigkeit
06. VI. Was Gott den Vatern alter Zeiten
07. VII. Lob und Preis sei Gott dem
'Wer nur den lieben Gott lasst walten' BWV 93
08. I. Wer nur den lieben Gott
09. II. Was helfen uns die
10. III. Man halte nur ein wenig
11. IV. Er kennt die rechten
12. V. Denk nicht in deiner
13. VI. Ich will auf den Herren
14. VII. Sing, bet und geh auf
'Wo Gott der Herr nicht bei uns halt' BWV 178
15. I. Wo Gott der Herr nicht bei
16. II. Was Menschenkraft und
17. III. Gleichwie die wilden
18. IV. Sie stellen uns wie
19. V. Auf sperren sie den
20. VI. Schweig, Schweig nur
21. VII. Die Feind sind all in
'Was willst du dich betruben' BWV 107
22. I. Was willst du dich betruben
23. II. Denn Gott verlasset keinen
24. III. Auf ihn magst du es wagen
25. IV. Wenn auch gleich aus der Hollen
26. V. Er richt's zu seinen Ehren
27. VI. Darum ich mich ihm ergebe
28. VII. Herr, gib, da. ich dein Ehre

Yukari Nonoshita, soprano
Matthew White, counter-tenor
Makoto Sakurada, tenor
Peter Kooij, bass

CD 24: BWV 8, 33, 113 (1:07'37")
'Liebster Gott, wenn werd ich sterben' BWV 8
01. I. Liebster Gott, wenn werd
02. II. Was willst du dich, mein
03. III. Zwar fuhlt mein
04. IV. Doch weichet, ihr tollen
05. V. Behalte nur, o Welt, das
06. VI. Herrscher uber
'Allein zu dir, Herr Jesu Christ' BWV 33
07. I. Allein zu dir, Herr Jesu Christ
08. II. Mein Gott und Richter
09. III. Wie furchtsam wankten meine
10. IV. Mein Gott, verwirf mich nicht
11. V. Gott, der du die Liebe heisst
12. VI. Ehr sei Gott in dem hochsten
'Herr Jesu Christ, du hochstes Gut' BWV 113
13. I. Herr Jesu Christ, du
14. II. Erbarm dich in solcher Last
15. III. Furwahr, wenn mir das
16. IV. Jedoch dein heilsam Wort
17. V. Jesus nimmt die Sunder an
18. VI. Der Heiland nimmt die
19. VII. Ach Herr, mein Gott
20. VIII. Choral. Stark mich mit
'Liebster Gott, wenn werd ich sterben' BWV 8
21. I. Liebster Gott, wenn werd

Yukari Nonoshita, soprano
Robin Blaze, counter-tenor
Gerd Turk, tenor
Peter Kooij, bass

CD 25: BWV 78, 99, 114 (1:02'57")
'Jesu, der du meine Seele' BWV 78
01. I. Jesu, der du meine Seele
02. II. Wir eilen mit schwachen
03. III. Ach! ich bin ein Kind der Suenden
04. IV. Das Blut, so meine Schuld durchstreich
05. V. Die Wunden, Naegel, Kron und Grab
06. VI. Numn du wirst mein Gewissen stillen
07. VII. Herr, ich glaube, hilf mir Schwachen
'Was Gott tut, das ist wohlgetan' BWV 99
08. I. Was Gott tut, das ist wohlgetan
09. II. Sein Wort der Wahrheit stehet
10. III. Erschuttre dich nur nicht
11. IV. Nun, der von Ewigkeit
12. V. Wenn des Kreuzes Bitterkeiten
13. VI. Was Gott tut, das ist wohlgetan
'Ach, lieben Christen, seid getrost' BWV114
14. I. Ach, lieben Christen, seid
15. II. Wo wird in diesem Jammertale
16. III. O Suender, trage mit Geduld
17. IV. Kein Frucht das
18. V. Du machst, O Tod
19. VI. Indes bedenke deine Seele
20. VII. Wir wachen oder schlafen ein

Yukari Nonoshita, soprano
Daniel Taylor, counter-tenor
Makoto Sakurada, tenor
Peter Kooij, bass

CD 26: BWV 96, 122, 180 (52'55")
'Schmucke dich, o liebe Seele' BWV 180
01. I. Schmucke dich, o liebe Seele
02. II. Ermuntre dich; dein Heiland klopft
03. III. Wie teuer sind des heilgen
04. IV. Mein Herz fuhlt in sich Furcht
05. V. Lebens Sonne, Licht der Sinnen
06. VI. Herr, lass an mir dein treues
07. VII. Jesu, wahres Brot des Lebens
'Das neugeborne Kindelein' BWV 122
08. I. Das neugeborne Kindelein
09. II. O Menschen, die ihr taglich sundigt
10. III. Die Engel, welche sich zuvor
11. IV. Ist Gott versohnt und unser Freund
12. V. Dies ist ein Tag
13. VI. Es bringt das rechte Jubeljahr
'Herr Christ, der einge Gottessohn' BWV 96
14. I. Herr Christ, der einge
15. II. O Wunderkraft der Liebe
16. III. Ach, ziehe die Seele mit
17. IV. Ach, fuhre mich, o Gott
18. V. Bald zur Rechten, bald zur
19. VI. Ertot uns dein Gute

Yukari Nonoshita, soprano
Timothy Kenworthy-Brow, counter-tenor
Makoto Sakurada, tenor
Peter Kooij, bass

CD 27: BWV 5, 80, 115 (1:08'16")
'Ein feste Burg ist unser Gott' BWV 80
01. I. Ein feste Burg ist unser Gott
02. II. Alles, was von Gott geboren
03. III. Erwage doch, Kind Gottes
04. IV. Komm in mein Herzenshaus
05. V. Und wenn die Welt voll Teufel war
06. VI. So stehe dann bei Christi
07. VII. Wie selig sind doch sie
08. VIII. Das Wort sie sollen lassen stahn
'Wo soll ich fliehen hin' BWV 5
09. I. Wo soll ich fliehen hin
10. II. Der Sunden Wust hat mich nicht nur
11. III. Ergiesse dich reichlich, du gottliche
12. IV. Mein treuer Heiland trostet mich
13. V. Verstumme, Hollenheer
14. VI. Ich bin ja nur das kleinste Teil der Welt
15. VII. Fuhr auch mein Herz und Sinn
'Mache dich, mein Geist, bereit' BWV 115
16. I. Mache dich, mein Geist, bereit
17. II. Ach schlafrige Seele, wie?
18. III. Gott, so vor deine Seele wacht
19. IV. Bete aber auch dabei
20. V. Er sehnet sich nach unserm
21. VI. Drum so lasst uns immerdar

Susanne Ryden, soprano
Pascal Bertin, counter-tenor
Gerd Turk, tenor
Peter Kooij, bass

CD 28: BWV 26, 62, 116, 139 (1:08'42")
'Nun komm, der Heiden Heiland' BWV 62
01. I. Nun komm, der Heiden Heiland
02. II. Bewundert, o Menschen
03. III. So geht aus Gottes Herrlichkeit
04. IV. Streite, siege, starker Held!
05. V. Wir ehren diese Herrlichkeit
06. VI. Lob sei Gott, dem Vater, ton
'Wohl dem, der sich auf seinen Gott' BWV 139
07. I. Wohl dem, der sich auf
08. II. Gott ist mein Freund
09. III. Der Heiland sendet ja
10. IV. Das Ungluck schlagt auf
11. V. Ja, trag ich gleich den
12. VI. Dahero Trotz der Hollen Heer!
'Ach wie fluchtig, ach wie nichtig' BWV 26
13. I. Ach wie fluchtig, ach wie
14. II. So schnell ein rauschend
15. III. Die Freude wird zur
16. IV. An irdische Schatze das Herz
17. V. Die hochste Herrlichkeit
18. VI. Ach wie fluchtig, ach wie
'Du Friedefurst, Herr Jesu Christ' BWV 116
19. I. Du Friedefurst, Herr Jesu Christ
20. II. Ach, unaussprechlich
21. III. Gedenke doch
22. IV. Ach, wir bekennen unsre Schuld
23. V. Ach, lass uns durch
24. VI. Erleucht auch unser Sinn

Yukari Nonoshita, soprano
Robin Blaze, counter-tenor
Makoto Sakurada, tenor
Peter Kooij, bass

CD 29: BWV 2, 3, 38, 135 (1:11'39")
'Ach Herr, mich armen Sunder' BWV 135
01. I. Ach Herr, mich armen Sunder
02. II. Ach heile mich, du Arzt der Seelen
03. III. Troste mir, Jesu, mein Gemute
04. IV. Ich bin von Seufzen mude
05. V. Weicht, all ihr Ubeltater
06. VI. Ehr sei ins Himmels Throne
'Ach Gott, vom Himmel sieh darein' BWV 2
07. I. Ach Gott, vom Himmel sieh darein
08. II. Sie lehren eitel falsche List
09. III. Tilg, o Gott, die Lehren
10. IV. Die Armen sind verstort
11. V. Durchs Feuer wird das Silber rein
12. VI. Das wollst du, Gott, bewahren
'Ach Gott, wie manches Herzeleid' BWV 3
13. I. Ach Gott, wie manches Herzeleid
14. II. Wie schwerlich lasst sich
15. III. Empfind ich Hollenangst und Pein
16. IV. Es mag mir Leib und Geist
17. V. Wenn Sorgen auf mich dringen
18. VI. Erhalt mein Herz im Glauben rein
'Aus tiefer Not schrei ich zu dir' BWV 38
19. I. Aus tiefer Not schrei ich zu dir
20. II. In Jesu Gnade wird allein
21. III. Ich hore mitten in den Leiden
22. IV. Dass mein Glaube noch so schwach
23. V. Wenn meine Trubsal als mit Ketten
24. VI. Ob bei uns ist der Sunden viel

Dorothee Mields, soprano
Pascal Bertin, counter-tenor
Gerd Turk, tenor
Peter Kooij, bass
Concerto Palatino Brass Ensemble

CD 30: BWV 51, 210, 1127 (1:13'46")
'Jauchzet Gott in allen Landen' BVW 51
01. I. Jauchzet Gott in allen Landen
02. II. Wir beten zu dem Tempel an
03. III. Hochster, mache deine Gute
04. IV. Sei Lob und Preis mit Ehren
05. V. Alleluja
'Alles mit Gott und nichts ohn' ihn' BVW 1127
06. I. Verse 1
07. II. Verse 2
08. III. Verse 3
09. IV. Verse 4
10. V. Verse 5
11. VI. Verse 6
12. VII. Verse 7
13. VIII. Verse 8
14. IX. Verse 9
15. X. Verse 10
16. XI. Verse 11
17. XII. Verse 12
'O holder Tag, erwunschte Zeit' BWV 210
18. II. Spielet, ihr beseelten Lieder

Carolyn Sampson, soprano

CD 31: BWV 91, 101, 121, 133 (1:17'24")
'Gelobet seist du, Jesu Christ' BWV 91
01. I. Gelobet seist du, Jesu Christ
02. II. Der Glanz der hochsten Herrlichkeit
03. III. Gott, dem der Erden Kreis zu klein
04. IV. O Christenheit! Wohlan
05. V. Die Armut, so Gott auf sich nimmt
06. VI. Das hat er alles uns getan
'Nimm von uns Herr, du treuer Gott' BWV101
07. I. Nimm von uns Herr
08. II. Handle nicht nach deinen
09. III. Ach! Herr Gott, durch
10. IV. Warum will du so zornig sein?
11. V. Die Sund hat uns verderbet sehr
12. VI. Gedenk an Jesu bittern Tod!
13. VII. Leit uns mit deiner
'Christum wir sollen loben schon' BWV121
14. I. Christum wir sollen loben schon
15. II. O du von Gott erhohte Kreatur
16. III. Der Gnade unermesslich's Wesen
17. IV. Johannis freudenvolles Springen
18. V. Doch wie erblickt es dich
19. VI. Lob, Ehr und Dank sei dir gesagt
'Ich freue mich in dir' BWV133
20. I. Ich freue mich in dir
21. II. Getrost! es fasst ein heilger Leib
22. III. Ein Adam mag sich voller Schrecken
23. IV. Wie lieblich klingt es in den Ohren
24. V. Wohlan, des Todes Furcht und Schmerz
25. VI. Wohlan, so will ich mich

Yukari Nonoshita, soprano
Robin Blaze, counter-tenor
Gerd Turk, tenor
Peter Kooij, bass
Concerto Palatino Brass Ensemble

CD 32: BWV 111, 123, 124, 125 (1:14'28")
'Was mein Gott will, das g.scheh Allzeit' BWV 111
01. I. Was mein Gott will
02. II. Entsetze dich
03. III. O Torichter!
04. IV. So geh ich mit beherz
05. V. Drum wenn der Tod
06. VI. Noch eins, Herr
'Liebster Immanual, Herzog der Frommen' BWV 123
07. I. Liebster Immanual
08. II. Die Himmelssussigkeit
09. III. Auch die harte
10. IV. Kein hoellenfeind
11. V. Lass, o Welt, mich
12. VI. Drum fahrt nur immer
'Meinen Jesu lass ich nicht' BWV 124
13. I. Meinen Jesu lass ich nicht
14. II. Solange sich ein Tropfen Blut
15. III. Und wenn der harte Todesschlag
16. IV. Doch ach!
17. V. Entziehe dich eilends, mein Herze
18. VI. Jesu lass ich nicht von mir
'Mit Fried und Freud ich fahr dahin' BWV 125
19. I. Mit Fried und Freud
20. II. Ich will auch
21. III. O Wunder, dass ein Herz
22. IV. Ein unbegreiflich licht
23. V. O unerschopfter Schatz
24. VI. Er ist das Heil und selig

Yukari Nonoshita, soprano
Robin Blaze, counter-tenor
Andreas Weller, tenor
Peter Kooij, bass

CD 33: BWV 41, 92, 130 (1:14'12")
'Jesu, nun sei gepreiset' BWV 41
01. I. Jesu, nun sei gepreiset
02. II. Lass uns, o hoechster Gott, das jahr
03. III. Ach! deine Hand, dein Segen muss allein
04. IV. Woferne du den edlen Frieden
05. V. Doch weil der Feind
06. VI. Dein ist allein die Ehre
'Ich hab in Gottes Herz und Sinn' BWV 92
07. I. Ich hab in Gottes Herz und Sinn
08. II. Es kann mir fehlen nimmermehr
09. III. Seht, seht! wie reisst
10. IV. Zudem ist Weisheit und Verstand
11. V. Wir wollen nun nicht langer zagen
12. VI. Das Brausen von den rauhen Winden
13. VII. Ei nun, mein Gott
14. VIII. Meinem Hirten bleib ich treu
15. IX. Soll ich denn auch des Todes Weg
'Herr Gott, dich loben alle wir' BWV 130
16. I. Herr Gott, dich loben alle wir
17. II. Ihr heller Glanz
18. III. Der alte Drache brennt vor Neid
19. IV. Wohl aber uns, dass Tag und Nacht
20. V. Lass, o Furst der Cherubinen
21. VI. Darum wir billig loben dich

Yukari Nonoshita, soprano
Robin Blaze, counter-tenor
Jan Kobow, tenor
Dominik Worner, bass

CD 34: BWV 1, 126, 127 (59'51")
'Wie schon leuchtet der Morgenstern' BWV 1
01. I. Wie schon leuchtet
02. II. Du wahrer Gottes un Marien Sohn
03. III. Erfullet, ihr himmlischen
04. IV. Ein ird.scher Glanz
05. V. Unser Mund und Ton der Saiten
06. VI. Wie bin ich doch
07. VII. Erhalt uns, Herr
08. VIII. Sende deine Macht von oben
'Der Menschen Gunst' BWV 126
09. I. Der Menschen Gunst
10. II. Sturze zu Boden, schwulstige Stolze!
11. III. So wird dein Wort un Wahrheit offenbar
12. IV. Verleih uns Frieden gnodiglich
'Herr Jesu Christ, wahr' Mensch und Gott' BWV 127
13. I. Herr Jesu Christ
14. II. Wenn alles sich
15. III. Die Seele ruht
16. IV. Wenn einstens
17. V. Ach, Herr, vergib

Carolyn Sampson, soprano
Robin Blaze, counter-tenor
Gerd Turk, tenor
Peter Kooij, bass

CD 35: BWV 74, 87, 128, 176 (1:10'47")
'Auf Christi Himmelfahrt allein' BWV 128
01. I. Auf Christi Himmelfahrt allein
02. II. Ich bin bereit, komm, hole mich
03. III. Auf, auf, mit hellem Schall
04. IV. Sein Allmacht zu ergrunden
05. V. Alsdenn So Wirst Du Mich
'Es ist ein trotzig und verzagt Ding' BWV 176
06. I. Es ist ein trotzig
07. II. Ich meine, recht verzagt
08. III. Dein sonst hell
09. IV. So wundre dich
10. V. Ermuntert euch, furchtsam
11. VI. Auf dass wir also
'Bisher habt ihr nichts gebeten in meinem Namen' BWV 87
12. I. Bisher habt
13. II. O Wort
14. III. Vergib
15. IV. Wenn unsre
16. V. In der Welt
17. VI. Ich will leiden
18. VII. Muss ich sein
'Wer mich liebet' BWV 74
19. I. Wer mich liebet
20. II. Komm, komm, mein Herze steht dir offen
21. III. Die Wohnung ist bereit
22. IV. Ich gehe hin und komme wieder zu euch
23. V. Kommt, eilet, stimmet Sait und Lieder
24. VI. Es ist nichts Verdammliches an denen
25. VII. Nichts kann mich erretten
26. VIII. Kein Menschenkind hier auf der Erd

Yukari Nonoshita, soprano
Robin Blaze, counter-tenor
Makoto Sakurada, tenor
Peter Kooij, bass

CD 36: BWV 6, 42, 103, 108 (1:15'31")
'Am Abend aber desselbigen Sabbats' BWV 42
01. I. Sinfonia
02. II. Am Abend aber desselbigen
03. III. Wo zwei und drei
04. IV. Verzage nicht, o Hauflein klein
05. V. Man kann hiervon ein schon
06. VI. Jesus ist ein Schild der Seinen
07. VII. Verleih uns Frieden gnadiglich
'Ihr werdet weinen und heulen' BWV 103
08. I. Ihr werdet weinen und heulen
09. II. Wer sollte nicht in Klagen
10. III. Kein Arzt ist au.er dir zu finden
11. IV. Du wirst mich nach der Angst
12. V. Erholet euch, betrubte Sinne
13. VI. Ich hab dich einen Augenblick
'Es ist euch gut, dass ich hingehe' BWV 108
14. I. Es ist euch gut, dass
15. II. Mich kann kein Zweifel storen
16. III. Dein Geist wird mich also
17. IV. Wenn aber jener, der Geist
18. V. Was mein Herz von dir begehrt
19. VI. Dein Geist, den Gott vom
'Bleib bei uns, denn es will Abend werden' BWV 6
20. I. Bleib bei uns, denn es
21. II. Hochgelobter Gottessohn
22. III. Ach bleib bei uns
23. IV. Es hat die Dunkelheit
24. V. Jesu, lass uns
25. VI. Beweis dein Macht

Yukari Nonoshita, soprano
Robin Blaze, counter-tenor
James Gilchrist, tenor
Dominik Worner, bass

CD 37: BWV 35, 169, 170, 200 (1:17'21")
'Gott soll allein mein Herze haben' BWV 169
01. I. Sinfonia
02. II. Gott soll allein mein Herze
03. III. Gott soll allein mein Herze
04. IV. Was ist die Liebe Gottes?
05. V. Stirb in mir
06. VI. Doch meint aes auch dabei
07. VII. Du susse Liebe, schenk uns
'Vergnugte Ruh, beliebte Seelenlust' BWV 170
08. I. Vergnugte Ruh, beliebte
09. II. Die Welt, das Sundenhaus
10. III. Wie jammern mich doch
11. IV. Wer sollte sich demnach
12. V. Mir ekelt mehr zu leben
'Geist und Seele wird verwirret' BWV 35
13. I. Concerto
14. II. Geist und Seele wird verwirret
15. III. Ich wundre mich
16. IV. Gott hat alles wohlgemacht
17. V. Sinfonia
18. VI. Ach, starker Gott, lass mich
19. VII. Ich wunsche nur bei Gott zu leben
'Bekennen will ich seinen Namen' BWV 200
20. Bekennen will ich seinen Namen

Robin Blaze, alto

CD 38: BWV 52, 55, 58, 82 (1:06'00")
'Falsche Welt, dir trau ich nicht' BWV 52
01. I. Sinfonia
02. II. Falsche Welt, dir trau ich
03. III. Immerhin, immerhin
04. IV. Gott ist getreu!
05. V. Ich halt es mit dem lieben Gott
06. VI. In dich hab ich gehoffet, Herr
'Ich habe genung' BWV 82
07. I. Ich habe genung
08. II. Ich habe genung
09. III. Schlummert ein, ihr matten augen
10. IV. Mein Gott! wenn kommt das schone: Nun!
11. V. Ich freue mich auf meinen tod
'Ich armer Mensch, ich Sundenknech' BWV 55
12. I. Ich armer Mensch
13. II. Ich habe wider Gott gehandelt
14. III. Erbarme dich
15. IV. Erbarme dich
16. V. Bin ich gleich von dir gewichen
'Ach Gott, wie manches Herzeleid' BWV 58
17. I. Ach Gott, wie manches Herzeleid
18. II. Verfolgt dich gleich
19. III. Ich bin vergnugt in meinen
20. IV. Kann es die Welt nicht lassen
21. V. Ich hab fur mir ein schwere Reis

Carolyn Sampson, soprano
Gerd Turk, tenor
Peter Kooij, bass

CD 39: BWV 28, 68, 85, 175, 183 (1:12'42")
'Also hat Gorr die Welt geliebt' BWV 68
01. I. Also hat Gorr die Welt geliebt
02. II. Mein glaubiges Herze
03. III. Ich bin mit Petro nicht vermessen
04. IV. Du bist geboren mir zugute
05. V. Wer an ihn glaubet
'Er rufet sinen Schafen mit Namen' BWV 175
06. I. Er rufet sinen Schafen mit Namen
07. II. Komm, leite mich
08. III. Wo find' ich dich?
09. IV. Es dunket mich, ich seh
10. V. Sie vernahmen aber nicht
11. VI. Offnet euch, ihr beiden Ohren
12. VII. Nun, werter Geist
'Gottlob! nun geht das Jahr zu Ende' BWV 28
13. I. Gottlob! nun geht das Jahr
14. II. Nun lob, mein Seel, den Herren
15. III. So spricht der Herr
16. IV. Gott ist ein Quell
17. V. Gott hat uns im heurigen
18. VI. All solch dein Gut wir preisen
'Sie werned euch in den Bann tun' BWV 183
19. I. Sie werned euch in den Bann tun
20. II. Ich furchte nicht des Todes
21. III. Ich bin bereit, mein Blut
22. IV. Hochster Troster, heilger Geist
23. V. Du bist ein Geist, der lehret
'Ich bin ein guter Hirt' BWV 85
24. I. Ich bin ein guter Hirt
25. II. Jesus ist ein guter Hirt
26. III. Der Herr ist mein hetreuer Hirt
27. IV. Wenn die Mietlinge schlafen
28. V. Seht, was die Liebe tut
29. VI. Ist Gott mein Schutz und treuer Hirt

Carolyn Sampson, soprano
Robin Blaze, counter-tenor
Gerd Turk, tenor
Peter Kooij, bass

CD 40: BWV 79, 137, 164, 168 (57'22")
'Lobe den Herrn, den machtigen Konig der Ehren' BWV 137
01. I. Lobe den Herrn
02. II. Lobe den Herren
03. III. Lobe den Herren
04. IV. Lobe den Herren
05. V. Lobe den Herren
'Tue Rechnung! Donnerwort' BWV 168
06. I. Tue Rechnung! Donnerwort
07. II. Es ist nur fremdes Gut
08. III. Kapital und Interessen
09. IV. Jedoch, erschrocknes Herz, leb
10. V. Herz, zerreiss des Mammons Kette
11. VI. Stark' mich mit deinem Freudengeist
'Gott der Herr ist Sonn und Schild' BWV 79
12. I. Gott der Herr ist Sonn
13. II. Gott is unsre Sonn und Schild!
14. III. Nun danket alle Gott
15. IV. Gottlob, wir wissen
16. V. Gott, ach Gott, verlass
17. VI. Erhalt uns in der Wahrheit
'Ihr, die ihr euch von Christo nennet' BWV 164
18. I. Ihr, die ihr euch
19. II. Wir horen zwar
20. III. Nur durch Lieb
21. IV. Ach, schmelze doch
22. V. Handen, die sich nicht
23. VI. Ertot uns durch deine Gute

Yukari Nonoshita, soprano
Robin Blaze, counter-tenor
Makoto Sakurada, tenor
Peter Kooij, bass

CD 41: BWV 56, 82, 84, 158 (1:04'04")
'Ich will den Kreuzstab gerne tragen' BWV 56
01. I. Ich Will Den Kreuzstab
02. II. Mein Wandel auf der Welt
03. III. Endlich, endlich wird
04. IV. Ich stehe fertig und bereit
05. V. Komm, o Tod, du Schlafes
'Ich habe genung' BWV 82
06. I. Ich habe genung
07. II. Ich habe genung
08. III. Schlummert ein, ihr matten Augen
09. IV. Mein Gott! wenn kommt das schone: Nun!
10. V. Ich freue mich auf meinen Tod
'Def Friede sei mit dir' BWV 158
11. I. Der Friede sei mit dir
12. II. Welt, ade, ich bin dein mude
13. III. Nun, Herr, regiere meinen Sinn
14. IV. Hier ist das rechte Osterlamm
'Ich bin vergnugt mit meinem Glucke' BWV 84
15. I. Ich bin vergnugt mit meinem
16. II. Gott ist mir ja nichts schuldig
17. III. Ich esse mit Freuden Mein
18. IV. Im Schweibe meines Angesichts
19. V. Ich leb indes in dir vergnuget

Peter Kooij, bass
Carolyn Sampson, soprano
Hana Blazikova, soprano

CD 42: BWV 13, 16, 32, 72 (1:15'24")
'Alles nur nach Gottes Willen' BWV 72
01. I. Alles nur nach Gottes Willen
02. II. O selger Christ
03. III. Mit allem, was ich hab und bin
04. IV. So glaube nun!
05. V. Mein Jesus will es tun
06. VI. Was mein Gott will
'Liebster Jesu, mein Verlangen' BWV 32
07. I. Liebster Jesu, mein Verlangen
08. II. Was ists, dass du much gesuchet?
09. III. Hier in meines Vaters Statte
10. IV. Ach! heiliger und gro.er Gott
11. V. Nun verschwinden alle Plagen
12. VI. Mein Gott, offne mir die Pforten
'Meine Seufzer, meine Tranen' BWV 13
13. I. Meine Seufzer, meine Tranen
14. II. Mein liebster Gott
15. III. Der Gott, der mir hat versprochen
16. IV. Mein Kummer nimmet zu
17. V. Achzen und erbarmlich Weinen
18. VI. So sei nun, Seele, deine
'Herr Gott, dich loben wir' BWV 16
19. I. Herr Gott, dich loben wir
20. II. So stimmen wir
21. III. Lasst uns jauchzen
22. IV. Ach treuer Hort
23. V. Geliebter Jesu
24. VI. All solch dein Gut wir preisen

Rachel Nicholls, soprano
Robin Blaze, counter-tenor
Gerd Turk, tenor
Peter Kooij, bass

CD 43: BWV 57, 110, 151 (1:02'28")
'Unser Mund sei voll Lachens' BWV 110
01. I. Unser Mund sei voll Lachens
02. II. Ihr Gedanken
03. III. Dirr, Herr, ist niemand gleich
04. IV. Ach Herr, was ist ein Menschenkind
05. V. Ehre sei Gott
06. VI. Wacht auf
07. VII. Alleluja! Gelobt sei Gott
'Selig ist der Mann' BWV 57
08. I. Selig ist der Mann
09. II. Ach! dieser susse Trost
10. III. Ich wunschte mir den Tod
11. IV. Ich reiche dir die Hand
12. V. Ja ja ich kann
13. VI. In meiner Schoss
14. VII. Ich ende behande
15. VIII. Richte dich Liebste
'Susser Trost, mein Jesus kommt' BWV 151
16. I. Susser Trost, mein Jesus kommt
17. II. Erfreue dich mein Herz
18. III. In Jesu demut
19. IV. Du teurer Gottessohn
20. V. Heut schleusst er wieder

Hana Blazikova, soprano
Robin blaze, counter-tenor
Gerd Turk, tenor
Peter Kooij, bass

CD 44: BWV 43, 88, 146 (1:15'48")
'Wir mussen durch viel Trubsal' BWV 146
01. I. Sinfonia
02. II. Wir mussen durch viel Trubsal
03. III. Ich will nach dem Himmel
04. IV. Ach! wer doch schon im Himmel wart
05. V. Ich sae meine Zahren
06. VI. Ich bin bereit
07. VII. Wie will ich mich freuen
08. VIII. Freu dich sehr, o meine Seele
'Siehe, ich will Fischer aussenden' BWV 88
09. I. Siehe, ich will Fischer
10. II. Wie leichtlich konnte doch
11. III. Nein, Gott ist allezeit
12. IV. Jesus sprach zu Simon
13. V. Furchte dich nicht
14. VI. Beruft Gott selbst, so muss
15. VII. Was kann dich denn
16. VIII. Sing, bet und geh auf Gott
'Gott fahret auf mit Jauchzen' BWV 43
17. I. Gott fahret auf mit Jauchzen
18. II. Es will der Hochste sich
19. III. Ja tausend mal tausend
20. IV. Und der Herr, nachdem er mit
21. V. Mein Jesus hat nunmehr
22. VI. Es kommt der Helden Held
23. VII. Er ists, der ganz allein
24. VIII. Der Vater hat ihm ja
25. IX. Ich sehe schon im Geist
26. X. Er will mir neben sich
27. XI. Du Lebensfurst, Herr Jesu Christ

Rachel Nicholls, soprano
Robin Blaze, counter-tenor
Gerd Turk, tenor
Peter Kooij, bass

CD 45: BWV 39, 187, 129, 1045 (1:05'42")
'Brich dem Hungrigen dein Brot' BWV 39
01. I. Brich dem Hungrigen dein Brot
02. II. Der reiche Gott wirft seinen
03. III. Seinem Schopfer noch auf Erden
04. IV. Wohlzuntun und mitzuteilen
05. V. Hochster, was ich habe
06. VI. Wie soll ich dir, o Herr
07. VII. Selig sind, die aus Erbarmen
'Es wartet alles auf dich' BWV 187
08. I. Es wartet alles auf dich
09. II. Was Kreaturen halt
10. III. Du Herr, du kronst allein
11. IV. Darum solit ihr nicht sorgen noch sagen
12. V. Gott versorget alles Leben
13. VI. Halt ich nur fest an ihm
14. VII. Gott hat die erde zugericht
'Gelobet sie der Herr' BWV 129
15. I. Gelobet sie der Herr
16. II. Gelobet sei der Herr
17. III. Gelobet sei der Herr
18. IV. Gelobet sei der Herr
19. V. Dem wir das Heilig itzt
20. Sinfonia D-Dur fur Violine und Orchester BWV 1045

Yukari Nonoshita, soprano
Robin Blaze, counter-tenor
Peter Kooij, bass
Natsumi Wakamatsu, violin

CD 46: BWV 17, 19, 45, 102 (1:16'24")
'Herr, deine Augen sehen nach dem Glauben!' BWV 102
01. I. Herr, deine Augen
02. I. Wo ist das Ebenbild
03. III. Weh der Seele
04. IV. Verachtest du den
05. V. Erschrecke doch
06. VI. Beim Warten ist Gefahr
07. VII. Heut lebst du
'Es ist gesagt, Mensch, was gut ist' BWV 45
08. I. Es ist gesagt, Mensch
09. II. Der Hochste lasst mich
10. III. Weiss ich Gottes Rechte
11. IV. Es werden viele zu mir
12. V. Wer Gott bekennt
13. VI. So wird denn Herz und Mund
14. VII. Gib, dast ich tu mit Fliess
'Wer Dank opfert, der preiset mich' BWV 17
15. I. Wer Dank opfert, der preiset
16. II. Es muss die ganze Welt
17. III. Herr, deine Gute reicht
18. IV. Einer aber unter ihnen
19. V. Welch Ubermass der Gute
20. VI. Sieh meinen Willen an
21. VII. Wie sich ein Vatr erbarmet
'Es erhub sich ein Streit' BWV 19
22. I. Es erhub sich ein Streit
23. II. Gottlob! der Drache liegt
24. III. Gott schickt uns Mahanaim zu
25. IV. Was ist der schnode Mensch
26. V. Bleibt, ihr Engel, bleibt bei mir!
27. VI. Lasst uns das Angesicht
28. VII. Lass dein'Engel mit mir fahren
'Herr, deine Augen sehen nach dem Glauben!' BWV 102
29. V. Erschrecke doch (Traverso version)

Hana Blazikova, soprano
Robin Blaze, counter-tenor
Gerd Turk, tenor
Peter Kooij, bass

CD 47: BWV 27, 36, 47 (1:08'25")
'Schwingt freudig euch empor' BWV 36
01. I. Schwingt freudig euch empor
02. II. Nun Komm, der Heiden Heiland
03. III. Die Liebe zieht mit sanften
04. IV. Zwingt die Saiten in Cythara
05. V. Willkommen, werter Schatz!
06. VI. Der du bist dem Vater gleich
07. VII. Auch mit gedampften, schwachen
08. VIII. Lob sei Gott, dem Vater, ton
'Wer sich selbst erhohet' BWV 47
09. I. Wer sich selbst erhohet
10. II. Wer ein wahrer Christ will heissen
11. III. Der Mensch ist Kot, Staub, Asch und Erde
12. IV. Jesu, beuge doch mein Herze
13. V. Der zeitlichen Ehrn will ich gern entbehrn
'Wer wiess, wie nahe mir mein Ende' BWV 27
14. I. Wer wiess, wie nahe mir
15. II. Mein Leben hat kein ander Ziel
16. III. Willkommen! will ich sagen
17. IV. Ach, wer doch schon
18. V. Gute Nacht, du Weltgetummel!
19. VI. Welt, ade! ich bin dein mude
20. III. Willkommen! will ich sagen

Hana Blazikova, soprano
Robin Blaze, counter-tenor
Satoshi Mizukoshi, tenor
Peter Kooij, bass

CD 48: BWV 48, 98, 117, 120 (1:12'13")
'O ewige Feuer, o Ursprung der Liebe' BWV 34
01. I. O Ewige Feuer
02. II. Herr, unser Herzen
03. III. Wohl euch
04. IV. Erwahlt sich Gott
05. V. Friede uber Israel
'Sei Lob und Ehr dem hochsten Gut' BWV 117
06. I. Sei Lob und Ehr
07. II. Es danken dir
08. III. Was unser Gott
09. IV. Ich rief dem Herrn
10. V. Der Herr ist noch
11. VI. Wenn Trost und Hulf
12. VII. Ich will dich all
13. VIII. Ihr, die ihr Christi Namen
14. IX. So kommet vor sein Angesicht
'Was Gott tut, das ist wohlgetan' BWV 98
15. I. Was Gott tut
16. II. Ach Gott!
17. III. Hort, ihr Augen
18. IV. Gott hat ein Herz
19. V. Meinen Jesus lass ich nicht
'Gott, man lobet dich in der Stille zu Zion' BWV 120
20. I. Gott, man lobet dich
21. II. Jauchzet, ihr
22. III. Auf! du geliebte
23. IV. Heil und Segen
24. V. Nun, Herr, so weihe
25. VI. Nun hilf uns, Herr

Hana Blazikova, soprano
Robin Blaze, counter-tenor
Satoshi Mizukoshi, tenor
Peter Kooij, bass

CD 49: BWV 156, 159, 171, 188 (1:12'07")
'Ich habe meine Zuversicht' BWV 188
01. I. Sinfonia
02. II. Ich habe meine Zuversicht
03. III. Gott meint es gut mit jedermann
04. IV. Unerforschlich ist die Weise
05. V. Die Macht der Welt verlieret sich
06. VI. Auf meinen lieben Gott
'Ich steh mit einem Fuss im Grabe' BWV 156
07. I. Sinfonia
08. II. Ich steh mit einem Fuss
09. III. Mein Angst und Not
10. IV. Herr, was du willt
11. V. Und willst du, dass ich nicht
12. VI. Herr, wie du willt
'Sehet, wir gehn hinauf gen Jerusalem' BWV 159
13. I. Sehet / Komm, schaue doch
14. II. Ich folge dir nach
15. III. Nun will ich mich
16. IV. Es ist vollbracht
17. V. Jesu, deine Passion
'Gott, wie dein Name, so ist auch dein Ruhm' BWV 171
18. I. Gott, wie dein Name
19. II. Herr, so weit
20. III. Du susser Jesus
21. IV. Jesus sollmein
22. V. Und da du, Herr
23. VI. Lass uns das Jahr

Rachel Nicholls, soprano
Robin Blaze, counter-tenor
Gerd Turk, tenor
Peter Kooij, bass

CD 50: BWV 49, 145, 149, 174 (1:14'57")
'Man singet mit Freuden von Sieg' BWV 149
01. I. Man singet mit Freuden von Sieg
02. II. Kraft und Starke sei gesungen
03. III. Ich furchte mich
04. IV. Gottes Engel weichen nie
05. V. Ich danke dir
06. VI. Seid wachsam, ihr heiligen
07. VII. Ach Herr, lass dein lieb
'Ich lebe, mein Herze, zu deinem Ergotzen' BWV 145
08. I. Ich lebe, mein Herze
09. II. Nun fordre, Moses
10. III. Merke, mein Herze
11. IV. Mein Jesus lebt
12. V. Drum wir auch billig
'Ich liebe den Hochsten von ganzem Gemute' BWV 174
13. I. Sinfonia
14. II. Ich liebe den Hochsten
15. III. O Liebe, welcher
16. IV. Greifet zu
17. V. Herzlich lieb
'Ich geh und suche mit Verlangen' BWV 49
18. I. Sinfonia
19. II. Ich geh und suche
20. III. Mein Mahl ist zubereit'
21. IV. Ich bin herrlich
22. V. Mein Glaube
23. VI. Dich hab ich je

Hana Blazikova, soprano
Robin Blaze, counter-tenor
Gerd Turk, tenor
Peter Kooij, bass

CD 51: BWV 120a, 157, 192, 195 (1:20'18")
'Dem Gerechten muss das Licht immer wieder aufgehen' BWV 195
01. I. Dem Gerechten
02. II. Dem Freudenlicht
03. III. Ruhmet Gottes
04. IV. Wohlan, so knupfet
05. V. Wir kommen
06. VI. Nun danket
'Nun danket alle Gott' BWV 192
07. I. Nun danket alle Gott
08. II. Der ewig reiche Gott
09. III. Lob, Ehr und Preis sei Gott
'Ich lasse dich nicht, du segnest mich denn!' BWV 157
10. I. Ich lasse dich
11. II. Ich halte meinen
12. III. Mein lieber Jesu du
13. IV. Ja, ja, ich halte
14. V. Meinen Jesum lass
'Herr Gott, Beherrscher aller Dinge' BWV 120a
15. I. Herr Gott, Beherrscher
16. II. Wie wunderbar, o Gott
17. III. Leit, o Gott, durch
18. IV. Sinfonia
19. V. Herr Zebaoth
20. VI. Herr, fange an und
21. VII. Der Herr, Herr unser Gott
22. VIII. Lobe den Herren

Hana Blazikova, soprano
Damien Guillon, counter-tenor
Christoph Genz, tenor
Peter Kooij, bass

CD 52: BWV 29, 112, 140 (1:03'38")
'Wachet auf, ruft uns die Stimme' BWV 140
01. I. Wachet auf
02. II. Er kommt, er kommt
03. III. Wenn kommst du
04. IV. Zion hort die Wachter singen
05. V. So geh herein zu mir
06. VI. Mein Freund
07. VII. Gloria sei dir gesungen
'Der Herr ist mein getreuer Hirt' BWV 112
08. I. Der Herr ist
09. II. Zum reinen Wasser er mich weist
10. III. Und ob ich wandert
11. IV. Du bereitest fur mir einen Tisch
12. V. Gutes und die Barmherzigkeit
'Wir danken dir, Gott, wir danken dir' BWV 29
13. I. Sinfonia
14. II. Wir danken dir, Gott
15. III. Halleluja, Stark und Macht
16. IV. Gott Lob!
17. V. Gedenk an uns
18. VI. Vergiss es ferner nicht
19. VII. Halleluja, Stark und Macht
20. VIII. Sei Lob und Preis

Hana Blazikova, soprano
Robin Blaze, counter-tenor
Gerd Turk, tenor
Peter Kooij, bass

CD 53: BWV 9, 97, 177 (1:07'37")
'In allen meinen Taten' BWV 97
01. I. In allen meinen Taten
02. II. Nichts ist es spat und fruhe
03. III. Es kann mir nichts geschehen
04. IV. Ich traue seiner Gnaden
05. V. Er wolle meiner Sunden
06. VI. Leg ich mich spate nieder
07. VII. Hat er es denn beschlossen
08. VIII. Ihm hab ich mich ergeben
09. IX. So sein nun, Seele, deine
'Ich ruf zu dir, Herr Jesu Christ' BWV 177
10. I. Ich ruf zu dir, Herr Jesu Christ
11. II. Ich bitt noch mehr, o Herre
12. III. Verleih, dass ich aus
13. IV. Lass mich kein Lust noch
14. V. Ich lieg im Streit
'Es ist das Heil uns kommen her' BWV 9
15. I. Es ist das Heil uns kommen her
16. II. Gott gab uns ein Gesetz
17. III. Wir waren schon zu tief gesunken
18. IV. Doch musste das Gesetz erfullet
19. V. Herr, du siehst statt guter Werke
20. VI. Wenn wir die Sund' aus dem
21. VII. Ob sich's anliess, als wollt'

Hana Blazikova, soprano
Robin Blaze, counter-tenor
Gerd Turk, tenor
Peter Kooij, bass

CD 54: BWV 14, 100, 197, 197a (1:15'40")
'Was Gott tut, das ist wohlgetan' BWV 100
01. I. Versus 1 (Chorus)
02. II. Versus 2 Duetto (Alto, Tenore)
03. III. Versus 3 Aria (Soprano)
04. IV. Versus 4 Aria (Basso)
05. V. Versus 5 Aria (Alto)
06. VI. Versus ultimus (Choral)
'War Gott nicht mit uns diese Zeit' BWV 14
07. I. War Gott nicht mit uns diese
08. II. Unsre Starke heisst zu schwach
09. III. Ja, hatt es Gott nur zugegeben
10. IV. Gott, bei deinem starken
11. V. Gott Lob und Dank, der nicht
'Gott ist unsre Zuversicht' BWV 197
12. I. Gott ist unsre Zuversicht
13. II. Gott ist und bleibt der beste Sorger
14. III. Schlafert allen Sorgenkummer
15. IV. Drum folget Gott und seinem Triebe
16. V. Du susse Lieb, schenk uns deine Gunst
17. VI. O du angenehmes Paar
18. VII. So wie es Gott mit dir
19. VIII. Vergnugen und Lust
20. IX. Und dieser frohe Lebenslauf
21. X. So wandelt froh auf Gottes Wegen
'Ehre sei Gott in der Hohe' BWV 197a
22. IV. O! du angenehmer Schatz
23. V. Das Kind ist mein
24. VI. Ich lasse dich nicht
25. VII. Wohlan! so will ich mich

Hana Blazikova, soprano
Damien Guillon, counter-tenor
Gerd Turk, tenor
Peter Kooij, bass

CD 55: BWV 30, 69, 191 (1:08'40")
'Lobe den Herrn, meine Seele' BWV 69
01. I. Lobe den Herrn, meine Seele
02. II. Wie gross ist Gottes Gute doch!
03. III. Meine Seele
04. IV. Der Herr hat grosse Ding an uns getan
05. V. Mein Erloser und Erhalter
06. VI. Es danke, Gott, und lobe dich
'Freue dich, erloste Schar' BWV 30
07. I. Freue dich, erloste Schar
08. II. Wir haben Rast
09. III. Gelobet sei Gott
10. IV. Der Herold kommt
11. V. Kommt, ihr angefochtnen Sunder
12. VI. Eine Stimme lasst sich horen
13. VII. So bist du denn, mein Heil
14. VIII. Ich will nun hassen
15. IX. Und ob wohl sonst der Unbestand
16. X. Eilt, ihr Stunden, kommt herbei
17. XI. Geduld, der angenehme Tag
18. XII. Chorus. Freue dich, erloste Schar
'Gloria in excelsis Deo' BWV 191
19. I. Gloria in excelsis Deo
20. II. Gloria Patri et Filio et Spiritui sancto
21. III. Sicut erat in principio et nunc

Hana Blazikova, soprano
Robin Blaze, counter-tenor
Gerd Turk, tenor
Peter Kooij, bass


Exact Audio Copy V1.3 from 2. September 2016

EAC extraction logfile from 6. May 2019, 15:55

Yumiko Kurisu, Akira Tachikawa, Koki Katano, Peter Kooij / Bach - The Complete Sacred Cantatas (Disc 1), BWV 4 · 150 · 196

Used drive : ATAPI iHAS124 F Adapter: 1 ID: 0

Read mode : Secure
Utilize accurate stream : Yes
Defeat audio cache : Yes
Make use of C2 pointers : No

Read offset correction : 6
Overread into Lead-In and Lead-Out : No
Fill up missing offset samples with silence : Yes
Delete leading and trailing silent blocks : No
Null samples used in CRC calculations : Yes
Used interface : Native Win32 interface for Win NT & 2000

Used output format : User Defined Encoder
Selected bitrate : 1024 kBit/s
Quality : High
Add ID3 tag : No
Command line compressor : C:\Program Files (x86)\Exact Audio Copy\FLAC\FLAC.EXE
Additional command line options : -6 -V -T "ARTIST=%artist%" -T "TITLE=%title%" -T "ALBUM=%albumtitle%" -T "DATE=%year%" -T "TRACKNUMBER=%tracknr%" -T "GENRE=%genre%" -T "COMMENT=%comment%" -T "BAND=%albuminterpret%" -T "ALBUMARTIST=%albuminterpret%" -T "COMPOSER=%composer%" %haslyrics%–tag-from-file=LYRICS="%lyricsfile%"%haslyrics% -T "DISCNUMBER=%cdnumber%" -T "TOTALDISCS=%totalcds%" -T "TOTALTRACKS=%numtracks%" %hascover%–picture="%coverfile%"%hascover% %source% -o %dest%


TOC of the extracted CD

Track | Start | Length | Start sector | End sector
––––––––––––––––––––––––––––-
1 | 0:00.00 | 1:13.62 | 0 | 5536
2 | 1:13.62 | 4:03.13 | 5537 | 23774
3 | 5:17.00 | 3:41.37 | 23775 | 40386
4 | 8:58.37 | 1:56.25 | 40387 | 49111
5 | 10:54.62 | 2:28.00 | 49112 | 60211
6 | 13:22.62 | 2:38.00 | 60212 | 72061
7 | 16:00.62 | 1:29.00 | 72062 | 78736
8 | 17:29.62 | 1:24.13 | 78737 | 85049
9 | 18:54.00 | 1:40.25 | 85050 | 92574
10 | 20:34.25 | 3:28.50 | 92575 | 108224
11 | 24:03.00 | 1:27.62 | 108225 | 114811
12 | 25:30.62 | 1:47.13 | 114812 | 122849
13 | 27:18.00 | 1:11.62 | 122850 | 128236
14 | 28:29.62 | 2:03.25 | 128237 | 137486
15 | 30:33.12 | 3:05.63 | 137487 | 151424
16 | 33:39.00 | 1:47.00 | 151425 | 159449
17 | 35:26.00 | 2:11.00 | 159450 | 169274
18 | 37:37.00 | 2:30.37 | 169275 | 180561
19 | 40:07.37 | 1:52.25 | 180562 | 188986
20 | 41:59.62 | 3:12.13 | 188987 | 203399


Range status and errors

Selected range

Filename C:\EACRip\BACH - THE COMPLETE SACRED CANTATAS (BCJ, Masaaki Suzuki) [55CDs]\CD 01 - BWV 4 · 150 · 196\Bach - The Complete Sacred Cantatas (Disc 1), BWV 4 · 150 · 196 - Masaaki Suzuki.wav

Peak level 82.2 %
Extraction speed 8.7 X
Range quality 100.0 %
Test CRC B3B65BB4
Copy CRC B3B65BB4
Copy OK

No errors occurred


AccurateRip summary

Track 1 accurately ripped (confidence 22) [D55A9C46] (AR v2)
Track 2 accurately ripped (confidence 22) [3B3DBBFB] (AR v2)
Track 3 accurately ripped (confidence 22) [2F6AA175] (AR v2)
Track 4 accurately ripped (confidence 22) [4D0B0F5C] (AR v2)
Track 5 accurately ripped (confidence 22) [6CA2D6CD] (AR v2)
Track 6 accurately ripped (confidence 22) [0A78159A] (AR v2)
Track 7 accurately ripped (confidence 22) [57F3FA7A] (AR v2)
Track 8 accurately ripped (confidence 22) [B106D364] (AR v2)
Track 9 accurately ripped (confidence 22) [8CD18E23] (AR v2)
Track 10 accurately ripped (confidence 22) [CA56F434] (AR v2)
Track 11 accurately ripped (confidence 22) [81AA93FB] (AR v2)
Track 12 accurately ripped (confidence 22) [E4AFCC34] (AR v2)
Track 13 accurately ripped (confidence 22) [0711FFC3] (AR v2)
Track 14 accurately ripped (confidence 22) [E7F50B1A] (AR v2)
Track 15 accurately ripped (confidence 22) [88C37608] (AR v2)
Track 16 accurately ripped (confidence 22) [CDA6F4C4] (AR v2)
Track 17 accurately ripped (confidence 22) [3F38FBCE] (AR v2)
Track 18 accurately ripped (confidence 22) [3A0EB038] (AR v2)
Track 19 accurately ripped (confidence 22) [244CC823] (AR v2)
Track 20 accurately ripped (confidence 22) [E61D05A2] (AR v2)

All tracks accurately ripped

End of status report

–– CUETools DB Plugin V2.1.6

[CTDB TOCID: GKJlomVP1WipvOiZfcmhwSjLqlQ-] found
Submit result: GKJlomVP1WipvOiZfcmhwSjLqlQ- has been confirmed
Track | CTDB Status
1 | (115/116) Accurately ripped
2 | (115/116) Accurately ripped
3 | (115/116) Accurately ripped
4 | (115/116) Accurately ripped
5 | (115/116) Accurately ripped
6 | (115/116) Accurately ripped
7 | (115/116) Accurately ripped
8 | (115/116) Accurately ripped
9 | (115/116) Accurately ripped
10 | (115/116) Accurately ripped
11 | (115/116) Accurately ripped
12 | (115/116) Accurately ripped
13 | (115/116) Accurately ripped
14 | (115/116) Accurately ripped
15 | (115/116) Accurately ripped
16 | (115/116) Accurately ripped
17 | (115/116) Accurately ripped
18 | (115/116) Accurately ripped
19 | (115/116) Accurately ripped
20 | (115/116) Accurately ripped


==== Log checksum D5C513D987F3141B569C66FE0E722D01EFB3BF0EF9F950A8B929F0D09BE7461A ====


Exact Audio Copy V1.3 from 2. September 2016

EAC extraction logfile from 6. May 2019, 16:37

Midori Suzuki, Aki Yanagisawa, Yoshikazu Mera, Gerd Turk, Peter Kooij / Bach - The Complete Sacred Cantatas (Disc 2), BWV 71 · 131 · 106

Used drive : ATAPI iHAS124 F Adapter: 1 ID: 0

Read mode : Secure
Utilize accurate stream : Yes
Defeat audio cache : Yes
Make use of C2 pointers : No

Read offset correction : 6
Overread into Lead-In and Lead-Out : No
Fill up missing offset samples with silence : Yes
Delete leading and trailing silent blocks : No
Null samples used in CRC calculations : Yes
Used interface : Native Win32 interface for Win NT & 2000

Used output format : User Defined Encoder
Selected bitrate : 1024 kBit/s
Quality : High
Add ID3 tag : No
Command line compressor : C:\Program Files (x86)\Exact Audio Copy\FLAC\FLAC.EXE
Additional command line options : -6 -V -T "ARTIST=%artist%" -T "TITLE=%title%" -T "ALBUM=%albumtitle%" -T "DATE=%year%" -T "TRACKNUMBER=%tracknr%" -T "GENRE=%genre%" -T "COMMENT=%comment%" -T "BAND=%albuminterpret%" -T "ALBUMARTIST=%albuminterpret%" -T "COMPOSER=%composer%" %haslyrics%–tag-from-file=LYRICS="%lyricsfile%"%haslyrics% -T "DISCNUMBER=%cdnumber%" -T "TOTALDISCS=%totalcds%" -T "TOTALTRACKS=%numtracks%" %hascover%–picture="%coverfile%"%hascover% %source% -o %dest%


TOC of the extracted CD

Track | Start | Length | Start sector | End sector
––––––––––––––––––––––––––––-
1 | 0:00.00 | 1:59.00 | 0 | 8924
2 | 1:59.00 | 3:58.00 | 8925 | 26774
3 | 5:57.00 | 2:07.00 | 26775 | 36299
4 | 8:04.00 | 3:06.37 | 36300 | 50286
5 | 11:10.37 | 1:18.38 | 50287 | 56174
6 | 12:29.00 | 3:25.00 | 56175 | 71549
7 | 15:54.00 | 3:48.00 | 71550 | 88649
8 | 19:42.00 | 4:44.37 | 88650 | 109986
9 | 24:26.37 | 4:23.38 | 109987 | 129749
10 | 28:50.00 | 3:12.00 | 129750 | 144149
11 | 32:02.00 | 5:12.00 | 144150 | 167549
12 | 37:14.00 | 4:13.00 | 167550 | 186524
13 | 41:27.00 | 3:09.00 | 186525 | 200699
14 | 44:36.00 | 2:01.00 | 200700 | 209774
15 | 46:37.00 | 2:13.42 | 209775 | 219791
16 | 48:50.42 | 1:06.73 | 219792 | 224814
17 | 49:57.40 | 3:27.35 | 224815 | 240374
18 | 53:25.00 | 2:21.37 | 240375 | 250986
19 | 55:46.37 | 3:34.38 | 250987 | 267074
20 | 59:21.00 | 3:14.00 | 267075 | 281624


Range status and errors

Selected range

Filename C:\EACRip\BACH - THE COMPLETE SACRED CANTATAS (BCJ, Masaaki Suzuki) [55CDs]\CD 02 - BWV 71 · 131 · 106\Bach - The Complete Sacred Cantatas (Disc 2), BWV 71 · 131 · 106 - Masaaki Suzuki.wav

Peak level 97.2 %
Extraction speed 9.5 X
Range quality 100.0 %
Test CRC 0881A2F0
Copy CRC 0881A2F0
Copy OK

No errors occurred


AccurateRip summary

Track 1 accurately ripped (confidence 22) [45DE8A7B] (AR v2)
Track 2 accurately ripped (confidence 22) [6E3201F0] (AR v2)
Track 3 accurately ripped (confidence 22) [C36C282F] (AR v2)
Track 4 accurately ripped (confidence 22) [C4B14BFE] (AR v2)
Track 5 accurately ripped (confidence 22) [51659FFE] (AR v2)
Track 6 accurately ripped (confidence 22) [8D172044] (AR v2)
Track 7 accurately ripped (confidence 22) [97C8A831] (AR v2)
Track 8 accurately ripped (confidence 22) [451DDBB0] (AR v2)
Track 9 accurately ripped (confidence 22) [A170B0CF] (AR v2)
Track 10 accurately ripped (confidence 22) [EC192BF5] (AR v2)
Track 11 accurately ripped (confidence 22) [98D6DE63] (AR v2)
Track 12 accurately ripped (confidence 22) [9897A301] (AR v2)
Track 13 accurately ripped (confidence 22) [C03F236C] (AR v2)
Track 14 accurately ripped (confidence 22) [C47F8EA6] (AR v2)
Track 15 accurately ripped (confidence 22) [F1FCAC47] (AR v2)
Track 16 accurately ripped (confidence 22) [2F9C653B] (AR v2)
Track 17 accurately ripped (confidence 22) [660D9E4D] (AR v2)
Track 18 accurately ripped (confidence 22) [3AEDC7EC] (AR v2)
Track 19 accurately ripped (confidence 22) [50F38389] (AR v2)
Track 20 accurately ripped (confidence 22) [8BADEA2B] (AR v2)

All tracks accurately ripped

End of status report

–– CUETools DB Plugin V2.1.6

[CTDB TOCID: YtooEmDEHK4_R9dPMxHffl37kV8-] found
Submit result: YtooEmDEHK4_R9dPMxHffl37kV8- has been confirmed
Track | CTDB Status
1 | (127/129) Accurately ripped
2 | (128/129) Accurately ripped
3 | (128/129) Accurately ripped
4 | (128/129) Accurately ripped
5 | (128/129) Accurately ripped
6 | (127/129) Accurately ripped
7 | (128/129) Accurately ripped
8 | (128/129) Accurately ripped
9 | (128/129) Accurately ripped
10 | (128/129) Accurately ripped
11 | (128/129) Accurately ripped
12 | (128/129) Accurately ripped
13 | (127/129) Accurately ripped
14 | (128/129) Accurately ripped
15 | (127/129) Accurately ripped
16 | (128/129) Accurately ripped
17 | (128/129) Accurately ripped
18 | (127/129) Accurately ripped
19 | (127/129) Accurately ripped
20 | (126/129) Accurately ripped


==== Log checksum 39916DFFF666F06001A20B6F26AC9C9F032E923F48B7A507A18F8C5C80E36C3E ====


Exact Audio Copy V1.3 from 2. September 2016

EAC extraction logfile from 6. May 2019, 17:34

Yumiko Kurisu, Yoshikazu Mera, Makoto Sakurada, Peter Kooij / Bach - The Complete Sacred Cantatas (Disc 3), BWV 12 · 54· 162 · 182

Used drive : ATAPI iHAS124 F Adapter: 1 ID: 0

Read mode : Secure
Utilize accurate stream : Yes
Defeat audio cache : Yes
Make use of C2 pointers : No

Read offset correction : 6
Overread into Lead-In and Lead-Out : No
Fill up missing offset samples with silence : Yes
Delete leading and trailing silent blocks : No
Null samples used in CRC calculations : Yes
Used interface : Native Win32 interface for Win NT & 2000

Used output format : User Defined Encoder
Selected bitrate : 1024 kBit/s
Quality : High
Add ID3 tag : No
Command line compressor : C:\Program Files (x86)\Exact Audio Copy\FLAC\FLAC.EXE
Additional command line options : -6 -V -T "ARTIST=%artist%" -T "TITLE=%title%" -T "ALBUM=%albumtitle%" -T "DATE=%year%" -T "TRACKNUMBER=%tracknr%" -T "GENRE=%genre%" -T "COMMENT=%comment%" -T "BAND=%albuminterpret%" -T "ALBUMARTIST=%albuminterpret%" -T "COMPOSER=%composer%" %haslyrics%–tag-from-file=LYRICS="%lyricsfile%"%haslyrics% -T "DISCNUMBER=%cdnumber%" -T "TOTALDISCS=%totalcds%" -T "TOTALTRACKS=%numtracks%" %hascover%–picture="%coverfile%"%hascover% %source% -o %dest%


TOC of the extracted CD

Track | Start | Length | Start sector | End sector
––––––––––––––––––––––––––––-
1 | 0:00.00 | 2:34.00 | 0 | 11549
2 | 2:34.00 | 6:57.00 | 11550 | 42824
3 | 9:31.00 | 0:47.00 | 42825 | 46349
4 | 10:18.00 | 6:04.00 | 46350 | 73649
5 | 16:22.00 | 2:19.00 | 73650 | 84074
6 | 18:41.00 | 3:59.00 | 84075 | 101999
7 | 22:40.00 | 1:09.00 | 102000 | 107174
8 | 23:49.00 | 6:06.00 | 107175 | 134624
9 | 29:55.00 | 1:23.25 | 134625 | 140874
10 | 31:18.25 | 3:16.50 | 140875 | 155624
11 | 34:35.00 | 3:43.00 | 155625 | 172349
12 | 38:18.00 | 1:45.00 | 172350 | 180224
13 | 40:03.00 | 3:38.00 | 180225 | 196574
14 | 43:41.00 | 1:42.00 | 196575 | 204224
15 | 45:23.00 | 3:51.00 | 204225 | 221549
16 | 49:14.00 | 1:16.00 | 221550 | 227249
17 | 50:30.00 | 1:56.00 | 227250 | 235949
18 | 52:26.00 | 3:24.37 | 235950 | 251286
19 | 55:50.37 | 0:36.13 | 251287 | 253999
20 | 56:26.50 | 2:36.25 | 254000 | 265724
21 | 59:03.00 | 8:58.37 | 265725 | 306111
22 | 68:01.37 | 3:56.38 | 306112 | 323849
23 | 71:58.00 | 3:10.00 | 323850 | 338099
24 | 75:08.00 | 4:01.00 | 338100 | 356174


Range status and errors

Selected range

Filename C:\EACRip\BACH - THE COMPLETE SACRED CANTATAS (BCJ, Masaaki Suzuki) [55CDs]\CD 03 - BWV 12 · 54· 162 · 182\Bach - The Complete Sacred Cantatas (Disc 3), BWV 12 · 54· 162 · 182 - Masaaki Suzuki.wav

Peak level 83.9 %
Extraction speed 8.3 X
Range quality 100.0 %
Test CRC 4EF483C8
Copy CRC 4EF483C8
Copy OK

No errors occurred


AccurateRip summary

Track 1 accurately ripped (confidence 21) [18A8718B] (AR v2)
Track 2 accurately ripped (confidence 21) [C83891EE] (AR v2)
Track 3 accurately ripped (confidence 21) [F7A40099] (AR v2)
Track 4 accurately ripped (confidence 21) [77FC7A69] (AR v2)
Track 5 accurately ripped (confidence 21) [1065DDBE] (AR v2)
Track 6 accurately ripped (confidence 21) [E53F625A] (AR v2)
Track 7 accurately ripped (confidence 21) [F73C7111] (AR v2)
Track 8 accurately ripped (confidence 21) [634A4B61] (AR v2)
Track 9 accurately ripped (confidence 21) [C38DFA95] (AR v2)
Track 10 accurately ripped (confidence 21) [8E4D33F4] (AR v2)
Track 11 accurately ripped (confidence 21) [109899DA] (AR v2)
Track 12 accurately ripped (confidence 21) [154B203F] (AR v2)
Track 13 accurately ripped (confidence 21) [53C2036A] (AR v2)
Track 14 accurately ripped (confidence 21) [92703135] (AR v2)
Track 15 accurately ripped (confidence 21) [B4B0FBEC] (AR v2)
Track 16 accurately ripped (confidence 21) [5AB9B221] (AR v2)
Track 17 accurately ripped (confidence 21) [D27E5D9A] (AR v2)
Track 18 accurately ripped (confidence 21) [C2150682] (AR v2)
Track 19 accurately ripped (confidence 21) [1E0E4AE9] (AR v2)
Track 20 accurately ripped (confidence 21) [6E2F3DFE] (AR v2)
Track 21 accurately ripped (confidence 21) [24DE9596] (AR v2)
Track 22 accurately ripped (confidence 21) [5D45AAD1] (AR v2)
Track 23 accurately ripped (confidence 21) [F4097E82] (AR v2)
Track 24 accurately ripped (confidence 20) [6788F535] (AR v2)

All tracks accurately ripped

End of status report

–– CUETools DB Plugin V2.1.6

[CTDB TOCID: iqNaFuDh_.X4p2h1CK.7NMgjgRU-] found
Submit result: iqNaFuDh_.X4p2h1CK.7NMgjgRU- has been confirmed
Track | CTDB Status
1 | ( 45/114) Accurately ripped
2 | ( 45/114) Accurately ripped
3 | ( 45/114) Accurately ripped
4 | ( 45/114) Accurately ripped
5 | ( 45/114) Accurately ripped
6 | ( 45/114) Accurately ripped
7 | ( 45/114) Accurately ripped
8 | ( 45/114) Accurately ripped
9 | ( 45/114) Accurately ripped
10 | ( 45/114) Accurately ripped
11 | ( 45/114) Accurately ripped
12 | ( 45/114) Accurately ripped
13 | ( 45/114) Accurately ripped
14 | ( 45/114) Accurately ripped
15 | ( 45/114) Accurately ripped
16 | ( 45/114) Accurately ripped
17 | ( 45/114) Accurately ripped
18 | ( 45/114) Accurately ripped
19 | ( 45/114) Accurately ripped
20 | ( 45/114) Accurately ripped
21 | ( 45/114) Accurately ripped
22 | ( 45/114) Accurately ripped
23 | ( 45/114) Accurately ripped
24 | ( 45/114) Accurately ripped


==== Log checksum 4526908345C1A1B048C1701EFB61DC46697DD4D7AD14C4B47DAF87269E54BB00 ====


Exact Audio Copy V1.3 from 2. September 2016

EAC extraction logfile from 6. May 2019, 18:28

Midori Suzuki, Aki Yanagisawa, Akira Tachikawa, Makoto Sakurada, Stephan Schreckenberger / Bach - The Complete Sacred Cantatas (Disc 4), BWV 199 · 165· 185 · 163

Used drive : ATAPI iHAS124 F Adapter: 1 ID: 0

Read mode : Secure
Utilize accurate stream : Yes
Defeat audio cache : Yes
Make use of C2 pointers : No

Read offset correction : 6
Overread into Lead-In and Lead-Out : No
Fill up missing offset samples with silence : Yes
Delete leading and trailing silent blocks : No
Null samples used in CRC calculations : Yes
Used interface : Native Win32 interface for Win NT & 2000

Used output format : User Defined Encoder
Selected bitrate : 1024 kBit/s
Quality : High
Add ID3 tag : No
Command line compressor : C:\Program Files (x86)\Exact Audio Copy\FLAC\FLAC.EXE
Additional command line options : -6 -V -T "ARTIST=%artist%" -T "TITLE=%title%" -T "ALBUM=%albumtitle%" -T "DATE=%year%" -T "TRACKNUMBER=%tracknr%" -T "GENRE=%genre%" -T "COMMENT=%comment%" -T "BAND=%albuminterpret%" -T "ALBUMARTIST=%albuminterpret%" -T "COMPOSER=%composer%" %haslyrics%–tag-from-file=LYRICS="%lyricsfile%"%haslyrics% -T "DISCNUMBER=%cdnumber%" -T "TOTALDISCS=%totalcds%" -T "TOTALTRACKS=%numtracks%" %hascover%–picture="%coverfile%"%hascover% %source% -o %dest%


TOC of the extracted CD

Track | Start | Length | Start sector | End sector
––––––––––––––––––––––––––––-
1 | 0:00.00 | 2:07.15 | 0 | 9539
2 | 2:07.15 | 8:40.30 | 9540 | 48569
3 | 10:47.45 | 1:07.19 | 48570 | 53613
4 | 11:54.64 | 7:30.63 | 53614 | 87426
5 | 19:25.52 | 0:17.05 | 87427 | 88706
6 | 19:42.57 | 1:36.18 | 88707 | 95924
7 | 21:19.00 | 0:43.30 | 95925 | 99179
8 | 22:02.30 | 2:27.45 | 99180 | 110249
9 | 24:30.00 | 3:03.37 | 110250 | 124011
10 | 27:33.37 | 1:16.43 | 124012 | 129754
11 | 28:50.05 | 2:27.60 | 129755 | 140839
12 | 31:17.65 | 2:30.10 | 140840 | 152099
13 | 33:48.00 | 2:23.27 | 152100 | 162851
14 | 36:11.27 | 0:50.48 | 162852 | 166649
15 | 37:02.00 | 3:21.65 | 166650 | 181789
16 | 40:23.65 | 2:07.22 | 181790 | 191336
17 | 42:31.12 | 4:31.70 | 191337 | 211731
18 | 47:03.07 | 0:59.15 | 211732 | 216171
19 | 48:02.22 | 2:01.20 | 216172 | 225266
20 | 50:03.42 | 1:26.33 | 225267 | 231749
21 | 51:30.00 | 3:36.05 | 231750 | 247954
22 | 55:06.05 | 1:28.70 | 247955 | 254624
23 | 56:35.00 | 3:08.50 | 254625 | 268774
24 | 59:43.50 | 2:27.30 | 268775 | 279829
25 | 62:11.05 | 2:51.17 | 279830 | 292671
26 | 65:02.22 | 1:11.53 | 292672 | 298049


Range status and errors

Selected range

Filename C:\EACRip\BACH - THE COMPLETE SACRED CANTATAS (BCJ, Masaaki Suzuki) [55CDs]\CD 04 - BWV 199 · 165· 185 · 163\Bach - The Complete Sacred Cantatas (Disc 4), BWV 199 · 165· 185 · 163 - Masaaki Suzuki.wav

Peak level 94.3 %
Extraction speed 9.4 X
Range quality 99.9 %
Test CRC F81D1ACC
Copy CRC F81D1ACC
Copy OK

No errors occurred


AccurateRip summary

Track 1 accurately ripped (confidence 21) [7EFCC613] (AR v2)
Track 2 accurately ripped (confidence 21) [0EA75997] (AR v2)
Track 3 accurately ripped (confidence 21) [3BE5E8E1] (AR v2)
Track 4 accurately ripped (confidence 21) [B86DB6C1] (AR v2)
Track 5 accurately ripped (confidence 21) [2D14F518] (AR v2)
Track 6 accurately ripped (confidence 21) [2907CA39] (AR v2)
Track 7 accurately ripped (confidence 21) [B10496FD] (AR v2)
Track 8 accurately ripped (confidence 21) [55BDC2A3] (AR v2)
Track 9 accurately ripped (confidence 21) [F118E5A6] (AR v2)
Track 10 accurately ripped (confidence 21) [06BD7922] (AR v2)
Track 11 accurately ripped (confidence 21) [94615C34] (AR v2)
Track 12 accurately ripped (confidence 21) [A2E9DFBD] (AR v2)
Track 13 accurately ripped (confidence 21) [78B81F28] (AR v2)
Track 14 accurately ripped (confidence 21) [D0860926] (AR v2)
Track 15 accurately ripped (confidence 21) [1460AB8A] (AR v2)
Track 16 accurately ripped (confidence 21) [104EB815] (AR v2)
Track 17 accurately ripped (confidence 21) [12C53E40] (AR v2)
Track 18 accurately ripped (confidence 21) [3EBEA6D6] (AR v2)
Track 19 accurately ripped (confidence 21) [D836E3CB] (AR v2)
Track 20 accurately ripped (confidence 21) [AA367858] (AR v2)
Track 21 accurately ripped (confidence 21) [09C3C2AE] (AR v2)
Track 22 accurately ripped (confidence 21) [AD38F677] (AR v2)
Track 23 accurately ripped (confidence 21) [4762AA86] (AR v2)
Track 24 accurately ripped (confidence 21) [1CBD6D75] (AR v2)
Track 25 accurately ripped (confidence 21) [531EE5B9] (AR v2)
Track 26 accurately ripped (confidence 21) [E032DC6B] (AR v2)

All tracks accurately ripped

End of status report

–– CUETools DB Plugin V2.1.6

[CTDB TOCID: dEGHVjpSTJWHHXzYgfr7.wXdsF4-] found
Submit result: dEGHVjpSTJWHHXzYgfr7.wXdsF4- has been confirmed
Track | CTDB Status
1 | ( 48/114) Accurately ripped
2 | ( 48/114) Accurately ripped
3 | ( 48/114) Accurately ripped
4 | ( 48/114) Accurately ripped
5 | ( 48/114) Accurately ripped
6 | ( 48/114) Accurately ripped
7 | ( 48/114) Accurately ripped
8 | ( 48/114) Accurately ripped
9 | ( 48/114) Accurately ripped
10 | ( 48/114) Accurately ripped
11 | ( 48/114) Accurately ripped
12 | ( 48/114) Accurately ripped
13 | ( 48/114) Accurately ripped
14 | ( 48/114) Accurately ripped
15 | ( 48/114) Accurately ripped
16 | ( 48/114) Accurately ripped
17 | ( 48/114) Accurately ripped
18 | ( 48/114) Accurately ripped
19 | ( 48/114) Accurately ripped
20 | ( 48/114) Accurately ripped
21 | ( 48/114) Accurately ripped
22 | ( 48/114) Accurately ripped
23 | ( 48/114) Accurately ripped
24 | ( 48/114) Accurately ripped
25 | ( 48/114) Accurately ripped
26 | ( 48/114) Accurately ripped


==== Log checksum 6AD516EB41F7CCACA418CA6F1C21479527D22EED0FA3FFB741A7C31244B2BBE7 ====


Exact Audio Copy V1.3 from 2. September 2016

EAC extraction logfile from 6. May 2019, 19:20

Midori Suzuki, Ingrid Schmithusen, Yoshikazu Mera, Makoto Sakurada, Peter Kooij / Bach - The Complete Sacred Cantatas (Disc 5), BWV 18 · 152· 155 · 161 · 143

Used drive : ATAPI iHAS124 F Adapter: 1 ID: 0

Read mode : Secure
Utilize accurate stream : Yes
Defeat audio cache : Yes
Make use of C2 pointers : No

Read offset correction : 6
Overread into Lead-In and Lead-Out : No
Fill up missing offset samples with silence : Yes
Delete leading and trailing silent blocks : No
Null samples used in CRC calculations : Yes
Used interface : Native Win32 interface for Win NT & 2000

Used output format : User Defined Encoder
Selected bitrate : 1024 kBit/s
Quality : High
Add ID3 tag : No
Command line compressor : C:\Program Files (x86)\Exact Audio Copy\FLAC\FLAC.EXE
Additional command line options : -6 -V -T "ARTIST=%artist%" -T "TITLE=%title%" -T "ALBUM=%albumtitle%" -T "DATE=%year%" -T "TRACKNUMBER=%tracknr%" -T "GENRE=%genre%" -T "COMMENT=%comment%" -T "BAND=%albuminterpret%" -T "ALBUMARTIST=%albuminterpret%" -T "COMPOSER=%composer%" %haslyrics%–tag-from-file=LYRICS="%lyricsfile%"%haslyrics% -T "DISCNUMBER=%cdnumber%" -T "TOTALDISCS=%totalcds%" -T "TOTALTRACKS=%numtracks%" %hascover%–picture="%coverfile%"%hascover% %source% -o %dest%


TOC of the extracted CD

Track | Start | Length | Start sector | End sector
––––––––––––––––––––––––––––-
1 | 0:00.00 | 2:49.27 | 0 | 12701
2 | 2:49.27 | 1:09.63 | 12702 | 17939
3 | 3:59.15 | 5:39.05 | 17940 | 43369
4 | 9:38.20 | 3:16.22 | 43370 | 58091
5 | 12:54.42 | 1:22.33 | 58092 | 64274
6 | 14:17.00 | 3:18.70 | 64275 | 79194
7 | 17:35.70 | 2:34.12 | 79195 | 90756
8 | 20:10.07 | 1:45.15 | 90757 | 98646
9 | 21:55.22 | 4:33.40 | 98647 | 119161
10 | 26:28.62 | 1:24.63 | 119162 | 125524
11 | 27:53.50 | 4:10.25 | 125525 | 144299
12 | 32:04.00 | 1:59.70 | 144300 | 153294
13 | 34:03.70 | 5:07.47 | 153295 | 176366
14 | 39:11.42 | 2:14.68 | 176367 | 186484
15 | 41:26.35 | 2:38.35 | 186485 | 198369
16 | 44:04.70 | 1:14.05 | 198370 | 203924
17 | 45:19.00 | 5:24.05 | 203925 | 228229
18 | 50:43.05 | 2:03.00 | 228230 | 237454
19 | 52:46.05 | 5:00.42 | 237455 | 259996
20 | 57:46.47 | 2:28.68 | 259997 | 271164
21 | 60:15.40 | 2:52.70 | 271165 | 284134
22 | 63:08.35 | 1:37.40 | 284135 | 291449
23 | 64:46.00 | 1:17.27 | 291450 | 297251
24 | 66:03.27 | 1:54.18 | 297252 | 305819
25 | 67:57.45 | 0:23.62 | 305820 | 307606
26 | 68:21.32 | 3:12.35 | 307607 | 322041
27 | 71:33.67 | 1:43.58 | 322042 | 329824
28 | 73:17.50 | 2:09.07 | 329825 | 339506
29 | 75:26.57 | 2:50.18 | 339507 | 352274


Range status and errors

Selected range

Filename C:\EACRip\BACH - THE COMPLETE SACRED CANTATAS (BCJ, Masaaki Suzuki) [55CDs]\CD 05 - BWV 18 · 152 · 155 · 161 · 143\Bach - The Complete Sacred Cantatas (Disc 5), BWV 18 · 152 · 155 · 161 · 143 - Masaaki Suzuki.wav

Peak level 90.4 %
Extraction speed 8.3 X
Range quality 100.0 %
Test CRC 3B24177D
Copy CRC 3B24177D
Copy OK

No errors occurred


AccurateRip summary

Track 1 accurately ripped (confidence 22) [25808B8D] (AR v2)
Track 2 accurately ripped (confidence 22) [6338FE8F] (AR v2)
Track 3 accurately ripped (confidence 22) [CACA8058] (AR v2)
Track 4 accurately ripped (confidence 22) [F25791E2] (AR v2)
Track 5 accurately ripped (confidence 22) [F5980B91] (AR v2)
Track 6 accurately ripped (confidence 22) [E4F767DC] (AR v2)
Track 7 accurately ripped (confidence 22) [ED61560C] (AR v2)
Track 8 accurately ripped (confidence 22) [B4195153] (AR v2)
Track 9 accurately ripped (confidence 22) [95E5C8CC] (AR v2)
Track 10 accurately ripped (confidence 22) [574C05DA] (AR v2)
Track 11 accurately ripped (confidence 22) [BF558683] (AR v2)
Track 12 accurately ripped (confidence 22) [748F25FD] (AR v2)
Track 13 accurately ripped (confidence 22) [D8372E27] (AR v2)
Track 14 accurately ripped (confidence 22) [28F63036] (AR v2)
Track 15 accurately ripped (confidence 22) [D2AB0011] (AR v2)
Track 16 accurately ripped (confidence 22) [F91BBECA] (AR v2)
Track 17 accurately ripped (confidence 22) [000779D7] (AR v2)
Track 18 accurately ripped (confidence 22) [D3BA2AF3] (AR v2)
Track 19 accurately ripped (confidence 22) [11A7CED1] (AR v2)
Track 20 accurately ripped (confidence 22) [3EF091FD] (AR v2)
Track 21 accurately ripped (confidence 22) [FA25AC81] (AR v2)
Track 22 accurately ripped (confidence 22) [C10BD24A] (AR v2)
Track 23 accurately ripped (confidence 22) [AAB5C043] (AR v2)
Track 24 accurately ripped (confidence 22) [EE368481] (AR v2)
Track 25 accurately ripped (confidence 22) [19411038] (AR v2)
Track 26 accurately ripped (confidence 22) [1FE42AD7] (AR v2)
Track 27 accurately ripped (confidence 22) [0A19D752] (AR v2)
Track 28 accurately ripped (confidence 22) [EEA2EE05] (AR v2)
Track 29 accurately ripped (confidence 22) [8763F579] (AR v2)

All tracks accurately ripped

End of status report

–– CUETools DB Plugin V2.1.6

[CTDB TOCID: BMjLtyNEJIJGSOoifWBUHn2CZf8-] found
Submit result: BMjLtyNEJIJGSOoifWBUHn2CZf8- has been confirmed
Track | CTDB Status
1 | (108/108) Accurately ripped
2 | (108/108) Accurately ripped
3 | (107/108) Accurately ripped
4 | (108/108) Accurately ripped
5 | (108/108) Accurately ripped
6 | (108/108) Accurately ripped
7 | (108/108) Accurately ripped
8 | (108/108) Accurately ripped
9 | (108/108) Accurately ripped
10 | (108/108) Accurately ripped
11 | (107/108) Accurately ripped
12 | (108/108) Accurately ripped
13 | (108/108) Accurately ripped
14 | (108/108) Accurately ripped
15 | (108/108) Accurately ripped
16 | (108/108) Accurately ripped
17 | (107/108) Accurately ripped
18 | (108/108) Accurately ripped
19 | (108/108) Accurately ripped
20 | (108/108) Accurately ripped
21 | (108/108) Accurately ripped
22 | (108/108) Accurately ripped
23 | (108/108) Accurately ripped
24 | (107/108) Accurately ripped
25 | (107/108) Accurately ripped
26 | (107/108) Accurately ripped
27 | (107/108) Accurately ripped
28 | (107/108) Accurately ripped
29 | (106/108) Accurately ripped


==== Log checksum 78A565104A4F05FFD5CCE9B068212726BBE9C387C22A8198A30431FE919F3348 ====


Exact Audio Copy V1.3 from 2. September 2016

EAC extraction logfile from 7. May 2019, 17:54

Monika Frimmer, Gerd Turk, Peter Kooij / Bach - The Complete Sacred Cantatas (Disc 6), BWV 31 · 21

Used drive : ATAPI iHAS124 F Adapter: 1 ID: 0

Read mode : Secure
Utilize accurate stream : Yes
Defeat audio cache : Yes
Make use of C2 pointers : No

Read offset correction : 6
Overread into Lead-In and Lead-Out : No
Fill up missing offset samples with silence : Yes
Delete leading and trailing silent blocks : No
Null samples used in CRC calculations : Yes
Used interface : Native Win32 interface for Win NT & 2000

Used output format : User Defined Encoder
Selected bitrate : 1024 kBit/s
Quality : High
Add ID3 tag : No
Command line compressor : C:\Program Files (x86)\Exact Audio Copy\FLAC\FLAC.EXE
Additional command line options : -6 -V -T "ARTIST=%artist%" -T "TITLE=%title%" -T "ALBUM=%albumtitle%" -T "DATE=%year%" -T "TRACKNUMBER=%tracknr%" -T "GENRE=%genre%" -T "COMMENT=%comment%" -T "BAND=%albuminterpret%" -T "ALBUMARTIST=%albuminterpret%" -T "COMPOSER=%composer%" %haslyrics%–tag-from-file=LYRICS="%lyricsfile%"%haslyrics% -T "DISCNUMBER=%cdnumber%" -T "TOTALDISCS=%totalcds%" -T "TOTALTRACKS=%numtracks%" %hascover%–picture="%coverfile%"%hascover% %source% -o %dest%


TOC of the extracted CD

Track | Start | Length | Start sector | End sector
––––––––––––––––––––––––––––-
1 | 0:00.00 | 2:40.00 | 0 | 11999
2 | 2:40.00 | 3:45.00 | 12000 | 28874
3 | 6:25.00 | 2:08.00 | 28875 | 38474
4 | 8:33.00 | 2:28.00 | 38475 | 49574
5 | 11:01.00 | 1:14.00 | 49575 | 55124
6 | 12:15.00 | 2:03.00 | 55125 | 64349
7 | 14:18.00 | 0:50.00 | 64350 | 68099
8 | 15:08.00 | 3:40.00 | 68100 | 84599
9 | 18:48.00 | 1:22.00 | 84600 | 90749
10 | 20:10.00 | 3:06.00 | 90750 | 104699
11 | 23:16.00 | 3:55.00 | 104700 | 122324
12 | 27:11.00 | 4:26.00 | 122325 | 142274
13 | 31:37.00 | 1:29.00 | 142275 | 148949
14 | 33:06.00 | 5:21.00 | 148950 | 173024
15 | 38:27.00 | 3:32.00 | 173025 | 188924
16 | 41:59.00 | 1:18.00 | 188925 | 194774
17 | 43:17.00 | 3:46.00 | 194775 | 211724
18 | 47:03.00 | 4:30.00 | 211725 | 231974
19 | 51:33.00 | 2:39.00 | 231975 | 243899
20 | 54:12.00 | 3:30.00 | 243900 | 259649
21 | 57:42.00 | 4:38.00 | 259650 | 280499
22 | 62:20.00 | 1:25.00 | 280500 | 286874
23 | 63:45.00 | 4:14.00 | 286875 | 305924


Range status and errors

Selected range

Filename C:\EACRip\BACH - THE COMPLETE SACRED CANTATAS (BCJ, Masaaki Suzuki) [55CDs]\CD 06 - BWV 31 · 21\Bach - The Complete Sacred Cantatas (Disc 6), BWV 31 · 21 - Masaaki Suzuki.wav

Peak level 99.9 %
Extraction speed 9.1 X
Range quality 99.9 %
Test CRC 5213B53D
Copy CRC 5213B53D
Copy OK

No errors occurred


AccurateRip summary

Track 1 accurately ripped (confidence 20) [D76C65C6] (AR v2)
Track 2 accurately ripped (confidence 20) [6B3130A9] (AR v2)
Track 3 accurately ripped (confidence 20) [C55277F4] (AR v2)
Track 4 accurately ripped (confidence 20) [BBB85536] (AR v2)
Track 5 accurately ripped (confidence 20) [490ABD6C] (AR v2)
Track 6 accurately ripped (confidence 20) [589C7F42] (AR v2)
Track 7 accurately ripped (confidence 20) [5F6CC36D] (AR v2)
Track 8 accurately ripped (confidence 20) [A99FDC2C] (AR v2)
Track 9 accurately ripped (confidence 20) [8083BE24] (AR v2)
Track 10 accurately ripped (confidence 20) [643065B3] (AR v2)
Track 11 accurately ripped (confidence 20) [E82735F1] (AR v2)
Track 12 accurately ripped (confidence 20) [965BB6AF] (AR v2)
Track 13 accurately ripped (confidence 20) [B18493F7] (AR v2)
Track 14 accurately ripped (confidence 20) [1542D623] (AR v2)
Track 15 accurately ripped (confidence 20) [9FD2E9A9] (AR v2)
Track 16 accurately ripped (confidence 20) [1B3C2A2D] (AR v2)
Track 17 accurately ripped (confidence 20) [478661D0] (AR v2)
Track 18 accurately ripped (confidence 20) [F7666CF3] (AR v2)
Track 19 accurately ripped (confidence 20) [D6EA831C] (AR v2)
Track 20 accurately ripped (confidence 20) [E5353FFF] (AR v2)
Track 21 accurately ripped (confidence 20) [6A309898] (AR v2)
Track 22 accurately ripped (confidence 20) [D1B7A1D1] (AR v2)
Track 23 accurately ripped (confidence 20) [243E46D1] (AR v2)

All tracks accurately ripped

End of status report

–– CUETools DB Plugin V2.1.6

[CTDB TOCID: k3b8U1.Oj5KQgs14Dwp4I9Pb.Q0-] found
Submit result: k3b8U1.Oj5KQgs14Dwp4I9Pb.Q0- has been confirmed
Track | CTDB Status
1 | (100/101) Accurately ripped
2 | (100/101) Accurately ripped
3 | (100/101) Accurately ripped
4 | (100/101) Accurately ripped
5 | (100/101) Accurately ripped
6 | (100/101) Accurately ripped
7 | (100/101) Accurately ripped
8 | (100/101) Accurately ripped
9 | (100/101) Accurately ripped
10 | (100/101) Accurately ripped
11 | (100/101) Accurately ripped
12 | (100/101) Accurately ripped
13 | (100/101) Accurately ripped
14 | ( 99/101) Accurately ripped
15 | (100/101) Accurately ripped
16 | (100/101) Accurately ripped
17 | (100/101) Accurately ripped
18 | (100/101) Accurately ripped
19 | (100/101) Accurately ripped
20 | (100/101) Accurately ripped
21 | ( 99/101) Accurately ripped
22 | (100/101) Accurately ripped
23 | (100/101) Accurately ripped


==== Log checksum 28B3D6944C594C4A4012C678E37E35EB9AB039EC0BC24CED14FD03D2435B2ECE ====


Exact Audio Copy V1.3 from 2. September 2016

EAC extraction logfile from 7. May 2019, 19:27

Ingrid Schmithusen, Yoshikazu Mera, Makoto Sakurada, Peter Kooij / Bach - The Complete Sacred Cantatas (Disc 7), BWV 63 · 61 · 132 · 172

Used drive : ATAPI iHAS124 F Adapter: 1 ID: 0

Read mode : Secure
Utilize accurate stream : Yes
Defeat audio cache : Yes
Make use of C2 pointers : No

Read offset correction : 6
Overread into Lead-In and Lead-Out : No
Fill up missing offset samples with silence : Yes
Delete leading and trailing silent blocks : No
Null samples used in CRC calculations : Yes
Used interface : Native Win32 interface for Win NT & 2000

Used output format : User Defined Encoder
Selected bitrate : 1024 kBit/s
Quality : High
Add ID3 tag : No
Command line compressor : C:\Program Files (x86)\Exact Audio Copy\FLAC\FLAC.EXE
Additional command line options : -6 -V -T "ARTIST=%artist%" -T "TITLE=%title%" -T "ALBUM=%albumtitle%" -T "DATE=%year%" -T "TRACKNUMBER=%tracknr%" -T "GENRE=%genre%" -T "COMMENT=%comment%" -T "BAND=%albuminterpret%" -T "ALBUMARTIST=%albuminterpret%" -T "COMPOSER=%composer%" %haslyrics%–tag-from-file=LYRICS="%lyricsfile%"%haslyrics% -T "DISCNUMBER=%cdnumber%" -T "TOTALDISCS=%totalcds%" -T "TOTALTRACKS=%numtracks%" %hascover%–picture="%coverfile%"%hascover% %source% -o %dest%


TOC of the extracted CD

Track | Start | Length | Start sector | End sector
––––––––––––––––––––––––––––-
1 | 0:00.00 | 5:07.47 | 0 | 23071
2 | 5:07.47 | 3:03.63 | 23072 | 36859
3 | 8:11.35 | 8:03.00 | 36860 | 73084
4 | 16:14.35 | 0:54.19 | 73085 | 77153
5 | 17:08.54 | 3:51.51 | 77154 | 94529
6 | 21:00.30 | 1:03.30 | 94530 | 99284
7 | 22:03.60 | 7:10.40 | 99285 | 131574
8 | 29:14.25 | 2:46.40 | 131575 | 144064
9 | 32:00.65 | 1:20.15 | 144065 | 150079
10 | 33:21.05 | 4:08.27 | 150080 | 168706
11 | 37:29.32 | 0:58.73 | 168707 | 173129
12 | 38:28.30 | 3:26.25 | 173130 | 188604
13 | 41:54.55 | 1:05.35 | 188605 | 193514
14 | 43:00.15 | 6:07.57 | 193515 | 221096
15 | 49:07.72 | 2:12.53 | 221097 | 231049
16 | 51:20.50 | 2:58.35 | 231050 | 244434
17 | 54:19.10 | 2:03.52 | 244435 | 253711
18 | 56:22.62 | 3:45.68 | 253712 | 270654
19 | 60:08.55 | 1:07.67 | 270655 | 275746
20 | 61:16.47 | 3:52.45 | 275747 | 293191
21 | 65:09.17 | 0:47.35 | 293192 | 296751
22 | 65:56.52 | 2:05.45 | 296752 | 306171
23 | 68:02.22 | 3:55.25 | 306172 | 323821
24 | 71:57.47 | 3:43.28 | 323822 | 340574
25 | 75:41.00 | 1:49.02 | 340575 | 348751


Range status and errors

Selected range

Filename C:\EACRip\BACH - THE COMPLETE SACRED CANTATAS (BCJ, Masaaki Suzuki) [55CDs]\CD 07 - BWV 63 · 61 · 132 · 172\Bach - The Complete Sacred Cantatas (Disc 7), BWV 63 · 61 · 132 · 172 - Masaaki Suzuki.wav

Peak level 100.0 %
Extraction speed 9.8 X
Range quality 99.9 %
Test CRC 4A98EAC6
Copy CRC 4A98EAC6
Copy OK

No errors occurred


AccurateRip summary

Track 1 accurately ripped (confidence 21) [2707E832] (AR v2)
Track 2 accurately ripped (confidence 21) [10391D46] (AR v2)
Track 3 accurately ripped (confidence 21) [441B5B78] (AR v2)
Track 4 accurately ripped (confidence 21) [72EDEB3A] (AR v2)
Track 5 accurately ripped (confidence 21) [48DD49B1] (AR v2)
Track 6 accurately ripped (confidence 21) [B424CFFF] (AR v2)
Track 7 accurately ripped (confidence 21) [491D13F4] (AR v2)
Track 8 accurately ripped (confidence 21) [17A6A063] (AR v2)
Track 9 accurately ripped (confidence 21) [68236C25] (AR v2)
Track 10 accurately ripped (confidence 21) [0EF8B9D6] (AR v2)
Track 11 accurately ripped (confidence 21) [ADD18D1D] (AR v2)
Track 12 accurately ripped (confidence 21) [07D0A227] (AR v2)
Track 13 accurately ripped (confidence 21) [E541A4DF] (AR v2)
Track 14 accurately ripped (confidence 21) [531A90F9] (AR v2)
Track 15 accurately ripped (confidence 21) [0A891170] (AR v2)
Track 16 accurately ripped (confidence 21) [7689A708] (AR v2)
Track 17 accurately ripped (confidence 21) [7B44666C] (AR v2)
Track 18 accurately ripped (confidence 21) [4BB48C23] (AR v2)
Track 19 accurately ripped (confidence 21) [9F26D31B] (AR v2)
Track 20 accurately ripped (confidence 21) [B32942F7] (AR v2)
Track 21 accurately ripped (confidence 21) [F92DA509] (AR v2)
Track 22 accurately ripped (confidence 21) [9263740E] (AR v2)
Track 23 accurately ripped (confidence 21) [B5AF0F6F] (AR v2)
Track 24 accurately ripped (confidence 21) [1C705108] (AR v2)
Track 25 accurately ripped (confidence 21) [BAD637D3] (AR v2)

All tracks accurately ripped

End of status report

–– CUETools DB Plugin V2.1.6

[CTDB TOCID: pW7w33ENY4MsZ.v9Pr4Td6u_nQA-] found
Submit result: pW7w33ENY4MsZ.v9Pr4Td6u_nQA- has been confirmed
Track | CTDB Status
1 | (100/101) Accurately ripped
2 | (100/101) Accurately ripped
3 | (100/101) Accurately ripped
4 | (100/101) Accurately ripped
5 | (100/101) Accurately ripped
6 | (100/101) Accurately ripped
7 | (100/101) Accurately ripped
8 | (100/101) Accurately ripped
9 | (100/101) Accurately ripped
10 | (100/101) Accurately ripped
11 | (100/101) Accurately ripped
12 | (100/101) Accurately ripped
13 | (100/101) Accurately ripped
14 | (100/101) Accurately ripped
15 | (100/101) Accurately ripped
16 | ( 99/101) Accurately ripped
17 | (100/101) Accurately ripped
18 | (100/101) Accurately ripped
19 | (100/101) Accurately ripped
20 | ( 92/101) Accurately ripped, or (6/101) differs in 2 samples @00:30:56
21 | (100/101) Accurately ripped
22 | (100/101) Accurately ripped
23 | (100/101) Accurately ripped
24 | ( 98/101) Accurately ripped
25 | ( 99/101) Accurately ripped


==== Log checksum 7C9350F023E1393D65FD76BE05BB5E385F2B2FA561784F9FD3E9A8092AD4BA36 ====


Exact Audio Copy V1.3 from 2. September 2016

EAC extraction logfile from 7. May 2019, 22:26

Midori Suzuki, Yoshikazu Mera, Gerd Turk, Peter Kooij / Bach - The Complete Sacred Cantatas (Disc 8), BWV 23 · 23 · 75

Used drive : ATAPI iHAS124 F Adapter: 1 ID: 0

Read mode : Secure
Utilize accurate stream : Yes
Defeat audio cache : Yes
Make use of C2 pointers : No

Read offset correction : 6
Overread into Lead-In and Lead-Out : No
Fill up missing offset samples with silence : Yes
Delete leading and trailing silent blocks : No
Null samples used in CRC calculations : Yes
Used interface : Native Win32 interface for Win NT & 2000

Used output format : User Defined Encoder
Selected bitrate : 1024 kBit/s
Quality : High
Add ID3 tag : No
Command line compressor : C:\Program Files (x86)\Exact Audio Copy\FLAC\FLAC.EXE
Additional command line options : -6 -V -T "ARTIST=%artist%" -T "TITLE=%title%" -T "ALBUM=%albumtitle%" -T "DATE=%year%" -T "TRACKNUMBER=%tracknr%" -T "GENRE=%genre%" -T "COMMENT=%comment%" -T "BAND=%albuminterpret%" -T "ALBUMARTIST=%albuminterpret%" -T "COMPOSER=%composer%" %haslyrics%–tag-from-file=LYRICS="%lyricsfile%"%haslyrics% -T "DISCNUMBER=%cdnumber%" -T "TOTALDISCS=%totalcds%" -T "TOTALTRACKS=%numtracks%" %hascover%–picture="%coverfile%"%hascover% %source% -o %dest%


TOC of the extracted CD

Track | Start | Length | Start sector | End sector
––––––––––––––––––––––––––––-
1 | 0:00.00 | 4:40.00 | 0 | 20999
2 | 4:40.00 | 4:43.00 | 21000 | 42224
3 | 9:23.00 | 2:03.22 | 42225 | 51471
4 | 11:26.22 | 2:49.15 | 51472 | 64161
5 | 14:15.37 | 2:22.38 | 64162 | 74849
6 | 16:38.00 | 7:01.37 | 74850 | 106461
7 | 23:39.37 | 1:25.38 | 106462 | 112874
8 | 25:05.00 | 3:13.37 | 112875 | 127386
9 | 28:18.37 | 4:33.23 | 127387 | 147884
10 | 32:51.60 | 4:31.00 | 147885 | 168209
11 | 37:22.60 | 0:51.52 | 168210 | 172086
12 | 38:14.37 | 4:18.38 | 172087 | 191474
13 | 42:33.00 | 0:36.37 | 191475 | 194211
14 | 43:09.37 | 5:30.00 | 194212 | 218961
15 | 48:39.37 | 0:38.38 | 218962 | 221849
16 | 49:18.00 | 1:50.00 | 221850 | 230099
17 | 51:08.00 | 2:14.00 | 230100 | 240149
18 | 53:22.00 | 0:48.37 | 240150 | 243786
19 | 54:10.37 | 2:28.28 | 243787 | 254914
20 | 56:38.65 | 0:33.32 | 254915 | 257421
21 | 57:12.22 | 3:48.08 | 257422 | 274529
22 | 61:00.30 | 0:42.45 | 274530 | 277724
23 | 61:43.00 | 2:21.00 | 277725 | 288299


Range status and errors

Selected range

Filename C:\EACRip\BACH - THE COMPLETE SACRED CANTATAS (BCJ, Masaaki Suzuki) [55CDs]\CD 08 - BWV 23 · 23 · 75\Bach - The Complete Sacred Cantatas (Disc 8), BWV 23 · 23 · 75 - Masaaki Suzuki.wav

Peak level 87.1 %
Extraction speed 9.6 X
Range quality 100.0 %
Test CRC 44E96ACF
Copy CRC 44E96ACF
Copy OK

No errors occurred


AccurateRip summary

Track 1 accurately ripped (confidence 20) [03AFF57C] (AR v2)
Track 2 accurately ripped (confidence 20) [909ACDF8] (AR v2)
Track 3 accurately ripped (confidence 20) [382BE2A4] (AR v2)
Track 4 accurately ripped (confidence 20) [5F2BF0E3] (AR v2)
Track 5 accurately ripped (confidence 20) [AA73B2A0] (AR v2)
Track 6 accurately ripped (confidence 20) [3561A16F] (AR v2)
Track 7 accurately ripped (confidence 20) [A6891593] (AR v2)
Track 8 accurately ripped (confidence 20) [C1DCBE7D] (AR v2)
Track 9 accurately ripped (confidence 20) [92CB3636] (AR v2)
Track 10 accurately ripped (confidence 20) [CF075F0B] (AR v2)
Track 11 accurately ripped (confidence 20) [DF2C33C1] (AR v2)
Track 12 accurately ripped (confidence 20) [689E0035] (AR v2)
Track 13 accurately ripped (confidence 20) [885B8893] (AR v2)
Track 14 accurately ripped (confidence 20) [B0DE4E9E] (AR v2)
Track 15 accurately ripped (confidence 20) [E57E40AF] (AR v2)
Track 16 accurately ripped (confidence 20) [583543B1] (AR v2)
Track 17 accurately ripped (confidence 20) [AC2AE934] (AR v2)
Track 18 accurately ripped (confidence 20) [20D33F36] (AR v2)
Track 19 accurately ripped (confidence 20) [2A14C72B] (AR v2)
Track 20 accurately ripped (confidence 20) [87ADC66A] (AR v2)
Track 21 accurately ripped (confidence 20) [1DB45469] (AR v2)
Track 22 accurately ripped (confidence 20) [47F4FAAF] (AR v2)
Track 23 accurately ripped (confidence 20) [226319A7] (AR v2)

All tracks accurately ripped

End of status report

–– CUETools DB Plugin V2.1.6

[CTDB TOCID: uZp0.sDC7naijchvCkg2BayNEmo-] found
Submit result: uZp0.sDC7naijchvCkg2BayNEmo- has been confirmed
Track | CTDB Status
1 | (96/96) Accurately ripped
2 | (96/96) Accurately ripped
3 | (96/96) Accurately ripped
4 | (96/96) Accurately ripped
5 | (96/96) Accurately ripped
6 | (96/96) Accurately ripped
7 | (96/96) Accurately ripped
8 | (96/96) Accurately ripped
9 | (96/96) Accurately ripped
10 | (96/96) Accurately ripped
11 | (96/96) Accurately ripped
12 | (96/96) Accurately ripped
13 | (96/96) Accurately ripped
14 | (95/96) Accurately ripped
15 | (96/96) Accurately ripped
16 | (96/96) Accurately ripped
17 | (96/96) Accurately ripped
18 | (96/96) Accurately ripped
19 | (96/96) Accurately ripped
20 | (96/96) Accurately ripped
21 | (96/96) Accurately ripped
22 | (96/96) Accurately ripped
23 | (95/96) Accurately ripped


==== Log checksum 798A48826A947135A1FA3770CD8C743EED70B8589CC6EBDB1BFAE0D32F53FD29 ====


Exact Audio Copy V1.3 from 2. September 2016

EAC extraction logfile from 7. May 2019, 23:28

Midori Suzuki, Robin Blaze, Gerd Turk, Chiyuki Urano / Bach - The Complete Sacred Cantatas (Disc 9), BWV 76 · 24 · 167

Used drive : ATAPI iHAS124 F Adapter: 1 ID: 0

Read mode : Secure
Utilize accurate stream : Yes
Defeat audio cache : Yes
Make use of C2 pointers : No

Read offset correction : 6
Overread into Lead-In and Lead-Out : No
Fill up missing offset samples with silence : Yes
Delete leading and trailing silent blocks : No
Null samples used in CRC calculations : Yes
Used interface : Native Win32 interface for Win NT & 2000

Used output format : User Defined Encoder
Selected bitrate : 1024 kBit/s
Quality : High
Add ID3 tag : No
Command line compressor : C:\Program Files (x86)\Exact Audio Copy\FLAC\FLAC.EXE
Additional command line options : -6 -V -T "ARTIST=%artist%" -T "TITLE=%title%" -T "ALBUM=%albumtitle%" -T "DATE=%year%" -T "TRACKNUMBER=%tracknr%" -T "GENRE=%genre%" -T "COMMENT=%comment%" -T "BAND=%albuminterpret%" -T "ALBUMARTIST=%albuminterpret%" -T "COMPOSER=%composer%" %haslyrics%–tag-from-file=LYRICS="%lyricsfile%"%haslyrics% -T "DISCNUMBER=%cdnumber%" -T "TOTALDISCS=%totalcds%" -T "TOTALTRACKS=%numtracks%" %hascover%–picture="%coverfile%"%hascover% %source% -o %dest%


TOC of the extracted CD

Track | Start | Length | Start sector | End sector
––––––––––––––––––––––––––––-
1 | 0:00.00 | 4:14.37 | 0 | 19086
2 | 4:14.37 | 1:31.00 | 19087 | 25911
3 | 5:45.37 | 5:34.38 | 25912 | 50999
4 | 11:20.00 | 0:44.00 | 51000 | 54299
5 | 12:04.00 | 3:05.00 | 54300 | 68174
6 | 15:09.00 | 1:35.00 | 68175 | 75299
7 | 16:44.00 | 2:37.00 | 75300 | 87074
8 | 19:21.00 | 2:31.00 | 87075 | 98399
9 | 21:52.00 | 0:52.62 | 98400 | 102361
10 | 22:44.62 | 2:39.13 | 102362 | 114299
11 | 25:24.00 | 0:57.00 | 114300 | 118574
12 | 26:21.00 | 3:57.00 | 118575 | 136349
13 | 30:18.00 | 0:50.00 | 136350 | 140099
14 | 31:08.00 | 2:52.00 | 140100 | 152999
15 | 34:00.00 | 3:07.00 | 153000 | 167024
16 | 37:07.00 | 1:55.00 | 167025 | 175649
17 | 39:02.00 | 2:50.00 | 175650 | 188399
18 | 41:52.00 | 1:44.00 | 188400 | 196199
19 | 43:36.00 | 3:43.00 | 196200 | 212924
20 | 47:19.00 | 1:55.37 | 212925 | 221586
21 | 49:14.37 | 4:42.00 | 221587 | 242736
22 | 53:56.37 | 2:00.00 | 242737 | 251736
23 | 55:56.37 | 7:12.00 | 251737 | 284136
24 | 63:08.37 | 1:19.38 | 284137 | 290099
25 | 64:28.00 | 2:48.00 | 290100 | 302699


Range status and errors

Selected range

Filename C:\EACRip\BACH - THE COMPLETE SACRED CANTATAS (BCJ, Masaaki Suzuki) [55CDs]\CD 09 - BWV 76 · 24 · 167\Bach - The Complete Sacred Cantatas (Disc 9), BWV 76 · 24 · 167 - Masaaki Suzuki.wav

Peak level 98.0 %
Extraction speed 9.5 X
Range quality 100.0 %
Test CRC FF2878CB
Copy CRC FF2878CB
Copy OK

No errors occurred


AccurateRip summary

Track 1 accurately ripped (confidence 20) [5F6D3DD3] (AR v2)
Track 2 accurately ripped (confidence 20) [3AAD4A4E] (AR v2)
Track 3 accurately ripped (confidence 20) [478A765E] (AR v2)
Track 4 accurately ripped (confidence 20) [F39875CB] (AR v2)
Track 5 accurately ripped (confidence 20) [8A449872] (AR v2)
Track 6 accurately ripped (confidence 20) [A72ED37F] (AR v2)
Track 7 accurately ripped (confidence 20) [A54D6276] (AR v2)
Track 8 accurately ripped (confidence 20) [BD13E319] (AR v2)
Track 9 accurately ripped (confidence 20) [75C3C7E5] (AR v2)
Track 10 accurately ripped (confidence 20) [22018AF2] (AR v2)
Track 11 accurately ripped (confidence 20) [E8C77D63] (AR v2)
Track 12 accurately ripped (confidence 20) [AAF50D27] (AR v2)
Track 13 accurately ripped (confidence 20) [DD2AF778] (AR v2)
Track 14 accurately ripped (confidence 20) [4EAF4135] (AR v2)
Track 15 accurately ripped (confidence 20) [737B3D83] (AR v2)
Track 16 accurately ripped (confidence 20) [98E26544] (AR v2)
Track 17 accurately ripped (confidence 20) [98E80117] (AR v2)
Track 18 accurately ripped (confidence 20) [5F79247B] (AR v2)
Track 19 accurately ripped (confidence 20) [715AFFF5] (AR v2)
Track 20 accurately ripped (confidence 20) [E7A3F989] (AR v2)
Track 21 accurately ripped (confidence 20) [B0612B07] (AR v2)
Track 22 accurately ripped (confidence 20) [6424EDC3] (AR v2)
Track 23 accurately ripped (confidence 20) [CA127B1A] (AR v2)
Track 24 accurately ripped (confidence 20) [33DC1A99] (AR v2)
Track 25 accurately ripped (confidence 20) [C3503788] (AR v2)

All tracks accurately ripped

End of status report

–– CUETools DB Plugin V2.1.6

[CTDB TOCID: 3wnvlP99zditj2dKeMPKfSHEnVY-] found
Submit result: 3wnvlP99zditj2dKeMPKfSHEnVY- has been confirmed
Track | CTDB Status
1 | ( 99/100) Accurately ripped
2 | ( 99/100) Accurately ripped
3 | ( 99/100) Accurately ripped
4 | ( 99/100) Accurately ripped
5 | ( 99/100) Accurately ripped
6 | ( 99/100) Accurately ripped
7 | ( 99/100) Accurately ripped
8 | ( 99/100) Accurately ripped
9 | ( 99/100) Accurately ripped
10 | ( 99/100) Accurately ripped
11 | ( 99/100) Accurately ripped
12 | ( 99/100) Accurately ripped
13 | ( 99/100) Accurately ripped
14 | ( 99/100) Accurately ripped
15 | ( 99/100) Accurately ripped
16 | ( 99/100) Accurately ripped
17 | ( 99/100) Accurately ripped
18 | ( 99/100) Accurately ripped
19 | ( 98/100) Accurately ripped
20 | ( 99/100) Accurately ripped
21 | ( 98/100) Accurately ripped
22 | ( 99/100) Accurately ripped
23 | ( 98/100) Accurately ripped
24 | ( 99/100) Accurately ripped
25 | ( 98/100) Accurately ripped


==== Log checksum 4FFE614208F9BB8D601327FC809D8E825784F9744F14B85E6816F5AC76804E4A ====


Exact Audio Copy V1.3 from 2. September 2016

EAC extraction logfile from 8. May 2019, 0:31

Miah Persson, Robin Blaze, Makoto Sakurada, Peter Kooij / Bach - The Complete Sacred Cantatas (Disc 10), BWV 105 · 179 · 186

Used drive : ATAPI iHAS124 F Adapter: 1 ID: 0

Read mode : Secure
Utilize accurate stream : Yes
Defeat audio cache : Yes
Make use of C2 pointers : No

Read offset correction : 6
Overread into Lead-In and Lead-Out : No
Fill up missing offset samples with silence : Yes
Delete leading and trailing silent blocks : No
Null samples used in CRC calculations : Yes
Used interface : Native Win32 interface for Win NT & 2000

Used output format : User Defined Encoder
Selected bitrate : 1024 kBit/s
Quality : High
Add ID3 tag : No
Command line compressor : C:\Program Files (x86)\Exact Audio Copy\FLAC\FLAC.EXE
Additional command line options : -6 -V -T "ARTIST=%artist%" -T "TITLE=%title%" -T "ALBUM=%albumtitle%" -T "DATE=%year%" -T "TRACKNUMBER=%tracknr%" -T "GENRE=%genre%" -T "COMMENT=%comment%" -T "BAND=%albuminterpret%" -T "ALBUMARTIST=%albuminterpret%" -T "COMPOSER=%composer%" %haslyrics%–tag-from-file=LYRICS="%lyricsfile%"%haslyrics% -T "DISCNUMBER=%cdnumber%" -T "TOTALDISCS=%totalcds%" -T "TOTALTRACKS=%numtracks%" %hascover%–picture="%coverfile%"%hascover% %source% -o %dest%


TOC of the extracted CD

Track | Start | Length | Start sector | End sector
––––––––––––––––––––––––––––-
1 | 0:00.00 | 5:08.37 | 0 | 23136
2 | 5:08.37 | 0:53.35 | 23137 | 27146
3 | 6:01.72 | 6:06.03 | 27147 | 54599
4 | 12:08.00 | 2:11.00 | 54600 | 64424
5 | 14:19.00 | 5:15.37 | 64425 | 88086
6 | 19:34.37 | 2:06.00 | 88087 | 97536
7 | 21:40.37 | 2:53.13 | 97537 | 110524
8 | 24:33.50 | 1:02.25 | 110525 | 115199
9 | 25:36.00 | 2:34.00 | 115200 | 126749
10 | 28:10.00 | 1:36.00 | 126750 | 133949
11 | 29:46.00 | 5:36.37 | 133950 | 159186
12 | 35:22.37 | 1:15.00 | 159187 | 164811
13 | 36:37.37 | 3:17.53 | 164812 | 179639
14 | 39:55.15 | 1:31.60 | 179640 | 186524
15 | 41:27.00 | 1:58.00 | 186525 | 195374
16 | 43:25.00 | 2:20.22 | 195375 | 205896
17 | 45:45.22 | 2:43.45 | 205897 | 218166
18 | 48:28.67 | 2:05.30 | 218167 | 227571
19 | 50:34.22 | 1:33.00 | 227572 | 234546
20 | 52:07.22 | 3:03.28 | 234547 | 248299
21 | 55:10.50 | 1:45.55 | 248300 | 256229
22 | 56:56.30 | 3:45.67 | 256230 | 273171
23 | 60:42.22 | 2:27.53 | 273172 | 284249


Range status and errors

Selected range

Filename C:\EACRip\BACH - THE COMPLETE SACRED CANTATAS (BCJ, Masaaki Suzuki) [55CDs]\CD 10 - BWV 105 · 179 · 186\Bach - The Complete Sacred Cantatas (Disc 10), BWV 105 · 179 · 186 - Masaaki Suzuki.wav

Peak level 100.0 %
Extraction speed 9.4 X
Range quality 100.0 %
Test CRC 470D611A
Copy CRC 470D611A
Copy OK

No errors occurred


AccurateRip summary

Track 1 accurately ripped (confidence 19) [95181316] (AR v2)
Track 2 accurately ripped (confidence 19) [2252636A] (AR v2)
Track 3 accurately ripped (confidence 19) [E671D413] (AR v2)
Track 4 accurately ripped (confidence 19) [32E031B3] (AR v2)
Track 5 accurately ripped (confidence 19) [D0EA77D4] (AR v2)
Track 6 accurately ripped (confidence 20) [12BDB42C] (AR v2)
Track 7 accurately ripped (confidence 20) [C7EB3A40] (AR v2)
Track 8 accurately ripped (confidence 20) [1B260290] (AR v2)
Track 9 accurately ripped (confidence 20) [8DCFA2C0] (AR v2)
Track 10 accurately ripped (confidence 20) [CF6BB1CC] (AR v2)
Track 11 accurately ripped (confidence 20) [73FAB149] (AR v2)
Track 12 accurately ripped (confidence 20) [BCCC79AD] (AR v2)
Track 13 accurately ripped (confidence 20) [1176C489] (AR v2)
Track 14 accurately ripped (confidence 20) [F5FC3435] (AR v2)
Track 15 accurately ripped (confidence 20) [C50C7533] (AR v2)
Track 16 accurately ripped (confidence 20) [31B02A36] (AR v2)
Track 17 accurately ripped (confidence 20) [94BE0AD0] (AR v2)
Track 18 accurately ripped (confidence 20) [A0D803B6] (AR v2)
Track 19 accurately ripped (confidence 20) [87EDE2EA] (AR v2)
Track 20 accurately ripped (confidence 20) [D2EFB17B] (AR v2)
Track 21 accurately ripped (confidence 20) [155DB619] (AR v2)
Track 22 accurately ripped (confidence 20) [80B1A057] (AR v2)
Track 23 accurately ripped (confidence 20) [F82C6DD6] (AR v2)

All tracks accurately ripped

End of status report

–– CUETools DB Plugin V2.1.6

[CTDB TOCID: iurZkgFfQ_7.Bj_8UXCZUEUYl4E-] found
Submit result: already submitted
Track | CTDB Status
1 | (101/102) Accurately ripped
2 | (101/102) Accurately ripped
3 | (101/102) Accurately ripped
4 | (101/102) Accurately ripped
5 | (101/102) Accurately ripped
6 | (101/102) Accurately ripped
7 | (101/102) Accurately ripped
8 | (101/102) Accurately ripped
9 | (101/102) Accurately ripped
10 | (101/102) Accurately ripped
11 | (101/102) Accurately ripped
12 | (101/102) Accurately ripped
13 | (101/102) Accurately ripped
14 | (101/102) Accurately ripped
15 | (101/102) Accurately ripped
16 | (100/102) Accurately ripped
17 | (101/102) Accurately ripped
18 | (101/102) Accurately ripped
19 | (101/102) Accurately ripped
20 | (101/102) Accurately ripped
21 | (101/102) Accurately ripped
22 | (101/102) Accurately ripped
23 | ( 99/102) Accurately ripped, or (2/102) differs in 1637 samples @02:27:38-02:27:41


==== Log checksum 0B4AF6340596CEE71F9CD1A346AD8EB6276DA929A1CFE63809395481E1BBD99C ====


Exact Audio Copy V1.3 from 2. September 2016

EAC extraction logfile from 8. May 2019, 1:52

Midori Suzuki, Kai Wessel, Makoto Sakurada, Peter Kooij / Bach - The Complete Sacred Cantatas (Disc 11), BWV 136 · 138 · 95 · 46

Used drive : ATAPI iHAS124 F Adapter: 1 ID: 0

Read mode : Secure
Utilize accurate stream : Yes
Defeat audio cache : Yes
Make use of C2 pointers : No

Read offset correction : 6
Overread into Lead-In and Lead-Out : No
Fill up missing offset samples with silence : Yes
Delete leading and trailing silent blocks : No
Null samples used in CRC calculations : Yes
Used interface : Native Win32 interface for Win NT & 2000

Used output format : User Defined Encoder
Selected bitrate : 1024 kBit/s
Quality : High
Add ID3 tag : No
Command line compressor : C:\Program Files (x86)\Exact Audio Copy\FLAC\FLAC.EXE
Additional command line options : -6 -V -T "ARTIST=%artist%" -T "TITLE=%title%" -T "ALBUM=%albumtitle%" -T "DATE=%year%" -T "TRACKNUMBER=%tracknr%" -T "GENRE=%genre%" -T "COMMENT=%comment%" -T "BAND=%albuminterpret%" -T "ALBUMARTIST=%albuminterpret%" -T "COMPOSER=%composer%" %haslyrics%–tag-from-file=LYRICS="%lyricsfile%"%haslyrics% -T "DISCNUMBER=%cdnumber%" -T "TOTALDISCS=%totalcds%" -T "TOTALTRACKS=%numtracks%" %hascover%–picture="%coverfile%"%hascover% %source% -o %dest%


TOC of the extracted CD

Track | Start | Length | Start sector | End sector
––––––––––––––––––––––––––––-
1 | 0:00.00 | 3:46.70 | 0 | 17019
2 | 3:46.70 | 1:06.35 | 17020 | 22004
3 | 4:53.30 | 4:20.15 | 22005 | 41519
4 | 9:13.45 | 1:01.60 | 41520 | 46154
5 | 10:15.30 | 3:43.20 | 46155 | 62899
6 | 13:58.50 | 1:10.25 | 62900 | 68174
7 | 15:09.00 | 4:16.52 | 68175 | 87426
8 | 19:25.52 | 3:56.08 | 87427 | 105134
9 | 23:21.60 | 1:04.00 | 105135 | 109934
10 | 24:25.60 | 4:26.00 | 109935 | 129884
11 | 28:51.60 | 0:24.37 | 129885 | 131721
12 | 29:16.22 | 2:07.28 | 131722 | 141274
13 | 31:23.50 | 4:52.10 | 141275 | 163184
14 | 36:15.60 | 0:57.07 | 163185 | 167466
15 | 37:12.67 | 1:46.08 | 167467 | 175424
16 | 38:59.00 | 0:37.50 | 175425 | 178249
17 | 39:36.50 | 7:28.00 | 178250 | 211849
18 | 47:04.50 | 1:19.62 | 211850 | 217836
19 | 48:24.37 | 1:09.60 | 217837 | 223071
20 | 49:34.22 | 6:05.53 | 223072 | 250499
21 | 55:40.00 | 2:00.00 | 250500 | 259499
22 | 57:40.00 | 3:23.22 | 259500 | 274746
23 | 61:03.22 | 0:39.00 | 274747 | 277671
24 | 61:42.22 | 4:09.65 | 277672 | 296411
25 | 65:52.12 | 2:04.38 | 296412 | 305749


Range status and errors

Selected range

Filename C:\EACRip\BACH - THE COMPLETE SACRED CANTATAS (BCJ, Masaaki Suzuki) [55CDs]\CD 11 - BWV 136 · 138 · 95 · 46\Bach - The Complete Sacred Cantatas (Disc 11), BWV 136 · 138 · 95 · 46 - Masaaki Suzuki.wav

Peak level 94.4 %
Extraction speed 9.6 X
Range quality 99.9 %
Test CRC 25913580
Copy CRC 25913580
Copy OK

No errors occurred


AccurateRip summary

Track 1 accurately ripped (confidence 20) [4E94EDCB] (AR v2)
Track 2 accurately ripped (confidence 20) [F5AA1A03] (AR v2)
Track 3 accurately ripped (confidence 20) [96E39585] (AR v2)
Track 4 accurately ripped (confidence 20) [A26F3A66] (AR v2)
Track 5 accurately ripped (confidence 20) [D9A0E2EE] (AR v2)
Track 6 accurately ripped (confidence 20) [92E2092B] (AR v2)
Track 7 accurately ripped (confidence 20) [BD1C1F24] (AR v2)
Track 8 accurately ripped (confidence 20) [713FAF5E] (AR v2)
Track 9 accurately ripped (confidence 20) [9AA8D65B] (AR v2)
Track 10 accurately ripped (confidence 20) [2A2B773D] (AR v2)
Track 11 accurately ripped (confidence 20) [06848866] (AR v2)
Track 12 accurately ripped (confidence 20) [6F740725] (AR v2)
Track 13 accurately ripped (confidence 21) [8CC2BCEB] (AR v2)
Track 14 accurately ripped (confidence 21) [49AD5597] (AR v2)
Track 15 accurately ripped (confidence 21) [42F25D48] (AR v2)
Track 16 accurately ripped (confidence 21) [FDB9975A] (AR v2)
Track 17 accurately ripped (confidence 21) [D2C50943] (AR v2)
Track 18 accurately ripped (confidence 21) [A8ADDEDD] (AR v2)
Track 19 accurately ripped (confidence 21) [6153B458] (AR v2)
Track 20 accurately ripped (confidence 21) [B480E9EF] (AR v2)
Track 21 accurately ripped (confidence 21) [2BBA5E2A] (AR v2)
Track 22 accurately ripped (confidence 21) [3F1678B8] (AR v2)
Track 23 accurately ripped (confidence 21) [3BB152DE] (AR v2)
Track 24 accurately ripped (confidence 21) [24C52825] (AR v2)
Track 25 accurately ripped (confidence 21) [5E647FAC] (AR v2)

All tracks accurately ripped

End of status report

–– CUETools DB Plugin V2.1.6

[CTDB TOCID: SJ4tHYtpc7M9KIpWqYhh0KHVy5E-] found
Submit result: SJ4tHYtpc7M9KIpWqYhh0KHVy5E- has been confirmed
Track | CTDB Status
1 | (103/105) Accurately ripped
2 | (103/105) Accurately ripped
3 | (103/105) Accurately ripped
4 | (103/105) Accurately ripped
5 | (105/105) Accurately ripped
6 | (105/105) Accurately ripped
7 | (104/105) Accurately ripped
8 | (103/105) Accurately ripped
9 | (103/105) Accurately ripped
10 | (103/105) Accurately ripped
11 | (104/105) Accurately ripped
12 | (103/105) Accurately ripped
13 | (105/105) Accurately ripped
14 | (105/105) Accurately ripped
15 | (105/105) Accurately ripped
16 | (105/105) Accurately ripped
17 | (103/105) Accurately ripped
18 | (103/105) Accurately ripped
19 | (103/105) Accurately ripped
20 | (103/105) Accurately ripped
21 | (105/105) Accurately ripped
22 | (105/105) Accurately ripped
23 | (105/105) Accurately ripped
24 | (103/105) Accurately ripped
25 | (101/105) Accurately ripped


==== Log checksum EEFA39E82BBB19E4EAD48E25B98BDB8F94738E0DCAA1980768512460DFBCD913 ====


Exact Audio Copy V1.3 from 2. September 2016

EAC extraction logfile from 8. May 2019, 2:40

Yukari Nonoshita, Robin Blaze, Gerd Turk, Peter Kooij / Bach - The Complete Sacred Cantatas (Disc 12), BWV 147 · 21

Used drive : ATAPI iHAS124 F Adapter: 1 ID: 0

Read mode : Secure
Utilize accurate stream : Yes
Defeat audio cache : Yes
Make use of C2 pointers : No

Read offset correction : 6
Overread into Lead-In and Lead-Out : No
Fill up missing offset samples with silence : Yes
Delete leading and trailing silent blocks : No
Null samples used in CRC calculations : Yes
Used interface : Native Win32 interface for Win NT & 2000

Used output format : User Defined Encoder
Selected bitrate : 1024 kBit/s
Quality : High
Add ID3 tag : No
Command line compressor : C:\Program Files (x86)\Exact Audio Copy\FLAC\FLAC.EXE
Additional command line options : -6 -V -T "ARTIST=%artist%" -T "TITLE=%title%" -T "ALBUM=%albumtitle%" -T "DATE=%year%" -T "TRACKNUMBER=%tracknr%" -T "GENRE=%genre%" -T "COMMENT=%comment%" -T "BAND=%albuminterpret%" -T "ALBUMARTIST=%albuminterpret%" -T "COMPOSER=%composer%" %haslyrics%–tag-from-file=LYRICS="%lyricsfile%"%haslyrics% -T "DISCNUMBER=%cdnumber%" -T "TOTALDISCS=%totalcds%" -T "TOTALTRACKS=%numtracks%" %hascover%–picture="%coverfile%"%hascover% %source% -o %dest%


TOC of the extracted CD

Track | Start | Length | Start sector | End sector
––––––––––––––––––––––––––––-
1 | 0:00.00 | 4:17.35 | 0 | 19309
2 | 4:17.35 | 1:49.10 | 19310 | 27494
3 | 6:06.45 | 4:01.35 | 27495 | 45604
4 | 10:08.05 | 1:29.05 | 45605 | 52284
5 | 11:37.10 | 4:14.42 | 52285 | 71376
6 | 15:51.52 | 3:10.73 | 71377 | 85699
7 | 19:02.50 | 2:57.57 | 85700 | 99031
8 | 22:00.32 | 2:14.70 | 99032 | 109151
9 | 24:15.27 | 2:46.68 | 109152 | 121669
10 | 27:02.20 | 3:20.55 | 121670 | 136724
11 | 30:23.00 | 3:05.42 | 136725 | 150641
12 | 33:28.42 | 4:04.38 | 150642 | 168979
13 | 37:33.05 | 4:33.45 | 168980 | 189499
14 | 42:06.50 | 1:44.45 | 189500 | 197344
15 | 43:51.20 | 5:50.40 | 197345 | 223634
16 | 49:41.60 | 3:30.35 | 223635 | 239419
17 | 53:12.20 | 1:24.17 | 239420 | 245736
18 | 54:36.37 | 3:57.33 | 245737 | 263544
19 | 58:33.70 | 4:30.70 | 263545 | 283864
20 | 63:04.65 | 2:36.60 | 283865 | 295624
21 | 65:41.50 | 3:37.25 | 295625 | 311924


Range status and errors

Selected range

Filename C:\EACRip\BACH - THE COMPLETE SACRED CANTATAS (BCJ, Masaaki Suzuki) [55CDs]\CD 12 - BWV 147 · 21\Bach - The Complete Sacred Cantatas (Disc 12), BWV 147 · 21 - Masaaki Suzuki.wav

Peak level 100.0 %
Extraction speed 9.7 X
Range quality 100.0 %
Test CRC 2655C4BB
Copy CRC 2655C4BB
Copy OK

No errors occurred


AccurateRip summary

Track 1 accurately ripped (confidence 27) [B7DAABA1] (AR v2)
Track 2 accurately ripped (confidence 27) [3AF0CF46] (AR v2)
Track 3 accurately ripped (confidence 27) [84CEE2D9] (AR v2)
Track 4 accurately ripped (confidence 27) [6C10AB43] (AR v2)
Track 5 accurately ripped (confidence 27) [9A51C095] (AR v2)
Track 6 accurately ripped (confidence 27) [F53F5E0A] (AR v2)
Track 7 accurately ripped (confidence 27) [495C6D03] (AR v2)
Track 8 accurately ripped (confidence 27) [84F4AC32] (AR v2)
Track 9 accurately ripped (confidence 27) [AE34E929] (AR v2)
Track 10 accurately ripped (confidence 27) [D996FEBE] (AR v2)
Track 11 accurately ripped (confidence 27) [9E8E6B89] (AR v2)
Track 12 accurately ripped (confidence 27) [6AE8A315] (AR v2)
Track 13 accurately ripped (confidence 27) [5C22AF31] (AR v2)
Track 14 accurately ripped (confidence 27) [144B928B] (AR v2)
Track 15 accurately ripped (confidence 27) [83A66B71] (AR v2)
Track 16 accurately ripped (confidence 27) [91D6103E] (AR v2)
Track 17 accurately ripped (confidence 27) [AED99AC4] (AR v2)
Track 18 accurately ripped (confidence 27) [4040583B] (AR v2)
Track 19 accurately ripped (confidence 27) [63710FCD] (AR v2)
Track 20 accurately ripped (confidence 27) [85B984F1] (AR v2)
Track 21 accurately ripped (confidence 26) [FC11BC67] (AR v2)

All tracks accurately ripped

End of status report

–– CUETools DB Plugin V2.1.6

[CTDB TOCID: K4LbsD0jow98vUKF3HmV5HBiU4E-] found
Submit result: K4LbsD0jow98vUKF3HmV5HBiU4E- has been confirmed
Track | CTDB Status
1 | (120/122) Accurately ripped
2 | (122/122) Accurately ripped
3 | (122/122) Accurately ripped
4 | (122/122) Accurately ripped
5 | (122/122) Accurately ripped
6 | (122/122) Accurately ripped
7 | (121/122) Accurately ripped
8 | (122/122) Accurately ripped
9 | (122/122) Accurately ripped
10 | (122/122) Accurately ripped
11 | (122/122) Accurately ripped
12 | (122/122) Accurately ripped
13 | (122/122) Accurately ripped
14 | (122/122) Accurately ripped
15 | (122/122) Accurately ripped
16 | (122/122) Accurately ripped
17 | (122/122) Accurately ripped
18 | (122/122) Accurately ripped
19 | (122/122) Accurately ripped
20 | (122/122) Accurately ripped
21 | (120/122) Accurately ripped


==== Log checksum D0D475090C9817626E3DB338DC08AFBE035E88D8A33D90C828D7BC6A46AD9622 ====


Exact Audio Copy V1.3 from 2. September 2016

EAC extraction logfile from 8. May 2019, 3:45

Yukari Nonoshita, Yoshie Hida, Robin Blaze, Kirsten Sollek-Avella, Gerd Turk, Makoto Sakurada, Peter Kooij / Bach - The Complete Sacred Cantatas (Disc 13), BWV 64 · 25 · 69a · 77 · 50

Used drive : ATAPI iHAS124 F Adapter: 1 ID: 0

Read mode : Secure
Utilize accurate stream : Yes
Defeat audio cache : Yes
Make use of C2 pointers : No

Read offset correction : 6
Overread into Lead-In and Lead-Out : No
Fill up missing offset samples with silence : Yes
Delete leading and trailing silent blocks : No
Null samples used in CRC calculations : Yes
Used interface : Native Win32 interface for Win NT & 2000

Used output format : User Defined Encoder
Selected bitrate : 1024 kBit/s
Quality : High
Add ID3 tag : No
Command line compressor : C:\Program Files (x86)\Exact Audio Copy\FLAC\FLAC.EXE
Additional command line options : -6 -V -T "ARTIST=%artist%" -T "TITLE=%title%" -T "ALBUM=%albumtitle%" -T "DATE=%year%" -T "TRACKNUMBER=%tracknr%" -T "GENRE=%genre%" -T "COMMENT=%comment%" -T "BAND=%albuminterpret%" -T "ALBUMARTIST=%albuminterpret%" -T "COMPOSER=%composer%" %haslyrics%–tag-from-file=LYRICS="%lyricsfile%"%haslyrics% -T "DISCNUMBER=%cdnumber%" -T "TOTALDISCS=%totalcds%" -T "TOTALTRACKS=%numtracks%" %hascover%–picture="%coverfile%"%hascover% %source% -o %dest%


TOC of the extracted CD

Track | Start | Length | Start sector | End sector
––––––––––––––––––––––––––––-
1 | 0:00.00 | 2:40.45 | 0 | 12044
2 | 2:40.45 | 0:43.57 | 12045 | 15326
3 | 3:24.27 | 0:39.23 | 15327 | 18274
4 | 4:03.50 | 0:46.70 | 18275 | 21794
5 | 4:50.45 | 4:52.15 | 21795 | 43709
6 | 9:42.60 | 1:08.42 | 43710 | 48851
7 | 10:51.27 | 5:25.23 | 48852 | 73249
8 | 16:16.50 | 1:29.32 | 73250 | 79956
9 | 17:46.07 | 5:39.20 | 79957 | 105401
10 | 23:25.27 | 1:45.15 | 105402 | 113291
11 | 25:10.42 | 2:51.55 | 113292 | 126171
12 | 28:02.22 | 1:12.00 | 126172 | 131571
13 | 29:14.22 | 2:50.65 | 131572 | 144386
14 | 32:05.12 | 1:23.63 | 144387 | 150674
15 | 33:29.00 | 5:28.30 | 150675 | 175304
16 | 38:57.30 | 0:54.05 | 175305 | 179359
17 | 39:51.35 | 6:01.60 | 179360 | 206494
18 | 45:53.20 | 1:35.67 | 206495 | 213686
19 | 47:29.12 | 3:06.50 | 213687 | 227686
20 | 50:35.62 | 1:05.15 | 227687 | 232576
21 | 51:41.02 | 3:39.48 | 232577 | 249049
22 | 55:20.50 | 0:39.37 | 249050 | 252011
23 | 56:00.12 | 3:54.15 | 252012 | 269576
24 | 59:54.27 | 1:11.15 | 269577 | 274916
25 | 61:05.42 | 4:22.28 | 274917 | 294594
26 | 65:27.70 | 1:25.60 | 294595 | 301029
27 | 66:53.55 | 4:04.20 | 301030 | 319349


Range status and errors

Selected range

Filename C:\EACRip\BACH - THE COMPLETE SACRED CANTATAS (BCJ, Masaaki Suzuki) [55CDs]\CD 13 - BWV 64 · 25 · 69a · 77 · 50\Bach - The Complete Sacred Cantatas (Disc 13), BWV 64 · 25 · 69a · 77 · 50 - Masaaki Suzuki.wav

Peak level 99.9 %
Extraction speed 9.4 X
Range quality 99.9 %
Test CRC F3CD394D
Copy CRC F3CD394D
Copy OK

No errors occurred


AccurateRip summary

Track 1 accurately ripped (confidence 19) [E32BFEFE] (AR v2)
Track 2 accurately ripped (confidence 19) [1F175F70] (AR v2)
Track 3 accurately ripped (confidence 19) [2C986D6E] (AR v2)
Track 4 accurately ripped (confidence 19) [55D8B012] (AR v2)
Track 5 accurately ripped (confidence 19) [DBDAFC97] (AR v2)
Track 6 accurately ripped (confidence 19) [BED34D59] (AR v2)
Track 7 accurately ripped (confidence 19) [AF19F957] (AR v2)
Track 8 accurately ripped (confidence 19) [ACD5185C] (AR v2)
Track 9 accurately ripped (confidence 19) [82D09C18] (AR v2)
Track 10 accurately ripped (confidence 19) [9B75BC00] (AR v2)
Track 11 accurately ripped (confidence 19) [D986F573] (AR v2)
Track 12 accurately ripped (confidence 19) [8B0EF9BA] (AR v2)
Track 13 accurately ripped (confidence 19) [DFA3746E] (AR v2)
Track 14 accurately ripped (confidence 19) [A93E3980] (AR v2)
Track 15 accurately ripped (confidence 19) [F5C946EA] (AR v2)
Track 16 accurately ripped (confidence 19) [383612D1] (AR v2)
Track 17 accurately ripped (confidence 19) [F5923A11] (AR v2)
Track 18 accurately ripped (confidence 19) [0C074254] (AR v2)
Track 19 accurately ripped (confidence 19) [EE25325B] (AR v2)
Track 20 accurately ripped (confidence 19) [DAC8A09E] (AR v2)
Track 21 accurately ripped (confidence 19) [11F8E3A0] (AR v2)
Track 22 accurately ripped (confidence 19) [89E9F444] (AR v2)
Track 23 accurately ripped (confidence 19) [28FF3D42] (AR v2)
Track 24 accurately ripped (confidence 19) [801F32F7] (AR v2)
Track 25 accurately ripped (confidence 19) [6E4576F8] (AR v2)
Track 26 accurately ripped (confidence 19) [5C6E18CC] (AR v2)
Track 27 accurately ripped (confidence 19) [D782E81D] (AR v2)

All tracks accurately ripped

End of status report

–– CUETools DB Plugin V2.1.6

[CTDB TOCID: 82KI5c7ThxJucpFURTwT9TBkSEw-] found
Submit result: 82KI5c7ThxJucpFURTwT9TBkSEw- has been confirmed
Track | CTDB Status
1 | (99/99) Accurately ripped
2 | (99/99) Accurately ripped
3 | (99/99) Accurately ripped
4 | (99/99) Accurately ripped
5 | (99/99) Accurately ripped
6 | (99/99) Accurately ripped
7 | (99/99) Accurately ripped
8 | (99/99) Accurately ripped
9 | (99/99) Accurately ripped
10 | (99/99) Accurately ripped
11 | (99/99) Accurately ripped
12 | (99/99) Accurately ripped
13 | (99/99) Accurately ripped
14 | (99/99) Accurately ripped
15 | (99/99) Accurately ripped
16 | (99/99) Accurately ripped
17 | (98/99) Accurately ripped
18 | (99/99) Accurately ripped
19 | (99/99) Accurately ripped
20 | (98/99) Accurately ripped
21 | (99/99) Accurately ripped
22 | (99/99) Accurately ripped
23 | (99/99) Accurately ripped
24 | (99/99) Accurately ripped
25 | (99/99) Accurately ripped
26 | (99/99) Accurately ripped
27 | (98/99) Accurately ripped


==== Log checksum 9B8DE44A57AA2D61854AE0765D0D57E7D4A86D1CE40FB77A1E4AE4C5D10AC597 ====


Exact Audio Copy V1.3 from 2. September 2016

EAC extraction logfile from 8. May 2019, 11:07

Midori Suzuki, Robin Blaze, Gerd Turk, Chiyuki Urano / Bach - The Complete Sacred Cantatas (Disc 14), BWV 148 · 48 · 89 · 109

Used drive : ATAPI iHAS124 F Adapter: 1 ID: 0

Read mode : Secure
Utilize accurate stream : Yes
Defeat audio cache : Yes
Make use of C2 pointers : No

Read offset correction : 6
Overread into Lead-In and Lead-Out : No
Fill up missing offset samples with silence : Yes
Delete leading and trailing silent blocks : No
Null samples used in CRC calculations : Yes
Used interface : Native Win32 interface for Win NT & 2000

Used output format : User Defined Encoder
Selected bitrate : 1024 kBit/s
Quality : High
Add ID3 tag : No
Command line compressor : C:\Program Files (x86)\Exact Audio Copy\FLAC\FLAC.EXE
Additional command line options : -6 -V -T "ARTIST=%artist%" -T "TITLE=%title%" -T "ALBUM=%albumtitle%" -T "DATE=%year%" -T "TRACKNUMBER=%tracknr%" -T "GENRE=%genre%" -T "COMMENT=%comment%" -T "BAND=%albuminterpret%" -T "ALBUMARTIST=%albuminterpret%" -T "COMPOSER=%composer%" %haslyrics%–tag-from-file=LYRICS="%lyricsfile%"%haslyrics% -T "DISCNUMBER=%cdnumber%" -T "TOTALDISCS=%totalcds%" -T "TOTALTRACKS=%numtracks%" %hascover%–picture="%coverfile%"%hascover% %source% -o %dest%


TOC of the extracted CD

Track | Start | Length | Start sector | End sector
––––––––––––––––––––––––––––-
1 | 0:00.00 | 3:25.60 | 0 | 15434
2 | 3:25.60 | 4:18.00 | 15435 | 34784
3 | 7:43.60 | 1:16.00 | 34785 | 40484
4 | 8:59.60 | 4:15.00 | 40485 | 59609
5 | 13:14.60 | 0:46.00 | 59610 | 63059
6 | 14:00.60 | 1:00.15 | 63060 | 67574
7 | 15:01.00 | 5:57.60 | 67575 | 94409
8 | 20:58.60 | 1:16.00 | 94410 | 100109
9 | 22:14.60 | 0:43.15 | 100110 | 103349
10 | 22:58.00 | 2:06.60 | 103350 | 112859
11 | 25:04.60 | 0:43.00 | 112860 | 116084
12 | 25:47.60 | 2:49.00 | 116085 | 128759
13 | 28:36.60 | 1:13.15 | 128760 | 134249
14 | 29:50.00 | 3:33.60 | 134250 | 150284
15 | 33:23.60 | 0:47.00 | 150285 | 153809
16 | 34:10.60 | 2:33.15 | 153810 | 165299
17 | 36:44.00 | 1:11.00 | 165300 | 170624
18 | 37:55.00 | 2:16.60 | 170625 | 180884
19 | 40:11.60 | 0:59.15 | 180885 | 185324
20 | 41:11.00 | 7:50.00 | 185325 | 220574
21 | 49:01.00 | 1:26.60 | 220575 | 227084
22 | 50:27.60 | 6:54.15 | 227085 | 258149
23 | 57:22.00 | 0:32.38 | 258150 | 260587
24 | 57:54.38 | 4:46.37 | 260588 | 282074
25 | 62:41.00 | 3:21.05 | 282075 | 297154


Range status and errors

Selected range

Filename C:\EACRip\BACH - THE COMPLETE SACRED CANTATAS (BCJ, Masaaki Suzuki) [55CDs]\CD 14 - BWV 148 · 48 · 89 · 109\Bach - The Complete Sacred Cantatas (Disc 14), BWV 148 · 48 · 89 · 109 - Masaaki Suzuki.wav

Peak level 100.0 %
Extraction speed 9.5 X
Range quality 99.9 %
Test CRC C580369A
Copy CRC C580369A
Copy OK

No errors occurred


AccurateRip summary

Track 1 accurately ripped (confidence 20) [5AC6B047] (AR v2)
Track 2 accurately ripped (confidence 20) [3CD68DBA] (AR v2)
Track 3 accurately ripped (confidence 20) [877F99DC] (AR v2)
Track 4 accurately ripped (confidence 20) [4A1E8D84] (AR v2)
Track 5 accurately ripped (confidence 20) [FF3E9E9C] (AR v2)
Track 6 accurately ripped (confidence 20) [405AE7CC] (AR v2)
Track 7 accurately ripped (confidence 20) [E04F3002] (AR v2)
Track 8 accurately ripped (confidence 20) [89367471] (AR v2)
Track 9 accurately ripped (confidence 20) [12E42F18] (AR v2)
Track 10 accurately ripped (confidence 20) [837567C7] (AR v2)
Track 11 accurately ripped (confidence 20) [E9572385] (AR v2)
Track 12 accurately ripped (confidence 20) [D8E53C9F] (AR v2)
Track 13 accurately ripped (confidence 20) [B74A9BBD] (AR v2)
Track 14 accurately ripped (confidence 20) [638EB822] (AR v2)
Track 15 accurately ripped (confidence 20) [FE51E896] (AR v2)
Track 16 accurately ripped (confidence 20) [89432D83] (AR v2)
Track 17 accurately ripped (confidence 20) [EA5C874C] (AR v2)
Track 18 accurately ripped (confidence 20) [B5914D08] (AR v2)
Track 19 accurately ripped (confidence 20) [851E4840] (AR v2)
Track 20 accurately ripped (confidence 20) [97F3A2C8] (AR v2)
Track 21 accurately ripped (confidence 20) [5D70702D] (AR v2)
Track 22 accurately ripped (confidence 20) [40608CDC] (AR v2)
Track 23 accurately ripped (confidence 20) [A8D2BB36] (AR v2)
Track 24 accurately ripped (confidence 20) [E2FF6DDB] (AR v2)
Track 25 accurately ripped (confidence 20) [9B4BB489] (AR v2)

All tracks accurately ripped

End of status report

–– CUETools DB Plugin V2.1.6

[CTDB TOCID: VJ6EL7y19kessHwoCFsabhb3Hmg-] found
Submit result: VJ6EL7y19kessHwoCFsabhb3Hmg- has been confirmed
Track | CTDB Status
1 | (98/98) Accurately ripped
2 | (98/98) Accurately ripped
3 | (98/98) Accurately ripped
4 | (98/98) Accurately ripped
5 | (98/98) Accurately ripped
6 | (98/98) Accurately ripped
7 | (98/98) Accurately ripped
8 | (98/98) Accurately ripped
9 | (98/98) Accurately ripped
10 | (98/98) Accurately ripped
11 | (98/98) Accurately ripped
12 | (98/98) Accurately ripped
13 | (97/98) Accurately ripped
14 | (98/98) Accurately ripped
15 | (98/98) Accurately ripped
16 | (98/98) Accurately ripped
17 | (98/98) Accurately ripped
18 | (98/98) Accurately ripped
19 | (98/98) Accurately ripped
20 | (98/98) Accurately ripped
21 | (98/98) Accurately ripped
22 | (98/98) Accurately ripped
23 | (98/98) Accurately ripped
24 | (98/98) Accurately ripped
25 | (97/98) Accurately ripped


==== Log checksum 28600564C86EB47B4198F2D6060239664445590ECBEF0ABE80D7B96F5D4F48B8 ====


Exact Audio Copy V1.3 from 2. September 2016

EAC extraction logfile from 8. May 2019, 12:44

Yukari Nonoshita, Robin Blaze, Gerd Turk, Peter Kooij / Bach - The Complete Sacred Cantatas (Disc 15), BWV 40 · 60 · 70 · 90

Used drive : ATAPI iHAS124 F Adapter: 1 ID: 0

Read mode : Secure
Utilize accurate stream : Yes
Defeat audio cache : Yes
Make use of C2 pointers : No

Read offset correction : 6
Overread into Lead-In and Lead-Out : No
Fill up missing offset samples with silence : Yes
Delete leading and trailing silent blocks : No
Null samples used in CRC calculations : Yes
Used interface : Native Win32 interface for Win NT & 2000

Used output format : User Defined Encoder
Selected bitrate : 1024 kBit/s
Quality : High
Add ID3 tag : No
Command line compressor : C:\Program Files (x86)\Exact Audio Copy\FLAC\FLAC.EXE
Additional command line options : -6 -V -T "ARTIST=%artist%" -T "TITLE=%title%" -T "ALBUM=%albumtitle%" -T "DATE=%year%" -T "TRACKNUMBER=%tracknr%" -T "GENRE=%genre%" -T "COMMENT=%comment%" -T "BAND=%albuminterpret%" -T "ALBUMARTIST=%albuminterpret%" -T "COMPOSER=%composer%" %haslyrics%–tag-from-file=LYRICS="%lyricsfile%"%haslyrics% -T "DISCNUMBER=%cdnumber%" -T "TOTALDISCS=%totalcds%" -T "TOTALTRACKS=%numtracks%" %hascover%–picture="%coverfile%"%hascover% %source% -o %dest%


TOC of the extracted CD

Track | Start | Length | Start sector | End sector
––––––––––––––––––––––––––––-
1 | 0:00.00 | 3:54.50 | 0 | 17599
2 | 3:54.50 | 1:20.55 | 17600 | 23654
3 | 5:15.30 | 0:45.32 | 23655 | 27061
4 | 6:00.62 | 2:05.35 | 27062 | 36471
5 | 8:06.22 | 1:25.23 | 36472 | 42869
6 | 9:31.45 | 1:00.72 | 42870 | 47441
7 | 10:32.42 | 3:44.08 | 47442 | 64249
8 | 14:16.50 | 1:31.12 | 64250 | 71086
9 | 15:47.62 | 4:18.48 | 71087 | 90484
10 | 20:06.35 | 2:03.62 | 90485 | 99771
11 | 22:10.22 | 3:02.23 | 99772 | 113444
12 | 25:12.45 | 4:20.50 | 113445 | 132994
13 | 29:33.20 | 1:32.45 | 132995 | 139939
14 | 31:05.65 | 4:01.42 | 139940 | 158056
15 | 35:07.32 | 1:09.05 | 158057 | 163236
16 | 36:16.37 | 3:25.65 | 163237 | 178676
17 | 39:42.27 | 0:49.13 | 178677 | 182364
18 | 40:31.40 | 2:44.05 | 182365 | 194669
19 | 43:15.45 | 0:36.30 | 194670 | 197399
20 | 43:52.00 | 1:33.27 | 197400 | 204401
21 | 45:25.27 | 3:07.20 | 204402 | 218446
22 | 48:32.47 | 1:45.62 | 218447 | 226383
23 | 50:18.34 | 2:49.73 | 226384 | 239131
24 | 53:08.32 | 1:08.02 | 239132 | 244233
25 | 54:16.34 | 6:05.26 | 244234 | 271634
26 | 60:21.60 | 1:18.35 | 271635 | 277519
27 | 61:40.20 | 3:37.45 | 277520 | 293839
28 | 65:17.65 | 0:46.50 | 293840 | 297339
29 | 66:04.40 | 1:29.25 | 297340 | 304039


Range status and errors

Selected range

Filename C:\EACRip\BACH - THE COMPLETE SACRED CANTATAS (BCJ, Masaaki Suzuki) [55CDs]\CD 15 - BWV 40 · 60 · 70 · 90\Bach - The Complete Sacred Cantatas (Disc 15), BWV 40 · 60 · 70 · 90 - Masaaki Suzuki.wav

Peak level 85.1 %
Extraction speed 9.6 X
Range quality 100.0 %
Test CRC 433BFBCF
Copy CRC 433BFBCF
Copy OK

No errors occurred


AccurateRip summary

Track 1 accurately ripped (confidence 22) [A0CB40A3] (AR v2)
Track 2 accurately ripped (confidence 22) [71F505BC] (AR v2)
Track 3 accurately ripped (confidence 22) [968D3A1D] (AR v2)
Track 4 accurately ripped (confidence 22) [0A5E59C8] (AR v2)
Track 5 accurately ripped (confidence 22) [D50F8C99] (AR v2)
Track 6 accurately ripped (confidence 22) [6056177B] (AR v2)
Track 7 accurately ripped (confidence 22) [7DD77289] (AR v2)
Track 8 accurately ripped (confidence 22) [B86A5A2C] (AR v2)
Track 9 accurately ripped (confidence 22) [666F8059] (AR v2)
Track 10 accurately ripped (confidence 22) [5A147AE0] (AR v2)
Track 11 accurately ripped (confidence 22) [11C6D683] (AR v2)
Track 12 accurately ripped (confidence 22) [7D76B530] (AR v2)
Track 13 accurately ripped (confidence 22) [4154BAAA] (AR v2)
Track 14 accurately ripped (confidence 22) [309C476E] (AR v2)
Track 15 accurately ripped (confidence 22) [4BD1192A] (AR v2)
Track 16 accurately ripped (confidence 22) [EAFC687B] (AR v2)
Track 17 accurately ripped (confidence 22) [19F46A18] (AR v2)
Track 18 accurately ripped (confidence 22) [C100C7BD] (AR v2)
Track 19 accurately ripped (confidence 22) [8A52782C] (AR v2)
Track 20 accurately ripped (confidence 22) [0ECD0158] (AR v2)
Track 21 accurately ripped (confidence 22) [3FA6571C] (AR v2)
Track 22 accurately ripped (confidence 22) [F60096D9] (AR v2)
Track 23 accurately ripped (confidence 22) [DA5544D4] (AR v2)
Track 24 accurately ripped (confidence 22) [7190A275] (AR v2)
Track 25 accurately ripped (confidence 22) [E6D9B7D9] (AR v2)
Track 26 accurately ripped (confidence 22) [4EE00503] (AR v2)
Track 27 accurately ripped (confidence 22) [46B797C8] (AR v2)
Track 28 accurately ripped (confidence 22) [B140AD20] (AR v2)
Track 29 accurately ripped (confidence 22) [A979C438] (AR v2)

All tracks accurately ripped

End of status report

–– CUETools DB Plugin V2.1.6

[CTDB TOCID: wtNDsCW_gqLgpEO1SE0Fn.R7mNk-] found
Submit result: wtNDsCW_gqLgpEO1SE0Fn.R7mNk- has been confirmed
Track | CTDB Status
1 | (100/101) Accurately ripped
2 | (100/101) Accurately ripped
3 | (100/101) Accurately ripped
4 | (100/101) Accurately ripped
5 | (101/101) Accurately ripped
6 | (101/101) Accurately ripped
7 | (100/101) Accurately ripped
8 | (101/101) Accurately ripped
9 | (101/101) Accurately ripped
10 | (101/101) Accurately ripped
11 | (100/101) Accurately ripped
12 | (100/101) Accurately ripped
13 | (101/101) Accurately ripped
14 | (100/101) Accurately ripped
15 | (101/101) Accurately ripped
16 | (101/101) Accurately ripped
17 | (100/101) Accurately ripped
18 | (100/101) Accurately ripped
19 | (101/101) Accurately ripped
20 | (101/101) Accurately ripped
21 | (101/101) Accurately ripped
22 | (100/101) Accurately ripped
23 | (100/101) Accurately ripped
24 | (100/101) Accurately ripped
25 | ( 99/101) Accurately ripped
26 | (101/101) Accurately ripped
27 | (101/101) Accurately ripped
28 | (101/101) Accurately ripped
29 | (101/101) Accurately ripped


==== Log checksum C07924CC73329F637828F737017D790CF9821E699DAD66C3354EDD0910277B88 ====


Exact Audio Copy V1.3 from 2. September 2016

EAC extraction logfile from 8. May 2019, 13:50

Yukari Nonoshita, Yoshie Hida, Kirsten Sollek-Avella, Makoto Sakurada, Jochen Kupfer, Peter Kooij / Bach - The Complete Sacred Cantatas (Disc 16), BWV 194 · 119

Used drive : ATAPI iHAS124 F Adapter: 1 ID: 0

Read mode : Secure
Utilize accurate stream : Yes
Defeat audio cache : Yes
Make use of C2 pointers : No

Read offset correction : 6
Overread into Lead-In and Lead-Out : No
Fill up missing offset samples with silence : Yes
Delete leading and trailing silent blocks : No
Null samples used in CRC calculations : Yes
Used interface : Native Win32 interface for Win NT & 2000

Used output format : User Defined Encoder
Selected bitrate : 1024 kBit/s
Quality : High
Add ID3 tag : No
Command line compressor : C:\Program Files (x86)\Exact Audio Copy\FLAC\FLAC.EXE
Additional command line options : -6 -V -T "ARTIST=%artist%" -T "TITLE=%title%" -T "ALBUM=%albumtitle%" -T "DATE=%year%" -T "TRACKNUMBER=%tracknr%" -T "GENRE=%genre%" -T "COMMENT=%comment%" -T "BAND=%albuminterpret%" -T "ALBUMARTIST=%albuminterpret%" -T "COMPOSER=%composer%" %haslyrics%–tag-from-file=LYRICS="%lyricsfile%"%haslyrics% -T "DISCNUMBER=%cdnumber%" -T "TOTALDISCS=%totalcds%" -T "TOTALTRACKS=%numtracks%" %hascover%–picture="%coverfile%"%hascover% %source% -o %dest%


TOC of the extracted CD

Track | Start | Length | Start sector | End sector
––––––––––––––––––––––––––––-
1 | 0:00.00 | 4:47.72 | 0 | 21596
2 | 4:47.72 | 1:14.10 | 21597 | 27156
3 | 6:02.07 | 4:30.68 | 27157 | 47474
4 | 10:33.00 | 1:17.67 | 47475 | 53316
5 | 11:50.67 | 6:05.73 | 53317 | 80764
6 | 17:56.65 | 2:12.17 | 80765 | 90681
7 | 20:09.07 | 1:26.15 | 90682 | 97146
8 | 21:35.22 | 3:55.28 | 97147 | 114799
9 | 25:30.50 | 2:05.32 | 114800 | 124206
10 | 27:36.07 | 9:06.58 | 124207 | 165214
11 | 36:42.65 | 0:49.52 | 165215 | 168941
12 | 37:32.42 | 1:20.73 | 168942 | 175014
13 | 38:53.40 | 5:13.02 | 175015 | 198491
14 | 44:06.42 | 1:21.65 | 198492 | 204631
15 | 45:28.32 | 3:41.60 | 204632 | 221266
16 | 49:10.17 | 1:50.03 | 221267 | 229519
17 | 51:00.20 | 2:29.37 | 229520 | 240731
18 | 53:29.57 | 0:51.60 | 240732 | 244616
19 | 54:21.42 | 6:07.55 | 244617 | 272196
20 | 60:29.22 | 0:47.20 | 272197 | 275741
21 | 61:16.42 | 1:31.35 | 275742 | 282601


Range status and errors

Selected range

Filename C:\EACRip\BACH - THE COMPLETE SACRED CANTATAS (BCJ, Masaaki Suzuki) [55CDs]\CD 16 - BWV 194 · 119\Bach - The Complete Sacred Cantatas (Disc 16), BWV 194 · 119 - Masaaki Suzuki.wav

Peak level 100.0 %
Extraction speed 9.4 X
Range quality 100.0 %
Test CRC FFB0D80F
Copy CRC FFB0D80F
Copy OK

No errors occurred


AccurateRip summary

Track 1 accurately ripped (confidence 20) [66BA2397] (AR v2)
Track 2 accurately ripped (confidence 20) [E07F5549] (AR v2)
Track 3 accurately ripped (confidence 20) [179883CD] (AR v2)
Track 4 accurately ripped (confidence 20) [08EEF272] (AR v2)
Track 5 accurately ripped (confidence 20) [F79ECAAE] (AR v2)
Track 6 accurately ripped (confidence 20) [5AC49DB2] (AR v2)
Track 7 accurately ripped (confidence 20) [BB301528] (AR v2)
Track 8 accurately ripped (confidence 20) [0B51BBB5] (AR v2)
Track 9 accurately ripped (confidence 20) [E06C2654] (AR v2)
Track 10 accurately ripped (confidence 20) [EBC6BFEB] (AR v2)
Track 11 accurately ripped (confidence 20) [4754FAD4] (AR v2)
Track 12 accurately ripped (confidence 20) [A1EB6F88] (AR v2)
Track 13 accurately ripped (confidence 20) [9C32C2BC] (AR v2)
Track 14 accurately ripped (confidence 20) [567F6413] (AR v2)
Track 15 accurately ripped (confidence 20) [4CB27EA4] (AR v2)
Track 16 accurately ripped (confidence 20) [7753D000] (AR v2)
Track 17 accurately ripped (confidence 20) [7AE7608B] (AR v2)
Track 18 accurately ripped (confidence 20) [97520EC9] (AR v2)
Track 19 accurately ripped (confidence 20) [F9FFE9F4] (AR v2)
Track 20 accurately ripped (confidence 20) [468C40D1] (AR v2)
Track 21 accurately ripped (confidence 20) [2ABB8C26] (AR v2)

All tracks accurately ripped

End of status report

–– CUETools DB Plugin V2.1.6

[CTDB TOCID: mrLHTI9Gu8gWrOecuNYOv8PjmpQ-] found
Submit result: mrLHTI9Gu8gWrOecuNYOv8PjmpQ- has been confirmed
Track | CTDB Status
1 | (99/99) Accurately ripped
2 | (99/99) Accurately ripped
3 | (99/99) Accurately ripped
4 | (99/99) Accurately ripped
5 | (99/99) Accurately ripped
6 | (99/99) Accurately ripped
7 | (99/99) Accurately ripped
8 | (99/99) Accurately ripped
9 | (99/99) Accurately ripped
10 | (99/99) Accurately ripped
11 | (99/99) Accurately ripped
12 | (99/99) Accurately ripped
13 | (99/99) Accurately ripped
14 | (98/99) Accurately ripped
15 | (99/99) Accurately ripped
16 | (99/99) Accurately ripped
17 | (98/99) Accurately ripped
18 | (99/99) Accurately ripped
19 | (99/99) Accurately ripped
20 | (99/99) Accurately ripped
21 | (99/99) Accurately ripped


==== Log checksum EC45D171BE0A3529E0FA709B684FECF1A1317BF068E9971464DCC88DDB1B4C84 ====


Exact Audio Copy V1.3 from 2. September 2016

EAC extraction logfile from 8. May 2019, 15:26

Yukari Nonoshita, Robin Blaze, Gerd Turk, Peter Kooij / Bach - The Complete Sacred Cantatas (Disc 17), BWV 153 · 154 · 73 · 144 · 181

Used drive : ATAPI iHAS124 F Adapter: 1 ID: 0

Read mode : Secure
Utilize accurate stream : Yes
Defeat audio cache : Yes
Make use of C2 pointers : No

Read offset correction : 6
Overread into Lead-In and Lead-Out : No
Fill up missing offset samples with silence : Yes
Delete leading and trailing silent blocks : No
Null samples used in CRC calculations : Yes
Used interface : Native Win32 interface for Win NT & 2000

Used output format : User Defined Encoder
Selected bitrate : 1024 kBit/s
Quality : High
Add ID3 tag : No
Command line compressor : C:\Program Files (x86)\Exact Audio Copy\FLAC\FLAC.EXE
Additional command line options : -6 -V -T "ARTIST=%artist%" -T "TITLE=%title%" -T "ALBUM=%albumtitle%" -T "DATE=%year%" -T "TRACKNUMBER=%tracknr%" -T "GENRE=%genre%" -T "COMMENT=%comment%" -T "BAND=%albuminterpret%" -T "ALBUMARTIST=%albuminterpret%" -T "COMPOSER=%composer%" %haslyrics%–tag-from-file=LYRICS="%lyricsfile%"%haslyrics% -T "DISCNUMBER=%cdnumber%" -T "TOTALDISCS=%totalcds%" -T "TOTALTRACKS=%numtracks%" %hascover%–picture="%coverfile%"%hascover% %source% -o %dest%


TOC of the extracted CD

Track | Start | Length | Start sector | End sector
––––––––––––––––––––––––––––-
1 | 0:00.00 | 1:00.20 | 0 | 4519
2 | 1:00.20 | 0:35.17 | 4520 | 7161
3 | 1:35.37 | 1:17.03 | 7162 | 12939
4 | 2:52.40 | 1:34.45 | 12940 | 20034
5 | 4:27.10 | 0:53.62 | 20035 | 24071
6 | 5:20.72 | 2:44.08 | 24072 | 36379
7 | 8:05.05 | 1:32.32 | 36380 | 43311
8 | 9:37.37 | 1:58.28 | 43312 | 52189
9 | 11:35.65 | 1:35.02 | 52190 | 59316
10 | 13:10.67 | 2:21.73 | 59317 | 69964
11 | 15:32.65 | 0:42.15 | 69965 | 73129
12 | 16:15.05 | 0:59.30 | 73130 | 77584
13 | 17:14.35 | 3:00.30 | 77585 | 91114
14 | 20:14.65 | 1:10.37 | 91115 | 96401
15 | 21:25.27 | 1:51.63 | 96402 | 104789
16 | 23:17.15 | 3:13.00 | 104790 | 119264
17 | 26:30.15 | 1:00.60 | 119265 | 123824
18 | 27:31.00 | 4:38.17 | 123825 | 144691
19 | 32:09.17 | 3:21.35 | 144692 | 159801
20 | 35:30.52 | 0:30.68 | 159802 | 162119
21 | 36:01.45 | 3:18.05 | 162120 | 176974
22 | 39:19.50 | 1:13.52 | 176975 | 182501
23 | 40:33.27 | 1:32.60 | 182502 | 189461
24 | 42:06.12 | 5:46.30 | 189462 | 215441
25 | 47:52.42 | 0:51.53 | 215442 | 219319
26 | 48:44.20 | 0:56.62 | 219320 | 223581
27 | 49:41.07 | 2:41.50 | 223582 | 235706
28 | 52:22.57 | 1:27.13 | 235707 | 242244
29 | 53:49.70 | 3:14.20 | 242245 | 256814
30 | 57:04.15 | 1:32.67 | 256815 | 263781
31 | 58:37.07 | 2:35.00 | 263782 | 275406
32 | 61:12.07 | 0:40.35 | 275407 | 278441
33 | 61:52.42 | 5:07.58 | 278442 | 301524


Range status and errors

Selected range

Filename C:\EACRip\BACH - THE COMPLETE SACRED CANTATAS (BCJ, Masaaki Suzuki) [55CDs]\CD 17 - BWV 153 · 154 · 73 · 144 · 181\Bach - The Complete Sacred Cantatas (Disc 17), BWV 153 · 154 · 73 · 144 · 181 - Masaaki Suzuki.wav

Peak level 100.0 %
Extraction speed 9.5 X
Range quality 100.0 %
Test CRC DCAD2934
Copy CRC DCAD2934
Copy OK

No errors occurred


AccurateRip summary

Track 1 accurately ripped (confidence 22) [12D1E76F] (AR v2)
Track 2 accurately ripped (confidence 22) [CD9D8EAB] (AR v2)
Track 3 accurately ripped (confidence 22) [E0C59F8D] (AR v2)
Track 4 accurately ripped (confidence 22) [F12BE64A] (AR v2)
Track 5 accurately ripped (confidence 22) [1E38E168] (AR v2)
Track 6 accurately ripped (confidence 22) [CE96F3E9] (AR v2)
Track 7 accurately ripped (confidence 22) [597E7704] (AR v2)
Track 8 accurately ripped (confidence 22) [20439E12] (AR v2)
Track 9 accurately ripped (confidence 22) [D20170E3] (AR v2)
Track 10 accurately ripped (confidence 22) [6CBD8818] (AR v2)
Track 11 accurately ripped (confidence 22) [3E032169] (AR v2)
Track 12 accurately ripped (confidence 22) [5630DB0D] (AR v2)
Track 13 accurately ripped (confidence 22) [694551B5] (AR v2)
Track 14 accurately ripped (confidence 22) [F5094A21] (AR v2)
Track 15 accurately ripped (confidence 22) [42134C78] (AR v2)
Track 16 accurately ripped (confidence 22) [AC4970E2] (AR v2)
Track 17 accurately ripped (confidence 22) [C70DAF94] (AR v2)
Track 18 accurately ripped (confidence 22) [86986AE7] (AR v2)
Track 19 accurately ripped (confidence 22) [C49A92C3] (AR v2)
Track 20 accurately ripped (confidence 22) [C7554813] (AR v2)
Track 21 accurately ripped (confidence 22) [D394B631] (AR v2)
Track 22 accurately ripped (confidence 22) [43C6CA73] (AR v2)
Track 23 accurately ripped (confidence 22) [EDB56FA1] (AR v2)
Track 24 accurately ripped (confidence 22) [63D1261F] (AR v2)
Track 25 accurately ripped (confidence 22) [3257C854] (AR v2)
Track 26 accurately ripped (confidence 22) [5E623E6A] (AR v2)
Track 27 accurately ripped (confidence 22) [14B1132C] (AR v2)
Track 28 accurately ripped (confidence 22) [96D65418] (AR v2)
Track 29 accurately ripped (confidence 22) [03E88402] (AR v2)
Track 30 accurately ripped (confidence 22) [03E2B0A9] (AR v2)
Track 31 accurately ripped (confidence 22) [CEA4A336] (AR v2)
Track 32 accurately ripped (confidence 22) [3812897F] (AR v2)
Track 33 accurately ripped (confidence 22) [587E3074] (AR v2)

All tracks accurately ripped

End of status report

–– CUETools DB Plugin V2.1.6

[CTDB TOCID: _zQgaQAQqn_kyrcTSM0RnRUx1Dk-] found
Submit result: _zQgaQAQqn_kyrcTSM0RnRUx1Dk- has been confirmed
Track | CTDB Status
1 | (95/95) Accurately ripped
2 | (95/95) Accurately ripped
3 | (95/95) Accurately ripped
4 | (95/95) Accurately ripped
5 | (95/95) Accurately ripped
6 | (95/95) Accurately ripped
7 | (95/95) Accurately ripped
8 | (95/95) Accurately ripped
9 | (95/95) Accurately ripped
10 | (95/95) Accurately ripped
11 | (95/95) Accurately ripped
12 | (95/95) Accurately ripped
13 | (95/95) Accurately ripped
14 | (95/95) Accurately ripped
15 | (95/95) Accurately ripped
16 | (95/95) Accurately ripped
17 | (95/95) Accurately ripped
18 | (95/95) Accurately ripped
19 | (95/95) Accurately ripped
20 | (95/95) Accurately ripped
21 | (95/95) Accurately ripped
22 | (95/95) Accurately ripped
23 | (95/95) Accurately ripped
24 | (95/95) Accurately ripped
25 | (95/95) Accurately ripped
26 | (95/95) Accurately ripped
27 | (95/95) Accurately ripped
28 | (95/95) Accurately ripped
29 | (95/95) Accurately ripped
30 | (95/95) Accurately ripped
31 | (95/95) Accurately ripped
32 | (95/95) Accurately ripped
33 | (95/95) Accurately ripped


==== Log checksum 86AD47B7DB3773A5593B8833C1B7F56166CE85DC17B4A46D9F830B5E037355F7 ====


Exact Audio Copy V1.3 from 2. September 2016

EAC extraction logfile from 8. May 2019, 17:44

Robin Blaze, Makoto Sakurada, Peter Kooij / Bach - The Complete Sacred Cantatas (Disc 18), BWV 66 · 134 · 67

Used drive : ATAPI iHAS124 F Adapter: 1 ID: 0

Read mode : Secure
Utilize accurate stream : Yes
Defeat audio cache : Yes
Make use of C2 pointers : No

Read offset correction : 6
Overread into Lead-In and Lead-Out : No
Fill up missing offset samples with silence : Yes
Delete leading and trailing silent blocks : No
Null samples used in CRC calculations : Yes
Used interface : Native Win32 interface for Win NT & 2000

Used output format : User Defined Encoder
Selected bitrate : 1024 kBit/s
Quality : High
Add ID3 tag : No
Command line compressor : C:\Program Files (x86)\Exact Audio Copy\FLAC\FLAC.EXE
Additional command line options : -6 -V -T "ARTIST=%artist%" -T "TITLE=%title%" -T "ALBUM=%albumtitle%" -T "DATE=%year%" -T "TRACKNUMBER=%tracknr%" -T "GENRE=%genre%" -T "COMMENT=%comment%" -T "BAND=%albuminterpret%" -T "ALBUMARTIST=%albuminterpret%" -T "COMPOSER=%composer%" %haslyrics%–tag-from-file=LYRICS="%lyricsfile%"%haslyrics% -T "DISCNUMBER=%cdnumber%" -T "TOTALDISCS=%totalcds%" -T "TOTALTRACKS=%numtracks%" %hascover%–picture="%coverfile%"%hascover% %source% -o %dest%


TOC of the extracted CD

Track | Start | Length | Start sector | End sector
––––––––––––––––––––––––––––-
1 | 0:00.00 | 9:52.37 | 0 | 44436
2 | 9:52.37 | 0:32.38 | 44437 | 46874
3 | 10:25.00 | 6:10.00 | 46875 | 74624
4 | 16:35.00 | 4:13.00 | 74625 | 93599
5 | 20:48.00 | 6:56.00 | 93600 | 124799
6 | 27:44.00 | 1:00.50 | 124800 | 129349
7 | 28:44.50 | 0:35.12 | 129350 | 131986
8 | 29:19.62 | 6:05.63 | 131987 | 159424
9 | 35:25.50 | 2:08.00 | 159425 | 169024
10 | 37:33.50 | 8:11.25 | 169025 | 205874
11 | 45:45.00 | 1:44.12 | 205875 | 213686
12 | 47:29.12 | 8:02.38 | 213687 | 249874
13 | 55:31.50 | 3:22.50 | 249875 | 265074
14 | 58:54.25 | 2:40.25 | 265075 | 277099
15 | 61:34.50 | 0:26.22 | 277100 | 279071
16 | 62:00.72 | 0:38.28 | 279072 | 281949
17 | 62:39.25 | 0:47.37 | 281950 | 285511
18 | 63:26.62 | 4:47.63 | 285512 | 307099
19 | 68:14.50 | 1:26.27 | 307100 | 313576


Range status and errors

Selected range

Filename C:\EACRip\BACH - THE COMPLETE SACRED CANTATAS (BCJ, Masaaki Suzuki) [55CDs]\CD 18 - BWV 66 · 134 · 67\Bach - The Complete Sacred Cantatas (Disc 18), BWV 66 · 134 · 67 - Masaaki Suzuki.wav

Peak level 99.5 %
Extraction speed 6.6 X
Range quality 99.9 %
Test CRC 7BC29E53
Copy CRC 7BC29E53
Copy OK

No errors occurred


AccurateRip summary

Track 1 accurately ripped (confidence 20) [0969176C] (AR v2)
Track 2 accurately ripped (confidence 20) [87BADA05] (AR v2)
Track 3 accurately ripped (confidence 20) [FE5063D7] (AR v2)
Track 4 accurately ripped (confidence 20) [CA5CAD3D] (AR v2)
Track 5 accurately ripped (confidence 20) [E69176A0] (AR v2)
Track 6 accurately ripped (confidence 20) [99973074] (AR v2)
Track 7 accurately ripped (confidence 20) [171E0E67] (AR v2)
Track 8 accurately ripped (confidence 20) [1A8CB8E7] (AR v2)
Track 9 accurately ripped (confidence 20) [5287CACD] (AR v2)
Track 10 accurately ripped (confidence 20) [78FA55B0] (AR v2)
Track 11 accurately ripped (confidence 20) [32BE3616] (AR v2)
Track 12 accurately ripped (confidence 20) [EFCC2C97] (AR v2)
Track 13 accurately ripped (confidence 20) [C44A6250] (AR v2)
Track 14 accurately ripped (confidence 20) [006D15F4] (AR v2)
Track 15 accurately ripped (confidence 20) [7ED5CF5A] (AR v2)
Track 16 accurately ripped (confidence 20) [04AB50F4] (AR v2)
Track 17 accurately ripped (confidence 20) [0E88C60E] (AR v2)
Track 18 accurately ripped (confidence 20) [1B07CBF8] (AR v2)
Track 19 accurately ripped (confidence 20) [EF594DC0] (AR v2)

All tracks accurately ripped

End of status report

–– CUETools DB Plugin V2.1.6

[CTDB TOCID: ELoenxp24qW88PGj4K.Ofx1Suo4-] found
Submit result: ELoenxp24qW88PGj4K.Ofx1Suo4- has been confirmed
Track | CTDB Status
1 | (94/94) Accurately ripped
2 | (94/94) Accurately ripped
3 | (94/94) Accurately ripped
4 | (94/94) Accurately ripped
5 | (94/94) Accurately ripped
6 | (94/94) Accurately ripped
7 | (94/94) Accurately ripped
8 | (94/94) Accurately ripped
9 | (93/94) Accurately ripped
10 | (94/94) Accurately ripped
11 | (94/94) Accurately ripped
12 | (93/94) Accurately ripped
13 | (94/94) Accurately ripped
14 | (94/94) Accurately ripped
15 | (94/94) Accurately ripped
16 | (94/94) Accurately ripped
17 | (94/94) Accurately ripped
18 | (94/94) Accurately ripped
19 | (93/94) Accurately ripped


==== Log checksum 18E050F982898CE190B6DE535E78D43B5147308DE0A22CAAF03BF7154C79DFB5 ====


Exact Audio Copy V1.3 from 2. September 2016

EAC extraction logfile from 8. May 2019, 22:12

Yukari Nonoshita, Robin Blaze, Makoto Sakurada, Stephan MacLeod / Bach - The Complete Sacred Cantatas (Disc 19), BWV 86 · 37 · 104 · 166

Used drive : ATAPI iHAS124 F Adapter: 1 ID: 0

Read mode : Secure
Utilize accurate stream : Yes
Defeat audio cache : Yes
Make use of C2 pointers : No

Read offset correction : 6
Overread into Lead-In and Lead-Out : No
Fill up missing offset samples with silence : Yes
Delete leading and trailing silent blocks : No
Null samples used in CRC calculations : Yes
Used interface : Native Win32 interface for Win NT & 2000

Used output format : User Defined Encoder
Selected bitrate : 1024 kBit/s
Quality : High
Add ID3 tag : No
Command line compressor : C:\Program Files (x86)\Exact Audio Copy\FLAC\FLAC.EXE
Additional command line options : -6 -V -T "ARTIST=%artist%" -T "TITLE=%title%" -T "ALBUM=%albumtitle%" -T "DATE=%year%" -T "TRACKNUMBER=%tracknr%" -T "GENRE=%genre%" -T "COMMENT=%comment%" -T "BAND=%albuminterpret%" -T "ALBUMARTIST=%albuminterpret%" -T "COMPOSER=%composer%" %haslyrics%–tag-from-file=LYRICS="%lyricsfile%"%haslyrics% -T "DISCNUMBER=%cdnumber%" -T "TOTALDISCS=%totalcds%" -T "TOTALTRACKS=%numtracks%" %hascover%–picture="%coverfile%"%hascover% %source% -o %dest%


TOC of the extracted CD

Track | Start | Length | Start sector | End sector
––––––––––––––––––––––––––––-
1 | 0:00.00 | 2:24.10 | 0 | 10809
2 | 2:24.10 | 4:49.00 | 10810 | 32484
3 | 7:13.10 | 1:46.60 | 32485 | 40494
4 | 8:59.70 | 0:29.10 | 40495 | 42679
5 | 9:29.05 | 2:30.60 | 42680 | 53989
6 | 11:59.65 | 1:08.20 | 53990 | 59109
7 | 13:08.10 | 2:25.00 | 59110 | 69984
8 | 15:33.10 | 5:32.08 | 69985 | 94892
9 | 21:05.18 | 3:00.00 | 94893 | 108392
10 | 24:05.18 | 1:00.00 | 108393 | 112892
11 | 25:05.18 | 2:33.25 | 112893 | 124392
12 | 27:38.43 | 1:19.42 | 124393 | 130359
13 | 28:58.10 | 4:28.01 | 130360 | 150460
14 | 33:26.11 | 0:38.50 | 150461 | 153360
15 | 34:04.61 | 3:21.54 | 153361 | 168489
16 | 37:26.40 | 0:59.00 | 168490 | 172914
17 | 38:25.40 | 7:25.61 | 172915 | 206350
18 | 45:51.26 | 1:19.59 | 206351 | 212334
19 | 47:11.10 | 1:30.00 | 212335 | 219084
20 | 48:41.10 | 6:56.09 | 219085 | 250293
21 | 55:37.19 | 2:41.00 | 250294 | 262368
22 | 58:18.19 | 0:53.00 | 262369 | 266343
23 | 59:11.19 | 3:09.55 | 266344 | 280573
24 | 62:20.74 | 1:30.26 | 280574 | 287349


Range status and errors

Selected range

Filename C:\EACRip\BACH - THE COMPLETE SACRED CANTATAS (BCJ, Masaaki Suzuki) [55CDs]\CD 19 - BWV 86 · 37 · 104 · 166\Bach - The Complete Sacred Cantatas (Disc 19), BWV 86 · 37 · 104 · 166 - Masaaki Suzuki.wav

Peak level 91.9 %
Extraction speed 9.4 X
Range quality 100.0 %
Test CRC 5EF40943
Copy CRC 5EF40943
Copy OK

No errors occurred


AccurateRip summary

Track 1 accurately ripped (confidence 22) [A76B5928] (AR v2)
Track 2 accurately ripped (confidence 22) [32BA94D7] (AR v2)
Track 3 accurately ripped (confidence 22) [B3DD7E7A] (AR v2)
Track 4 accurately ripped (confidence 22) [1E828AFA] (AR v2)
Track 5 accurately ripped (confidence 22) [5A57B26C] (AR v2)
Track 6 accurately ripped (confidence 22) [95E74D10] (AR v2)
Track 7 accurately ripped (confidence 22) [A98A86C4] (AR v2)
Track 8 accurately ripped (confidence 22) [D4910532] (AR v2)
Track 9 accurately ripped (confidence 22) [DEC03597] (AR v2)
Track 10 accurately ripped (confidence 22) [C1D57773] (AR v2)
Track 11 accurately ripped (confidence 22) [44DD28C0] (AR v2)
Track 12 accurately ripped (confidence 22) [E07033FF] (AR v2)
Track 13 accurately ripped (confidence 22) [7372648A] (AR v2)
Track 14 accurately ripped (confidence 22) [ADCFC843] (AR v2)
Track 15 accurately ripped (confidence 22) [35AAA000] (AR v2)
Track 16 accurately ripped (confidence 22) [1AE95514] (AR v2)
Track 17 accurately ripped (confidence 22) [F7DCCA30] (AR v2)
Track 18 accurately ripped (confidence 22) [405384CC] (AR v2)
Track 19 accurately ripped (confidence 22) [1AB6EAB2] (AR v2)
Track 20 accurately ripped (confidence 22) [AB7960B3] (AR v2)
Track 21 accurately ripped (confidence 22) [E6C8DF96] (AR v2)
Track 22 accurately ripped (confidence 22) [6FB481F7] (AR v2)
Track 23 accurately ripped (confidence 22) [701C6338] (AR v2)
Track 24 accurately ripped (confidence 22) [8830C819] (AR v2)

All tracks accurately ripped

End of status report

–– CUETools DB Plugin V2.1.6

[CTDB TOCID: H8IxNM_n7wSQiSDD.FHV78q2HDQ-] found
Submit result: H8IxNM_n7wSQiSDD.FHV78q2HDQ- has been confirmed
Track | CTDB Status
1 | (98/99) Accurately ripped
2 | (98/99) Accurately ripped
3 | (98/99) Accurately ripped
4 | (98/99) Accurately ripped
5 | (98/99) Accurately ripped
6 | (99/99) Accurately ripped
7 | (99/99) Accurately ripped
8 | (98/99) Accurately ripped
9 | (99/99) Accurately ripped
10 | (98/99) Accurately ripped
11 | (98/99) Accurately ripped
12 | (98/99) Accurately ripped
13 | (98/99) Accurately ripped
14 | (99/99) Accurately ripped
15 | (99/99) Accurately ripped
16 | (99/99) Accurately ripped
17 | (98/99) Accurately ripped
18 | (99/99) Accurately ripped
19 | (98/99) Accurately ripped
20 | (98/99) Accurately ripped
21 | (98/99) Accurately ripped
22 | (98/99) Accurately ripped
23 | (99/99) Accurately ripped
24 | (96/99) Accurately ripped, or (2/99) differs in 2437 samples @01:30:11-01:30:15


==== Log checksum 2F3A803CDC9AF3848C2B92FFEAF0E7B5D8347C8E5B6984DE7210FDEE8771C53B ====


Exact Audio Copy V1.3 from 2. September 2016

EAC extraction logfile from 8. May 2019, 22:57

Yukari Nonoshita, Mutsumi Hatano, Gerd Turk, Peter Kooij / Bach - The Complete Sacred Cantatas (Disc 20), BWV 184 · 173 · 59 · 44

Used drive : ATAPI iHAS124 F Adapter: 1 ID: 0

Read mode : Secure
Utilize accurate stream : Yes
Defeat audio cache : Yes
Make use of C2 pointers : No

Read offset correction : 6
Overread into Lead-In and Lead-Out : No
Fill up missing offset samples with silence : Yes
Delete leading and trailing silent blocks : No
Null samples used in CRC calculations : Yes
Used interface : Native Win32 interface for Win NT & 2000

Used output format : User Defined Encoder
Selected bitrate : 1024 kBit/s
Quality : High
Add ID3 tag : No
Command line compressor : C:\Program Files (x86)\Exact Audio Copy\FLAC\FLAC.EXE
Additional command line options : -6 -V -T "ARTIST=%artist%" -T "TITLE=%title%" -T "ALBUM=%albumtitle%" -T "DATE=%year%" -T "TRACKNUMBER=%tracknr%" -T "GENRE=%genre%" -T "COMMENT=%comment%" -T "BAND=%albuminterpret%" -T "ALBUMARTIST=%albuminterpret%" -T "COMPOSER=%composer%" %haslyrics%–tag-from-file=LYRICS="%lyricsfile%"%haslyrics% -T "DISCNUMBER=%cdnumber%" -T "TOTALDISCS=%totalcds%" -T "TOTALTRACKS=%numtracks%" %hascover%–picture="%coverfile%"%hascover% %source% -o %dest%


TOC of the extracted CD

Track | Start | Length | Start sector | End sector
––––––––––––––––––––––––––––-
1 | 0:00.00 | 3:29.20 | 0 | 15694
2 | 3:29.20 | 7:06.47 | 15695 | 47691
3 | 10:35.67 | 2:04.73 | 47692 | 57064
4 | 12:40.65 | 4:11.10 | 57065 | 75899
5 | 16:52.00 | 1:11.55 | 75900 | 81279
6 | 18:03.55 | 2:48.40 | 81280 | 93919
7 | 20:52.20 | 0:44.32 | 93920 | 97251
8 | 21:36.52 | 3:40.60 | 97252 | 113811
9 | 25:17.37 | 1:52.55 | 113812 | 122266
10 | 27:10.17 | 3:44.35 | 122267 | 139101
11 | 30:54.52 | 1:12.33 | 139102 | 144534
12 | 32:07.10 | 2:12.62 | 144535 | 154496
13 | 34:19.72 | 3:17.35 | 154497 | 169306
14 | 37:37.32 | 1:50.65 | 169307 | 177621
15 | 39:28.22 | 1:35.25 | 177622 | 184771
16 | 41:03.47 | 2:50.48 | 184772 | 197569
17 | 43:54.20 | 0:47.12 | 197570 | 201106
18 | 44:41.32 | 2:06.33 | 201107 | 210589
19 | 46:47.65 | 1:39.47 | 210590 | 218061
20 | 48:27.37 | 4:37.53 | 218062 | 238889
21 | 53:05.15 | 1:26.52 | 238890 | 245391
22 | 54:31.67 | 0:48.45 | 245392 | 249036
23 | 55:20.37 | 5:28.55 | 249037 | 273691
24 | 60:49.17 | 1:13.18 | 273692 | 279184


Range status and errors

Selected range

Filename C:\EACRip\BACH - THE COMPLETE SACRED CANTATAS (BCJ, Masaaki Suzuki) [55CDs]\CD 20 - BWV 184 · 173 · 59 · 44\Bach - The Complete Sacred Cantatas (Disc 20), BWV 184 · 173 · 59 · 44 - Masaaki Suzuki.wav

Peak level 100.0 %
Extraction speed 9.3 X
Range quality 100.0 %
Test CRC 18303227
Copy CRC 18303227
Copy OK

No errors occurred


AccurateRip summary

Track 1 accurately ripped (confidence 62) [BDED5A9F] (AR v2)
Track 2 accurately ripped (confidence 63) [87E84432] (AR v2)
Track 3 accurately ripped (confidence 62) [2D7162B4] (AR v2)
Track 4 accurately ripped (confidence 63) [0DE56022] (AR v2)
Track 5 accurately ripped (confidence 64) [F9C6A7BE] (AR v2)
Track 6 accurately ripped (confidence 63) [2B403DE2] (AR v2)
Track 7 accurately ripped (confidence 64) [7955851D] (AR v2)
Track 8 accurately ripped (confidence 64) [3035749A] (AR v2)
Track 9 accurately ripped (confidence 63) [3EC8008C] (AR v2)
Track 10 accurately ripped (confidence 63) [B86ED4D7] (AR v2)
Track 11 accurately ripped (confidence 62) [6F178671] (AR v2)
Track 12 accurately ripped (confidence 63) [E487567B] (AR v2)
Track 13 accurately ripped (confidence 63) [F3A53C55] (AR v2)
Track 14 accurately ripped (confidence 63) [86990288] (AR v2)
Track 15 accurately ripped (confidence 64) [9546D7EB] (AR v2)
Track 16 accurately ripped (confidence 64) [9F742A02] (AR v2)
Track 17 accurately ripped (confidence 64) [C70284BB] (AR v2)
Track 18 accurately ripped (confidence 64) [4BD6BE47] (AR v2)
Track 19 accurately ripped (confidence 64) [DA41B273] (AR v2)
Track 20 accurately ripped (confidence 63) [DBCCD31C] (AR v2)
Track 21 accurately ripped (confidence 63) [D5EC1935] (AR v2)
Track 22 accurately ripped (confidence 62) [11E96D09] (AR v2)
Track 23 accurately ripped (confidence 63) [EEBEF173] (AR v2)
Track 24 accurately ripped (confidence 63) [E3C93F57] (AR v2)

All tracks accurately ripped

End of status report

–– CUETools DB Plugin V2.1.6

[CTDB TOCID: wNf0EX38qAVoeBk.9_N5OOhqwp8-] found
Submit result: wNf0EX38qAVoeBk.9_N5OOhqwp8- has been confirmed
Track | CTDB Status
1 | (93/94) Accurately ripped
2 | (93/94) Accurately ripped
3 | (94/94) Accurately ripped
4 | (94/94) Accurately ripped
5 | (93/94) Accurately ripped
6 | (94/94) Accurately ripped
7 | (94/94) Accurately ripped
8 | (93/94) Accurately ripped
9 | (94/94) Accurately ripped
10 | (94/94) Accurately ripped
11 | (94/94) Accurately ripped
12 | (94/94) Accurately ripped
13 | (94/94) Accurately ripped
14 | (94/94) Accurately ripped
15 | (94/94) Accurately ripped
16 | (94/94) Accurately ripped
17 | (94/94) Accurately ripped
18 | (93/94) Accurately ripped
19 | (94/94) Accurately ripped
20 | (93/94) Accurately ripped
21 | (94/94) Accurately ripped
22 | (94/94) Accurately ripped
23 | (94/94) Accurately ripped
24 | (94/94) Accurately ripped


==== Log checksum F51A387BC06D7C746AEDB1AB8FF9BF1F5872EA2833806593CB0C25415ADC8021 ====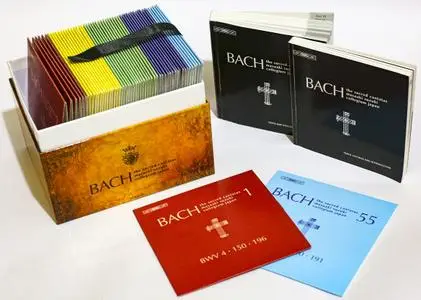 Thanks to the original releaser