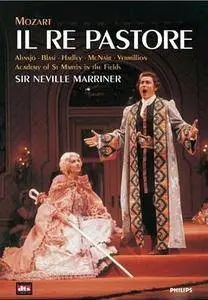 Neville Marriner, Academy of St Martin in the Fields - Mozart: Il Re Pastore (2006/1989)
NTSC 4:3 (720x480) VBR | Italiano (LinearPCM, 2 ch) | (DTS, 6 ch) | 7.39 Gb (DVD9) | 114 min
Classical | Philips | Sub: English, Francais, Deutsch, Espanol, Chinese
Set in classical antiquily, Mozart's "Il re pastore" tells of the thwarted love of Aminta (the innocent 'shepherd king' of the title) for the well-born Elisa, and that of the nobleman Agenore for the deposed tyrant's daughter Tamiri. No less a figure than Alexander the Great resolves these conflicts of private passion and public status. First performed in Salzburg in 1775, Sir Neville Marriner conducts a top international cast in this 1989 production of the opera from Salzburg's Landestheater.
Cast:
Alessandro - Jerry Hadley
Aminta - Angela Maria Blasi
Elisa - Sylvia McNair
Tamiri - Iris Vermillion
Agenore - Claes-Håkon Ahnsjö
Academy of St Martin in the Fields
Conductor - Sir Neville Marriner

01. Titles
02. Overture / Aria: Intendo amico rio
03. Aria: Alla selva, al prato
04. Aria: Aer tranquilo e dì sereni
05. Aria: Si spande al sole in faccia nube talor così
06. Aria: Per me rispondete, begl'astri d'amore
07. Aria: Di tante sue procelle giìa si scordò quest'alma
08. Duet: Vanne a regnar, ben mio
09. Recitative: Questa del campo greco è la tende maggior
10. Aria: Barbaro! Oh Dio mi vedi divisa dal mio ben
11. Aria: Se vincendo vi rendo felici
12. Rondeaux: L'amerò, sarò constante
13. Aria: Se tu di me fai dono
14. Aria: Sol può dir come si trova un amante in questo stato
15. Aria: Voi che fausti ognor donate nuovi germi a'lauri miei
16. Finale: Viva, viva l'invitto duce