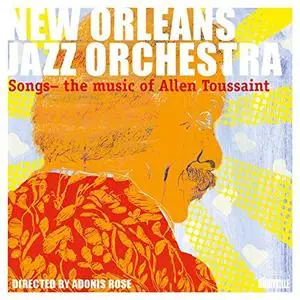 New Orleans Jazz Orchestra - Songs - The Music of Allen Toussaint (2019)
WEB FLAC (Tracks) 274 MB | Cover | 41:01 minutes | MP3 320Kbps | 98 MB
Jazz | Label: Storyville Records
New Orleans is a musical melting pot that has been cooking up music royalty for nearly over a century. The New Orleans Jazz Orchestra, now in its seventeenth year, is dedicated to preserving the tradition of New Orleans music and culture while exploring the works of artists that might be considered slightly outside the realm of jazz. Songs: The Music of Allen Toussaint is the fourth studio recording by the Orchestra and the first under new music director Adonis Rose. Toussaint, one of New Orleans most well-known composers, wrote the classic tunes Java, Electricity, Southern Nights and Working In A Coal Mine which all get fresh large ensemble interpretations on this new disc. Other tunes associated with Toussaint, but not necessarily written by him, such as the classic Tequila, are also on the playlist. A raucous and swinging tribute to a true American music original performed by his home town ensemble.
TRACKLIST
1 Southern Nights
2 It's Raining
3 Working In the Coal Mine
4 Ruler of My Heart
5 Java
6 Gert Town
7 With You In Mind
8 Zimple Street
9 Tequila
–––––––––––-
DON'T MODIFY THIS FILE
–––––––––––-
PERFORMER: auCDtect Task Manager, ver. 1.6.0 RC1 build 1.6.0.1
Copyright © 2008-2010 y-soft. All rights reserved
http://y-soft.org
ANALYZER: auCDtect: CD records authenticity detector, version 0.8.2
Copyright © 2004 Oleg Berngardt. All rights reserved.
Copyright © 2004 Alexander Djourik. All rights reserved.
FILE: 9 Tequila.flac
Size: 39158977 Hash: 593BC128BFEFCB5F5DA6C5D7CF63FBA5 Accuracy: -m0
Conclusion: CDDA 100%
Signature: E5D86B52668202FA907A85881FB74DD292C56A73
FILE: 8 Zimple Street.flac
Size: 31137104 Hash: 873FF348C055501B357BF1E4ADB92BBE Accuracy: -m0
Conclusion: CDDA 99%
Signature: B710891A7E8326319E70BB4F66EEB5696D51FEF9
FILE: 7 With You In Mind.flac
Size: 35908776 Hash: D9925D7D27CAE3BFC74AA729FFA735DB Accuracy: -m0
Conclusion: CDDA 99%
Signature: E0A553B136219ECE257322F9DBCFC71496D6FA9D
FILE: 6 Gert Town.flac
Size: 29163555 Hash: 5D24E0246A99D675AE3811E1C076200D Accuracy: -m0
Conclusion: CDDA 99%
Signature: 38251A2197FCDCDF12FF2BB7900B45280121E866
FILE: 5 Java.flac
Size: 22105287 Hash: 675B4465523C8316A3CC7594AF2E91B9 Accuracy: -m0
Conclusion: CDDA 100%
Signature: F4E5DD7A8C4DBC6FDB99633DEFDD23F0015788C8
FILE: 4 Ruler of My Heart.flac
Size: 39401899 Hash: 20D39F298F8B77C1F1FEDF4D339DC639 Accuracy: -m0
Conclusion: CDDA 100%
Signature: 2745CA97353129EAF321A314D765D36B0504145B
FILE: 3 Working In the Coal Mine.flac
Size: 40079967 Hash: 863B5035BF7550616CA7DD7BD843DAB9 Accuracy: -m0
Conclusion: CDDA 100%
Signature: 8CB2A814235B774306D9309201C1CBFE14AA8E9F
FILE: 2 It's Raining.flac
Size: 27089557 Hash: 97B8F04A3613024A654268D0AB745586 Accuracy: -m0
Conclusion: CDDA 100%
Signature: B3AFF7D3CD8FD55F869AC19CB063608F7A961A41
FILE: 1 Southern Nights.flac
Size: 23596026 Hash: 1B914C0A58B7E81870C97BBA672F4C16 Accuracy: -m0
Conclusion: CDDA 100%
Signature: 4B8B6231260067D41163349288C2A0F9D6620FEB