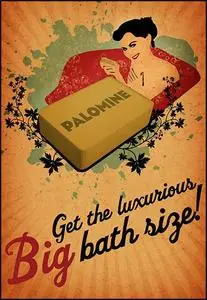 Palomine - Get the luxurious BIG bath size - 2007
51,8MB | MP3 | 192kB/s Joint Stereo
Track List
–––––
01. Brand new start 2:46
02. You'll be mine 3:06
03. Close to you 2:57
04. Perfect summer night 3:00
05. Bottles in a bathroom 3:59
06. This life 3:43
07. Faraway place 3:48
08. Secret 3:50
09. Someone 3:41
10. Everybody needs time 4:08
11. A beautiful life (+ outro) 4:48
Release Notes:
The Belgian music scene gets a lot of international attention.
When one takes into account the number of gifted bands
and talented singer-songwriters this does not raise much surprise.
One of the rising names in this firm tradition is the fresh and innovative formation Palomine.
Although they had to wait some years to produce their first full length album,
this band has built out a solid reputation.
ARTIST'S WEBSITE:
www.palomine.be
www.myspace.com/palominemusic