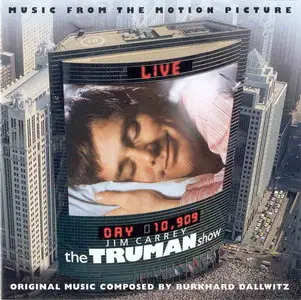 Philip Glass - The Truman Show
Classical, Soundtrack | Easy CD-DA, FLAC, CUE, No Log | 1 CD, Cover, LQ | 296 MB
CD Date: June 2, 1998 | Milan Records
When making a film, I play music constantly during "dailies" — the nightly screenings of the previous day's shooting. I test all kinds of music against the image, searching for the elusive "sound" of the picture.
In the case of The Truman Show, since it is the story of a live television program, I was also determining the music that the show's creator, Christof, would have chosen.
Musicby Philip Glass / Burkhard Dallwitz
For the filmby Peter Weir
TRACKS:
BURKHARD DALLWITZ
1. Trutalk 1:18
2. It's a Life 1:30
3. Aquaphobia 0:40
PHILIP GLASS
4. Dreaming of Fiji 1:54
BURKHARD DALLWITZ
5. Flashback 1:19
PHILIP GLASS
6. Anthem-Part 2 (from Powaqqatsi) 3:50
7. The Beginning (from Anima Mundi) 4:06
FREDERIC CHOPIN
8. Romance-Larghetto (from Piano Concerto No. 1) 10:42
BURKHARD DALLWITZ
9. Drive 3:34
10. Underground 0:56
11. Do Something! 0:44
PHILIP GLASS
12. Living Waters (from Anima Mundi) 3:48
BURKHARD DALLWITZ
13. Reunion 2:26
PHILIP GLASS
14. Truman Sleeps 1:51
BURKHARD DALLWITZ
15. Truman Sets Sail 1:55
16. Underground / Storm 3:37
PHILIP GLASS
17. Raising the Sail 2:13
WOJCIECH KILAR
18. Father Kolbe's Preaching 2:26
PHILIP GLASS
19. Mishima / Opening (from Mishima) 2:14
BURKHARD DALLWITZ
20. A New Life (Not contained in film) 1:58
MARC BOLAN
21. Twentieth Century Boy 3:07