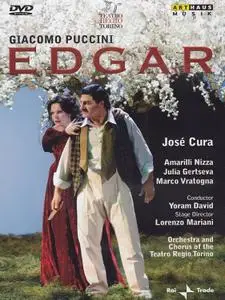 Yoram David, Orchestra e Coro del Teatro Regio Torino - Puccini: Edgar (2009)
NTSC 16:9 (720x480) | Italiano | LinearPCM, 2 ch | Dolby AC3, 6 ch | 7.21 Gb (DVD9) | 157 min
Classical | Arthaus Musik | Sub.: English, Deutsch, Francais, Espanol, Italiano, Japanese
A fake death, a perverse woman and a pure woman, a man torn between them, a murder: the story of Edgar, Giacomo Puccini's second opera, is full of dramatic turns of events. Arthaus Musik presents this powerful and tragic opera now in a version which was count for lost for nearly 120 years. For the first time the original version in four acts of Edgar by Giacomo Puccini was staged at the Teatro Regio in Turin in 2008. Thanks to the rediscovery of the manuscript score, after 119 years since the first and only performance in Milan in 1889 and after numerous versions condensing the opera in three acts, it will be again possible to experience the original opera that Puccini wrote. It was only when the American Puccini expert Linda B. Fairtile began reconstructing the original orchestration of the almost 40-minute final act that the composer's granddaughter, Simonetta Puccini, came up with the intact score. José Cura, acclaimed all over the world for his intense interpretations, is Edgar. His rich and brilliant tenor voice, together with his fascinating stage presence, make him one of the most charismatic and sought-after artists in the world. With him, two prima donnas, two artists of great charm and with skyrocketing careers: the Italian soprano Amarilli Nizza and the Russian mezzo-soprano Julia Gertseva.
Cast:
Edgar - José Cura
Fidelia - Amarilli Nizza
Tigrana - Julia Gertseva
Frank - Marco Vratogna
Gualtiero - Carlo Cigni
Orchestra e Coro del Teatro Regio Torino
Conductor - Yoram David