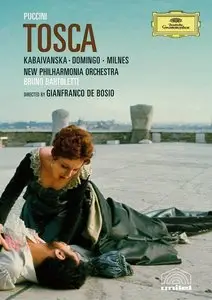 Bruno Bartoletti, New Philharmonia Orchestra, Raina Kabaivanska, Plácido Domingo - Puccini: Tosca (2007/1976)
NTSC 4:3 (720x480) | Italiano (LinearPCM, 2 ch) | (DTS, 6 ch) | 7.54 Gb (DVD9) | 115 min
Classical | Deutsche Grammophon | Sub: Italiano, English, Deutsch, Francais, Espanol, Chinese
This gripping and visually stunning film has been universally hailed as one of the most satisfying of all versions of opera on celluloid. Director Gianfranco de Bosio has given an extraordinary dimension of realism to this story of love, deception and murder by shooting it all in the original Roman location. Using diverse cinematic tricks and imaginative camerawork, this opera film is much more a visual interpretation of Puccini's music than a theatre piece filmed in original settings.
Bulgarian soprano Raina Kabaivanska sang the role of Tosca on more than 400 occasions, while Cavaradossi was one of Plácido Domingo's star roles in his earlier years and the role of his debuts in Hamburg and London. Besides their musical mastery, all the singers display exceptional acting talent, which adds enormously to the atmospheric depths of De Bosio's production.
Cast:
Floria Tosca - Raina Kabaivanska
Mario Kavaradossi - Plácido Domingo
Il Barone Scarpia - Sherrill Milnes
Cesare Angelotti - Giancarlo Luccardi
Spoletta - Mario Ferrara
Il Sagrestano - Alfredo Mariotti
Sciarrone - Bruno Grella
Un Carceriere - Domenico Medici
Un Pastore - Plácido Domingo JR.
Ambrosian Singers
New Philharmonia Orchestra
Conductor - Bruno Bartoletti
Directed by Gianfranco de Bosio