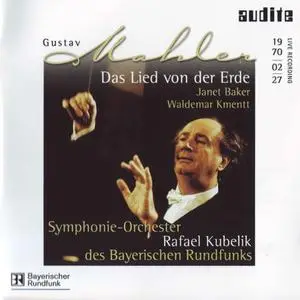 Rafael Kubelik - Mahler: Das Lied von der Erde (2002)
XLD Rip | FLAC (Tracks+.cue, log) | 01:02:09 min | 280 mb | Scans->55 mb
Genre: Classical, Vacal / Label: Audite
In 1907 Mahler's life was shaken by several fateful blows: he had to give up his post as Director of the Court Opera due to mounting differences between himself and the Viennese musical world and to anti-Semitic animosities, his beloved daughter Maria Anna died harrowingly of diphtheria and he himself was diagnosed as having a serious heart ailment that made him think of his own impending death. A collection of poetry by the writer Hans Bethge exercised a special fascination upon him in this fragile state. "The Chinese Flute," a collection of 80 poems based on old Chinese sources, centres upon the themes of beauty and melancholy, excessive drunkenness and sudden consciousness of life's transitory nature. Mahler selected seven poems and created six musical pictures out of them (the "Farewell" puts two pictures together) for tenor voice, alto voice and orchestra. With "Das Lied von der Erde" (The Song of the Earth) he succeeded in a total fusion of the vocal and the symphonic. He himself called the Song of the Earth "the most personal thing I have ever written."
Rafael Kubelik and the Bavarian Radio Symphony Orchestra explore Mahler's expressivity to the depths here as they have already done in many symphonies issued by audite, in all of its facets and without falling into hollow pathos. Karl Schumann wrote in the Süddeutsche Zeitung: "The Orchestra played like a single organism of hundred soloists, all centred round the conductor's desk." (2 March 1970) The soloists, Janet Baker and Waldemar Kmentt, succeed in this balancing act with bravura as well. The work is issued in a live recording made in the Herkulessaal of the Munich Residenz on 27 February 1970.
Tracklist:
I. Das Trinklied vom Jammer der Erde - 8:42
II. Der Einsame im Herbst - 9:34
III. Von der Jugend - 3:12
IV. Von der Schönheit - 6:38
V. Der Trunkene im Frühling - 4:29
VI. Der Abschied - 29:34
X Lossless Decoder version 20110703 (135.1)

XLD extraction logfile from 2011-07-26 19:51:29 +0000

Gustav Mahler / Das Lied von der Erde (Kubelik, Baker, Kmentt, Bavarian Radio Symphony Orch)

Used drive : MATSHITA DVD-R UJ-898 (revision HC10)

Ripper mode : XLD Secure Ripper
Disable audio cache : OK for the drive with a cache less than 1375KiB
Make use of C2 pointers : NO
Read offset correction : 102
Max retry count : 100
Gap status : Analyzed, Appended

TOC of the extracted CD
Track | Start | Length | Start sector | End sector
––––––––––––––––––––––––––––-
1 | 00:00:00 | 08:41:72 | 0 | 39146
2 | 08:41:72 | 09:33:63 | 39147 | 82184
3 | 18:15:60 | 03:11:55 | 82185 | 96564
4 | 21:27:40 | 06:38:20 | 96565 | 126434
5 | 28:05:60 | 04:28:70 | 126435 | 146604
6 | 32:34:55 | 29:34:02 | 146605 | 279656

AccurateRip Summary
Track 01 : OK (confidence 6)
Track 02 : OK (confidence 6)
Track 03 : OK (confidence 6)
Track 04 : OK (confidence 6)
Track 05 : OK (confidence 6)
Track 06 : OK (confidence 6)
->All tracks accurately ripped.

All Tracks
Album gain : -0.05 dB
Peak : 0.956024
Statistics
Read error : 0
Jitter error (maybe fixed) : 0
Retry sector count : 0
Damaged sector count : 0

Track 01
Filename : /Users/mikepierry/Music/whatcd/Gustav Mahler - Das Lied von der Erde (Kubelik, Baker, Kmentt, Bavarian Radio Symphony Orch) (2002) [FLAC]/01 I. Das Trinklied vom Jammer der Erde.flac
Pre-gap length : 00:02:00

Track gain : -2.79 dB
Peak : 0.956024
CRC32 hash (test run) : 813A52C9
CRC32 hash : 813A52C9
CRC32 hash (skip zero) : 43173C0C
AccurateRip signature : F70F791C
->Accurately ripped! (confidence 6)
Statistics
Read error : 0
Jitter error (maybe fixed) : 0
Retry sector count : 0
Damaged sector count : 0

Track 02
Filename : /Users/mikepierry/Music/whatcd/Gustav Mahler - Das Lied von der Erde (Kubelik, Baker, Kmentt, Bavarian Radio Symphony Orch) (2002) [FLAC]/02 II. Der Einsame im Herbst.flac
Pre-gap length : 00:04:40

Track gain : 2.75 dB
Peak : 0.779144
CRC32 hash (test run) : 551A4C6C
CRC32 hash : 551A4C6C
CRC32 hash (skip zero) : 0D710E2B
AccurateRip signature : 78B12033
->Accurately ripped! (confidence 6)
Statistics
Read error : 0
Jitter error (maybe fixed) : 0
Retry sector count : 0
Damaged sector count : 0

Track 03
Filename : /Users/mikepierry/Music/whatcd/Gustav Mahler - Das Lied von der Erde (Kubelik, Baker, Kmentt, Bavarian Radio Symphony Orch) (2002) [FLAC]/03 III. Von der Jugend.flac

Track gain : 3.29 dB
Peak : 0.528992
CRC32 hash (test run) : D52B3C95
CRC32 hash : D52B3C95
CRC32 hash (skip zero) : E5825796
AccurateRip signature : 9B6197F3
->Accurately ripped! (confidence 6)
Statistics
Read error : 0
Jitter error (maybe fixed) : 0
Retry sector count : 0
Damaged sector count : 0

Track 04
Filename : /Users/mikepierry/Music/whatcd/Gustav Mahler - Das Lied von der Erde (Kubelik, Baker, Kmentt, Bavarian Radio Symphony Orch) (2002) [FLAC]/04 IV. Von der Schönheit.flac
Pre-gap length : 00:02:73

Track gain : 0.81 dB
Peak : 0.904785
CRC32 hash (test run) : 94F56496
CRC32 hash : 94F56496
CRC32 hash (skip zero) : 1ADF2A01
AccurateRip signature : D66D14DB
->Accurately ripped! (confidence 6)
Statistics
Read error : 0
Jitter error (maybe fixed) : 0
Retry sector count : 0
Damaged sector count : 0

Track 05
Filename : /Users/mikepierry/Music/whatcd/Gustav Mahler - Das Lied von der Erde (Kubelik, Baker, Kmentt, Bavarian Radio Symphony Orch) (2002) [FLAC]/05 V. Der Trunkene im Frühling.flac

Track gain : -1.14 dB
Peak : 0.857941
CRC32 hash (test run) : 33E67F76
CRC32 hash : 33E67F76
CRC32 hash (skip zero) : 3F286FB0
AccurateRip signature : A6A76C3F
->Accurately ripped! (confidence 6)
Statistics
Read error : 0
Jitter error (maybe fixed) : 0
Retry sector count : 0
Damaged sector count : 0

Track 06
Filename : /Users/mikepierry/Music/whatcd/Gustav Mahler - Das Lied von der Erde (Kubelik, Baker, Kmentt, Bavarian Radio Symphony Orch) (2002) [FLAC]/06 VI. Der Abschied.flac
Pre-gap length : 00:05:40

Track gain : 1.58 dB
Peak : 0.777191
CRC32 hash (test run) : 29505AF6
CRC32 hash : 29505AF6
CRC32 hash (skip zero) : 18324E47
AccurateRip signature : F40F1B83
->Accurately ripped! (confidence 6)
Statistics
Read error : 0
Jitter error (maybe fixed) : 0
Retry sector count : 0
Damaged sector count : 0

No errors occurred

End of status report