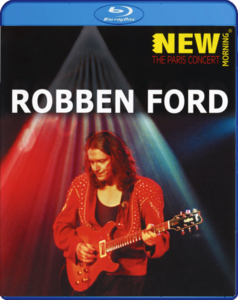 Robben Ford - The Paris Concert [New Morning] (2011)
BD-Rip | AVI | DivX @ 1.6 Mbps | 720x400 | MP3 Stereo @ 256 kbps 44 KHz | 90 min | 1.4 GB
Genre: Blues, Blues Rock, Rock, Jazz, Jazz Fusion | Label: Wienerworld Ltd | Original Release Date: January 25, 2011
Finally on Blu-Ray! This electrifying concert was recorded in May 2001 in the "New Morning" club in Paris, one of the most important European jazz clubs. The packed house experienced Robben Ford in peak form. It was a truly classy performance on the stage that night. Accompanied by Louis Pardini (keyboards), Jimmy Earl (bass) and Brannen Temple (drums) Robben Ford showed every facet of his furious guitar playing. With numbers like "Start It Up", "Moonchild Blues", "Deaf, Dumb And Blind" or "You Got Me Knockin'" the virtuoso excelled himself and played blues rock which simply can't be bettered.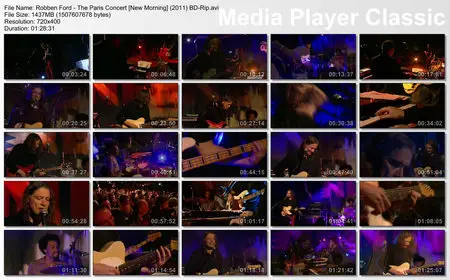 Robben Ford is a guitarist who has been around the industry for quite some time. His roots are in the blues, having started a blues band with his brothers, but he quickly turned his attention to the booming jazz fusion scene in the 1970′s. He has worked with the Yellowjackets, Miles Davis, L.A. Express, Joni Mitchell and George Harrison.

This New Morning concert captured live in 2001 presents the guitarist once again returning to a more blues-oriented style. He is no doubt comfortable with the music, but by no means does his show sound stale. It offers up Robben Ford's guitar with razor sharp riffs, melodic leads, and that shimmering, California harmony that has informed everyone from Creedence to Motley Crue. The musicianship here is stellar and not to be missed.

Whether you like jazz, blues, fusion, or rock, you're bound to find something to like in this sublime performance from guitarist Robben Ford.

Tracklist:

01. Prison of Love
02. Just Like it Is
03. Start it Up
04. Moonchild Blues
05. Help the Poor
06. Tired of Talkin'
07. Indianola Blues
08. Deaf, Dumb, & Blind
09. Lovin' Cup
10. You Got Me Knockin'
Hotfile Download
Filesonic Download