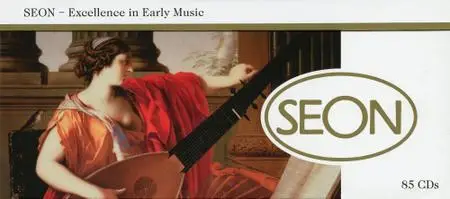 Seon - Excellence in Early Music [85CDs] Vol.3 (2014)
EAC | FLAC | Image (Cue & Log) ~ 5,84 Gb | Total time: 77:26:37 | Scans included
Classical | Label: Sony | # 88843089382 | Recorded: 1970-1984
SEON (Studio Erichson) is a period music label by the legendary producer Wolf Erichson. Erichson founded the label in 1969 as one of the first labels dedicated only to authentic music. The recordings were made with the best available recording techniques of the time and still deliver a high quality product in line with today's standards. This special boxset offers all SEON CD reissues from the late 90s on 85 CDs in a limited edition boxset.
Contents:
CD 42: Bach: Cantatas 'Kreuzstab' BWV56 & 'Ich habe genug' BWV82
Max van Egmond, Baroque Orchestra, Frans Brüggen
CD 43-44: Bach: Great Organ Works
Gustav Leonhardt
CD 45: Bach: Inventions BWV772-786 & Sinfonias BWV787-801
Gustav Leonhardt
CD 46-47: Bach: English Suites BWV806-811
Gustav Leonhardt
CD 48: Bach: French Suites BWV812-817
Gustav Leonhardt
CD 49-50: Bach: Italian Concerto BWV971, Chromatic Fantasy and Fugue BWV903, Toccatas & Suites
Gustav Leonhardt
CD 51-52: Bach: Cello Suites BWV1007-1012
Anner Bylsma
CD 53-54: Bach: Complete Sonatas & Partita for Flute
Frans Brüggen, Lucy Van Dael, Anner Bylsma, Sigiswald Kuijken, Gustav Leonhardt
CD 55-56: Bach: Brandenburg Concertos Nos 1-6 BWV1046-1051
Frans Brüggen, Sigiswald Kuijken, Barthold Kuijken, Wieland Kuijken, Anner Bylsma, Claude Rippas, Gustav Leonhardt
CD 57: Bach: Musical Offering BWV1079
Barthold Kuijken, Sigiswald Kuijken, Wieland Kuijken, Robert Kohnen, Gustav Leonhardt
CD 58: J S & CPE Bach: Harpsichord Concertos in D minor
Gustav Leonhardt
CD 59-60: CPE Bach: Sonatas, Rondos & Fantasias
Gustav Leonhardt

CD 42: Johann Sebastian Bach (1685-1750): Cantatas
Cantata 'Ich will den Kreuzstab gerne tragen' BWV56
01. Aria: "Ich will den Kreuzstab gerne tragen"
02. Recitativo: "Mein Wandel auf der Welt ist einer Schiffahrt gleich"
03. Aria: "Endlich, endlich wird mein Joch"
04. Recitativo: "Ich stehe fertig und bereit"
05. Choral: "Komm, o Tod, du Schlafes Bruder"
Cantata 'Ich habe genug' BWV82
06. 1. Aria: "Ich habe genug"
07. 2. Recitativo: "Ich habe genug! Mein Trost ist nur allein"
08. 3. Aria: "Schlummert ein, ihr matten Augen"
09. 4. Recitativo: "Mein Gott! wann kommt das schöne Nun!"
10. 5. Aria: "Ich freue mich auf meinen Tod"

Max van Egmond, Boy's Trebles and Contraltos of the Koorschool St.Bavo, Baroque Orchestra, Frans Brüggen

CD 43-44: Bach: Organ Works
CD 43:
Prelude & Fugue in C major, BWV 547
01. Prelude
02. Fugue
Vom Himmel hoch, da konn' ich her, BWV 769
03. Variation I: In Canone all'Ottava
04. Variation II: Alio modo in Canone alla Quinta
05. Variation III: In Canone alla Settima
06. Variation IV: In Canone all'Ottava per augmentationem
07. Variation V: L'altra sorte del Canone al rovescio
08. Fuga sopra Il Magnificat, BWV 733
09. Allein Gott in der Höh'sei Ehr', BWV 663 (from 18 Chorales)
10. Jesus Christus, unser Heiland, BWV 665 (from 18 Chorales)
11. Jesus Christus, unser Heiland, BWV 666 (from 18 Chorales)
12. Vor Deinen Thron tret'ich, BWV 668 (from 18 Chorales)
Prelude & Fugue in E minor, BWV 548
13. Prelude
14. Fugue
CD 44:
Toccata & Fugue in D minor, BWV 565
01. Toccata
02. Fugue
03. O Lamm Gottes unschuldig, BWV 618 (from the Orgel-Büchlein)
Christ, der du bist der helle Tag, BWV 766
04. Partita I
05. Partita II
06. Partita III
07. Partita IV
08. Partita V
09. Partita VI
10. Partita VII
Prelude & Fugue in C minor, BWV 546
11. Prelude
12. Fugue
13. Wir Christenleut', BWV 710 (from Chorale Preludes)
14. Valet will ich dir geben, BWV 736 (from Chorale Preludes)
O Gott, du frommer Gott, BWV 767
15. Partita I
16. Partita II
17. Partita III
18. Partita IV
19. Partita V
20. Partita VI
21. Partita VII
22. Partita VIII
23. Partita IX
24. Fantasia in C minor, BWV 562
25. Fantasia in G Major, BWV 572

Gustav Leonhardt, organ

CD 45: Bach: Inventions BWV 772-786 & Sinfonias BWV 787-801
01. Invention No. 1 in C Major, BWV 772
02. Invention No. 2 in C minor, BWV 773
03. Invention No. 3 in D Major, BWV 774
04. Invention No. 4 in D minor
05. Invention No. 5 in E-flat Major, BWV 776
06. Invention No. 6 in E Major, BWV 777
07. Invention No. 7 in E minor, BWV 778
08. Invention No. 8 in F Major, BWV 779
09. Invention No. 9 in F minor, BWV 780
10. Invention No. 10 in G Major, BWV 781
11. Invention No. 11 in G minor, BWV 782
12. Invention No. 12 in A Major, BWV 783
13. Invention No. 13 in A minor, BWV 784
14. Invention No. 14 in B-flat Major, BWV 785
15. Invention No. 15 in B minor, BWV 786
16. Sinfonia No. 1 in C Major, BWV 787
17. Sinfonia No. 2 in C minor, BWV 788
18. Sinfonia No. 3 in D Major, BWV 789
19. Sinfonia No. 4 in D minor, BWV 790
20. Sinfonia No. 5 in E-flat Major, BWV 791
21. Sinfonia No. 6 in E Major, BWV 792
22. Sinfonia No. 7 in E minor, BWV 793
23. Sinfonia No. 8 in F Major, BWV 794
24. Sinfonia No. 9 in F minor, BWV 795
25. Sinfonia No. 10 in G Major, BWV 796
26. Sinfonia No. 11 in G minor, BWV 797
27. Sinfonia No. 12 in A Major, BWV 798
28. Sinfonia No. 13 in A minor, BWV 799
29. Sinfonia No. 14 in B-flat Major, BWV 800
30. Sinfonia No. 15 in B minor, BWV 801

Gustav Leonhardt, harpsichord

CD 46-47: Bach: English Suites BWV806-811
CD 46:
Suite No. 1 in A major, BWV 806
01. I. Prélude
02. II. Allemande
03. III. Courante I - Courante II. avec deux Doubles - Double I - Double II
04. IV. Sarabande
05. V. Bourrée I - Bourrée II
06. VI. Gigue
Suite No. 2 in A minor, BWV 807
07. I. Prélude
08. II. Allemande
09. III. Courante
10. IV. Sarabande
11. V. Bourrée I - Bourrée II
12. VI. Gigue
Suite No. 3 in G minor, BWV 808
13. I. Prélude
14. II. Allemande
15. III. Courante
16. IV. Sarabande
17. V. Gavotte I - Gavotte II (ou la Musette)
18. VI. Gigue
CD 47:
Suite No. 4 in F major, BWV 809
01. I. Prélude
02. II. Allemande
03. III. Courante
04. IV. Sarabande
05. V. Menuet I - Menuet II
06. VI. Gigue
Suite No. 5 in E minor, BWV 810
07. I. Prélude
08. II. Allemande
09. III. Courante
10. IV. Sarabande
11. V. Passepied I (en Rondeau) - Passepied II
12. VI. Gigue
Suite No. 6 in D minor, BWV 811
13. I. Prélude - Allegro
14. II. Allemande
15. III. Courante
16. IV. Sarabande - Double
17. V. Gavotte I - Gavotte II
18. VI. Gigue

Gustav Leonhardt, harpsichord

CD 48: Bach: French Suites BWV 812-817
Suite No. 1 in D minor, BWV 812
1. I. Allemande
2. II. Courante
3. III. Sarabande
4. IV. Menuet I & II
5. V. Gigue
Suite No. 2 in C minor, BWV 813
6. I. Allemande
7. II. Courante
8. III. Sarabande
9. IV. Air
10. V. Menuet
11. VI. Gigue
Suite No. 3 in B minor, BWV 814
12. I. Allemande
13. II. Courante
14. III. Sarabande
15. IV. Anglaise
16. V. Menuet
17. VI. Gigue
Suite No. 4 in E-flat major, BWV 815
18. I. Allemande
19. II. Courante
20. III. Sarabande
21. IV. Gavotte
22. V. Air
23. VI. Gigue
Suite No. 5 in G major, BWV 816
24. I. Allemande
25. II. Courante
26. III. Sarabande
27. IV. Gavotte
28. V. Bourée
29. VI. Loure
30. VII. Gigue
Suite No. 6 in E major, BWV 817
31. I. Allemande
32. II. Courante
33. III. Sarabande
34. IV. Gavotte
35. V. Polonaise
36. VI. Menuet
37. VII. Bourée
38. VIII. Gigue

Gustav Leonhardt, harpsichord

CD 49-50: Bach: Italian Concerto BWV971, Chromatic Fantasy and Fugue BWV903, Toccatas & Suites
CD 49:
Italian Concerto in F major, BWV 971
01. I. [-]
02. II. Andante
03. III. Presto
Toccata in D major, BWV 912
04. I. [Presto]
05. II. Allegro
06. III. Adagio
07. IV. Fuga
Toccata in D minor, BWV 913
08. I. [-]
09. II. [Presto]
10. III. Adagio
11. IV. Allegro
12. Fugue in A minor, BWV 944
13. Fantasia in C minor, BWV 906
CD 50:
Suite in E-flat major, BWV 1010
01. I. Prilude
02. II. Allemande
03. III. Courante
04. IV. Sarabande
05. V. Bourrie I & II
06. VI. Gigue
Suite in C minor, BWV 995
07. I. Prilude
08. II. Allemande
09. III. Courante
10. IV. Sarabande
11. V. Gavotte I & II
12. VI. Gigue
Chromatic Fantasy and Fugue in D minor, BWV 903
13. Fantasie
14. Fugue

Gustav Leonhardt, harpsichord

CD 51-52: Bach: Cello Suites BWV 1007-1012
CD 51:
Suite No. 1 in G major, BWV 1007
01. I. Prélude
02. Allemande
03. Courante
04. Sarabande
05. Menuett I & II
06. Gigue
Suite No. 2 in D minor, BWV 1008
07. Prélude
08. Allemande
09. Courante
10. Sarabande
11. Menuett I & II
12. Gigue
Suite No. 3 in C major, BWV 1009
13. Prélude
14. Allemande
15. Courante
16. Sarabande
17. Bourrée I & II
18. Gigue
CD 52:
Suite No. 4 in E-flat major, BWV 1010
01. Prélude
02. Allemande
03. Courante
04. Sarabande
05. Bourrée I & II
06. Gigue
Suite No. 5 in C minor, BWV 1011
07. Prélude
08. Allemande
09. Courante
10. Sarabande
11. Gavotte I & II
12. Gigue
Suite No. 6 in D major, BWV 1012
13. Prélude
14. Allemande
15. Courante
16. Sarabande
17. Gavotte I & II
18. Gigue

Anner Bylsma, cello

CD 53-54: Bach: Complete Sonatas & Partita for Flute
CD 53:
Sonata in B minor, BWV 1030
01. I. Andante
02. II. Largo e dolce
03. III. Presto
Sonata in E major, BWV 1035
04. I. Adagio ma non tanto
05. II. Allegro
06. III. Siciliano
07. IV. Allegro assai
Sonata in A major, BWV 1032
08. I. Vivace
09. II. Largo e dolce
10. III. Allegro
CD 54:
Sonata in E minor, BWV 1034
01. I. Adagio ma non tanto
02. II. Allegro
03. III. Andante
04. IV. Allegro
Partita in A minor, BWV 1013
05. I. Allemande
06. II. Corrente
07. III. Sarabande
08. IV. Bourrée anglaise
09. I. Allemande (in G Minor) for Viola
10. II. Allemande (in G Minor) for Harpsichord
11. III. Corrente (in G Minor) for Violoncello piccolo
12. IV. Sarabande (in C Minor) for Recorder
13. V. Bourrée anglaise (in G Minor) for Violin
14. Concerto in D Minor (Excerpt) - After the first movement of the Flute Sonata in B Minor BWV 1030 (Arranged by Frans Brüggen)

Frans Brüggen, Lucy Van Dael, Anthony Woodrow, Adelheid Glatt, Anner Bylsma, Wieland Kuijken, Sigiswald Kuijken, Gustav Leonhardt

CD 55-56: Bach: Brandenburg Concertos Nos 1-6 BWV1046-1051
CD 55:
Concerto No. 1 in F major, BWV 1046
01. I. [-]
02. II. Adagio
03. III. Allegro
04. IV. Menuetto - Trio Polonaise - Menuetto - Trio
Concerto No. 2 in F major, BWV 1047
05. I. [-]
06. II. Andante
07. III. Allegro assai
Concerto No. 3 in G major, BWV 1048
08. I. [-]
09. II. Adagio
10. III. Allegro
CD 56:
Concerto No. 4 in G major, BWV 1049
01. I. Allegro
02. II. Andante
03. III. Presto
Concerto No. 5 in D major, BWV 1050
04. I. Allegro
05. II. Affetuoso
06. III. Allegro
Concerto No. 6 in B-flat major, BWV 1051
07. I. [-]
08. II. Adagio, ma non tanto
9. III. Allegro

Sigiswald Kuijken, Lucy van Dael, Wieland Kuijken, Adelheid Glatt, Anner Bylsma, Anthony Woodrow, Gustav Leonhardt

CD 57: Bach: Musical Offering BWV 1079
01. Ricercar a 3 voci (Harpsichord)
02. Canon perpetuus (Flute, Violin, Continuo)
Canones diversi super thema regium
03. Canon a 2 (Harpsichord)
04. Canon a 2 (Two Violins, Continuo)
05. Canon a 2, per motum contrarium (Transverse flute, Harpsichord)
06. Canon a 2, per augmentationem, contrario motu (Two Violins, Bass Viol)
07. Canon a 2, per tonos (Violin, Harpsichord)
08. Fuga canonica (Violin, Harpsichord)
09. Ricercar a 6 (Harpsichord)
10. Canon a 2, Quaerendo invenietis, (Harpsichord)
11. Canon a 4 (Two Harpsichords)
Sonata sopr'il soggetto reale, trio
12. I. Largo
13. II. Allegro
14. III. Andante
15. IV. Allegro
16. Canon perpetuus, contrario motu (Transverse flute, Violin, Continuo)

Barthold Kuijken, Sigiswald Kuijken, Marie Leonhardt, Wieland Kuijken, Robert Kohnen, Gustav Leonhardt

CD 58: J.S. & C.P.E. Bach: Harpsichord Concertos in D minor
Johann Sebastian Bach: Concerto No. 1 in D minor, BWV 1052
01. I. Allegro
02. II. Adagio
03. III. Allegro
Carl Philipp Emanuel Bach (1714-1788): Concertos in D minor, WQ. 23
04. I. Allegro
05. II. Poco andante
06. III. Allegro assai

Gustav Leonhardt, harpsichord & musical director

CD 59-60: C.P.E. Bach: Sonatas, Rondos & Fantasias
CD 59:
01. March in D Major from "Klavierbüchlein for Anna Magdalena Bach"
02. Polonaise in G Minor from "Klavierbüchlein for Anna Magdalena Bach"
03. March in G Major from "Klavierbüchlein for Anna Magdalena Bach"
04. Polonaise in G Minor from "Klavierbüchlein for Anna Magdalena Bach"
Sonata, H. 26 (WQ. 48, No. 3) in E major
05. Poco allegro
06. Adagio
07. Presto
Sonata, H. 36 (WQ. 49, No. 6) in B minor
08. Moderato
09. Adagio non molto
10. Allegro - Gustav Leonhardt
11. Rondo in B-Flat Major, H.274 (W.58, No. 3)
12. Rondo in C Minor, H.268 (W.59, No. 2)
CD 60:
01. Rondo in G Major, H.281 (W.59, No. 1)
02. Fantasia in B-Flat Major, H.289 (W.61, No. 3)
03. Rondo in E-Flat Major, H.288 (W.61, No. 1)
Sonata, H. 286 (WQ. 61, No. 2) in D major
04. Allegro di molto
05. Allegretto
06. Presto di molto
07. Abschied von meinem Silbermannischen Claviere, in einem Rondo, H.272 (W.66)
08. Freie Fantasie Fürs Clavier in F-Sharp Minor. H.300 (W.67)

Gustav Leonhardt, harpsichord, fortepiano & clavichord


Exact Audio Copy V1.3 from 2. September 2016

EAC extraction logfile from 3. June 2020, 13:46

Max van Egmond, Harry Geraerds, Michiel ten Houte de Lange, Harry van der Kamp, Lodewijk Meeuwsen / SEON collection (Disc 42) JS Bach - 2 Cantatas

Used drive : ATAPI iHAS124 F Adapter: 1 ID: 0

Read mode : Secure
Utilize accurate stream : Yes
Defeat audio cache : Yes
Make use of C2 pointers : No

Read offset correction : 6
Overread into Lead-In and Lead-Out : No
Fill up missing offset samples with silence : Yes
Delete leading and trailing silent blocks : No
Null samples used in CRC calculations : Yes
Used interface : Native Win32 interface for Win NT & 2000

Used output format : User Defined Encoder
Selected bitrate : 1024 kBit/s
Quality : High
Add ID3 tag : No
Command line compressor : C:\Program Files (x86)\Exact Audio Copy\FLAC\FLAC.EXE
Additional command line options : -6 -V -T "ARTIST=%artist%" -T "TITLE=%title%" -T "ALBUM=%albumtitle%" -T "DATE=%year%" -T "TRACKNUMBER=%tracknr%" -T "GENRE=%genre%" -T "COMMENT=%comment%" -T "BAND=%albuminterpret%" -T "ALBUMARTIST=%albuminterpret%" -T "COMPOSER=%composer%" %haslyrics%–tag-from-file=LYRICS="%lyricsfile%"%haslyrics% -T "DISCNUMBER=%cdnumber%" -T "TOTALDISCS=%totalcds%" -T "TOTALTRACKS=%numtracks%" %hascover%–picture="%coverfile%"%hascover% %source% -o %dest%


TOC of the extracted CD

Track | Start | Length | Start sector | End sector
––––––––––––––––––––––––––––-
1 | 0:00.00 | 7:19.52 | 0 | 32976
2 | 7:19.52 | 1:39.23 | 32977 | 40424
3 | 8:59.00 | 6:44.62 | 40425 | 70786
4 | 15:43.62 | 1:25.53 | 70787 | 77214
5 | 17:09.40 | 1:27.55 | 77215 | 83794
6 | 18:37.20 | 6:43.27 | 83795 | 114046
7 | 25:20.47 | 0:58.63 | 114047 | 118459
8 | 26:19.35 | 8:48.70 | 118460 | 158129
9 | 35:08.30 | 0:46.55 | 158130 | 161634
10 | 35:55.10 | 3:26.37 | 161635 | 177121


Range status and errors

Selected range

Filename C:\EACRip\SEON - Excellence in Early Music (VA, Sony, 85CDs)(2014) [boxset]\CD42 - Bach - 2 Cantatas\SEON collection (Disc 42) JS Bach - 2 Cantatas - Max van Egmond, Frans Bruggen.wav

Peak level 98.1 %
Extraction speed 7.6 X
Range quality 100.0 %
Test CRC CB3D138D
Copy CRC CB3D138D
Copy OK

No errors occurred


AccurateRip summary

Track 1 accurately ripped (confidence 19) [9C66C361] (AR v2)
Track 2 accurately ripped (confidence 19) [D380039C] (AR v2)
Track 3 accurately ripped (confidence 19) [689C04E1] (AR v2)
Track 4 accurately ripped (confidence 19) [F85957E5] (AR v2)
Track 5 accurately ripped (confidence 19) [E20FFC7F] (AR v2)
Track 6 accurately ripped (confidence 19) [BDB935A0] (AR v2)
Track 7 accurately ripped (confidence 19) [83D3C720] (AR v2)
Track 8 accurately ripped (confidence 19) [55EC1FDD] (AR v2)
Track 9 accurately ripped (confidence 20) [D51DE9F9] (AR v2)
Track 10 accurately ripped (confidence 20) [3C896D87] (AR v2)

All tracks accurately ripped

End of status report

–– CUETools DB Plugin V2.1.6

[CTDB TOCID: g03naE41WgFNBSPDd9H5TEnTq08-] found
Submit result: g03naE41WgFNBSPDd9H5TEnTq08- has been confirmed
Track | CTDB Status
1 | (135/137) Accurately ripped, or (2/137) differs in 111 samples @02:29:64-02:30:01,03:36:21
2 | (137/137) Accurately ripped
3 | (137/137) Accurately ripped
4 | (137/137) Accurately ripped
5 | (137/137) Accurately ripped
6 | (137/137) Accurately ripped
7 | (137/137) Accurately ripped
8 | (137/137) Accurately ripped
9 | (137/137) Accurately ripped
10 | (137/137) Accurately ripped


==== Log checksum FE45EEAC9D8458B54A615BA00DDD3005671648202608A9EEBC1383E0CDE19921 ====


Exact Audio Copy V1.3 from 2. September 2016

EAC extraction logfile from 3. June 2020, 14:15

Gustav Leonhardt / SEON collection (Disc 43) JS Bach - Great Organ Works (1)

Used drive : ATAPI iHAS124 F Adapter: 1 ID: 0

Read mode : Secure
Utilize accurate stream : Yes
Defeat audio cache : Yes
Make use of C2 pointers : No

Read offset correction : 6
Overread into Lead-In and Lead-Out : No
Fill up missing offset samples with silence : Yes
Delete leading and trailing silent blocks : No
Null samples used in CRC calculations : Yes
Used interface : Native Win32 interface for Win NT & 2000

Used output format : User Defined Encoder
Selected bitrate : 1024 kBit/s
Quality : High
Add ID3 tag : No
Command line compressor : C:\Program Files (x86)\Exact Audio Copy\FLAC\FLAC.EXE
Additional command line options : -6 -V -T "ARTIST=%artist%" -T "TITLE=%title%" -T "ALBUM=%albumtitle%" -T "DATE=%year%" -T "TRACKNUMBER=%tracknr%" -T "GENRE=%genre%" -T "COMMENT=%comment%" -T "BAND=%albuminterpret%" -T "ALBUMARTIST=%albuminterpret%" -T "COMPOSER=%composer%" %haslyrics%–tag-from-file=LYRICS="%lyricsfile%"%haslyrics% -T "DISCNUMBER=%cdnumber%" -T "TOTALDISCS=%totalcds%" -T "TOTALTRACKS=%numtracks%" %hascover%–picture="%coverfile%"%hascover% %source% -o %dest%


TOC of the extracted CD

Track | Start | Length | Start sector | End sector
––––––––––––––––––––––––––––-
1 | 0:00.00 | 4:51.15 | 0 | 21839
2 | 4:51.15 | 5:48.12 | 21840 | 47951
3 | 10:39.27 | 1:55.35 | 47952 | 56611
4 | 12:34.62 | 1:48.15 | 56612 | 64726
5 | 14:23.02 | 4:03.28 | 64727 | 82979
6 | 18:26.30 | 4:08.37 | 82980 | 101616
7 | 22:34.67 | 3:27.15 | 101617 | 117156
8 | 26:02.07 | 4:36.65 | 117157 | 137921
9 | 30:38.72 | 8:34.58 | 137922 | 176529
10 | 39:13.55 | 5:02.30 | 176530 | 199209
11 | 44:16.10 | 3:17.05 | 199210 | 213989
12 | 47:33.15 | 5:53.62 | 213990 | 240526
13 | 53:27.02 | 7:48.73 | 240527 | 275699
14 | 61:16.00 | 8:53.30 | 275700 | 315704


Range status and errors

Selected range

Filename C:\EACRip\SEON - Excellence in Early Music (VA, Sony, 85CDs)(2014) [boxset]\CD43 - Bach - Organ Works (1)\SEON collection (Disc 43) JS Bach - Great Organ Works (1) - Gustav Leonhardt.wav

Peak level 98.0 %
Extraction speed 8.4 X
Range quality 99.9 %
Test CRC 08FD8FEA
Copy CRC 08FD8FEA
Copy OK

No errors occurred


AccurateRip summary

Track 1 accurately ripped (confidence 5) [92BEBF80] (AR v2)
Track 2 accurately ripped (confidence 5) [28E7D57F] (AR v2)
Track 3 accurately ripped (confidence 5) [C744801C] (AR v2)
Track 4 accurately ripped (confidence 5) [42453F33] (AR v2)
Track 5 accurately ripped (confidence 5) [FE561AC3] (AR v2)
Track 6 accurately ripped (confidence 5) [852E33CE] (AR v2)
Track 7 accurately ripped (confidence 5) [3FDEDD6D] (AR v2)
Track 8 accurately ripped (confidence 5) [2ACFCACE] (AR v2)
Track 9 accurately ripped (confidence 5) [6CC553AE] (AR v2)
Track 10 accurately ripped (confidence 5) [808BCC13] (AR v2)
Track 11 accurately ripped (confidence 5) [65C021BE] (AR v2)
Track 12 accurately ripped (confidence 5) [124AC4A6] (AR v2)
Track 13 accurately ripped (confidence 4) [03F9CEBE] (AR v2)
Track 14 accurately ripped (confidence 3) [E771CB71] (AR v2)

All tracks accurately ripped

End of status report

–– CUETools DB Plugin V2.1.6

[CTDB TOCID: Byv50RUdzF0tCyXud1mhjtdmX48-] found
Submit result: Byv50RUdzF0tCyXud1mhjtdmX48- has been confirmed
Track | CTDB Status
1 | (84/86) Accurately ripped
2 | (86/86) Accurately ripped
3 | (86/86) Accurately ripped
4 | (86/86) Accurately ripped
5 | (86/86) Accurately ripped
6 | (86/86) Accurately ripped
7 | (86/86) Accurately ripped
8 | (86/86) Accurately ripped
9 | (86/86) Accurately ripped
10 | (86/86) Accurately ripped
11 | (79/86) Accurately ripped, or (5/86) differs in 622 samples @00:49:35-00:49:36,00:51:54,00:52:16-00:52:17,00:55:15-00:55:16,00:55:71-00:55:72,00:56:33-00:56:34,00:57:70-00:57:71,00:58:14-00:58:15,01:06:49-01:06:50,01:22:48,01:25:67,01:26:48,01:26:67,01:28:48,01:29:10-01:29:11,01:30:10-01:30:11,01:30:29,01:31:29-01:31:30,01:31:48,01:31:68,01:32:11,01:32:48,01:32:67,01:33:48-01:33:49,01:34:29-01:34:30,01:34:48-01:34:49,01:35:30,01:37:49-01:37:50,01:38:11-01:38:12,01:41:12,01:43:50
12 | (86/86) Accurately ripped
13 | (86/86) Accurately ripped
14 | (86/86) Accurately ripped


==== Log checksum 6EF5C06F68F4C23F624D4FA196C4105EAED46D78B1C68872825619D4A475D44A ====


Exact Audio Copy V1.3 from 2. September 2016

EAC extraction logfile from 3. June 2020, 15:13

Gustav Leonhardt / SEON collection (Disc 44) JS Bach - Great Organ Works (2)

Used drive : ATAPI iHAS124 F Adapter: 1 ID: 0

Read mode : Secure
Utilize accurate stream : Yes
Defeat audio cache : Yes
Make use of C2 pointers : No

Read offset correction : 6
Overread into Lead-In and Lead-Out : No
Fill up missing offset samples with silence : Yes
Delete leading and trailing silent blocks : No
Null samples used in CRC calculations : Yes
Used interface : Native Win32 interface for Win NT & 2000

Used output format : User Defined Encoder
Selected bitrate : 1024 kBit/s
Quality : High
Add ID3 tag : No
Command line compressor : C:\Program Files (x86)\Exact Audio Copy\FLAC\FLAC.EXE
Additional command line options : -6 -V -T "ARTIST=%artist%" -T "TITLE=%title%" -T "ALBUM=%albumtitle%" -T "DATE=%year%" -T "TRACKNUMBER=%tracknr%" -T "GENRE=%genre%" -T "COMMENT=%comment%" -T "BAND=%albuminterpret%" -T "ALBUMARTIST=%albuminterpret%" -T "COMPOSER=%composer%" %haslyrics%–tag-from-file=LYRICS="%lyricsfile%"%haslyrics% -T "DISCNUMBER=%cdnumber%" -T "TOTALDISCS=%totalcds%" -T "TOTALTRACKS=%numtracks%" %hascover%–picture="%coverfile%"%hascover% %source% -o %dest%


TOC of the extracted CD

Track | Start | Length | Start sector | End sector
––––––––––––––––––––––––––––-
1 | 0:00.00 | 2:15.10 | 0 | 10134
2 | 2:15.10 | 5:46.05 | 10135 | 36089
3 | 8:01.15 | 4:27.02 | 36090 | 56116
4 | 12:28.17 | 0:44.33 | 56117 | 59449
5 | 13:12.50 | 2:42.50 | 59450 | 71649
6 | 15:55.25 | 1:24.15 | 71650 | 77964
7 | 17:19.40 | 1:16.42 | 77965 | 83706
8 | 18:36.07 | 1:38.40 | 83707 | 91096
9 | 20:14.47 | 1:01.45 | 91097 | 95716
10 | 21:16.17 | 1:59.15 | 95717 | 104656
11 | 23:15.32 | 6:17.23 | 104657 | 132954
12 | 29:32.55 | 6:51.30 | 132955 | 163809
13 | 36:24.10 | 2:28.20 | 163810 | 174929
14 | 38:52.30 | 4:51.47 | 174930 | 196801
15 | 43:44.02 | 1:07.45 | 196802 | 201871
16 | 44:51.47 | 3:25.08 | 201872 | 217254
17 | 48:16.55 | 1:32.50 | 217255 | 224204
18 | 49:49.30 | 0:50.32 | 224205 | 227986
19 | 50:39.62 | 1:16.15 | 227987 | 233701
20 | 51:56.02 | 1:42.15 | 233702 | 241366
21 | 53:38.17 | 1:39.28 | 241367 | 248819
22 | 55:17.45 | 2:51.30 | 248820 | 261674
23 | 58:09.00 | 3:37.67 | 261675 | 278016
24 | 61:46.67 | 5:25.18 | 278017 | 302409
25 | 67:12.10 | 10:20.47 | 302410 | 348956


Range status and errors

Selected range

Filename C:\EACRip\SEON - Excellence in Early Music (VA, Sony, 85CDs)(2014) [boxset]\CD44 - Bach - Organ Works (2)\SEON collection (Disc 44) JS Bach - Great Organ Works (2) - Gustav Leonhardt.wav

Peak level 98.0 %
Extraction speed 6.6 X
Range quality 100.0 %
Test CRC C31864EC
Copy CRC C31864EC
Copy OK

No errors occurred


AccurateRip summary

Track 1 accurately ripped (confidence 18) [AE0A10E7] (AR v2)
Track 2 accurately ripped (confidence 18) [4EBF897B] (AR v2)
Track 3 accurately ripped (confidence 18) [A7D18C31] (AR v2)
Track 4 accurately ripped (confidence 18) [53D05AC2] (AR v2)
Track 5 accurately ripped (confidence 18) [FC9A4A75] (AR v2)
Track 6 accurately ripped (confidence 18) [C9F515DC] (AR v2)
Track 7 accurately ripped (confidence 18) [4921CA96] (AR v2)
Track 8 accurately ripped (confidence 18) [A40CED68] (AR v2)
Track 9 accurately ripped (confidence 18) [D070DB3E] (AR v2)
Track 10 accurately ripped (confidence 18) [23136121] (AR v2)
Track 11 accurately ripped (confidence 18) [94F5DAD7] (AR v2)
Track 12 accurately ripped (confidence 18) [0145E953] (AR v2)
Track 13 accurately ripped (confidence 18) [3B23EA00] (AR v2)
Track 14 accurately ripped (confidence 18) [4FDF2E59] (AR v2)
Track 15 accurately ripped (confidence 18) [EC56E8B6] (AR v2)
Track 16 accurately ripped (confidence 18) [F13604B1] (AR v2)
Track 17 accurately ripped (confidence 18) [29895B10] (AR v2)
Track 18 accurately ripped (confidence 18) [45A2366F] (AR v2)
Track 19 accurately ripped (confidence 18) [DC3316F6] (AR v2)
Track 20 accurately ripped (confidence 18) [4B309990] (AR v2)
Track 21 accurately ripped (confidence 18) [5A28F4AD] (AR v2)
Track 22 accurately ripped (confidence 18) [28B17A09] (AR v2)
Track 23 accurately ripped (confidence 19) [551A4653] (AR v2)
Track 24 accurately ripped (confidence 20) [9B69D73B] (AR v2)
Track 25 accurately ripped (confidence 20) [E7C5B708] (AR v2)

All tracks accurately ripped

End of status report

–– CUETools DB Plugin V2.1.6

[CTDB TOCID: zepwj9dJrX4m.1gMRtpEKa.17tI-] found
Submit result: zepwj9dJrX4m.1gMRtpEKa.17tI- has been confirmed
Track | CTDB Status
1 | (82/82) Accurately ripped
2 | (82/82) Accurately ripped
3 | (82/82) Accurately ripped
4 | (82/82) Accurately ripped
5 | (82/82) Accurately ripped
6 | (82/82) Accurately ripped
7 | (82/82) Accurately ripped
8 | (82/82) Accurately ripped
9 | (82/82) Accurately ripped
10 | (82/82) Accurately ripped
11 | (82/82) Accurately ripped
12 | (82/82) Accurately ripped
13 | (82/82) Accurately ripped
14 | (82/82) Accurately ripped
15 | (82/82) Accurately ripped
16 | (81/82) Accurately ripped
17 | (81/82) Accurately ripped
18 | (82/82) Accurately ripped
19 | (82/82) Accurately ripped
20 | (81/82) Accurately ripped
21 | (82/82) Accurately ripped
22 | (82/82) Accurately ripped
23 | (81/82) Accurately ripped
24 | (82/82) Accurately ripped
25 | (80/82) Accurately ripped


==== Log checksum 9256BE682934C9E2A59CF5CF080DAFC62F7ECEAE04840381054FAD937B34198C ====


Exact Audio Copy V1.3 from 2. September 2016

EAC extraction logfile from 3. June 2020, 15:50

Gustav Leonhardt / SEON collection (Disc 45) JS Bach - Inventions and Sinfonias

Used drive : ATAPI iHAS124 F Adapter: 1 ID: 0

Read mode : Secure
Utilize accurate stream : Yes
Defeat audio cache : Yes
Make use of C2 pointers : No

Read offset correction : 6
Overread into Lead-In and Lead-Out : No
Fill up missing offset samples with silence : Yes
Delete leading and trailing silent blocks : No
Null samples used in CRC calculations : Yes
Used interface : Native Win32 interface for Win NT & 2000

Used output format : User Defined Encoder
Selected bitrate : 1024 kBit/s
Quality : High
Add ID3 tag : No
Command line compressor : C:\Program Files (x86)\Exact Audio Copy\FLAC\FLAC.EXE
Additional command line options : -6 -V -T "ARTIST=%artist%" -T "TITLE=%title%" -T "ALBUM=%albumtitle%" -T "DATE=%year%" -T "TRACKNUMBER=%tracknr%" -T "GENRE=%genre%" -T "COMMENT=%comment%" -T "BAND=%albuminterpret%" -T "ALBUMARTIST=%albuminterpret%" -T "COMPOSER=%composer%" %haslyrics%–tag-from-file=LYRICS="%lyricsfile%"%haslyrics% -T "DISCNUMBER=%cdnumber%" -T "TOTALDISCS=%totalcds%" -T "TOTALTRACKS=%numtracks%" %hascover%–picture="%coverfile%"%hascover% %source% -o %dest%


TOC of the extracted CD

Track | Start | Length | Start sector | End sector
––––––––––––––––––––––––––––-
1 | 0:00.00 | 1:29.70 | 0 | 6744
2 | 1:29.70 | 2:03.72 | 6745 | 16041
3 | 3:33.67 | 1:17.60 | 16042 | 21876
4 | 4:51.52 | 1:18.20 | 21877 | 27746
5 | 6:09.72 | 2:01.28 | 27747 | 36849
6 | 8:11.25 | 3:17.37 | 36850 | 51661
7 | 11:28.62 | 1:31.30 | 51662 | 58516
8 | 13:00.17 | 1:06.45 | 58517 | 63511
9 | 14:06.62 | 2:21.40 | 63512 | 74126
10 | 16:28.27 | 1:00.60 | 74127 | 78686
11 | 17:29.12 | 2:00.15 | 78687 | 87701
12 | 19:29.27 | 1:26.65 | 87702 | 94216
13 | 20:56.17 | 1:19.15 | 94217 | 100156
14 | 22:15.32 | 1:31.73 | 100157 | 107054
15 | 23:47.30 | 1:31.15 | 107055 | 113894
16 | 25:18.45 | 1:16.00 | 113895 | 119594
17 | 26:34.45 | 1:46.40 | 119595 | 127584
18 | 28:21.10 | 1:35.17 | 127585 | 134726
19 | 29:56.27 | 1:52.18 | 134727 | 143144
20 | 31:48.45 | 2:56.22 | 143145 | 156366
21 | 34:44.67 | 1:30.70 | 156367 | 163186
22 | 36:15.62 | 2:31.20 | 163187 | 174531
23 | 38:47.07 | 1:25.13 | 174532 | 180919
24 | 40:12.20 | 3:48.15 | 180920 | 198034
25 | 44:00.35 | 1:17.72 | 198035 | 203881
26 | 45:18.32 | 2:48.28 | 203882 | 216509
27 | 48:06.60 | 1:37.37 | 216510 | 223821
28 | 49:44.22 | 1:25.45 | 223822 | 230241
29 | 51:09.67 | 2:20.43 | 230242 | 240784
30 | 53:30.35 | 1:35.12 | 240785 | 247921


Range status and errors

Selected range

Filename C:\EACRip\SEON - Excellence in Early Music (VA, Sony, 85CDs)(2014) [boxset]\CD45 - Bach - Inv & Sinf\SEON collection (Disc 45) JS Bach - Inventions and Sinfonias - Gustav Leonhardt.wav

Peak level 98.0 %
Extraction speed 5.7 X
Range quality 100.0 %
Test CRC 448C23B9
Copy CRC 448C23B9
Copy OK

No errors occurred


AccurateRip summary

Track 1 accurately ripped (confidence 19) [56870E42] (AR v2)
Track 2 accurately ripped (confidence 19) [4836F2F9] (AR v2)
Track 3 accurately ripped (confidence 19) [6F6A9E37] (AR v2)
Track 4 accurately ripped (confidence 19) [55D91F81] (AR v2)
Track 5 accurately ripped (confidence 19) [A622926B] (AR v2)
Track 6 accurately ripped (confidence 19) [BD4625DE] (AR v2)
Track 7 accurately ripped (confidence 19) [9574FA4B] (AR v2)
Track 8 accurately ripped (confidence 19) [FF96EB4F] (AR v2)
Track 9 accurately ripped (confidence 19) [F8485DBA] (AR v2)
Track 10 accurately ripped (confidence 19) [3937F3B3] (AR v2)
Track 11 accurately ripped (confidence 19) [05E4D2DD] (AR v2)
Track 12 accurately ripped (confidence 19) [8B7374FF] (AR v2)
Track 13 accurately ripped (confidence 19) [DC7A0714] (AR v2)
Track 14 accurately ripped (confidence 19) [CF97A679] (AR v2)
Track 15 accurately ripped (confidence 19) [50457344] (AR v2)
Track 16 accurately ripped (confidence 19) [4AB0C4DC] (AR v2)
Track 17 accurately ripped (confidence 19) [9B3563AE] (AR v2)
Track 18 accurately ripped (confidence 19) [5ED82691] (AR v2)
Track 19 accurately ripped (confidence 19) [0C4A7743] (AR v2)
Track 20 accurately ripped (confidence 19) [82824685] (AR v2)
Track 21 accurately ripped (confidence 19) [01F6EABD] (AR v2)
Track 22 accurately ripped (confidence 19) [4BF65E87] (AR v2)
Track 23 accurately ripped (confidence 19) [BADC8E6D] (AR v2)
Track 24 accurately ripped (confidence 19) [11E28C28] (AR v2)
Track 25 accurately ripped (confidence 19) [DBFA1BB9] (AR v2)
Track 26 accurately ripped (confidence 19) [AB96412E] (AR v2)
Track 27 accurately ripped (confidence 19) [6A46294B] (AR v2)
Track 28 accurately ripped (confidence 19) [7F937D01] (AR v2)
Track 29 accurately ripped (confidence 19) [5403B62E] (AR v2)
Track 30 accurately ripped (confidence 19) [89C72F66] (AR v2)

All tracks accurately ripped

End of status report

–– CUETools DB Plugin V2.1.6

[CTDB TOCID: 4WrimqgllSffs82khq1YHi4nzS0-] found
Submit result: 4WrimqgllSffs82khq1YHi4nzS0- has been confirmed
Track | CTDB Status
1 | (149/150) Accurately ripped
2 | (150/150) Accurately ripped
3 | (150/150) Accurately ripped
4 | (150/150) Accurately ripped
5 | (150/150) Accurately ripped
6 | (150/150) Accurately ripped
7 | (150/150) Accurately ripped
8 | (150/150) Accurately ripped
9 | (150/150) Accurately ripped
10 | (150/150) Accurately ripped
11 | (150/150) Accurately ripped
12 | (150/150) Accurately ripped
13 | (150/150) Accurately ripped
14 | (150/150) Accurately ripped
15 | (150/150) Accurately ripped
16 | (150/150) Accurately ripped
17 | (150/150) Accurately ripped
18 | (150/150) Accurately ripped
19 | (150/150) Accurately ripped
20 | (150/150) Accurately ripped
21 | (150/150) Accurately ripped
22 | (150/150) Accurately ripped
23 | (150/150) Accurately ripped
24 | (150/150) Accurately ripped
25 | (150/150) Accurately ripped
26 | (150/150) Accurately ripped
27 | (150/150) Accurately ripped
28 | (150/150) Accurately ripped
29 | (150/150) Accurately ripped
30 | (148/150) Accurately ripped


==== Log checksum CE6189DD548361BD34D2D4539252C0170102D285CB8FB039345878606EDF664F ====


Exact Audio Copy V1.3 from 2. September 2016

EAC extraction logfile from 3. June 2020, 16:20

Gustav Leonhardt / SEON collection (Disc 46) JS Bach - English Suites (1)

Used drive : ATAPI iHAS124 F Adapter: 1 ID: 0

Read mode : Secure
Utilize accurate stream : Yes
Defeat audio cache : Yes
Make use of C2 pointers : No

Read offset correction : 6
Overread into Lead-In and Lead-Out : No
Fill up missing offset samples with silence : Yes
Delete leading and trailing silent blocks : No
Null samples used in CRC calculations : Yes
Used interface : Native Win32 interface for Win NT & 2000

Used output format : User Defined Encoder
Selected bitrate : 1024 kBit/s
Quality : High
Add ID3 tag : No
Command line compressor : C:\Program Files (x86)\Exact Audio Copy\FLAC\FLAC.EXE
Additional command line options : -6 -V -T "ARTIST=%artist%" -T "TITLE=%title%" -T "ALBUM=%albumtitle%" -T "DATE=%year%" -T "TRACKNUMBER=%tracknr%" -T "GENRE=%genre%" -T "COMMENT=%comment%" -T "BAND=%albuminterpret%" -T "ALBUMARTIST=%albuminterpret%" -T "COMPOSER=%composer%" %haslyrics%–tag-from-file=LYRICS="%lyricsfile%"%haslyrics% -T "DISCNUMBER=%cdnumber%" -T "TOTALDISCS=%totalcds%" -T "TOTALTRACKS=%numtracks%" %hascover%–picture="%coverfile%"%hascover% %source% -o %dest%


TOC of the extracted CD

Track | Start | Length | Start sector | End sector
––––––––––––––––––––––––––––-
1 | 0:00.00 | 2:09.30 | 0 | 9704
2 | 2:09.30 | 5:36.47 | 9705 | 34951
3 | 7:46.02 | 6:47.00 | 34952 | 65476
4 | 14:33.02 | 3:11.13 | 65477 | 79814
5 | 17:44.15 | 3:47.52 | 79815 | 96891
6 | 21:31.67 | 3:00.13 | 96892 | 110404
7 | 24:32.05 | 5:27.40 | 110405 | 134969
8 | 29:59.45 | 4:32.37 | 134970 | 155406
9 | 34:32.07 | 2:06.10 | 155407 | 164866
10 | 36:38.17 | 3:53.68 | 164867 | 182409
11 | 40:32.10 | 3:51.65 | 182410 | 199799
12 | 44:24.00 | 2:43.12 | 199800 | 212036
13 | 47:07.12 | 3:37.43 | 212037 | 228354
14 | 50:44.55 | 4:34.52 | 228355 | 248956
15 | 55:19.32 | 2:38.13 | 248957 | 260819
16 | 57:57.45 | 3:42.02 | 260820 | 277471
17 | 61:39.47 | 3:14.45 | 277472 | 292066
18 | 64:54.17 | 3:11.65 | 292067 | 306456


Range status and errors

Selected range

Filename C:\EACRip\SEON - Excellence in Early Music (VA, Sony, 85CDs)(2014) [boxset]\CD46 - Bach - English Suites (1)\SEON collection (Disc 46) JS Bach - English Suites (1) - Gustav Leonhardt.wav

Peak level 76.7 %
Extraction speed 5.9 X
Range quality 100.0 %
Test CRC 2FAA02A5
Copy CRC 2FAA02A5
Copy OK

No errors occurred


AccurateRip summary

Track 1 accurately ripped (confidence 18) [AF66B612] (AR v2)
Track 2 accurately ripped (confidence 18) [BDEB4A5C] (AR v2)
Track 3 accurately ripped (confidence 18) [F29458E7] (AR v2)
Track 4 accurately ripped (confidence 18) [FB2BE853] (AR v2)
Track 5 accurately ripped (confidence 18) [39359920] (AR v2)
Track 6 accurately ripped (confidence 18) [463292B7] (AR v2)
Track 7 accurately ripped (confidence 18) [8A26928D] (AR v2)
Track 8 accurately ripped (confidence 18) [596EBEFD] (AR v2)
Track 9 accurately ripped (confidence 18) [1D7B99F9] (AR v2)
Track 10 accurately ripped (confidence 18) [4B150DA5] (AR v2)
Track 11 accurately ripped (confidence 18) [6CC6E2E2] (AR v2)
Track 12 accurately ripped (confidence 18) [966C6BEC] (AR v2)
Track 13 accurately ripped (confidence 18) [919BC195] (AR v2)
Track 14 accurately ripped (confidence 18) [25B5F97F] (AR v2)
Track 15 accurately ripped (confidence 18) [1998E385] (AR v2)
Track 16 accurately ripped (confidence 19) [D41FFDC7] (AR v2)
Track 17 accurately ripped (confidence 19) [73B72AB3] (AR v2)
Track 18 accurately ripped (confidence 19) [B91577ED] (AR v2)

All tracks accurately ripped

End of status report

–– CUETools DB Plugin V2.1.6

[CTDB TOCID: qIg5OItMHEJDNPF0MA_neBPUcBA-] found
Submit result: qIg5OItMHEJDNPF0MA_neBPUcBA- has been confirmed
Track | CTDB Status
1 | (77/78) Accurately ripped
2 | (77/78) Accurately ripped
3 | (77/78) Accurately ripped
4 | (77/78) Accurately ripped
5 | (77/78) Accurately ripped
6 | (77/78) Accurately ripped
7 | (76/78) Accurately ripped
8 | (77/78) Accurately ripped
9 | (76/78) Accurately ripped
10 | (77/78) Accurately ripped
11 | (77/78) Accurately ripped
12 | (76/78) Accurately ripped
13 | (76/78) Accurately ripped
14 | (77/78) Accurately ripped
15 | (76/78) Accurately ripped
16 | (76/78) Accurately ripped
17 | (77/78) Accurately ripped
18 | (77/78) Accurately ripped


==== Log checksum 74177E15DF472DD4635711B40E17C53D2949971E8A3D01BEA866AE3E2426DE9A ====


Exact Audio Copy V1.3 from 2. September 2016

EAC extraction logfile from 3. June 2020, 18:53

Gustav Leonhardt / SEON collection (Disc 47) JS Bach - English Suites (2)

Used drive : ATAPI iHAS124 F Adapter: 1 ID: 0

Read mode : Secure
Utilize accurate stream : Yes
Defeat audio cache : Yes
Make use of C2 pointers : No

Read offset correction : 6
Overread into Lead-In and Lead-Out : No
Fill up missing offset samples with silence : Yes
Delete leading and trailing silent blocks : No
Null samples used in CRC calculations : Yes
Used interface : Native Win32 interface for Win NT & 2000

Used output format : User Defined Encoder
Selected bitrate : 1024 kBit/s
Quality : High
Add ID3 tag : No
Command line compressor : C:\Program Files (x86)\Exact Audio Copy\FLAC\FLAC.EXE
Additional command line options : -6 -V -T "ARTIST=%artist%" -T "TITLE=%title%" -T "ALBUM=%albumtitle%" -T "DATE=%year%" -T "TRACKNUMBER=%tracknr%" -T "GENRE=%genre%" -T "COMMENT=%comment%" -T "BAND=%albuminterpret%" -T "ALBUMARTIST=%albuminterpret%" -T "COMPOSER=%composer%" %haslyrics%–tag-from-file=LYRICS="%lyricsfile%"%haslyrics% -T "DISCNUMBER=%cdnumber%" -T "TOTALDISCS=%totalcds%" -T "TOTALTRACKS=%numtracks%" %hascover%–picture="%coverfile%"%hascover% %source% -o %dest%


TOC of the extracted CD

Track | Start | Length | Start sector | End sector
––––––––––––––––––––––––––––-
1 | 0:00.00 | 5:27.32 | 0 | 24556
2 | 5:27.32 | 4:22.68 | 24557 | 44274
3 | 9:50.25 | 1:59.15 | 44275 | 53214
4 | 11:49.40 | 3:27.05 | 53215 | 68744
5 | 15:16.45 | 3:52.47 | 68745 | 86191
6 | 19:09.17 | 3:45.40 | 86192 | 103106
7 | 22:54.57 | 5:56.25 | 103107 | 129831
8 | 28:51.07 | 5:07.08 | 129832 | 152864
9 | 33:58.15 | 2:51.15 | 152865 | 165704
10 | 36:49.30 | 4:00.10 | 165705 | 183714
11 | 40:49.40 | 3:14.67 | 183715 | 198331
12 | 44:04.32 | 3:23.45 | 198332 | 213601
13 | 47:28.02 | 8:35.50 | 213602 | 252276
14 | 56:03.52 | 5:08.33 | 252277 | 275409
15 | 61:12.10 | 2:40.65 | 275410 | 287474
16 | 63:53.00 | 3:59.25 | 287475 | 305424
17 | 67:52.25 | 4:01.05 | 305425 | 323504
18 | 71:53.30 | 4:07.10 | 323505 | 342039


Range status and errors

Selected range

Filename C:\EACRip\SEON - Excellence in Early Music (VA, Sony, 85CDs)(2014) [boxset]\CD47 - Bach - English Suites (2)\SEON collection (Disc 47) JS Bach - English Suites (2) - Gustav Leonhardt.wav

Peak level 75.1 %
Extraction speed 8.0 X
Range quality 100.0 %
Test CRC 30206A6C
Copy CRC 30206A6C
Copy OK

No errors occurred


AccurateRip summary

Track 1 accurately ripped (confidence 20) [ED845AC1] (AR v2)
Track 2 accurately ripped (confidence 20) [C1D9D195] (AR v2)
Track 3 accurately ripped (confidence 20) [BE2AC5FF] (AR v2)
Track 4 accurately ripped (confidence 20) [7BB36158] (AR v2)
Track 5 accurately ripped (confidence 20) [15EFEEB3] (AR v2)
Track 6 accurately ripped (confidence 20) [F4B844EE] (AR v2)
Track 7 accurately ripped (confidence 20) [4E322617] (AR v2)
Track 8 accurately ripped (confidence 20) [757BD2B8] (AR v2)
Track 9 accurately ripped (confidence 20) [D9BF7A26] (AR v2)
Track 10 accurately ripped (confidence 20) [B4C05AD9] (AR v2)
Track 11 accurately ripped (confidence 20) [C1A5A98B] (AR v2)
Track 12 accurately ripped (confidence 20) [CEBA635B] (AR v2)
Track 13 accurately ripped (confidence 20) [F84EAD90] (AR v2)
Track 14 accurately ripped (confidence 20) [5DC57ADD] (AR v2)
Track 15 accurately ripped (confidence 20) [FFEC6D2D] (AR v2)
Track 16 accurately ripped (confidence 20) [EC1C155C] (AR v2)
Track 17 accurately ripped (confidence 19) [E4DD3CFD] (AR v2)
Track 18 accurately ripped (confidence 19) [18482977] (AR v2)

All tracks accurately ripped

End of status report

–– CUETools DB Plugin V2.1.6

[CTDB TOCID: iRQ932QqoO13hdTTh3bHpTGHD9Q-] found
Submit result: iRQ932QqoO13hdTTh3bHpTGHD9Q- has been confirmed
Track | CTDB Status
1 | (87/88) Accurately ripped
2 | (86/88) Accurately ripped
3 | (87/88) Accurately ripped
4 | (87/88) Accurately ripped
5 | (87/88) Accurately ripped
6 | (87/88) Accurately ripped
7 | (87/88) Accurately ripped
8 | (86/88) Accurately ripped
9 | (87/88) Accurately ripped
10 | (86/88) Accurately ripped
11 | (87/88) Accurately ripped
12 | (87/88) Accurately ripped
13 | (87/88) Accurately ripped
14 | (87/88) Accurately ripped
15 | (87/88) Accurately ripped
16 | (86/88) Accurately ripped
17 | (86/88) Accurately ripped
18 | (84/88) Accurately ripped


==== Log checksum 6B2695DF84534771388647E73D33015920F0DC10E1D45991F21334D0E0F1BD4E ====


Exact Audio Copy V1.3 from 2. September 2016

EAC extraction logfile from 3. June 2020, 23:49

Gustav Leonhardt / SEON collection (Disc 48) JS Bach - French Suites

Used drive : ATAPI iHAS124 F Adapter: 1 ID: 0

Read mode : Secure
Utilize accurate stream : Yes
Defeat audio cache : Yes
Make use of C2 pointers : No

Read offset correction : 6
Overread into Lead-In and Lead-Out : No
Fill up missing offset samples with silence : Yes
Delete leading and trailing silent blocks : No
Null samples used in CRC calculations : Yes
Used interface : Native Win32 interface for Win NT & 2000

Used output format : User Defined Encoder
Selected bitrate : 1024 kBit/s
Quality : High
Add ID3 tag : No
Command line compressor : C:\Program Files (x86)\Exact Audio Copy\FLAC\FLAC.EXE
Additional command line options : -6 -V -T "ARTIST=%artist%" -T "TITLE=%title%" -T "ALBUM=%albumtitle%" -T "DATE=%year%" -T "TRACKNUMBER=%tracknr%" -T "GENRE=%genre%" -T "COMMENT=%comment%" -T "BAND=%albuminterpret%" -T "ALBUMARTIST=%albuminterpret%" -T "COMPOSER=%composer%" %haslyrics%–tag-from-file=LYRICS="%lyricsfile%"%haslyrics% -T "DISCNUMBER=%cdnumber%" -T "TOTALDISCS=%totalcds%" -T "TOTALTRACKS=%numtracks%" %hascover%–picture="%coverfile%"%hascover% %source% -o %dest%


TOC of the extracted CD

Track | Start | Length | Start sector | End sector
––––––––––––––––––––––––––––-
1 | 0:00.00 | 2:08.15 | 0 | 9614
2 | 2:08.15 | 2:10.60 | 9615 | 19424
3 | 4:19.00 | 3:03.47 | 19425 | 33196
4 | 7:22.47 | 2:40.18 | 33197 | 45214
5 | 10:02.65 | 2:32.60 | 45215 | 56674
6 | 12:35.50 | 3:20.47 | 56675 | 71721
7 | 15:56.22 | 2:02.55 | 71722 | 80926
8 | 17:59.02 | 2:17.13 | 80927 | 91214
9 | 20:16.15 | 0:59.45 | 91215 | 95684
10 | 21:15.60 | 1:06.42 | 95685 | 100676
11 | 22:22.27 | 2:06.23 | 100677 | 110149
12 | 24:28.50 | 1:55.52 | 110150 | 118826
13 | 26:24.27 | 2:16.40 | 118827 | 129066
14 | 28:40.67 | 3:11.53 | 129067 | 143444
15 | 31:52.45 | 0:49.37 | 143445 | 147156
16 | 32:42.07 | 4:07.05 | 147157 | 165686
17 | 36:49.12 | 2:21.38 | 165687 | 176299
18 | 39:10.50 | 3:28.40 | 176300 | 191939
19 | 42:39.15 | 1:51.02 | 191940 | 200266
20 | 44:30.17 | 2:15.13 | 200267 | 210404
21 | 46:45.30 | 1:01.40 | 210405 | 215019
22 | 47:46.70 | 1:25.17 | 215020 | 221411
23 | 49:12.12 | 2:40.38 | 221412 | 233449
24 | 51:52.50 | 1:56.55 | 233450 | 242204
25 | 53:49.30 | 1:58.20 | 242205 | 251074
26 | 55:47.50 | 3:50.52 | 251075 | 268376
27 | 59:38.27 | 1:11.30 | 268377 | 273731
28 | 60:49.57 | 0:54.25 | 273732 | 277806
29 | 61:44.07 | 2:43.53 | 277807 | 290084
30 | 64:27.60 | 2:09.65 | 290085 | 299824
31 | 66:37.50 | 1:24.60 | 299825 | 306184
32 | 68:02.35 | 1:49.17 | 306185 | 314376
33 | 69:51.52 | 2:20.70 | 314377 | 324946
34 | 72:12.47 | 1:00.08 | 324947 | 329454
35 | 73:12.55 | 1:15.70 | 329455 | 335149
36 | 74:28.50 | 1:35.37 | 335150 | 342311
37 | 76:04.12 | 1:01.45 | 342312 | 346931
38 | 77:05.57 | 1:18.65 | 346932 | 352846


Range status and errors

Selected range

Filename C:\EACRip\SEON - Excellence in Early Music (VA, Sony, 85CDs)(2014) [boxset]\CD48 - Bach - French Suites\SEON collection (Disc 48) JS Bach - French Suites - Gustav Leonhardt.wav

Peak level 90.5 %
Extraction speed 8.2 X
Range quality 100.0 %
Test CRC 99EEC38F
Copy CRC 99EEC38F
Copy OK

No errors occurred


AccurateRip summary

Track 1 accurately ripped (confidence 19) [309C87AE] (AR v2)
Track 2 accurately ripped (confidence 19) [E0949263] (AR v2)
Track 3 accurately ripped (confidence 19) [DE60E214] (AR v2)
Track 4 accurately ripped (confidence 19) [5EDFAA58] (AR v2)
Track 5 accurately ripped (confidence 19) [7348273D] (AR v2)
Track 6 accurately ripped (confidence 19) [965BE057] (AR v2)
Track 7 accurately ripped (confidence 19) [1C2935E6] (AR v2)
Track 8 accurately ripped (confidence 19) [D0116F87] (AR v2)
Track 9 accurately ripped (confidence 19) [6CF46B22] (AR v2)
Track 10 accurately ripped (confidence 19) [CC5E2AD4] (AR v2)
Track 11 accurately ripped (confidence 19) [3CD4B67E] (AR v2)
Track 12 accurately ripped (confidence 19) [5FC4643F] (AR v2)
Track 13 accurately ripped (confidence 19) [838763B8] (AR v2)
Track 14 accurately ripped (confidence 19) [ADA2E2B4] (AR v2)
Track 15 accurately ripped (confidence 19) [8AC4430B] (AR v2)
Track 16 accurately ripped (confidence 19) [DF6C783B] (AR v2)
Track 17 accurately ripped (confidence 19) [D16E7E38] (AR v2)
Track 18 accurately ripped (confidence 19) [4124C6C2] (AR v2)
Track 19 accurately ripped (confidence 19) [9022D87E] (AR v2)
Track 20 accurately ripped (confidence 19) [97716449] (AR v2)
Track 21 accurately ripped (confidence 19) [73252D4D] (AR v2)
Track 22 accurately ripped (confidence 19) [8E0853E0] (AR v2)
Track 23 accurately ripped (confidence 19) [8B1BFA4F] (AR v2)
Track 24 accurately ripped (confidence 19) [D8B6AC96] (AR v2)
Track 25 accurately ripped (confidence 19) [B952C11C] (AR v2)
Track 26 accurately ripped (confidence 19) [98DA3226] (AR v2)
Track 27 accurately ripped (confidence 19) [58B41077] (AR v2)
Track 28 accurately ripped (confidence 19) [A18A8343] (AR v2)
Track 29 accurately ripped (confidence 19) [4EC2365A] (AR v2)
Track 30 accurately ripped (confidence 19) [26321C2E] (AR v2)
Track 31 accurately ripped (confidence 19) [6E0E0832] (AR v2)
Track 32 accurately ripped (confidence 19) [7743A874] (AR v2)
Track 33 accurately ripped (confidence 19) [B6D95903] (AR v2)
Track 34 accurately ripped (confidence 19) [EE4F61FB] (AR v2)
Track 35 accurately ripped (confidence 19) [B2987076] (AR v2)
Track 36 accurately ripped (confidence 19) [22232395] (AR v2)
Track 37 accurately ripped (confidence 19) [D6E5340B] (AR v2)
Track 38 accurately ripped (confidence 19) [5DC837AD] (AR v2)

All tracks accurately ripped

End of status report

–– CUETools DB Plugin V2.1.6

[CTDB TOCID: G_F4C3YaTKhOfaHFF4bq697XA0s-] found
Submit result: G_F4C3YaTKhOfaHFF4bq697XA0s- has been confirmed
Track | CTDB Status
1 | (114/114) Accurately ripped
2 | (114/114) Accurately ripped
3 | (114/114) Accurately ripped
4 | (114/114) Accurately ripped
5 | (114/114) Accurately ripped
6 | (114/114) Accurately ripped
7 | (114/114) Accurately ripped
8 | (114/114) Accurately ripped
9 | (114/114) Accurately ripped
10 | (114/114) Accurately ripped
11 | (114/114) Accurately ripped
12 | (114/114) Accurately ripped
13 | (114/114) Accurately ripped
14 | (114/114) Accurately ripped
15 | (114/114) Accurately ripped
16 | (114/114) Accurately ripped
17 | (114/114) Accurately ripped
18 | (114/114) Accurately ripped
19 | (114/114) Accurately ripped
20 | (114/114) Accurately ripped
21 | (114/114) Accurately ripped
22 | (114/114) Accurately ripped
23 | (114/114) Accurately ripped
24 | (114/114) Accurately ripped
25 | (114/114) Accurately ripped
26 | (114/114) Accurately ripped
27 | (114/114) Accurately ripped
28 | (114/114) Accurately ripped
29 | (114/114) Accurately ripped
30 | (113/114) Accurately ripped
31 | (113/114) Accurately ripped
32 | (113/114) Accurately ripped
33 | (113/114) Accurately ripped
34 | (113/114) Accurately ripped
35 | (112/114) Accurately ripped
36 | (112/114) Accurately ripped
37 | (114/114) Accurately ripped
38 | (114/114) Accurately ripped


==== Log checksum 1B80383A38DE967393025AA1005144C64AED9CC6523F7CAE7C8BDECE0730B63D ====


Exact Audio Copy V1.3 from 2. September 2016

EAC extraction logfile from 4. June 2020, 0:34

Gustav Leonhardt / SEON collection (Disc 49) JS Bach - Italian Concerto, Toccatas, Fugue & Fantasia (1)

Used drive : ATAPI iHAS124 F Adapter: 1 ID: 0

Read mode : Secure
Utilize accurate stream : Yes
Defeat audio cache : Yes
Make use of C2 pointers : No

Read offset correction : 6
Overread into Lead-In and Lead-Out : No
Fill up missing offset samples with silence : Yes
Delete leading and trailing silent blocks : No
Null samples used in CRC calculations : Yes
Used interface : Native Win32 interface for Win NT & 2000

Used output format : User Defined Encoder
Selected bitrate : 1024 kBit/s
Quality : High
Add ID3 tag : No
Command line compressor : C:\Program Files (x86)\Exact Audio Copy\FLAC\FLAC.EXE
Additional command line options : -6 -V -T "ARTIST=%artist%" -T "TITLE=%title%" -T "ALBUM=%albumtitle%" -T "DATE=%year%" -T "TRACKNUMBER=%tracknr%" -T "GENRE=%genre%" -T "COMMENT=%comment%" -T "BAND=%albuminterpret%" -T "ALBUMARTIST=%albuminterpret%" -T "COMPOSER=%composer%" %haslyrics%–tag-from-file=LYRICS="%lyricsfile%"%haslyrics% -T "DISCNUMBER=%cdnumber%" -T "TOTALDISCS=%totalcds%" -T "TOTALTRACKS=%numtracks%" %hascover%–picture="%coverfile%"%hascover% %source% -o %dest%


TOC of the extracted CD

Track | Start | Length | Start sector | End sector
––––––––––––––––––––––––––––-
1 | 0:00.00 | 4:24.55 | 0 | 19854
2 | 4:24.55 | 4:53.22 | 19855 | 41851
3 | 9:18.02 | 4:28.13 | 41852 | 61964
4 | 13:46.15 | 0:27.37 | 61965 | 64026
5 | 14:13.52 | 2:14.28 | 64027 | 74104
6 | 16:28.05 | 5:54.32 | 74105 | 100686
7 | 22:22.37 | 2:54.40 | 100687 | 113776
8 | 25:17.02 | 2:33.48 | 113777 | 125299
9 | 27:50.50 | 3:28.60 | 125300 | 140959
10 | 31:19.35 | 3:48.20 | 140960 | 158079
11 | 35:07.55 | 4:33.57 | 158080 | 178611
12 | 39:41.37 | 6:27.43 | 178612 | 207679
13 | 46:09.05 | 5:01.67 | 207680 | 230321


Range status and errors

Selected range

Filename C:\EACRip\SEON - Excellence in Early Music (VA, Sony, 85CDs)(2014) [boxset]\CD49 - Bach - Italian Concerto etc (1)\SEON collection (Disc 49) JS Bach - Italian Concerto, Toccatas, Fugue & Fantasia (1) - Gustav Leonhardt.wav

Peak level 96.7 %
Extraction speed 8.0 X
Range quality 100.0 %
Test CRC 0F01274D
Copy CRC 0F01274D
Copy OK

No errors occurred


AccurateRip summary

Track 1 accurately ripped (confidence 20) [4E2F2CD2] (AR v2)
Track 2 accurately ripped (confidence 20) [FE40EFAF] (AR v2)
Track 3 accurately ripped (confidence 20) [3376FD37] (AR v2)
Track 4 accurately ripped (confidence 20) [4E953AE1] (AR v2)
Track 5 accurately ripped (confidence 20) [0670B62E] (AR v2)
Track 6 accurately ripped (confidence 20) [7129B9B8] (AR v2)
Track 7 accurately ripped (confidence 20) [3CD0BE27] (AR v2)
Track 8 accurately ripped (confidence 20) [98F7506A] (AR v2)
Track 9 accurately ripped (confidence 20) [630F1E91] (AR v2)
Track 10 accurately ripped (confidence 20) [0AB438F9] (AR v2)
Track 11 accurately ripped (confidence 20) [FBD04AE6] (AR v2)
Track 12 accurately ripped (confidence 20) [2A356121] (AR v2)
Track 13 accurately ripped (confidence 19) [3B1286A7] (AR v2)

All tracks accurately ripped

End of status report

–– CUETools DB Plugin V2.1.6

[CTDB TOCID: QsXx75AjSSmrHZ29FsTRk.bP.ys-] found
Submit result: QsXx75AjSSmrHZ29FsTRk.bP.ys- has been confirmed
Track | CTDB Status
1 | (89/93) Accurately ripped, or (4/93) differs in 2 samples @00:12:66
2 | (93/93) Accurately ripped
3 | (93/93) Accurately ripped
4 | (93/93) Accurately ripped
5 | (93/93) Accurately ripped
6 | (93/93) Accurately ripped
7 | (93/93) Accurately ripped
8 | (93/93) Accurately ripped
9 | (93/93) Accurately ripped
10 | (93/93) Accurately ripped
11 | (93/93) Accurately ripped
12 | (93/93) Accurately ripped
13 | (93/93) Accurately ripped


==== Log checksum 4903C8464F1E195AE1433E262A167B6A07F01CCB91829632800797EAFA81E1B4 ====


Exact Audio Copy V1.3 from 2. September 2016

EAC extraction logfile from 4. June 2020, 1:17

Gustav Leonhardt / SEON collection (Disc 50) JS Bach - Italian Concerto, Toccatas, Fugue & Fantasia (2)

Used drive : ATAPI iHAS124 F Adapter: 1 ID: 0

Read mode : Secure
Utilize accurate stream : Yes
Defeat audio cache : Yes
Make use of C2 pointers : No

Read offset correction : 6
Overread into Lead-In and Lead-Out : No
Fill up missing offset samples with silence : Yes
Delete leading and trailing silent blocks : No
Null samples used in CRC calculations : Yes
Used interface : Native Win32 interface for Win NT & 2000

Used output format : User Defined Encoder
Selected bitrate : 1024 kBit/s
Quality : High
Add ID3 tag : No
Command line compressor : C:\Program Files (x86)\Exact Audio Copy\FLAC\FLAC.EXE
Additional command line options : -6 -V -T "ARTIST=%artist%" -T "TITLE=%title%" -T "ALBUM=%albumtitle%" -T "DATE=%year%" -T "TRACKNUMBER=%tracknr%" -T "GENRE=%genre%" -T "COMMENT=%comment%" -T "BAND=%albuminterpret%" -T "ALBUMARTIST=%albuminterpret%" -T "COMPOSER=%composer%" %haslyrics%–tag-from-file=LYRICS="%lyricsfile%"%haslyrics% -T "DISCNUMBER=%cdnumber%" -T "TOTALDISCS=%totalcds%" -T "TOTALTRACKS=%numtracks%" %hascover%–picture="%coverfile%"%hascover% %source% -o %dest%


TOC of the extracted CD

Track | Start | Length | Start sector | End sector
––––––––––––––––––––––––––––-
1 | 0:00.00 | 4:14.37 | 0 | 19086
2 | 4:14.37 | 4:57.48 | 19087 | 41409
3 | 9:12.10 | 2:56.10 | 41410 | 54619
4 | 12:08.20 | 3:34.50 | 54620 | 70719
5 | 15:42.70 | 4:42.60 | 70720 | 91929
6 | 20:25.55 | 3:07.50 | 91930 | 106004
7 | 23:33.30 | 4:43.60 | 106005 | 127289
8 | 28:17.15 | 6:03.47 | 127290 | 154561
9 | 34:20.62 | 1:49.30 | 154562 | 162766
10 | 36:10.17 | 2:23.58 | 162767 | 173549
11 | 38:34.00 | 2:42.22 | 173550 | 185721
12 | 41:16.22 | 2:29.48 | 185722 | 196944
13 | 43:45.70 | 5:15.22 | 196945 | 220591
14 | 49:01.17 | 5:14.15 | 220592 | 244156


Range status and errors

Selected range

Filename C:\EACRip\SEON - Excellence in Early Music (VA, Sony, 85CDs)(2014) [boxset]\CD50 - Bach - Suites etc (2)\SEON collection (Disc 50) JS Bach - Italian Concerto, Toccatas, Fugue & Fantasia (2) - Gustav Leonhardt.wav

Peak level 73.5 %
Extraction speed 8.1 X
Range quality 100.0 %
Test CRC BECE1840
Copy CRC BECE1840
Copy OK

No errors occurred


AccurateRip summary

Track 1 accurately ripped (confidence 5) [D4CA23BE] (AR v2)
Track 2 accurately ripped (confidence 5) [3EDED983] (AR v2)
Track 3 accurately ripped (confidence 5) [7A3AA96D] (AR v2)
Track 4 accurately ripped (confidence 5) [3A2EC002] (AR v2)
Track 5 accurately ripped (confidence 5) [CE11DDB1] (AR v2)
Track 6 accurately ripped (confidence 5) [743831DE] (AR v2)
Track 7 accurately ripped (confidence 5) [370496E2] (AR v2)
Track 8 accurately ripped (confidence 5) [72646B48] (AR v2)
Track 9 accurately ripped (confidence 5) [909F7722] (AR v2)
Track 10 accurately ripped (confidence 5) [6B5190B5] (AR v2)
Track 11 accurately ripped (confidence 5) [8189ECD4] (AR v2)
Track 12 accurately ripped (confidence 5) [7CC634E8] (AR v2)
Track 13 accurately ripped (confidence 5) [F02864FA] (AR v2)
Track 14 accurately ripped (confidence 5) [DE664E19] (AR v2)

All tracks accurately ripped

End of status report

–– CUETools DB Plugin V2.1.6

[CTDB TOCID: TIg2bZs9.Bmn1izfE.20LCajnwc-] found
Submit result: TIg2bZs9.Bmn1izfE.20LCajnwc- has been confirmed
Track | CTDB Status
1 | (92/92) Accurately ripped
2 | (91/92) Accurately ripped
3 | (92/92) Accurately ripped
4 | (92/92) Accurately ripped
5 | (92/92) Accurately ripped
6 | (92/92) Accurately ripped
7 | (92/92) Accurately ripped
8 | (92/92) Accurately ripped
9 | (92/92) Accurately ripped
10 | (92/92) Accurately ripped
11 | (92/92) Accurately ripped
12 | (92/92) Accurately ripped
13 | (91/92) Accurately ripped
14 | (90/92) Accurately ripped


==== Log checksum 917E2142F4F3E359AD5B868782424E99C3E0A5DA3EFC8EE6FE83A7BEE6816794 ====


Exact Audio Copy V1.3 from 2. September 2016

EAC extraction logfile from 4. June 2020, 1:43

Anner Bylsma / SEON collection (Disc 51) JS Bach - Cello Suites (1)

Used drive : ATAPI iHAS124 F Adapter: 1 ID: 0

Read mode : Secure
Utilize accurate stream : Yes
Defeat audio cache : Yes
Make use of C2 pointers : No

Read offset correction : 6
Overread into Lead-In and Lead-Out : No
Fill up missing offset samples with silence : Yes
Delete leading and trailing silent blocks : No
Null samples used in CRC calculations : Yes
Used interface : Native Win32 interface for Win NT & 2000

Used output format : User Defined Encoder
Selected bitrate : 1024 kBit/s
Quality : High
Add ID3 tag : No
Command line compressor : C:\Program Files (x86)\Exact Audio Copy\FLAC\FLAC.EXE
Additional command line options : -6 -V -T "ARTIST=%artist%" -T "TITLE=%title%" -T "ALBUM=%albumtitle%" -T "DATE=%year%" -T "TRACKNUMBER=%tracknr%" -T "GENRE=%genre%" -T "COMMENT=%comment%" -T "BAND=%albuminterpret%" -T "ALBUMARTIST=%albuminterpret%" -T "COMPOSER=%composer%" %haslyrics%–tag-from-file=LYRICS="%lyricsfile%"%haslyrics% -T "DISCNUMBER=%cdnumber%" -T "TOTALDISCS=%totalcds%" -T "TOTALTRACKS=%numtracks%" %hascover%–picture="%coverfile%"%hascover% %source% -o %dest%


TOC of the extracted CD

Track | Start | Length | Start sector | End sector
––––––––––––––––––––––––––––-
1 | 0:00.00 | 2:12.00 | 0 | 9899
2 | 2:12.00 | 4:24.17 | 9900 | 29716
3 | 6:36.17 | 2:51.65 | 29717 | 42606
4 | 9:28.07 | 2:11.65 | 42607 | 52496
5 | 11:39.72 | 3:28.53 | 52497 | 68149
6 | 15:08.50 | 1:50.32 | 68150 | 76431
7 | 16:59.07 | 3:08.50 | 76432 | 90581
8 | 20:07.57 | 3:48.63 | 90582 | 107744
9 | 23:56.45 | 2:03.60 | 107745 | 117029
10 | 26:00.30 | 3:16.15 | 117030 | 131744
11 | 29:16.45 | 3:10.55 | 131745 | 146049
12 | 32:27.25 | 2:38.05 | 146050 | 157904
13 | 35:05.30 | 3:06.45 | 157905 | 171899
14 | 38:12.00 | 4:30.32 | 171900 | 192181
15 | 42:42.32 | 3:18.03 | 192182 | 207034
16 | 46:00.35 | 3:03.72 | 207035 | 220831
17 | 49:04.32 | 3:09.15 | 220832 | 235021
18 | 52:13.47 | 3:11.25 | 235022 | 249371


Range status and errors

Selected range

Filename C:\EACRip\SEON - Excellence in Early Music (VA, Sony, 85CDs)(2014) [boxset]\CD51 - Bach - Cello Suites (1)\SEON collection (Disc 51) JS Bach - Cello Suites (1) - Anner Bylsma, 1979.wav

Peak level 98.0 %
Extraction speed 8.0 X
Range quality 99.9 %
Test CRC B2C90F66
Copy CRC B2C90F66
Copy OK

No errors occurred


AccurateRip summary

Track 1 accurately ripped (confidence 20) [ADD414AB] (AR v2)
Track 2 accurately ripped (confidence 20) [5D99F7D0] (AR v2)
Track 3 accurately ripped (confidence 20) [C7357FDB] (AR v2)
Track 4 accurately ripped (confidence 20) [873D0686] (AR v2)
Track 5 accurately ripped (confidence 20) [CF363C47] (AR v2)
Track 6 accurately ripped (confidence 20) [91C05AFD] (AR v2)
Track 7 accurately ripped (confidence 20) [51C3C9BB] (AR v2)
Track 8 accurately ripped (confidence 20) [FCED8210] (AR v2)
Track 9 accurately ripped (confidence 20) [270520C7] (AR v2)
Track 10 accurately ripped (confidence 20) [1A8F78EF] (AR v2)
Track 11 accurately ripped (confidence 20) [9BACEBC2] (AR v2)
Track 12 accurately ripped (confidence 20) [12B0DEB6] (AR v2)
Track 13 accurately ripped (confidence 20) [F19EDC04] (AR v2)
Track 14 accurately ripped (confidence 20) [B5C607BE] (AR v2)
Track 15 accurately ripped (confidence 20) [430ADD31] (AR v2)
Track 16 accurately ripped (confidence 20) [E446587E] (AR v2)
Track 17 accurately ripped (confidence 20) [384CF8D6] (AR v2)
Track 18 accurately ripped (confidence 20) [388F964D] (AR v2)

All tracks accurately ripped

End of status report

–– CUETools DB Plugin V2.1.6

[CTDB TOCID: XlxmDDA2tUlWvkrNdQ5wG1M6vAo-] found
Submit result: XlxmDDA2tUlWvkrNdQ5wG1M6vAo- has been confirmed
Track | CTDB Status
1 | (135/138) Accurately ripped
2 | (134/138) Accurately ripped
3 | (135/138) Accurately ripped
4 | (135/138) Accurately ripped
5 | (135/138) Accurately ripped
6 | (135/138) Accurately ripped
7 | (135/138) Accurately ripped
8 | (135/138) Accurately ripped
9 | (135/138) Accurately ripped
10 | (135/138) Accurately ripped
11 | (135/138) Accurately ripped
12 | (135/138) Accurately ripped
13 | (135/138) Accurately ripped
14 | (135/138) Accurately ripped
15 | (134/138) Accurately ripped
16 | (134/138) Accurately ripped
17 | (134/138) Accurately ripped
18 | (134/138) Accurately ripped


==== Log checksum 9AFF3F394B630E9552EAE239EC459BB848DAA0A07AA43E75A4DC4EF19A428894 ====

Thanks to the original releaser