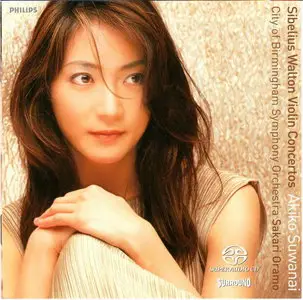 Sibelius & Walton - Violin concertos - Akiko Suwanai
Classical | Easy CD-DA, APE tracks, No CUE, No Log | 1 CD, Cover, HQ | 273 MB
CD Date: September 2, 2008 | Decca Import
If the violin is a star, then so, also, must the surround sound superaudio master on this recorded performance get star status. The engineers have done a beautiful job, and the home disc carries their full-frequency, warm, top-notch sound right into your home listening room. Bravo. Not only is the Strad caught well, so it the band (full, detailed), plus room touches to reinforce the tonal body (especially nice in Sibelius' low strings, for example).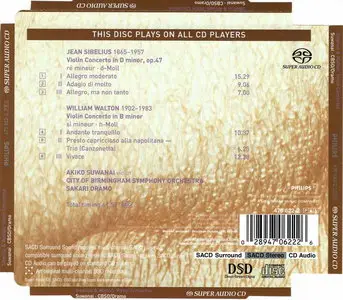 Performer
: Akiko Suwanai
Orchestra
: City of Birmingham Symphony Orchestra
Conductor
: Sakari Oramo
Composer
: Jean Sibelius, William [composer] Walton
Tracks
1. Violin Concerto in D minor, Op. 47: 1. Allegro moderato
2. Violin Concerto in D minor, Op. 47: 2. Adagio di molto
3. Violin Concerto in D minor, Op. 47: 3. Allegro, ma non tanto
4. Violin Concerto: 1. Andante tranquillo
5. Violin Concerto: 2. Presto capriccioso alla napolitana - Trio (Canzonetta)
6. Violin Concerto: 3. Vivace
DOWNLOAD