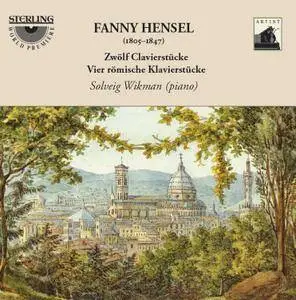 Solveig Wikman - Hensel: Zwölf Clavierstücke / Vier römische Klavierstücke
Classical | MP3 CBR 320 kbps | 73:30 min | 170 MB
Label: Sterling | Tracks: 16 | Rls.date: 2017
Fanny Mendelssohn was a German pianist and composer, and the eldest sister and confidante of the composer Felix Mendelssohn however she was never allowed to study music like her brother. Despite this she developed a remarkable talent for piano music especially after her extensive Italian travel which is the source of much inspiration in some of these pieces. Felix readily admitted that his sister played the piano better than he did, and Fanny remained his chief musical adviser until he left home. She is said to have memorized J.S. Bach's complete Well-Tempered Clavier by age 13. Fanny married the Prussian court painter Wilhelm Hensel in 1829. She travelled in Italy with her husband in 1839 40. Upon her mother's death in 1842 she took over the direction of the Mendelssohn family home in Berlin, in which role she organized local concerts and occasionally appeared as a pianist. Fanny remained very close to her brother, and her death in May 1847 greatly contributed to Felix's own demise six months later.
TRACKLIST
01. Zwölf Clavierstücke: I. Allegro assai in A-Flat Major
02. Zwölf Clavierstücke: II. Allegro con brio in F Minor
03. Zwölf Clavierstücke: III. Allegro molto vivace ma con sentimento in E-Flat Major
04. Zwölf Clavierstücke: IV. Allegro vivace in B Major
05. Zwölf Clavierstücke: V. Villa Mills. Allegretto grazioso in E Major
06. Zwölf Clavierstücke: VI. Serenata in G Minor
07. Zwölf Clavierstücke: VII. Villa Medicis. Allegro maestoso in A-Flat Major
08. Zwölf Clavierstücke: VIII. Il saltarello romano in A Minor
09. Zwölf Clavierstücke: IX. Allegro molto quasi Presto in E Major
10. Zwölf Clavierstücke: X. Adagio in E-Flat Major
11. Zwölf Clavierstücke: XI. Allegro molto in G Major
12. Zwölf Clavierstücke: XII. Allegro molto vivace in A-Flat Major
13. Vier römische Klavierstücke: I. Allegro moderato in A-Flat Major
14. Vier römische Klavierstücke: II. Introduktion und Capriccio in B Minor
15. Vier römische Klavierstücke: III. Largo und Allegro con fuoco in G Minor
16. Vier römische Klavierstücke: IV. Ponte molle in A Minor