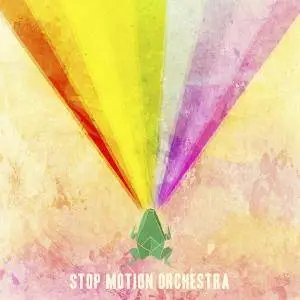 Stop Motion Orchestra - Instant Everything! (2014)
WEB FLAC (tracks) - 273 MB | MP3 CBR 320 kbps (LAME 3.93) - 106 MB | Front cover
Genre: Instrumental Progressive Rock, Avant-Prog | RAR 3% Rec. | Label: Egg Helmet Records
This Texan band founded in 2013 in Austin, whose songwriter Mohadev Egg Helmet mentions as influencers Cardiacs, of which their debut album contains a cover, Magma, Zappa and Fred Frith, released the first full length album in 2014. They make use of various instruments including some typically country like banjo and violin, and makes use of a number of guests musicians. The first album has been produced by Mohadev's own label: Egg Helmet Records.
Tracklist:
01. Mystery Grandma
02. Instant Everything!
03. Car Chase
04. Little Smiles
05. T.V.T.V.
06. Regal Monster
07. Fishery Men
08. Mono Interval
09. News and Ice Cream
10. Bloody Paws
11. Mono No Aware
Total time:
43:18

PERFORMER: auCDtect Task Manager, ver. 1.6.0 RC1 build 1.6.0.1
Copyright © 2008-2010 y-soft. All rights reserved

ANALYZER: auCDtect: CD records authenticity detector, version 0.8.2
Copyright © 2004 Oleg Berngardt. All rights reserved.
Copyright © 2004 Alexander Djourik. All rights reserved.


FILE: Stop Motion Orchestra - Instant Everything! - 11 Mono No Aware.flac
Size: 25269732 Hash: CF6FE8780A828102D51925EBE2DE63E6 Accuracy: -m0
Conclusion: CDDA 100%
Signature: ECD26167F936F30730C1B2609F2E88BFC7F78E9A
FILE: Stop Motion Orchestra - Instant Everything! - 10 Bloody Paws.flac
Size: 29073749 Hash: 8C13D0F9028ADB7065E548793307426E Accuracy: -m0
Conclusion: CDDA 100%
Signature: 09DEBE5DA87A32D8A52B194FFEFF377A516B76B8
FILE: Stop Motion Orchestra - Instant Everything! - 09 News and Ice Cream.flac
Size: 28929631 Hash: AE58012AA86405D414F302B426723992 Accuracy: -m0
Conclusion: CDDA 100%
Signature: B9EDCA791FA63F259BBE19F23EA8C3E5618B225C
FILE: Stop Motion Orchestra - Instant Everything! - 08 Mono Interval.flac
Size: 4684599 Hash: 6A856878F98BECF3528D2D5C543DD3E7 Accuracy: -m0
Conclusion: CDDA 100%
Signature: D9C89877B6301706E233471802F7A5BBD05DDA33
FILE: Stop Motion Orchestra - Instant Everything! - 07 Fishery Men.flac
Size: 16911569 Hash: CE051BD9241C845A03B40DE2BDC79818 Accuracy: -m0
Conclusion: CDDA 99%
Signature: 60F865E35270C7A19DE9FB783D18D792590E3C14
FILE: Stop Motion Orchestra - Instant Everything! - 06 Regal Monster.flac
Size: 42283555 Hash: 7B23A5CF442A637A9D510FAB662A1776 Accuracy: -m0
Conclusion: CDDA 100%
Signature: FEFBE654B03FCB11C3C4ADBC69789A2488040118
FILE: Stop Motion Orchestra - Instant Everything! - 05 T.V.T.V..flac
Size: 26812355 Hash: A68A7EC46E33DD909CA444AD33034B65 Accuracy: -m0
Conclusion: CDDA 100%
Signature: AFB525C76B0D434E3E76542236C1BC9BDE079337
FILE: Stop Motion Orchestra - Instant Everything! - 04 Little Smiles.flac
Size: 34660864 Hash: 58FA09F0FCA3BB1CEA11286AB94C3B98 Accuracy: -m0
Conclusion: CDDA 99%
Signature: D68F2BFCB8429D7804707D6C58C58F82A9781617
FILE: Stop Motion Orchestra - Instant Everything! - 03 Car Chase.flac
Size: 22588966 Hash: EAA71E2D8997395971C594BB0AA08A29 Accuracy: -m0
Conclusion: CDDA 100%
Signature: 306F9D0782842843748F6248D01A9C35F4A0071F
FILE: Stop Motion Orchestra - Instant Everything! - 02 Instant Everything!.flac
Size: 21362922 Hash: A518A7CF6D2B22BFDA573D64EEC1BAE1 Accuracy: -m0
Conclusion: CDDA 100%
Signature: 4A5BD9E92FAD7E26F95375A53CA93F1AA5617985
FILE: Stop Motion Orchestra - Instant Everything! - 01 Mystery Grandma.flac
Size: 23681777 Hash: A459DF040D8771313BFCDE17A3E9A203 Accuracy: -m0
Conclusion: CDDA 100%
Signature: ABBC7733429376C866D49BC5F9FB026EA4B55AB5
See also:
Stop Motion Orchestra - Lightworks (2018)