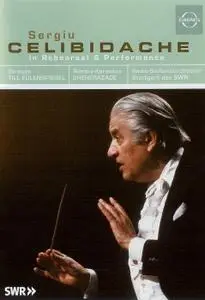 Sergiu Celibidache in Rehearsal and Performance - R.Strauss: Till Eulenspiegel; Rimsky-Korsakov: Sheherazade (2007/1965,1982)
NTSC 4:3 (720x480) | Deutsch (LinearPCM, 2 ch) | 7.07 Gb (DVD9) | 104 min
Classical | EuroArts | Subtitles: English, Francais, Espanol
Sergiu Celibidache (1912-1996) has been called a "musical giant", a "magician" "a brilliant lion-tamer" and an enfant terrible of classical music. These films from 1965 and 1982 are among the very few visual records we have of the legendary rehearsal work of this highly charismatic Maestro; they provide a unique insight into his Stuttgart years, bringing to light the marvels he achieved with the Radio Orchestra, which he conducted from 1971-1983. Celibidache was a master Straussian and his reading of the symphonic tale Till Eulenspiegel ranks among the best recordings available. His version of Rimsky-Korsakov's Sheherazade is full of sensuality and subtlety. Both documents last almost an hour - they give today's listeners an exclusive opportunity to observe Celibidache in rehearsal and concert, making it a must for lovers of symphonic music.
Cast:
Radio-Sinfonieorchester Stuttgart des SWR
Hans Kalafusz, solo violin (Rimsky-Korsakov)
Sergiu Celibidache, conductor
Track List:
Richard Strauss (1864-1949)
Till Eulenspiegels lustige Streiche, op.28
01. Opening
02. Reheasal
03. Performance
04. Credits
Nikolai Rimsky-Korsakov (1844-1908)
Sheherazade, op.35
05. Opening
06. I. Largo e maestoso - Allegro non troppo - Tranquillo
07. II. Lento - Andantino - Allegro molto - Vivace scherzando - Moderato assai - Allegro molto ed animato - Con moto
08. III. Andantino quasi allegretto
09. IV. Allegro molto e frenetico - Vivo - Allegro non troppo e maestoso - Tempo come I
10. Credits