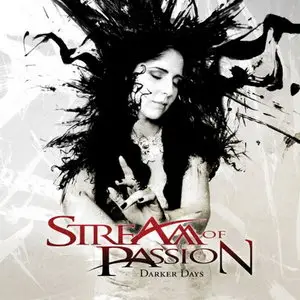 Stream of Passion - Darker Days (2011)
Mp3 | 260 VBR | 108 MB | Netherlands
Progressive Metal/Rock
Darker Days, catapults Stream Of Passion from insider tip to undisputed trailblazer of the Gothic Metal genre. The songs are majestic musical gems that as a whole, deliver an unbelievably complex and sensuous end result. Metal guitars, beautiful melodies and symphonic arrangements build the foundation for these songs. The crystal-clear and impressive production adds the finishing touch to this well-rounded masterpiece. Darker Days is a Gothic Metal album that will appeal to all the senses. This is the limited digi with bonus track.
Track List:
1. Lost
2. Reborn
3. Collide
4. The Scarlet Mark
5. Spark
6. Our Cause
7. Darker Days
8. Broken
9. This Moment
10. Closer
11. The Mirror
12. Nadie Love
13. The World Is Ours
14. The Hunt (Bonus Track)
Total playing time 58:15