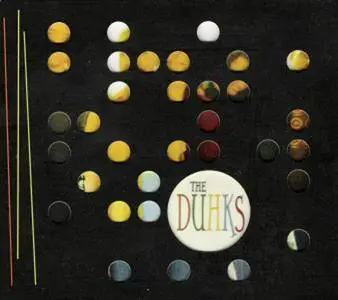 The Duhks - s/t (2005) {Sugar Hill}
EAC Rip | FLAC with CUE and log | scans | 568 mb
MP3 CBR 320kbps | RAR | 212 mb
Genre: folk, Americana
The Duhks
is the 2005 debut album by Canadian folk group The Duhks. This was released by Sugar Hill Records on 8 February, 2005. The group at the time consisted of Jessica Havey, Tania Elizabeth, Jordan McConnell, Leonard Podolak, and Scott Senior. The lossless files features the "Enhanced CD" portion in an "extras" folder, which is omitted in the MP3 version.
We seem to be in something of a folk music revival: not just artists singing songs with acoustic guitars, but a significant number of younger performers taking an interest in traditional music, rather than doing original songs in the folk style. And some of these artists have been breathing new life into some very old songs. The band called Ollabelle is a stellar example. And even more established performers are looking to traditional music for their material, including Natalie Merchant and John Mellencamp.

This week we have another worthwhile album by a young band in their 20s who put their own stamp on mainly traditional music, though they do also perform more contemporary material, including a smattering of original music. They call themselves the Duhks, and they hail from Winnipeg, Canada, site of an annual folk festival which was founded by the father of one of the group's members. Their debut American release is also called The Duhks, and it was co-produced by that master eclectic musician, Béla Fleck.

The Duhks were founded about three years ago by banjoist Leonard Podolak, son of Mitch Podolak, the founder of the Winnipeg Folk Festival. The younger Podolak was known for applying Appalachian style clawhammer banjo to traditional Celtic music, in which the banjo was rarely used. Podolak started out playing keyboards in a Guns & Roses cover band, but said he was inspired by hearing Béla Fleck and the Flecktones to take up acoustic music with a sense of adventure and eclecticism.

Other Duhks include Tania Elizabeth on fiddle. She is the youngest member, at 20 when the CD was recorded. She had an early start, taking up the violin by the Suzuki method at age three, and has performed in a surprising number of musical settings from classical to country. Lead vocalist Jessica Harvey also started young, performing as actress, singer and dancer at age six. Percussionist Scott Senior plays a collection of ethnic instruments, including the large rectangular box drum the cajon used extensively in Cuban music. Senior was drawn to Latin music. According to the band's bio, there is an active Latin music scene in Winnipeg. Rounding out the group is guitarist Jordan McConnell, who not only plays guitar but also makes them. At age 23, he is already an established luthier, with some well-known guitarists as customers for his handmade instruments.

There is no bass player, but they combine their instruments in a way that creates an energetic sound than can range from slow Celtic to acoustic rock. In addition to the traditional material, they also include distinctive versions of what are definitely not traditional songs, including compositions by Sting and Leonard Cohen. Among the traditional pieces are some classic Gospel and folk songs, music that was popular in the 1960s folk scene. The also perform instrumental medleys of old Celtic tunes with original pieces. It is perhaps this sense of eclecticism and musical adventure that drew the interest of Béla Fleck to produce the band's CD. The Duhks had released an independent album only in Canada in 2002 called Your Daughters and Your Sons and initially, after the band was signed to Sugar Hill Records in the US, thought was given to re-releasing their first recording, but they decided that they have moved on enough that it was time to make an entirely new recording for their American debut. They had already been attracting attention in various folk festivals on both sides of the border.

The Duhks bring a sense of energy and youthful enthusiasm in their approach. With the members also growing up on alternative rock, they bring a bit of an edge to their music, without plugging in and turning it into rock. All are outstanding players, and their musical arrangements, drawing as they do on their somewhat unconventional instrumental lineup, reflect that resourcefulness and creativity, whether they are giving a new twist to a pop song, or reviving old folk songs that were the staples of the 1960s. They do it all while exuding a great sense of confidence.

The generous hour-long 14, song recording starts with an old Gospel staple, Death Came a Knockin', which has also been known as Travelin' Shoes. The arrangement is typical of the band's creativity. It combines percussion borrowed from Latin music, Podolak's Appalachian clawhammer-style banjo, and Jessica Harvey's full-tilt vocals.

That leads into a contemporary song by an emerging Canadian singer-songwriter named Dan Frechette called Mists of Down Below, which the Duhks weave into a medley with an original instrumental called Meghan Hayden's. The minor-key song is given an kind of old-timey quality, which is belied by the rocky drums. The result is another worthwhile musical intersection.

The first of the instrumentals is called Gene's Machine a medley of Celtic flavored reels, which combine the group's Appalachian-styled fiddle and banjo with Latin and Indian percussion. Podolak also plays the traditional Celtic mainstay instrument the Uillean pipes.

Another of the songs that were staples of the 1960s folk music scene is The Wagoner's Lad, which the band said they heard from an old recording by Doc Watson. The Duhks give the song a surprisingly airy treatment.

The band does a song by the contemporary Irish singer-songwriter Paul Brady, You and I, and Brady himself makes a guest appearance on backing vocals. It's as close as the band comes to a pop-flavored song. Of course, they give it their own approach with their trademark instrumental sound.

One of the most interesting covers the band does is of Leonard Cohen's Everybody Knows. Cohen's natural gloom is replaced by the Duhks' playfulness, as they give the song a curious old-time aura with Podolak's clawhammer banjo and Tania Elizabeth's fiddle. Their quirky reading of the song can remind those with very long memories of the Holy Modal Rounders from the 1960s.

On the other hand, their performance of the traditional spiritual True Religion really shines, and with some of their best vocal harmonies, and an arrangement that sounds very traditional, even though the band's blend of musical ingredients is decidedly wide-ranging.

The CD ends with the band's most masterful reworking of a song, Sting's Love Is the Seventh Wave, which they weave into a medley with an original instrumental jig by fiddler Tania Elizabeth. It's a wonderful juxtaposition of the band's kind of Appalachian reggae with an Irish-sounding jig, accompanied by Latin percussion.

The Duhks' new eponymous CD is a prime example of how traditional music and styles are finding new life among a young generation raised on alternative rock and rap. In their three years together, this Canadian band have come to bring a wonderfully eclectic approach to some old songs, and a traditional sound to some recent ones. Like most bands who mix disparate styles, the different backgrounds of the people who happened to get together, along with their musical interests has helped to shape the band's unique sound and distinctive instrumentation, combining traditional Appalachian clawhammer style banjo with Latin-influenced percussion. And the band members' enthusiasm is also infectious.

Sonically, we'll give the CD an "A." Everything is recorded well, and the production by Béla Fleck and ace engineer Gary Paczosa captures the band's sound with clarity and without studio gimmicks. The dynamic range for the recording is also respectable.

Since the folk music days of the 1960s, there are those who think that traditional songs must be done in the traditional way, while there are those for whom the old songs become starting points for flights of fancy. The Duhks are definitely airborne on their new CD.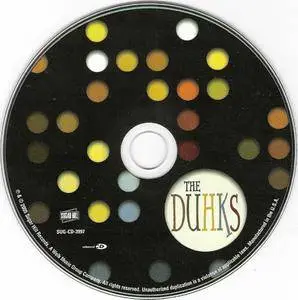 01. Death Came A Knockin'
02. Mists Of Down Below
03. Gene's Machine
04. Four Blue Walls
05. The Wagoner's Lad
06. True Religion
07. The Magnolia Set
08. You And I
09. Everybody Knows
10. Dance Hall Girls
11. The Dregs Of Birch
12. Du Temps Que J'Etais Jeune
13. Dover, Delaware
14. Love Is The Seventh Wave
–-
THE DUHKS ARE:
Tania Elizabeth
-fiddle, harmony vocals, lead vocals on "The Wagoner's Lad" and "Du Temps Que J'Etais Jeune", mandolin on "Dover, Delaware"
Jessica Havey
-lead vocals, harmony vocals
Jordan McConnell
-guitar, harmony vocals, lead vocals on "Dover, Delaware", low whistle on "Dover, Delaware", Uilleann pipes on "Gene's Machine" and "The Dregs Of Birch"
Leonard Podolak
-5-string banjo, harmony vocals, lead vocals on "Everybody Knows" and "Du Temps Que J'Etais Jeune", fiddle on "Issac Hanna's (The Magnolia Set)"
Scott "Señor" Senior
-cajon, congas, bongo, tablas, pandiero, drum kit, surdo, shakers, and bells
GUEST MUSICIANS
Paul Brady
-Harmony vocals on "You And I"
Béla Fleck
-Banjo on "Issac's Hanna (The Magnolia Set)"
Edgar Meyer
-Upright bass on "Dover, Delaware"
Abigail Washburn
-Harmony vocals on "Death Came A Knockin'" and "The Wagoner's Lad"
Victor Wooten
-Fretless bass on "The Mists Of Down Below"
AS WELL AS:
Furleen Maines
-Harmony vocals on "Du Temps Que J'Etais Jeune"
Captain Lavender
-Harmony vocals on "Everybody Knows"
Produced
Béla Fleck
&
Gary Paczosa
Recorded by
Gary Paczosa
at Omni Sound, Minutia and Sanctuary Studios
Mixed by
Gary Paczosa
at Minutia
Additional engineering by
Béla Fleck
Assistant engineers:
Brandon Bell
and
Eric Tonkin
Mastered by
Eric Conn
and
Don Cobb
, Independent Mastering, Nashville, TN
EAC extraction logfile from 22. November 2006, 20:44 for CD
The Duhks / The Duhks

Used drive : LITE-ON DVDRW SOHW-1633S Adapter: 0 ID: 0
Read mode : Secure with NO C2, accurate stream, disable cache
Read offset correction : 12
Overread into Lead-In and Lead-Out : No

Used output format : Internal WAV Routines
44.100 Hz; 16 Bit; Stereo

Other options :
Fill up missing offset samples with silence : Yes
Delete leading and trailing silent blocks : No
Installed external ASPI interface


Track 1
Filename D:\FLAC\The Duhks - s-t (2005) [FLAC] {Sugar Hill}\01 - Death Came A Knockin'.wav

Pre-gap length 0:00:02.00

Peak level 98.8 %
Track quality 100.0 %
Test CRC 3B75A0E4
Copy CRC 3B75A0E4
Copy OK

Track 2
Filename D:\FLAC\The Duhks - s-t (2005) [FLAC] {Sugar Hill}\02 - Mists Of Down Below.wav

Peak level 98.8 %
Track quality 100.0 %
Test CRC 2CA898FE
Copy CRC 2CA898FE
Copy OK

Track 3
Filename D:\FLAC\The Duhks - s-t (2005) [FLAC] {Sugar Hill}\03 - Gene's Machine.wav

Pre-gap length 0:00:01.97

Peak level 98.8 %
Track quality 100.0 %
Test CRC 09F62A93
Copy CRC 09F62A93
Copy OK

Track 4
Filename D:\FLAC\The Duhks - s-t (2005) [FLAC] {Sugar Hill}\04 - Four Blue Walls.wav

Peak level 98.8 %
Track quality 99.9 %
Test CRC 046C6B84
Copy CRC 046C6B84
Copy OK

Track 5
Filename D:\FLAC\The Duhks - s-t (2005) [FLAC] {Sugar Hill}\05 - The Wagoner's Lad.wav

Peak level 98.8 %
Track quality 100.0 %
Test CRC B0BB95C4
Copy CRC B0BB95C4
Copy OK

Track 6
Filename D:\FLAC\The Duhks - s-t (2005) [FLAC] {Sugar Hill}\06 - True Religion.wav

Peak level 98.8 %
Track quality 100.0 %
Test CRC 2082FC48
Copy CRC 2082FC48
Copy OK

Track 7
Filename D:\FLAC\The Duhks - s-t (2005) [FLAC] {Sugar Hill}\07 - The Magnolia Set.wav

Pre-gap length 0:00:01.20

Peak level 98.8 %
Track quality 100.0 %
Test CRC 68BE72FF
Copy CRC 68BE72FF
Copy OK

Track 8
Filename D:\FLAC\The Duhks - s-t (2005) [FLAC] {Sugar Hill}\08 - You And I.wav

Peak level 98.8 %
Track quality 100.0 %
Test CRC 468290AF
Copy CRC 468290AF
Copy OK

Track 9
Filename D:\FLAC\The Duhks - s-t (2005) [FLAC] {Sugar Hill}\09 - Everybody Knows.wav

Peak level 98.8 %
Track quality 100.0 %
Test CRC 088B93BF
Copy CRC 088B93BF
Copy OK

Track 10
Filename D:\FLAC\The Duhks - s-t (2005) [FLAC] {Sugar Hill}\10 - Dance Hall Girls.wav

Peak level 98.8 %
Track quality 100.0 %
Test CRC 6446020B
Copy CRC 6446020B
Copy OK

Track 11
Filename D:\FLAC\The Duhks - s-t (2005) [FLAC] {Sugar Hill}\11 - The Dregs Of Birch.wav

Peak level 98.8 %
Track quality 100.0 %
Test CRC 581751AC
Copy CRC 581751AC
Copy OK

Track 12
Filename D:\FLAC\The Duhks - s-t (2005) [FLAC] {Sugar Hill}\12 - Du Temps Que J'Etais Jeune.wav

Peak level 98.8 %
Track quality 99.9 %
Test CRC C7653D86
Copy CRC C7653D86
Copy OK

Track 13
Filename D:\FLAC\The Duhks - s-t (2005) [FLAC] {Sugar Hill}\13 - Dover, Delaware.wav

Peak level 98.8 %
Track quality 99.9 %
Test CRC B02D4246
Copy CRC B02D4246
Copy OK

Track 14
Filename D:\FLAC\The Duhks - s-t (2005) [FLAC] {Sugar Hill}\14 - Love Is The Seventh Wave.wav

Pre-gap length 0:00:04.12

Peak level 98.8 %
Track quality 100.0 %
Test CRC 501CB410
Copy CRC 501CB410
Copy OK

No errors occured


End of status report