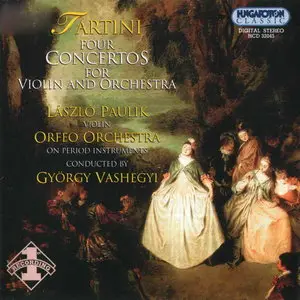 Tartini - Four Concertos for Violin and Orchesta
Classical | Easy CD-DA, FLAC tracks, CUE, No Log | 1 CD, Covers HQ | 371 MB
CD Date: May 21, 2002 | Hungaroton
At last, a disc of Tartini violin music that doesn't include the Devil's Trill sonata! (For some reason, that G minor work has been turning up a lot lately.) No, this is a group of concertos, and before the first has concluded you're wondering why (with all due respect) Vivaldi gets so much attention when music of this quality and inventiveness is around. One reason may be a question of quantity and historical misfortune: until recently dozens of Tartini's 200 known violin concertos were believed lost, but the four performed here were recently discovered "at the Bibliothèque Nationale in Paris."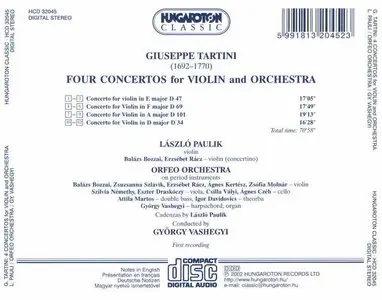 Composer
: Giuseppe Tartini
Performer
: László Paulik
Conductor
: György Vashegyi
Orchestra/Ensemble
: Orfeo Orchestra
Tracks
01 - Concerto for Violin in E major D. 47 - I Allegro
02 - Concerto for Violin in E major D. 47 - II Adagio
03 - Concerto for Violin in E major D. 47 - III Allegro assai
04 - Concerto for Violin in F major D. 69 - I Allegro
05 - Concerto for Violin in F major D. 69 - II Andante
06 - Concerto for Violin in F major D. 69 - III Allegro
07 - Concerto for Violin in A major D. 101 - I Allegro
08 - Concerto for Violin in A major D. 101 - II Allegro ma non troppo (Ossia. Anda…
09 - Concerto for Violin in A major D. 101 - III Allegro
10 - Concerto for Violin in D major D. 34 - I Allegro
11 - Concerto for Violin in D major D. 34 - II Grave (Ossia. Adagio)
12 - Concerto for Violin in D major D. 34 - III Allegro assai (Ossia. Allegro)
DOWNLOAD