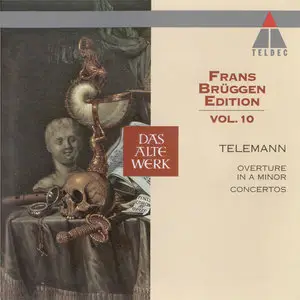 Georg Philipp Telemann - Overture in A minor · Concerto in C major · Concerto a 6 in F major
Frans Brüggen, Nikolaus Harnoncourt, Concentus musicus Wien
Baroque | Easy CD-DA, FLAC, Cue | No Log | 1 CD, covers | 332 MB | RS
TELDEC 4509-97472-2 | 1995
Telemann was fully aware not only of the need to give each instrument its due but also of what each could achieve, tailoring his music to suit them all, including the recorder, which he used in his orchestral works in a whole series of cyclical forms from overture to solo and double concerto.
Georg Philipp Telemann
(1681-1767)
Overture in A minor, TWV55: a 2
I. Ouverture
II. Les plaisirs
III. Air à l'Italien
IV. Menuet I alternativement II
V. Rejouissance
VI. Passepied I/II
VII. Polonaise
Concerto in C major
I. Allegretto
II. Allegro
III. Andante
IV. Tempo di Menuet
Concerto a 6 in F major
I. [Largo]
II. [Vivace]
III. [Largo]
IV. Allegro
Total timing: 65' 03"