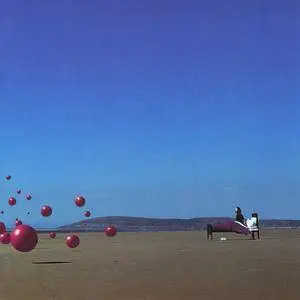 The Cranberries - Wake Up And Smell The Coffee (2001) [Special Edition]
EAC Rip | FLAC: Image+Cue+Log | 405 Mb | MP3 CBR 320 kbps | 144 Mb | Scans | 49 Mb | Time: 56:53
MCA Records | 112 706-2 (UK)
Alternative Rock
Wake Up and Smell the Coffee is the fifth studio album by The Cranberries. Released on October 22, 2001, the album has sold 170,000 copies in the US as of April 2007. UK pressing of the Irish quartets fifth and final album from 2001 features three bonus tracks: In The Ghetto plus live versions of Dreams and Promises. Worldwide, the album sold 1,300,000 copies by 2002. Designer Storm Thorgerson, who also designed the cover of their previous album, "Bury the Hatchet", said: "The idea of red balls came from granules of coffee percolating the atmosphere, settling in your nose and waking you up. The version of the artwork featuring a man in bed on the beach is clearly indebted to another Thorgerson creation: Pink Floyd's A Momentary Lapse of Reason.

Track Listing
01. Never Grow Old (02:36)
02. Analyse (04:10)
03. Time Is Ticking Out (03:00)
04. Dying Inside (03:10)
05. This Is The Day (04:15)
06. The Concept (03:04)
07. Wake Up And Smell The Coffee (05:15)
08. Pretty Eyes (03:48)
09. I Really Hope (03:43)
10. Every Morning (02:24)
11. Do You Know (03:09)
12. Carry On (02:22)
13. Chocolate Brown (03:32)
Bonus Tracks
14. Dreams (Live In Paris) (04:35)
15. Promises (Live In Paris) (05:08)
16. In The Ghetto (Elvis Presley cover) (02:42)
Produced by
Stephen StreetThe Band
• Dolores O'Riordan - vocals, guitars, keyboards
• Noel Hogan - electric and acoustic guitars
• Mike Hogan - bass
• Fergal Lawler - drums and percussion
Notes
Comes in a standard jewel case. There is a Universal Music 'Special Edition' hologram sticker on the case as well as another sticker that reads: Wake Up And Smell The Coffee The Cranberries Includes "Analyse" plus 3 bonus tracks.

Tracks 14 and 15 are taken from DVD/VHS title Beneath The Skin - Live In Paris.
Exact Audio Copy V1.0 beta 3 from 29. August 2011

Отчёт EAC об извлечении, выполненном 15. августа 2013, 23:19

The Cranberries / Wake Up And Smell The Coffee

Дисковод: ASUS BW-12B1ST Adapter: 3 ID: 0

Режим чтения : Достоверность
Использование точного потока : Да
Отключение кэша аудио : Да
Использование указателей C2 : Нет

Коррекция смещения при чтении : 6
Способность читать области Lead-in и Lead-out : Нет
Заполнение пропущенных сэмплов тишиной : Да
Удаление блоков с тишиной в начале и конце : Нет
При вычислениях CRC использовались нулевые сэмплы : Да
Интерфейс : Встроенный Win32-интерфейс для Win NT/2000

Выходной формат : Внутренние WAV-операции
Формат сэмплов : 44.100 Гц; 16 бит; стерео


TOC извлечённого CD

Трек | Старт | Длительность | Начальный сектор | Конечный сектор
––––––––––––––––––––––––––––––––––-
1 | 0:00.00 | 2:35.62 | 0 | 11686
2 | 2:35.62 | 4:10.03 | 11687 | 30439
3 | 6:45.65 | 2:59.35 | 30440 | 43899
4 | 9:45.25 | 3:10.15 | 43900 | 58164
5 | 12:55.40 | 4:15.00 | 58165 | 77289
6 | 17:10.40 | 3:03.62 | 77290 | 91076
7 | 20:14.27 | 5:15.08 | 91077 | 114709
8 | 25:29.35 | 3:48.30 | 114710 | 131839
9 | 29:17.65 | 3:42.50 | 131840 | 148539
10 | 33:00.40 | 2:24.00 | 148540 | 159339
11 | 35:24.40 | 3:09.05 | 159340 | 173519
12 | 38:33.45 | 2:21.35 | 173520 | 184129
13 | 40:55.05 | 3:32.07 | 184130 | 200036
14 | 44:27.12 | 4:34.70 | 200037 | 220656
15 | 49:02.07 | 5:07.55 | 220657 | 243736
16 | 54:09.62 | 2:42.10 | 243737 | 255896


Характеристики диапазона извлечения и сообщения об ошибках

Выбранный диапазон

Имя файла D:\EAC\The Cranberries - 2001 - Wake Up And Smell The Coffee (MCA Records ‎– 112706-2)\The Cranberries - 2001 - Wake Up And Smell The Coffee.wav

Пиковый уровень 100.0 %
Скорость извлечения 7.2 X
Качество диапазона 99.9 %
CRC теста FC30E8FB
CRC копии FC30E8FB
Копирование… OK

Ошибок не произошло


AccurateRip: сводка

Трек 1 : извлечено точно (доверие 6) [5CCC3538] (AR v2)
Трек 2 : извлечено точно (доверие 6) [9C6DF419] (AR v2)
Трек 3 : извлечено точно (доверие 6) [8CC891AD] (AR v2)
Трек 4 : извлечено точно (доверие 6) [69CC3B8A] (AR v2)
Трек 5 : извлечено точно (доверие 6) [1FC7ACF9] (AR v2)
Трек 6 : извлечено точно (доверие 6) [0C37D2CE] (AR v2)
Трек 7 : извлечено точно (доверие 6) [994D7780] (AR v2)
Трек 8 : извлечено точно (доверие 6) [57253C14] (AR v2)
Трек 9 : извлечено точно (доверие 6) [E330512A] (AR v2)
Трек 10 : извлечено точно (доверие 6) [C78BD3B5] (AR v2)
Трек 11 : извлечено точно (доверие 6) [BFA413CB] (AR v2)
Трек 12 : извлечено точно (доверие 6) [8F98C80B] (AR v2)
Трек 13 : извлечено точно (доверие 6) [9F14F902] (AR v2)
Трек 14 : извлечено точно (доверие 7) [D522B5EC] (AR v2)
Трек 15 : извлечено точно (доверие 7) [9B7DD877] (AR v2)
Трек 16 : извлечено точно (доверие 6) [65FFE76A] (AR v2)

Все треки извлечены точно

Конец отчёта

==== Контрольная сумма отчёта 4D8F828FED8039148C23C9E45FCF581060DA044B5D9E5555BC56A4219BE62DCB ====
Many thanks to the original uploader: Evgenius1986
SEE also:
The Cranberries 1999 Bury The ...[Special 2CD Edition, EU 2000]
The Cranberries 2008 Gold [2CD]
The Cranberries 2012 Roses [Deluxe 2CD Gatefold Edition]