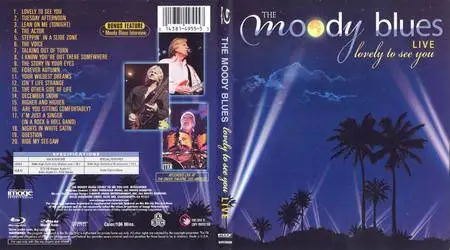 The Moody Blues - Lovely to See You Live (2005)
Blu-ray: MPEG-4 AVC, 1080i, 29,970 fps, 16:9, High Profile 4.1
DTS-HD MA 5.1, 48 kHz, 24-bit / DD 5.1, 48 kHz, 640 kbps
LPCM 2.0, 48 kHz, 2304 kbps, 24-bit
Classic / Art Rock | Image Entertainment | Covers | ~ 30.98 Gb
The legendary Moody Blues present this special musical collection, their first live album without an orchestra, since their historic 1969 release The Moody Blues Live + 5. Recorded live at the Greek Theatre in Los Angeles on June 11 during their 2005 World tour, in which they played New Zealand for the first time and returned to Australia, this rare live recording is pure Moody Blues. With the Moodies' unique brand of music that has kept them at the top of their profession for 40 years, and has maintained them as one of the biggest live touring acts of all-time, this is a truly sparkling performance from one of the world's greatest and best-loved rock bands.

Featuring Justin Hayward on electric, acoustic guitar and vocals; John Lodge on bass, acoustic guitar and vocals; and Graeme Edge on drums and percussion, the rock legends magically perform selections from their incredible roster of musical masterpieces.The Moodies are also joined by their friends and colleagues Norda Mullen on flute and guitar, Gordon Marshall on drums and percussion, Paul Bliss on keyboards, and Bernie Barlow on backing vocals and keyboards, making it a magical night to remember…



~ amazon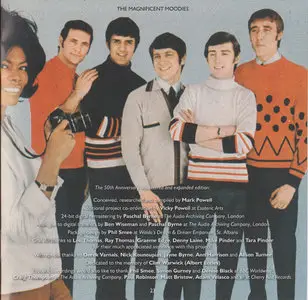 The Moody Blues - Lovely to See You Live (2005):
Tracklist:
1. Lovely To See You
2. Tuesday Afternoon
3. Lean On Me (Tonight)
4. The Actor
5. Steppin' In A Slide Zone
6. The Voice
7. Talking Out Of Turn
8. I Know You're Out There Somewhere
9. The Story In Your Eyes
10. Forever Autumn
11. Your Wildest Dreams
12. Isn't Life Strange
13. The Other Side Of Life
14. December Snow
15. Higher And Higher
16. Are You Sitting Comfortably?
17. I'm Just A Singer (In A Rock & Roll Band)
18. Nights In White Satin
19. Question
20. Ride My See-Saw
Disc Title: MOODYBLUES
Disc Size: 32 272 988 756 bytes
Protection: AACS
BD-Java: No
BDInfo: 0.5.8
Notes:
BDINFO HOME:
Cinema Squid
http://www.cinemasquid.com/blu-ray/tools/bdinfo
INCLUDES FORUMS REPORT FOR:
AVS Forum Blu-ray Audio and Video Specifications Thread
http://www.avsforum.com/avs-vb/showthread.php?t=1155731
WARNING: Report is incomplete because: Scan has not been run.
********************
PLAYLIST: 00006.MPLS
********************
<–- BEGIN FORUMS PASTE –->

                                                                                                                Total   Video                                             
Title                                                           Codec   Length  Movie Size      Disc Size       Bitrate Bitrate Main Audio Track                          Secondary Audio Track
-----                                                           ------  ------- --------------  --------------  ------- ------- ------------------                        ---------------------
00006.MPLS                                                      AVC     1:45:53 0               32 272 988 756  0,00    0,00    DTS-HD Master 5.1 (48kHz/24-bit)          DD AC3 5.1 640Kbps



DISC INFO:

Disc Title:     MOODYBLUES
Disc Size:      32 272 988 756 bytes
Protection:     AACS
BD-Java:        No
BDInfo:         0.5.8

PLAYLIST REPORT:

Name:                   00006.MPLS
Length:                 1:45:53.080 (h:m:s.ms)
Size:                   0 bytes
Total Bitrate:          0,00 Mbps

VIDEO:

Codec                   Bitrate             Description     
-----                   -------             -----------     
MPEG-4 AVC Video        0 kbps              1080i / 29,970 fps / 16:9 / High Profile 4.1

AUDIO:

Codec                           Language        Bitrate         Description     
-----                           --------        -------         -----------     
DTS-HD Master Audio             English         0 kbps          5.1 / 48 kHz / 24-bit (DTS Core: 5.1 / 48 kHz / 1509 kbps / 24-bit)
Dolby Digital Audio             English         640 kbps        5.1 / 48 kHz / 640 kbps
LPCM Audio                      English         2304 kbps       2.0 / 48 kHz / 2304 kbps / 24-bit

FILES:

Name            Time In         Length          Size            Total Bitrate   
----            -------         ------          ----            -------------   
00013.M2TS      0:00:00.000     1:45:53.080     0               0               

CHAPTERS:

Number          Time In         Length          Avg Video Rate  Max 1-Sec Rate  Max 1-Sec Time  Max 5-Sec Rate  Max 5-Sec Time  Max 10Sec Rate  Max 10Sec Time  Avg Frame Size  Max Frame Size  Max Frame Time  
------          -------         ------          --------------  --------------  --------------  --------------  --------------  --------------  --------------  --------------  --------------  --------------  
1               0:00:00.000     0:04:14.153     0 kbps          0 kbps          00:00:00.000    0 kbps          00:00:00.000    0 kbps          00:00:00.000    0 bytes         0 bytes         00:00:00.000    
2               0:04:14.153     0:04:34.440     0 kbps          0 kbps          00:00:00.000    0 kbps          00:00:00.000    0 kbps          00:00:00.000    0 bytes         0 bytes         00:00:00.000    
3               0:08:48.594     0:05:11.811     0 kbps          0 kbps          00:00:00.000    0 kbps          00:00:00.000    0 kbps          00:00:00.000    0 bytes         0 bytes         00:00:00.000    
4               0:14:00.406     0:05:07.674     0 kbps          0 kbps          00:00:00.000    0 kbps          00:00:00.000    0 kbps          00:00:00.000    0 bytes         0 bytes         00:00:00.000    
5               0:19:08.080     0:04:50.923     0 kbps          0 kbps          00:00:00.000    0 kbps          00:00:00.000    0 kbps          00:00:00.000    0 bytes         0 bytes         00:00:00.000    
6               0:23:59.004     0:04:31.738     0 kbps          0 kbps          00:00:00.000    0 kbps          00:00:00.000    0 kbps          00:00:00.000    0 bytes         0 bytes         00:00:00.000    
7               0:28:30.742     0:05:29.562     0 kbps          0 kbps          00:00:00.000    0 kbps          00:00:00.000    0 kbps          00:00:00.000    0 bytes         0 bytes         00:00:00.000    
8               0:34:00.304     0:05:21.454     0 kbps          0 kbps          00:00:00.000    0 kbps          00:00:00.000    0 kbps          00:00:00.000    0 bytes         0 bytes         00:00:00.000    
9               0:39:21.759     0:04:18.291     0 kbps          0 kbps          00:00:00.000    0 kbps          00:00:00.000    0 kbps          00:00:00.000    0 bytes         0 bytes         00:00:00.000    
10              0:43:40.050     0:04:13.386     0 kbps          0 kbps          00:00:00.000    0 kbps          00:00:00.000    0 kbps          00:00:00.000    0 bytes         0 bytes         00:00:00.000    
11              0:47:53.437     0:05:05.905     0 kbps          0 kbps          00:00:00.000    0 kbps          00:00:00.000    0 kbps          00:00:00.000    0 bytes         0 bytes         00:00:00.000    
12              0:52:59.342     0:07:37.690     0 kbps          0 kbps          00:00:00.000    0 kbps          00:00:00.000    0 kbps          00:00:00.000    0 bytes         0 bytes         00:00:00.000    
13              1:00:37.033     0:05:16.282     0 kbps          0 kbps          00:00:00.000    0 kbps          00:00:00.000    0 kbps          00:00:00.000    0 bytes         0 bytes         00:00:00.000    
14              1:05:53.316     0:05:15.915     0 kbps          0 kbps          00:00:00.000    0 kbps          00:00:00.000    0 kbps          00:00:00.000    0 bytes         0 bytes         00:00:00.000    
15              1:11:09.231     0:04:35.308     0 kbps          0 kbps          00:00:00.000    0 kbps          00:00:00.000    0 kbps          00:00:00.000    0 bytes         0 bytes         00:00:00.000    
16              1:15:44.540     0:04:36.275     0 kbps          0 kbps          00:00:00.000    0 kbps          00:00:00.000    0 kbps          00:00:00.000    0 bytes         0 bytes         00:00:00.000    
17              1:20:20.816     0:06:44.670     0 kbps          0 kbps          00:00:00.000    0 kbps          00:00:00.000    0 kbps          00:00:00.000    0 bytes         0 bytes         00:00:00.000    
18              1:27:05.486     0:05:59.525     0 kbps          0 kbps          00:00:00.000    0 kbps          00:00:00.000    0 kbps          00:00:00.000    0 bytes         0 bytes         00:00:00.000    
19              1:33:05.012     0:06:12.038     0 kbps          0 kbps          00:00:00.000    0 kbps          00:00:00.000    0 kbps          00:00:00.000    0 bytes         0 bytes         00:00:00.000    
20              1:39:17.051     0:04:58.531     0 kbps          0 kbps          00:00:00.000    0 kbps          00:00:00.000    0 kbps          00:00:00.000    0 bytes         0 bytes         00:00:00.000    
21              1:44:15.582     0:01:37.497     0 kbps          0 kbps          00:00:00.000    0 kbps          00:00:00.000    0 kbps          00:00:00.000    0 bytes         0 bytes         00:00:00.000    

STREAM DIAGNOSTICS:

File            PID             Type            Codec           Language                Seconds                 Bitrate                 Bytes           Packets         
----            ---             ----            -----           --------                --------------          --------------          -------------   -----           
00013.M2TS      4113 (0x1011)   0x1B            AVC                                     0                       0                       0               0               
00013.M2TS      4352 (0x1100)   0x86            DTS-HD MA       eng (English)           0                       0                       0               0               
00013.M2TS      4353 (0x1101)   0x81            AC3             eng (English)           0                       0                       0               0               
00013.M2TS      4354 (0x1102)   0x80            LPCM            eng (English)           0                       0                       0               0               


<–– END FORUMS PASTE ––>
QUICK SUMMARY:
Disc Title: MOODYBLUES
Disc Size: 32 272 988 756 bytes
Protection: AACS
BD-Java: No
Playlist: 00006.MPLS
Size: 0 bytes
Length: 1:45:53.080
Total Bitrate: 0,00 Mbps
Video: MPEG-4 AVC Video / 0 kbps / 1080i / 29,970 fps / 16:9 / High Profile 4.1
Audio: English / DTS-HD Master Audio / 5.1 / 48 kHz / 24-bit (DTS Core: 5.1 / 48 kHz / 1509 kbps / 24-bit)
Audio: English / Dolby Digital Audio / 5.1 / 48 kHz / 640 kbps
Audio: English / LPCM Audio / 2.0 / 48 kHz / 2304 kbps / 24-bit
********************
PLAYLIST: 00002.MPLS
********************
<–- BEGIN FORUMS PASTE –->

                                                                                                                Total   Video                                             
Title                                                           Codec   Length  Movie Size      Disc Size       Bitrate Bitrate Main Audio Track                          Secondary Audio Track
-----                                                           ------  ------- --------------  --------------  ------- ------- ------------------                        ---------------------
00002.MPLS                                                      MPEG-2  0:29:30 0               32 272 988 756  0,00    0,00    DD AC3 2.0 224Kbps                        



DISC INFO:

Disc Title:     MOODYBLUES
Disc Size:      32 272 988 756 bytes
Protection:     AACS
BD-Java:        No
BDInfo:         0.5.8

PLAYLIST REPORT:

Name:                   00002.MPLS
Length:                 0:29:30.502 (h:m:s.ms)
Size:                   0 bytes
Total Bitrate:          0,00 Mbps

VIDEO:

Codec                   Bitrate             Description     
-----                   -------             -----------     
MPEG-2 Video            0 kbps              480i / 29,970 fps / 16:9

AUDIO:

Codec                           Language        Bitrate         Description     
-----                           --------        -------         -----------     
Dolby Digital Audio             English         224 kbps        2.0 / 48 kHz / 224 kbps

FILES:

Name            Time In         Length          Size            Total Bitrate   
----            -------         ------          ----            -------------   
00002.M2TS      0:00:00.000     0:29:30.502     0               0               

CHAPTERS:

Number          Time In         Length          Avg Video Rate  Max 1-Sec Rate  Max 1-Sec Time  Max 5-Sec Rate  Max 5-Sec Time  Max 10Sec Rate  Max 10Sec Time  Avg Frame Size  Max Frame Size  Max Frame Time  
------          -------         ------          --------------  --------------  --------------  --------------  --------------  --------------  --------------  --------------  --------------  --------------  
1               0:00:00.000     0:29:30.502     0 kbps          0 kbps          00:00:00.000    0 kbps          00:00:00.000    0 kbps          00:00:00.000    0 bytes         0 bytes    			  		 			  		 	 	  	 			   		   	  		      		   	  	 			   		  	   		   	  		   	  	 			   		   	  		   	  		    			      00:00:00.000    

STREAM DIAGNOSTICS:

File            PID             Type            Codec           Language                Seconds                 Bitrate                 Bytes           Packets         
----            ---             ----            -----           --------                --------------          --------------          -------------   -----           
00002.M2TS      4113 (0x1011)   0x02            MPEG-2                                  0                       0                       0               0               
00002.M2TS      4352 (0x1100)   0x81            AC3             eng (English)           0                       0                       0               0               


<–– END FORUMS PASTE ––>
QUICK SUMMARY:
Disc Title: MOODYBLUES
Disc Size: 32 272 988 756 bytes
Protection: AACS
BD-Java: No
Playlist: 00002.MPLS
Size: 0 bytes
Length: 0:29:30.502
Total Bitrate: 0,00 Mbps
Video: MPEG-2 Video / 0 kbps / 480i / 29,970 fps / 16:9
Audio: English / Dolby Digital Audio / 2.0 / 48 kHz / 224 kbps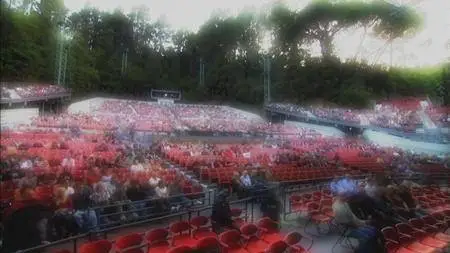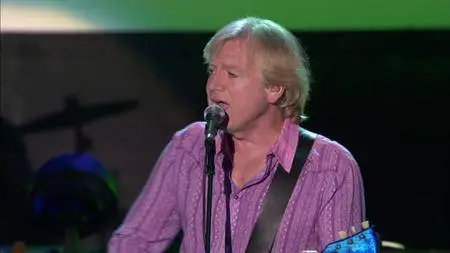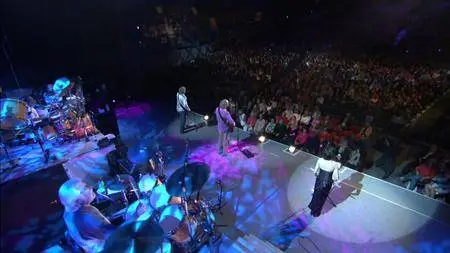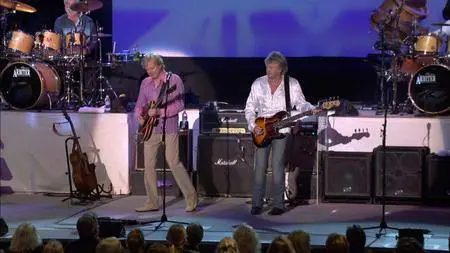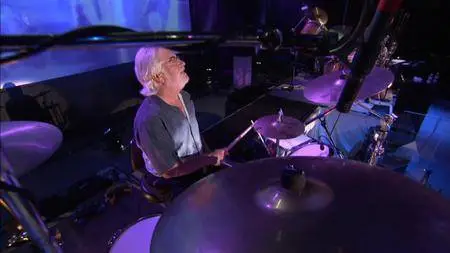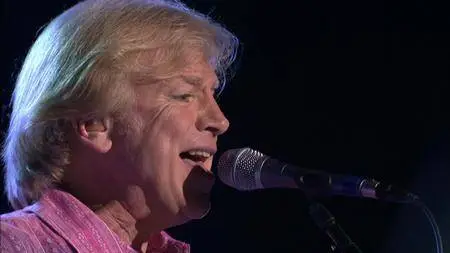 All thanks go to HoseRaul