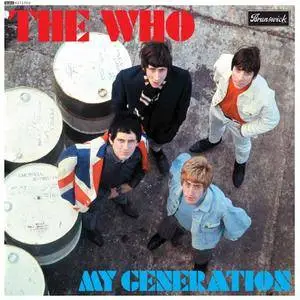 The Who - My Generation (50th Anniversary / Super Deluxe)
Classic Rock | MP3 CBR 320 kbps | 03:56:11 | 560 MB
Label: UMC (Universal Music Catalogue) | Tracks: 79 | Rls.date: 2016
The Who's debut album My Generation will be reissued as a five-disc super deluxe edition box set in November and will feature a wealth of material, including unreleased songs, recently discovered album demos and new stereo mixes…
The set comprises five CDs, with the first disc featuring 2016 remastering of the original mono mix of the 1965 album. The second CD delivers a stereo remix which was created using new overdubs from Roger Daltrey and Pete Townshend. To ensure this was done sympathetically, Pete used exactly the same guitars and amps as the original album and Roger used same type of microphone. Until now, these mixes have only been available via iTunes, so this box set is the physical debut of these mixes (which were created in 2014).
CDs three and four contain 44 bonus tracks in mono and stereo and between them include 27 previously unreleased alternate mixes and a further four that have only been available digitally.
The final fifth disc contains the demo recordings. Pete apparently discovered these demos in 2015 during a break in touring. These include three totally unreleased songs that The Who have never revisited: The Girls I Could Have Had, As Children We Grew and My Own Love.
Of these demos, Pete commented "Gathering these demos for this collection has been enjoyable; it's wonderful for me to have these tapes made fifty-two years ago to listen to. I hope you enjoy them. They have a naiveté and innocence, a simplicity and directness, and an ingenuousness that reveals me as a young man struggling to keep up with the more mature and developed men around me. What an incredible group of strong, talented, young and engaging men they were!"
Who super deluxe editions always deliver excellent books and the 80-page tome that comes with this set looks to be no exception. It features the usual 'rare' photos and new notes from Pete Townshend and images of period memorabilia.
This 79-track super deluxe edition of My Generation will be released on 18 November 2016.
TRACKLIST
01 Out In The Street 02:31
02 I Don't Mind 02:36
03 The Good's Gone 04:04
04 La-La-La-Lies 02:16
05 Much Too Much 02:44
06 My Generation 03:20
07 The Kids Are Alright 03:07
08 Please Please Please 02:46
09 It's Not True 02:33
10 I'm A Man 03:21
11 A Legal Matter 02:50
12 The Ox 03:53
13 Out In The Street (2014 Stereo Mix) 02:30
14 I Don't Mind (2014 Stereo Mix) 02:36
15 The Good's Gone (2014 Stereo Mix) 04:05
16 La-La-La Lies (2014 Stereo Mix) 02:15
17 Much Too Much (2014 Stereo Mix) 02:43
18 My Generation (2014 Stereo Mix) 03:18
19 The Kids Are Alright (2014 Stereo Mix) 03:05
20 Please, Please, Please (2014 Stereo Mix) 02:43
21 It's Not True (2014 Stereo Mix) 02:30
22 I'm A Man (2014 Stereo Mix) 03:20
23 A Legal Matter (2014 Stereo Mix) 02:49
24 The Ox (2014 Stereo Mix) 03:50
25 I Can't Explain (Mono Version) 02:05
26 Bald Headed Woman (Mono Version) 02:10
27 Daddy Rolling Stone (Mono Version) 02:48
28 Leaving Here (Mono Version) 02:49
29 Lubie (Come Back Home) (Mono Version) 03:37
30 Shout And Shimmy (Mono Version) 03:18
31 (Love Is Like A) Heat Wave (Mono Version) 02:41
32 Motoring (Mono Version) 02:49
33 Anytime You Want Me (Mono Version) 02:36
34 Anyway, Anyhow, Anywhere (Mono Version) 02:41
35 Instant Party Mixture (Mono Version) 03:28
36 Circles (Revised Mono Version) 03:13
37 Anyway, Anyhow, Anywhere (French EP Version) 02:44
38 Out In The Street (Alternative Guitar Break Version / 2 02:36
39 Out In The Street (Alternative Early Vocal Version / 20 02:35
40 I Don't Mind (Full Length Version / 2000 Remix) 04:08
41 The Good's Gone (Full Length Version / 2000 Remix) 04:35
42 My Generation (Alternative Version / 2000 Remix) 03:34
43 I'm A Man (Version 2 / Early Vocal Version / 2000 Remix 03:28
44 Daddy Rolling Stone (Alternative Take / 2000 Remix) 03:06
45 Lubie (Come Back Home) (Alternative Mix / 2000 Remix) 03:45
46 Shout And Shimmy (Alternative Mix / 2000 Remix) 03:26
47 Circles (Alternative Mix / 2000 Remix) 03:29
48 Out In The Street (Alternate Take 1) 02:30
49 I Don't Mind (Full Length Version) 03:45
50 The Good's Gone (Full Length Version) 04:27
51 My Generation (Instrumental Version) 03:38
52 The Kids Are Alright (Alternate Take 1) 03:07
53 I Can't Explain 02:06
54 Bald Headed Woman 02:34
55 Daddy Rolling Stone 02:59
56 Daddy Rolling Stone (Alternate Version) 03:06
57 Leaving Here 02:49
58 Lubie (Come Back Home) 03:42
59 Shout And Shimmy 03:19
60 (Love Is Like A) Heat Wave 02:39
61 Motoring 02:47
62 Anytime You Want Me 02:37
63 Instant Party Mixture 03:29
64 Anyway Anyhow Anywhere 02:44
65 Circles 03:15
66 Daddy Rolling Stone (Alternate Take B. / New Mix) 03:08
67 Out In The Street (Alternate Take 2 / New Mix) 02:34
68 I'm A Man (Alternate Version / New Mix) 03:25
69 My Generation (Version 3 Demo / 2016 Mix) 03:04
70 My Generation (Version 2 Demo / Fragment / 2016 Mix) 01:03
71 The Girls I Could've Had (Demo / 2016 Mix) 02:57
72 Its Not True 02:47
73 As Children We Grew 01:43
74 A Legal Matter (Demo / 2016 Mix) 03:00
75 Sunrise (Version 1 Demo / 2016 Mix) 02:31
76 Much Too Much (Demo / 2016 Mix) 03:20
77 My Own Love 03:25
78 La-La-La- Lies 01:59
79 The Goods Gone 03:36