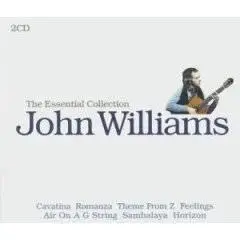 The Essential Collection, John Williams
Genre: Classical | Format: FLAC | 2 CD | Size: 296 + 315 Mb | Mediafire
This CD is really a compilation of the 3 "experimental" albums John Williams did before his venture with the Prog Rock group Sky. So if you are a classical purist then you might not like this CD. Otherwise, it's a rare combination of songs from "Changes", "The Height Below", and "Travelling" - the 3 albums that eventually led to Sky. Also, a few songs from his work with Cleo Laine are thrown in. The overall style of this CD is like a soundtrack (such as the music from "The Deer Hunter"). But it still features great guitar work as well (several from Bach). Williams' playing is clean and crisp - whether he is playing a straight classical piece or doing an accompanyment. You will see he is accomplished in both roles with this CD. Classical purists might consider this "light weight" but the rest of us call it accessable and interesting.
Download
Disc: 1
1. Romanza
2. Theme From Z
3. El Tuno
4. Dance Of The Living
5. Portrait
6. Lisa Larne
7. Wave
8. Feelings
9. Duet For Guitar And Koto
10. Dance Of The Emperor's Clouds
Part 1
|
Part 2
|
Part 3
Disc: 2
1. Air On A G String
2. Because
3. Sarabande
4. Bach Changes
5. The Height Below
6. Raga Vilasakhani Todi
7. Nuages
8. Woodstock
9. If
10. Sans Souci
Part 1
|
Part 2
|
Part 3
|
Part 4