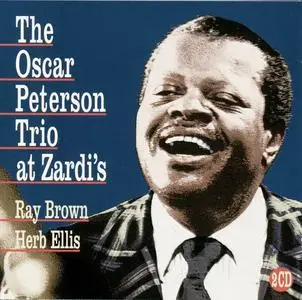 Oscar Peterson Trio - The Oscar Peterson Trio At Zardi's [Recorded 1955] (1994)
XLD Rip | FLAC (tracks+.cue+log) - 727 MB | MP3 CBR 320 kbps (LAME 3.93) - 365 MB | Covers (13 MB) included
Genre: Jazz, Piano Jazz | RAR 3% Rec. | Label: Pablo (00025218211826)
The group that Oscar Peterson led between 1953-58 with guitarist Herb Ellis and bassist Ray Brown was one of the great piano trios of all time. It was never so much a matter of Peterson having two other musicians accompany him as it was that they could meet the pianist as near-equals and consistently inspire him. And unlike most trios, Peterson's had many arranged sections that constantly needed rehearsals and were often quite dazzling. This live double-CD from 1955 has previously unreleased (and unknown) performances of 31 songs (28 standards plus three of Peterson's originals) that were released for the first time in 1994. The pianist is often in typically miraculous form, Ellis (whether playing harmonies, offering short solos or getting his guitar to sound like a conga by tapping it percussively) proves to be a perfect partner, and Brown's subtle but sometimes telepathic contributions should not be overlooked either.
CD 1 Tracklist:
01. Sunday
02. I've Got You Under My Skin
03. Herbie's Tune
04. There's A Small Hotel
05. How High The Moon
06. Noreen's Nocturne
07. I Was Doing All Right
08. Falling In Love With Love
09. Big Fat Mama
10. The Way You Look Tonight
11. Begin The Beguine
12. Easy Does It
13. Will You Still Be Mine?
14. Laura
15. Roy's Tune
Total time:
01:12:42
CD 2 Tracklist:
01. The Continental
02. You Are Too Beautiful
03. Pompton Turnpike
04. Surrey With The Fringe On Top
05. Swinging With A Star
06. I've Got You Under My Skin
07. Autumn Leaves
08. Love For Sale
09. Soft Winds
10. Medley: I Loves You Porgy / Anything Goes
11. It's A Marshmallow World
12. Tenderly
13. Honeysuckle Rose
14. Love You Madly
15. Have You Met Miss Jones?
Total time:
01:16:12
X Lossless Decoder version 20130602 (143.2)

XLD extraction logfile from 2013-07-19 19:10:07 -0700

Oscar Peterson / The Oscar Peterson Trio Live At Zardi's (Disc 1 of 2)

Used drive : MATSHITA DVD-R UJ-898 (revision HC10)
Media type : Pressed CD

Ripper mode : XLD Secure Ripper
Disable audio cache : OK for the drive with a cache less than 1375KiB
Make use of C2 pointers : NO
Read offset correction : 102
Max retry count : 20
Gap status : Analyzed, Appended (except HTOA)

TOC of the extracted CD
Track | Start | Length | Start sector | End sector
––––––––––––––––––––––––––––-
1 | 00:00:00 | 04:28:65 | 0 | 20164
2 | 04:28:65 | 03:49:32 | 20165 | 37371
3 | 08:18:22 | 05:04:00 | 37372 | 60171
4 | 13:22:22 | 05:39:63 | 60172 | 85659
5 | 19:02:10 | 03:23:07 | 85660 | 100891
6 | 22:25:17 | 05:06:30 | 100892 | 123871
7 | 27:31:47 | 05:13:45 | 123872 | 147391
8 | 32:45:17 | 03:57:65 | 147392 | 165231
9 | 36:43:07 | 06:07:45 | 165232 | 192801
10 | 42:50:52 | 04:45:40 | 192802 | 214216
11 | 47:36:17 | 03:32:08 | 214217 | 230124
12 | 51:08:25 | 06:40:60 | 230125 | 260184
13 | 57:49:10 | 04:21:72 | 260185 | 279831
14 | 62:11:07 | 06:38:33 | 279832 | 309714
15 | 68:49:40 | 03:52:57 | 309715 | 327171

List of alternate offset correction values
# | Absolute | Relative | Confidence
–––––––––––––––––––––
1 | -998 | -1100 | 2
2 | 354 | 252 | 2

AccurateRip Summary (DiscID: 0026fbb5-01bd59f8-bd110a0f)
Track 01 : OK (v1, confidence 2/4, with different offset)
Track 02 : OK (v1, confidence 2/2, with different offset)
Track 03 : OK (v1, confidence 2/4, with different offset)
Track 04 : OK (v1, confidence 2/4, with different offset)
Track 05 : OK (v1, confidence 2/4, with different offset)
Track 06 : OK (v1, confidence 2/4, with different offset)
Track 07 : OK (v1, confidence 2/4, with different offset)
Track 08 : OK (v1, confidence 2/4, with different offset)
Track 09 : OK (v1, confidence 2/4, with different offset)
Track 10 : OK (v1, confidence 2/4, with different offset)
Track 11 : OK (v1, confidence 2/4, with different offset)
Track 12 : OK (v1, confidence 2/4, with different offset)
Track 13 : Not Found
Track 14 : OK (v1, confidence 2/2, with different offset)
Track 15 : OK (v1, confidence 2/4, with different offset)
->14 tracks accurately ripped, 1 track not found

All Tracks
Album gain : -3.75 dB
Peak : 1.000000
Statistics
Read error : 0
Jitter error (maybe fixed) : 0
Retry sector count : 0
Damaged sector count : 0

Track 01
Filename : /Volumes/OWC 500/Torrents/The Oscar Peterson Trio at Zardi's/Disc 1/01 Oscar Peterson - Sunday.flac
Pre-gap length : 00:02:00

Track gain : -4.05 dB
Peak : 0.933990
CRC32 hash (test run) : 27E56CBB
CRC32 hash : 27E56CBB
CRC32 hash (skip zero) : A1B0D1F2
AccurateRip v1 signature : A26B2FB7 (3C8B6942 w/correction)
AccurateRip v2 signature : 20C67427
->Accurately ripped with different offset (v1, confidence 2/4, offset -1100)
Statistics
Read error : 0
Jitter error (maybe fixed) : 0
Retry sector count : 0
Damaged sector count : 0

Track 02
Filename : /Volumes/OWC 500/Torrents/The Oscar Peterson Trio at Zardi's/Disc 1/02 Oscar Peterson - I've Got You Under My Skin.flac
Pre-gap length : 00:02:23

Track gain : -2.14 dB
Peak : 0.903381
CRC32 hash (test run) : 934EC9C2
CRC32 hash : 934EC9C2
CRC32 hash (skip zero) : A3773F51
AccurateRip v1 signature : E150716F (CB665A88 w/correction)
AccurateRip v2 signature : F6442465
->Accurately ripped with different offset (v1, confidence 2/2, offset -1100)
Statistics
Read error : 0
Jitter error (maybe fixed) : 0
Retry sector count : 0
Damaged sector count : 0

Track 03
Filename : /Volumes/OWC 500/Torrents/The Oscar Peterson Trio at Zardi's/Disc 1/03 Oscar Peterson - Herbie's Tune.flac

Track gain : -2.98 dB
Peak : 0.780884
CRC32 hash (test run) : 0E332151
CRC32 hash : 0E332151
CRC32 hash (skip zero) : 0695E108
AccurateRip v1 signature : AB8B77D6 (91F267EE w/correction)
AccurateRip v2 signature : DCAE6E66
->Accurately ripped with different offset (v1, confidence 2/4, offset -1100)
Statistics
Read error : 0
Jitter error (maybe fixed) : 0
Retry sector count : 0
Damaged sector count : 0

Track 04
Filename : /Volumes/OWC 500/Torrents/The Oscar Peterson Trio at Zardi's/Disc 1/04 Oscar Peterson - There's A Small Hotel.flac

Track gain : -2.10 dB
Peak : 0.983948
CRC32 hash (test run) : C95BE36D
CRC32 hash : C95BE36D
CRC32 hash (skip zero) : 7E234A20
AccurateRip v1 signature : 3E99191B (B49E52B0 w/correction)
AccurateRip v2 signature : 6A9714E4
->Accurately ripped with different offset (v1, confidence 2/4, offset -1100)
Statistics
Read error : 0
Jitter error (maybe fixed) : 0
Retry sector count : 0
Damaged sector count : 0

Track 05
Filename : /Volumes/OWC 500/Torrents/The Oscar Peterson Trio at Zardi's/Disc 1/05 Oscar Peterson - How High The Moon.flac

Track gain : -5.84 dB
Peak : 0.999786
CRC32 hash (test run) : 80AE6F16
CRC32 hash : 80AE6F16
CRC32 hash (skip zero) : F09C3488
AccurateRip v1 signature : A0313BC1 (1229C1A3 w/correction)
AccurateRip v2 signature : E96FF1C8
->Accurately ripped with different offset (v1, confidence 2/4, offset -1100)
Statistics
Read error : 0
Jitter error (maybe fixed) : 0
Retry sector count : 0
Damaged sector count : 0

Track 06
Filename : /Volumes/OWC 500/Torrents/The Oscar Peterson Trio at Zardi's/Disc 1/06 Oscar Peterson - Noreen's Nocturne.flac
Pre-gap length : 00:00:45

Track gain : -4.57 dB
Peak : 1.000000
CRC32 hash (test run) : 36246CCD
CRC32 hash : 36246CCD
CRC32 hash (skip zero) : C1375694
AccurateRip v1 signature : B768B996 (0CAA1A37 w/correction)
AccurateRip v2 signature : D0564761
->Accurately ripped with different offset (v1, confidence 2/4, offset -1100)
Statistics
Read error : 0
Jitter error (maybe fixed) : 0
Retry sector count : 0
Damaged sector count : 0

Track 07
Filename : /Volumes/OWC 500/Torrents/The Oscar Peterson Trio at Zardi's/Disc 1/07 Oscar Peterson - I Was Doing Allright.flac
Pre-gap length : 00:10:62

Track gain : -1.60 dB
Peak : 0.960632
CRC32 hash (test run) : 37792F14
CRC32 hash : 37792F14
CRC32 hash (skip zero) : 659D0AED
AccurateRip v1 signature : B50908CE (FF711B97 w/correction)
AccurateRip v2 signature : 217D1B80
->Accurately ripped with different offset (v1, confidence 2/4, offset -1100)
Statistics
Read error : 0
Jitter error (maybe fixed) : 0
Retry sector count : 0
Damaged sector count : 0

Track 08
Filename : /Volumes/OWC 500/Torrents/The Oscar Peterson Trio at Zardi's/Disc 1/08 Oscar Peterson - Falling In Love With Love.flac
Pre-gap length : 00:03:57

Track gain : -4.19 dB
Peak : 1.000000
CRC32 hash (test run) : DE4C91F7
CRC32 hash : DE4C91F7
CRC32 hash (skip zero) : ECFBF9F5
AccurateRip v1 signature : 11DC9FC0 (8624EBF0 w/correction)
AccurateRip v2 signature : 5B2F1A33
->Accurately ripped with different offset (v1, confidence 2/4, offset -1100)
Statistics
Read error : 0
Jitter error (maybe fixed) : 0
Retry sector count : 0
Damaged sector count : 0

Track 09
Filename : /Volumes/OWC 500/Torrents/The Oscar Peterson Trio at Zardi's/Disc 1/09 Oscar Peterson - Big Fat Mama.flac
Pre-gap length : 00:00:70

Track gain : -3.91 dB
Peak : 1.000000
CRC32 hash (test run) : C6E69DD1
CRC32 hash : C6E69DD1
CRC32 hash (skip zero) : 36CF1B0F
AccurateRip v1 signature : 6AD4447D (A2B96934 w/correction)
AccurateRip v2 signature : 77ACCF36
->Accurately ripped with different offset (v1, confidence 2/4, offset -1100)
Statistics
Read error : 0
Jitter error (maybe fixed) : 0
Retry sector count : 0
Damaged sector count : 0

Track 10
Filename : /Volumes/OWC 500/Torrents/The Oscar Peterson Trio at Zardi's/Disc 1/10 Oscar Peterson - The Way You Look Tonight.flac
Pre-gap length : 00:08:35

Track gain : -2.11 dB
Peak : 0.996796
CRC32 hash (test run) : 10DE94B2
CRC32 hash : 10DE94B2
CRC32 hash (skip zero) : DAA06DC7
AccurateRip v1 signature : 87B59415 (62350AA6 w/correction)
AccurateRip v2 signature : D551408C
->Accurately ripped with different offset (v1, confidence 2/4, offset -1100)
Statistics
Read error : 0
Jitter error (maybe fixed) : 0
Retry sector count : 0
Damaged sector count : 0

Track 11
Filename : /Volumes/OWC 500/Torrents/The Oscar Peterson Trio at Zardi's/Disc 1/11 Oscar Peterson - Begin The Beguine.flac

Track gain : -4.23 dB
Peak : 0.999847
CRC32 hash (test run) : A8AC1F75
CRC32 hash : A8AC1F75
CRC32 hash (skip zero) : E2F08506
AccurateRip v1 signature : DCC92876 (67804F35 w/correction)
AccurateRip v2 signature : 5EDB594C
->Accurately ripped with different offset (v1, confidence 2/4, offset -1100)
Statistics
Read error : 0
Jitter error (maybe fixed) : 0
Retry sector count : 0
Damaged sector count : 0

Track 12
Filename : /Volumes/OWC 500/Torrents/The Oscar Peterson Trio at Zardi's/Disc 1/12 Oscar Peterson - Easy Does It.flac
Pre-gap length : 00:01:38

Track gain : -4.45 dB
Peak : 0.999878
CRC32 hash (test run) : 5DE59898
CRC32 hash : 5DE59898
CRC32 hash (skip zero) : B7FEFC35
AccurateRip v1 signature : 39B67B6B (C562E2ED w/correction)
AccurateRip v2 signature : 53EC06B8
->Accurately ripped with different offset (v1, confidence 2/4, offset -1100)
Statistics
Read error : 0
Jitter error (maybe fixed) : 0
Retry sector count : 0
Damaged sector count : 0

Track 13
Filename : /Volumes/OWC 500/Torrents/The Oscar Peterson Trio at Zardi's/Disc 1/13 Oscar Peterson - Will You Still Be Mine?.flac

Track gain : -4.85 dB
Peak : 1.000000
CRC32 hash (test run) : E6161A55
CRC32 hash : E6161A55
CRC32 hash (skip zero) : 045ED8AC
AccurateRip v1 signature : 9D06098B
AccurateRip v2 signature : C30F14D2
->Track not present in AccurateRip database.
Statistics
Read error : 0
Jitter error (maybe fixed) : 0
Retry sector count : 0
Damaged sector count : 0

Track 14
Filename : /Volumes/OWC 500/Torrents/The Oscar Peterson Trio at Zardi's/Disc 1/14 Oscar Peterson - Laura.flac
Pre-gap length : 00:01:60

Track gain : -2.42 dB
Peak : 0.998413
CRC32 hash (test run) : FA952BE4
CRC32 hash : FA952BE4
CRC32 hash (skip zero) : 9BF165C6
AccurateRip v1 signature : DB608787 (6D88C15D w/correction)
AccurateRip v2 signature : 3652146A
->Accurately ripped with different offset (v1, confidence 2/2, offset -1100)
Statistics
Read error : 0
Jitter error (maybe fixed) : 0
Retry sector count : 0
Damaged sector count : 0

Track 15
Filename : /Volumes/OWC 500/Torrents/The Oscar Peterson Trio at Zardi's/Disc 1/15 Oscar Peterson - Roy's Tune.flac
Pre-gap length : 00:01:03

Track gain : -3.85 dB
Peak : 0.965881
CRC32 hash (test run) : 9AC0703D
CRC32 hash : 9AC0703D
CRC32 hash (skip zero) : 17ED58E4
AccurateRip v1 signature : A2ABEF74 (2958A65A w/correction)
AccurateRip v2 signature : B1663D79
->Accurately ripped with different offset (v1, confidence 2/4, offset -1100)
Statistics
Read error : 0
Jitter error (maybe fixed) : 0
Retry sector count : 0
Damaged sector count : 0

No errors occurred

End of status report
[CUETools log; Date: 08.05.2019 1:50:02; Version: 2.1.4]
[CTDB TOCID: GTAvjnjQ4Y.iEDldMaef55BZkaA-] found.
Track | CTDB Status
1 | (21/21) Accurately ripped
2 | (21/21) Accurately ripped
3 | (21/21) Accurately ripped
4 | (21/21) Accurately ripped
5 | (21/21) Accurately ripped
6 | (21/21) Accurately ripped
7 | (21/21) Accurately ripped
8 | (21/21) Accurately ripped
9 | (21/21) Accurately ripped
10 | (21/21) Accurately ripped
11 | (21/21) Accurately ripped
12 | (21/21) Accurately ripped
13 | (21/21) Accurately ripped
14 | (21/21) Accurately ripped
15 | (19/21) Accurately ripped, or (2/21) differs in 2 samples @03:51:30-03:51:33
[AccurateRip ID: 0026fbb5-01bd59f8-bd110a0f] found.
Track [ CRC | V2 ] Status
01 [a26b2fb7|20c67427] (0+4/8) Accurately ripped
02 [e150716f|f6442465] (0+4/6) Accurately ripped
03 [ab8b77d6|dcae6e66] (0+4/8) Accurately ripped
04 [3e99191b|6a9714e4] (0+4/8) Accurately ripped
05 [a0313bc1|e96ff1c8] (0+4/8) Accurately ripped
06 [b768b996|d0564761] (0+4/8) Accurately ripped
07 [b50908ce|217d1b80] (0+4/8) Accurately ripped
08 [11dc9fc0|5b2f1a33] (0+4/8) Accurately ripped
09 [6ad4447d|77accf36] (0+4/8) Accurately ripped
10 [87b59415|d551408c] (0+4/8) Accurately ripped
11 [dcc92876|5edb594c] (0+4/8) Accurately ripped
12 [39b67b6b|53ec06b8] (0+4/8) Accurately ripped
13 [9d06098b|c30f14d2] (0+4/4) Accurately ripped
14 [db608787|3652146a] (0+4/6) Accurately ripped
15 [a2abef74|b1663d79] (0+4/8) Accurately ripped
Offsetted by -1100:
01 [3c8b6942] (2/8) Accurately ripped
02 [cb665a88] (2/6) Accurately ripped
03 [91f267ee] (2/8) Accurately ripped
04 [b49e52b0] (2/8) Accurately ripped
05 [1229c1a3] (2/8) Accurately ripped
06 [0caa1a37] (2/8) Accurately ripped
07 [ff711b97] (2/8) Accurately ripped
08 [8624ebf0] (2/8) Accurately ripped
09 [a2b96934] (2/8) Accurately ripped
10 [62350aa6] (2/8) Accurately ripped
11 [67804f35] (2/8) Accurately ripped
12 [c562e2ed] (2/8) Accurately ripped
13 [3ad243de] (0/4) No match (V2 was not tested)
14 [6d88c15d] (2/6) Accurately ripped
15 [2958a65a] (2/8) Accurately ripped
Offsetted by 252:
01 [41eaf3c6] (2/8) Accurately ripped
02 [355efbe4] (0/6) No match (V2 was not tested)
03 [ebb5581d] (2/8) Accurately ripped
04 [f687ec9c] (2/8) Accurately ripped
05 [88db13b3] (2/8) Accurately ripped
06 [6ca8446b] (2/8) Accurately ripped
07 [d13f7799] (2/8) Accurately ripped
08 [ddff4a59] (2/8) Accurately ripped
09 [4bf8fb6a] (2/8) Accurately ripped
10 [7325c061] (2/8) Accurately ripped
11 [71fe4aa1] (2/8) Accurately ripped
12 [0bb6f98f] (2/8) Accurately ripped
13 [94b06ddc] (0/4) No match (V2 was not tested)
14 [c7108b93] (0/6) No match (V2 was not tested)
15 [27a34384] (2/8) Accurately ripped

Track Peak [ CRC32 ] [W/O NULL]
– 100,0 [83B88E57] [1A4B5852]
01 93,4 [27E56CBB] [A1B0D1F2]
02 90,3 [934EC9C2] [A3773F51]
03 78,0 [0E332151] [0695E108]
04 98,3 [C95BE36D] [7E234A20]
05 99,9 [80AE6F16] [F09C3488]
06 100,0 [36246CCD] [C1375694]
07 96,0 [37792F14] [659D0AED]
08 100,0 [DE4C91F7] [ECFBF9F5]
09 100,0 [C6E69DD1] [36CF1B0F]
10 99,6 [10DE94B2] [DAA06DC7]
11 99,9 [A8AC1F75] [E2F08506]
12 99,9 [5DE59898] [B7FEFC35]
13 100,0 [E6161A55] [045ED8AC]
14 99,8 [FA952BE4] [9BF165C6]
15 96,5 [9AC0703D] [17ED58E4]
X Lossless Decoder version 20130602 (143.2)

XLD extraction logfile from 2013-07-19 20:09:44 -0700

Oscar Peterson / Live At Zardi's II 1955

Used drive : MATSHITA DVD-R UJ-898 (revision HC10)
Media type : Pressed CD

Ripper mode : XLD Secure Ripper
Disable audio cache : OK for the drive with a cache less than 1375KiB
Make use of C2 pointers : NO
Read offset correction : 102
Max retry count : 20
Gap status : Analyzed, Appended (except HTOA)

TOC of the extracted CD
Track | Start | Length | Start sector | End sector
––––––––––––––––––––––––––––-
1 | 00:00:00 | 05:00:22 | 0 | 22521
2 | 05:00:22 | 03:43:03 | 22522 | 39249
3 | 08:43:25 | 04:47:57 | 39250 | 60831
4 | 13:31:07 | 03:38:60 | 60832 | 77241
5 | 17:09:67 | 04:44:50 | 77242 | 98591
6 | 21:54:42 | 06:03:03 | 98592 | 125819
7 | 27:57:45 | 02:56:02 | 125820 | 139021
8 | 30:53:47 | 05:56:60 | 139022 | 165781
9 | 36:50:32 | 06:10:38 | 165782 | 193569
10 | 43:00:70 | 07:50:27 | 193570 | 228846
11 | 50:51:22 | 04:40:05 | 228847 | 249851
12 | 55:31:27 | 05:06:43 | 249852 | 272844
13 | 60:37:70 | 06:11:02 | 272845 | 300671
14 | 66:48:72 | 06:43:23 | 300672 | 330919
15 | 73:32:20 | 02:40:05 | 330920 | 342924

AccurateRip Summary (DiscID: 00286a75-01d1ce61-af11dc0f)
Track 01 : OK (v1, confidence 3/3)
Track 02 : OK (v1, confidence 3/3)
Track 03 : OK (v1, confidence 3/3)
Track 04 : OK (v1, confidence 3/3)
Track 05 : OK (v1, confidence 3/3)
Track 06 : OK (v1, confidence 3/3)
Track 07 : OK (v1, confidence 3/3)
Track 08 : OK (v1, confidence 3/3)
Track 09 : OK (v1, confidence 3/3)
Track 10 : OK (v1, confidence 3/3)
Track 11 : OK (v1, confidence 3/3)
Track 12 : OK (v1, confidence 3/3)
Track 13 : OK (v1, confidence 3/3)
Track 14 : OK (v1, confidence 3/3)
Track 15 : OK (v1, confidence 3/3)
->All tracks accurately ripped.

All Tracks
Album gain : -4.15 dB
Peak : 1.000000
Statistics
Read error : 0
Jitter error (maybe fixed) : 0
Retry sector count : 0
Damaged sector count : 0

Track 01
Filename : /Volumes/OWC 500/Torrents/The Oscar Peterson Trio at Zardi's/Disc 2/01 Oscar Peterson - The Continental.flac
Pre-gap length : 00:02:00

Track gain : -2.56 dB
Peak : 0.963013
CRC32 hash (test run) : 710CA1E4
CRC32 hash : 710CA1E4
CRC32 hash (skip zero) : 03F43D5D
AccurateRip v1 signature : 92C061A0
AccurateRip v2 signature : C88A4A18
->Accurately ripped (v1, confidence 3/3)
Statistics
Read error : 0
Jitter error (maybe fixed) : 0
Retry sector count : 0
Damaged sector count : 0

Track 02
Filename : /Volumes/OWC 500/Torrents/The Oscar Peterson Trio at Zardi's/Disc 2/02 Oscar Peterson - You Are Too Beautiful.flac
Pre-gap length : 00:04:22

Track gain : -1.83 dB
Peak : 0.921753
CRC32 hash (test run) : 590C5EAD
CRC32 hash : 590C5EAD
CRC32 hash (skip zero) : 12215DF2
AccurateRip v1 signature : 32EADF70
AccurateRip v2 signature : 10FEF4D5
->Accurately ripped (v1, confidence 3/3)
Statistics
Read error : 0
Jitter error (maybe fixed) : 0
Retry sector count : 0
Damaged sector count : 0

Track 03
Filename : /Volumes/OWC 500/Torrents/The Oscar Peterson Trio at Zardi's/Disc 2/03 Oscar Peterson - Pompton Turnpike.flac

Track gain : -4.83 dB
Peak : 1.000000
CRC32 hash (test run) : 0E987704
CRC32 hash : 0E987704
CRC32 hash (skip zero) : 8917956C
AccurateRip v1 signature : 271C6130
AccurateRip v2 signature : 5E1C755F
->Accurately ripped (v1, confidence 3/3)
Statistics
Read error : 0
Jitter error (maybe fixed) : 0
Retry sector count : 0
Damaged sector count : 0

Track 04
Filename : /Volumes/OWC 500/Torrents/The Oscar Peterson Trio at Zardi's/Disc 2/04 Oscar Peterson - Surrey With The Fringe On Top.flac

Track gain : -4.83 dB
Peak : 1.000000
CRC32 hash (test run) : FB5270D4
CRC32 hash : FB5270D4
CRC32 hash (skip zero) : A87E5EB2
AccurateRip v1 signature : C6F5B8D8
AccurateRip v2 signature : 6CEAB379
->Accurately ripped (v1, confidence 3/3)
Statistics
Read error : 0
Jitter error (maybe fixed) : 0
Retry sector count : 0
Damaged sector count : 0

Track 05
Filename : /Volumes/OWC 500/Torrents/The Oscar Peterson Trio at Zardi's/Disc 2/05 Oscar Peterson - Swinging with a Star.flac
Pre-gap length : 00:00:07

Track gain : -5.18 dB
Peak : 0.999969
CRC32 hash (test run) : DD57DB57
CRC32 hash : DD57DB57
CRC32 hash (skip zero) : 09D26943
AccurateRip v1 signature : A88B64A6
AccurateRip v2 signature : 5288DF86
->Accurately ripped (v1, confidence 3/3)
Statistics
Read error : 0
Jitter error (maybe fixed) : 0
Retry sector count : 0
Damaged sector count : 0

Track 06
Filename : /Volumes/OWC 500/Torrents/The Oscar Peterson Trio at Zardi's/Disc 2/06 Oscar Peterson - I've Got You Under My Skin.flac
Pre-gap length : 00:01:12

Track gain : -3.96 dB
Peak : 0.999725
CRC32 hash (test run) : A29DE080
CRC32 hash : A29DE080
CRC32 hash (skip zero) : E707DBB6
AccurateRip v1 signature : 2CC5C115
AccurateRip v2 signature : 3C0A78DE
->Accurately ripped (v1, confidence 3/3)
Statistics
Read error : 0
Jitter error (maybe fixed) : 0
Retry sector count : 0
Damaged sector count : 0

Track 07
Filename : /Volumes/OWC 500/Torrents/The Oscar Peterson Trio at Zardi's/Disc 2/07 Oscar Peterson - Autumn Leaves.flac
Pre-gap length : 00:03:48

Track gain : -0.23 dB
Peak : 0.998993
CRC32 hash (test run) : 1D6EA452
CRC32 hash : 1D6EA452
CRC32 hash (skip zero) : 981076B8
AccurateRip v1 signature : 0B299BCF
AccurateRip v2 signature : 063A62C2
->Accurately ripped (v1, confidence 3/3)
Statistics
Read error : 0
Jitter error (maybe fixed) : 0
Retry sector count : 0
Damaged sector count : 0

Track 08
Filename : /Volumes/OWC 500/Torrents/The Oscar Peterson Trio at Zardi's/Disc 2/08 Oscar Peterson - Love For Sale.flac

Track gain : -4.80 dB
Peak : 0.999969
CRC32 hash (test run) : 7F05EEE7
CRC32 hash : 7F05EEE7
CRC32 hash (skip zero) : A781DFC3
AccurateRip v1 signature : 9F1B4F08
AccurateRip v2 signature : F8EBF846
->Accurately ripped (v1, confidence 3/3)
Statistics
Read error : 0
Jitter error (maybe fixed) : 0
Retry sector count : 0
Damaged sector count : 0

Track 09
Filename : /Volumes/OWC 500/Torrents/The Oscar Peterson Trio at Zardi's/Disc 2/09 Oscar Peterson - Soft Winds.flac
Pre-gap length : 00:00:25

Track gain : -5.20 dB
Peak : 1.000000
CRC32 hash (test run) : 2E66D689
CRC32 hash : 2E66D689
CRC32 hash (skip zero) : B28FAF24
AccurateRip v1 signature : 34F48D5D
AccurateRip v2 signature : 9C944C34
->Accurately ripped (v1, confidence 3/3)
Statistics
Read error : 0
Jitter error (maybe fixed) : 0
Retry sector count : 0
Damaged sector count : 0

Track 10
Filename : /Volumes/OWC 500/Torrents/The Oscar Peterson Trio at Zardi's/Disc 2/10 Oscar Peterson - Medley: I Loves You Porgy & Anything Goes.flac
Pre-gap length : 00:00:35

Track gain : -3.34 dB
Peak : 1.000000
CRC32 hash (test run) : FE5D3F18
CRC32 hash : FE5D3F18
CRC32 hash (skip zero) : 33BDD9E2
AccurateRip v1 signature : 93497046
AccurateRip v2 signature : E090F3A1
->Accurately ripped (v1, confidence 3/3)
Statistics
Read error : 0
Jitter error (maybe fixed) : 0
Retry sector count : 0
Damaged sector count : 0

Track 11
Filename : /Volumes/OWC 500/Torrents/The Oscar Peterson Trio at Zardi's/Disc 2/11 Oscar Peterson - It's A Marshmallow World.flac

Track gain : -3.68 dB
Peak : 0.970917
CRC32 hash (test run) : EA612DE6
CRC32 hash : EA612DE6
CRC32 hash (skip zero) : 22EE548E
AccurateRip v1 signature : 576AFBD9
AccurateRip v2 signature : F340E13D
->Accurately ripped (v1, confidence 3/3)
Statistics
Read error : 0
Jitter error (maybe fixed) : 0
Retry sector count : 0
Damaged sector count : 0

Track 12
Filename : /Volumes/OWC 500/Torrents/The Oscar Peterson Trio at Zardi's/Disc 2/12 Oscar Peterson - Tenderly.flac

Track gain : -3.84 dB
Peak : 0.999969
CRC32 hash (test run) : F6A1DCD7
CRC32 hash : F6A1DCD7
CRC32 hash (skip zero) : 435A6722
AccurateRip v1 signature : 55269536
AccurateRip v2 signature : 79F3455B
->Accurately ripped (v1, confidence 3/3)
Statistics
Read error : 0
Jitter error (maybe fixed) : 0
Retry sector count : 0
Damaged sector count : 0

Track 13
Filename : /Volumes/OWC 500/Torrents/The Oscar Peterson Trio at Zardi's/Disc 2/13 Oscar Peterson - Honeysuckle Rose.flac
Pre-gap length : 00:03:23

Track gain : -3.60 dB
Peak : 0.880920
CRC32 hash (test run) : 8FC630C0
CRC32 hash : 8FC630C0
CRC32 hash (skip zero) : D4C725E5
AccurateRip v1 signature : 71A64346
AccurateRip v2 signature : B30C310E
->Accurately ripped (v1, confidence 3/3)
Statistics
Read error : 0
Jitter error (maybe fixed) : 0
Retry sector count : 0
Damaged sector count : 0

Track 14
Filename : /Volumes/OWC 500/Torrents/The Oscar Peterson Trio at Zardi's/Disc 2/14 Oscar Peterson - Love You Madly.flac

Track gain : -4.92 dB
Peak : 1.000000
CRC32 hash (test run) : 00B2B5DF
CRC32 hash : 00B2B5DF
CRC32 hash (skip zero) : 595B04A1
AccurateRip v1 signature : E28B84BE
AccurateRip v2 signature : B67269CD
->Accurately ripped (v1, confidence 3/3)
Statistics
Read error : 0
Jitter error (maybe fixed) : 0
Retry sector count : 0
Damaged sector count : 0

Track 15
Filename : /Volumes/OWC 500/Torrents/The Oscar Peterson Trio at Zardi's/Disc 2/15 Oscar Peterson - Have You Met Miss Jones?.flac

Track gain : -3.24 dB
Peak : 0.962921
CRC32 hash (test run) : 363099FD
CRC32 hash : 363099FD
CRC32 hash (skip zero) : DD413291
AccurateRip v1 signature : D933CEB5
AccurateRip v2 signature : C9C3E9D7
->Accurately ripped (v1, confidence 3/3)
Statistics
Read error : 0
Jitter error (maybe fixed) : 0
Retry sector count : 0
Damaged sector count : 0

No errors occurred

End of status report
[CUETools log; Date: 08.05.2019 1:50:22; Version: 2.1.4]
[CTDB TOCID: 4Tz44YbbST7eZzkOj1BEkV_1L7s-] found.
Track | CTDB Status
1 | (9/9) Accurately ripped
2 | (9/9) Accurately ripped
3 | (9/9) Accurately ripped
4 | (9/9) Accurately ripped
5 | (9/9) Accurately ripped
6 | (9/9) Accurately ripped
7 | (9/9) Accurately ripped
8 | (8/9) Accurately ripped
9 | (9/9) Accurately ripped
10 | (9/9) Accurately ripped
11 | (9/9) Accurately ripped
12 | (9/9) Accurately ripped
13 | (9/9) Accurately ripped
14 | (9/9) Accurately ripped
15 | (9/9) Accurately ripped
[AccurateRip ID: 00286a75-01d1ce61-af11dc0f] found.
Track [ CRC | V2 ] Status
01 [92c061a0|c88a4a18] (3+4/7) Accurately ripped
02 [32eadf70|10fef4d5] (3+4/7) Accurately ripped
03 [271c6130|5e1c755f] (3+4/7) Accurately ripped
04 [c6f5b8d8|6ceab379] (3+4/7) Accurately ripped
05 [a88b64a6|5288df86] (3+4/7) Accurately ripped
06 [2cc5c115|3c0a78de] (3+4/7) Accurately ripped
07 [0b299bcf|063a62c2] (3+4/7) Accurately ripped
08 [9f1b4f08|f8ebf846] (3+4/7) Accurately ripped
09 [34f48d5d|9c944c34] (3+4/7) Accurately ripped
10 [93497046|e090f3a1] (3+4/7) Accurately ripped
11 [576afbd9|f340e13d] (3+4/7) Accurately ripped
12 [55269536|79f3455b] (3+4/7) Accurately ripped
13 [71a64346|b30c310e] (3+4/7) Accurately ripped
14 [e28b84be|b67269cd] (3+4/7) Accurately ripped
15 [d933ceb5|c9c3e9d7] (3+4/7) Accurately ripped

Track Peak [ CRC32 ] [W/O NULL]
– 100,0 [CFFC38EC] [EDDF1EC4]
01 96,3 [710CA1E4] [03F43D5D]
02 92,1 [590C5EAD] [12215DF2]
03 100,0 [0E987704] [8917956C]
04 100,0 [FB5270D4] [A87E5EB2]
05 100,0 [DD57DB57] [09D26943]
06 99,9 [A29DE080] [E707DBB6]
07 99,9 [1D6EA452] [981076B8]
08 99,9 [7F05EEE7] [A781DFC3]
09 100,0 [2E66D689] [B28FAF24]
10 100,0 [FE5D3F18] [33BDD9E2]
11 97,0 [EA612DE6] [22EE548E]
12 100,0 [F6A1DCD7] [435A6722]
13 88,0 [8FC630C0] [D4C725E5]
14 100,0 [00B2B5DF] [595B04A1]
15 96,2 [363099FD] [DD413291]
Thanks to
pcg1993See also: