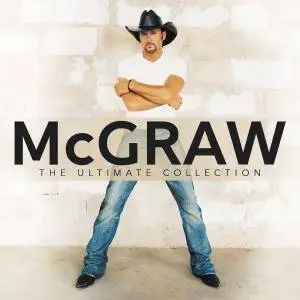 Tim McGraw - McGRAW (The Ultimate Collection)
Country | MP3 CBR 320 kbps | 231:56 min | 532 MB
Label: Curb Records | Tracks: 60 | Rls.date: 2016
Originally released as a limited retailer exclusive in 2016, the four-disc McGraw: The Ultimate Collection is the most comprehensive Tim McGraw compilation yet released — a none-too-small accomplishment, considering that just a year before Curb released the double-disc set 35 Biggest Hits. That 2015 compilation remains a little more user-friendly than McGraw, which contains three discs of hits and deep cuts (there is a lot of overlap between this and 35 Biggest Hits), plus a disc of rarities. These are covers, live versions, tracks that showed up on soundtracks, and other stray songs, and it not only provides a nice enticement for the hardcore fans to pick up McGraw, it helps illustrate how there's a lot more to Tim McGraw than what is commonly heard on the radio.
TRACKLIST
CD1
1. Tim McGraw – Indian Outlaw (03:01)
2. Tim McGraw – Don't Take the Girl (04:09)
3. Tim McGraw – Down On the Farm (02:55)
4. Tim McGraw – Not a Moment Too Soon (03:46)
5. Tim McGraw – Refried Dreams (02:45)
6. Tim McGraw – I Like It, I Love It (03:23)
7. Tim McGraw – Can't Be Really Gone (03:19)
8. Tim McGraw – All I Want Is a Life (03:31)
9. Tim McGraw – She Never Lets It Go To Her Heart (03:01)
10. Tim McGraw – Maybe We Should Just Sleep On It (03:54)
11. Tim McGraw & Faith Hill – It's Your Love (03:45)
12. Tim McGraw – Everywhere (04:49)
13. Tim McGraw – Just To See You Smile (03:33)
14. Tim McGraw – One of These Days (04:41)
15. Tim McGraw – Where the Green Grass Grows (03:22)
CD2
1. Tim McGraw – For a Little While (03:33)
2. Tim McGraw – Please Remember Me (04:54)
3. Tim McGraw – Something Like That (03:03)
4. Tim McGraw – My Best Friend (04:38)
5. Tim McGraw – My Next Thirty Years (03:37)
6. Tim McGraw – Some Things Never Change (03:56)
7. Tim McGraw – Grown Men Don't Cry (03:53)
8. Tim McGraw – Angry All the Time (04:29)
9. Tim McGraw – The Cowboy In Me (04:04)
10. Tim McGraw – Unbroken (Single Version) (03:33)
11. Tim McGraw – Red Ragtop (Single Version) (04:08)
12. Tim McGraw – She's My Kind of Rain (04:12)
13. Tim McGraw – Real Good Man (04:13)
14. Tim McGraw – Watch the Wind Blow By (04:35)
15. Tim McGraw – Live Like You Were Dying (04:55)
16. Tim McGraw – Back When (Single Version) (04:32)
CD3
1. Tim McGraw & Nelly – Over and Over (04:13)
2. Tim McGraw – Do You Want Fries With That (03:56)
3. Tim McGraw – My Old Friend (03:33)
4. Tim McGraw – When the Stars Go Blue (Single Version) (03:27)
5. Tim McGraw – My Little Girl (03:38)
6. Tim McGraw – Last Dollar (Fly Away) [Single Version] (03:56)
7. Tim McGraw – Suspicions (Single Version) (04:12)
8. Tim McGraw – If You're Reading This (04:09)
9. Tim McGraw – Kristofferson (03:21)
10. Tim McGraw – Let It Go (03:43)
11. Tim McGraw – Nothin' To Die For (04:11)
12. Tim McGraw – It's a Business Doing Pleasure With You (03:05)
13. Tim McGraw – Southern Voice (04:00)
14. Tim McGraw – Still (03:42)
15. Tim McGraw – Felt Good On My Lips (Single Version) (03:57)
16. Tim McGraw – Better Than I Used To Be (03:21)
CD4
1. Tim McGraw – Free Man (04:13)
2. Tim McGraw – Bang, Bang, Bang (04:07)
3. Tim McGraw – Candle for a Cowboy (03:42)
4. Tim McGraw – How Forever Feels (03:16)
5. Tim McGraw – The Joker (04:55)
6. Tim McGraw – I Drink (03:38)
7. Tim McGraw – Shotgun Rider (04:21)
8. Tim McGraw – Louisiana (04:34)
9. Tim McGraw – Wherever the Trail May Lead (03:32)
10. Tim McGraw – Don't Take the Girl (Acoustic) (04:15)
11. Tim McGraw – Just When I Needed You Most (Live) (03:31)
12. Tim McGraw – Felt Good On My Lips (Live Video Version) (04:03)
13. Tim McGraw – The Ride (Live) (03:16)