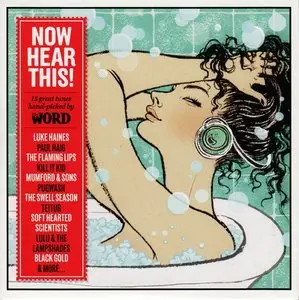 VA - Now Hear This! (The Word Magazine, December 2009)
15 great tunes hand-picked by The Word
MP3 320 kbps | Covers | 128 MB
Tracks
01. Luke Haines - Peter Hammill (2:51)
02. Paul Haig - Good Thing (3:45)
03. Pugwash - Nice To Be Nice (3:27)
04. The Flaming Lips - Convinced Of The Hex (3:56)
05. Bassekou Kouyate & Ngoni Ba - Torin Torin (4:47)
06. The Swell Season - Low Rising (4:48)
07. Lulu & The Lampshades - Rose Tint (2:52)
08. McAlmont & Nyman - Secrets, Accusations & Charges (3:32)
09. Teitur - Hitchhiker (3:47)
10. Le Reno Amps - If You Want A Lover (3:13)
11. Black Gold - Silver (3:18)
12. Mumford & Sons - I Gave You All (4:17)
13. Dave Rawlings Machine - To Be Young (Is To Be Sad, Is To Be High) (3:48)
14. Soft Hearted Scientists - Garden Song (3:24)
15. Kill It Kid - Heaven Never Seemed So Close (3:22)
Total time:
55m 7s
What's on the CD with the December issue
1. Luke Haynes - Peter Hammill
In the wake of his accaimed memoir about the part he played in Britpop, the former Auteur appears with an album that comes either on its own or twinned with a more experimental affair titled Achtung Mutha. It's trailed by this song about the solo artist and leader of the intermittently re-formed Van Der Graaf Generator, which goes to underscore Bob Seger's view that rock and roll never forgets.
From the album
21st Century Man
2. Paul Haig - Good Thing
What's that about there being no second chances in the music business? The former leader of post-punk band Josef K, the only act to release a long-player on the Postcard label during its first incarnation, recorded his first solo album in 1983. Since then he has ventured into electro-funk under the alias Rhythm Of Life, collaborated with the late Billie Mackenzie, Bernard Sumner and Cabaret Votaire and made several "imaginary soundtracks". This is album number ten.
From the album
Relive
3. Pugwash - Nice To Be Nice
Best known over here as Neil Hannon's collaborator in The Duckworth Lewis Method, Thomas Walsh is primarily the mainstay of Irish folkie act Pugwash. This track, which owes at least something to The Beach Boys, comes from a compilation of the best of Pugwash's albums so far.
From the album
Giddy
4. The Flaming Lips - Convinced Of The Hex
At the point in their career, round about that difficult 12th album, when you would think groups would be trying to refine what they do and aim it at a particular market, the Lips have thrown everything up in the air and made their most abstruse album yet. And they've made it a double, beginning with this track. Hooray!
From the album
Embyonic
5. Bassekou Kouyate & Ngoni Ba
Malian musician Kouyate is not just the world's greatest master of the small West African lute known as the ngoni, he's also the first person to take it to a wider audience, which he first did by the simple act of standing up to play it. His previous album Segu Blue was named album of the year at the BBC World Music Awards.
From the album
I Speak Fula
6. The Swell Season - Low Rising
The Swell Season was originally the name of an album by Glen Hansard of The Frames and Czech singer Markéta Irglová, recorded in Prague while they were both contributing to a soundtrack for the film Beauty In Trouble. The story of their meeting and musical collaboration would partly inspire the 2006 Irish independent film Once, in which they took the starring roles and won best original song at the Oscars for Falling Slowly. This is their second album as a duo.
From the album
Strict Joy
7. Lulu & The Lampshades - Rose Tint
A group who perform on stage with two dancing members dressed as lampshades, who improvise rhythmic a cappella with empty soup cartons on YouTube, who play the ukulele, who understand that their job is to entertain. For the love of God, what's not to like?
From the album
Feet To The Sky
8. McAlmont & Nyman
In which serial collaborator David McAlmont comes together with the master of the minimal movie soundtrack Michael Nyman to create a record whose lyrics are not, as is traditional, based on what's supposedly going on in the artists' tangled love life but instead by items found in "the glare" of the news.
From the album
The Glare
9. Teitur - Hitchhiker
The new album by Danish artist Teitur is "a document of his extraordinary journey from his home on the remote and isolated Faroe Islands to the UK, via Los Angeles, Denmark and a whole host of other countries in-between". His songs have been described by guitarist/songwriter John Mayer as "jet fuel on the fire of a broken heart".
From the album
Through The Devil Softly
10. Le Reno Amps
"We try to write songs with all the fat cut off so you can savour their buttery goodness," says Scott Maple, who formed Le Reno Amps with Al Nero in the north-east of Scotland. Now a three-man/one-woman outfit, their bizarre name is apparently "nothing more than an anagram of Maple and Nero". This track is from their fourth album, which was recorded in The Delgados' Chem19 studios in Hamilton and produced by Andy Miller, who has worked with Mogwai and Arab Strap.
From the album
Tear It Open
11. Black Gold - Silver
Brooklyn-based Black Gold was formed by vocalist Eric Ronick and guitarist/percussionist Than Luu in early 2006. The pair have toured with M Ward, Rachael Yamagata, Panic! At The Disco and Adam Franklin of Swervedriver. Rush, the band's debut album, which is where this little nugget came from, was recorded in Ronick's Brooklyn studio.
From the forthcoming album
Rush
12. Mumford & Sons - I Gave You All
Impressing all who have seen them in recent months with the vigour of their live performances, Mumford & Sons - Marcus Mumford, Ben Lovett, Country Winston (probably not his real name) and Ted Dwayne - arise from the same gene pool as Laura Marling and Noah & The Whale. This is their first record.
From the album
Sigh No More
13. Dave Rawlings Machine - To Be Young Is To Be Sad, Is To Be High)
Since putting out Gillian Welch's last album, Soul Journey, the musical collaboration between Welch and her partner has gone out under the name the Dave Rawlings Machine. They play a collection of classic covers, originals and songs such as this, which was written by their pal Ryan Adams.
From the album
A Friend Of A Friend
14. Soft Hearted Scientists - Garden Song
It says here that their formation was something to do with mountains, coffee and mermaids. While this is debatable, what is more certain is that Soft Hearted Scientists are a Welsh four-piece who specialise in acoustic guitars and psychedelia. They are signed to Cardiff-based My Kung Fu and have apparently been working on three albums simultaneously, including the set of home demos on which this appears.
From the album
Scarecrow Smile
15. Kill It Kids - Heaven Never Seemed So Close
Named after a Blind Willie McTell song, Kill It Kid have been impressing musos and tastemakers alike (including the legendary Walking Gig, Steve Lamacq) with their rootsy brand of Americana-influenced ragtime rock. This powerful bluster is taken from their debut, recorded in Seattle with erstwhile Foo Fighters producer Ryan Hadley – worlds away from singer Chris Turpin's first musical outing, on an industrial estate in Norfolk.
From the album
Kill It Kid
Download
One File
(3% recovery record)
Password: we1142