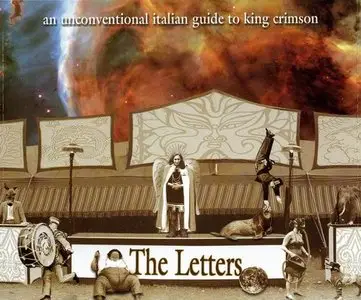 V.A. - The Letters: An Unconventional Italian Guide to King Crimson (2004)
EAC Rip | FLAC (tracks+.cue+log) - 1,11 GB | MP3 CBR 320 kbps (LAME 3.93) - 440 MB | Covers - 20 MB
Genre: Progressive Rock | RAR 3% Rec. | Label: Mellow Records (MMP 460 ABC)
This is three-CD compilation released by Mellow Records as a King Crimson tribute. Among the performers are some of the most prominent contemporary progressive bands, with a wide variety ranging from the old-fashioned spaghetti-prog of Germinale or Malibran to the jazzcore ardour of Anatrofobia and Caboto. Some of the cover versions are quite calligraphic while others reshape the compositions more deeply (Nema Niko and Comfort bring in some electronica, Mariposa show their chamber-punk attitude - and their awful English pronounciation, Mosaic Orchestra almost have a fanfare sound), but they're all substantially faithful and well-played, with many great renditions and a very good overall result.
CD 1 Tracklist:
01. Stefano Bollani - Frame By Frame
02. Germinale -Doctor Diamond
03. Nema Miko - The Talking Drum
04. Spirosfera - Cat Food
05. Roversi/Caimi/Menotti - Discipline
06. Soundvision - One More Red Nightmare
07. Anatrofobia - The Sailor's Tale
08. Tilion - One Time
09. Tabroban - Larks' Tongues In Aspic Part 2
10. Three Of A Charming Pair - Inner Garden I & II
11. Prophexy - The Great Deceiver
12. Giardini D'Autunno - Formentara Lady
13. Psychonoesis - Starless
Total time:
01:17:07
CD 2 Tracklist:
01. Goad - Epitaph
02. Costa/Mombrini/Piazzi - Lady Of The Dancing Water
03. Jet Lag - Pictures Of A City
04. Ubi Maior - Prince Rupert Awakes
05. L'imbroglio - Providence
06. Malibran - I Talk To The Wind
07. Floating State - Exiles
08. Notturno Concertante - Cadence And Cascade
09. Greenwall - Larks' Tongues In Aspic Part 1
10. Caboto - Moonchild
11. The Slowmovies - Matte Kudasai
12. ZAQ - In The Court Of The Crimson King
13. Mariposa - Sex Sleep Eat Drink Dream
Total time:
01:21:14
CD 3 Tracklist:
01. Mosaic Orchestra - Red
02. Comfort - We'll Let You Know/Fracture
03. Nodo Gordiano - Lament
04. Aria Palea - The Great Deceiver
Total time:
26:28
Exact Audio Copy V0.99 prebeta 1 from 25. May 2007

Отчёт EAC об извлечении, выполненном 9. марта 2010, 21:07

Various / The letters An unconventional italian guide to King Crimson disc 1

Дисковод: PIONEER DVD-RW DVR-212D Adapter: 1 ID: 1

Режим чтения : Достоверность
Использование точного потока : Да
Отключение кэша аудио : Да
Использование указателей C2 : Нет

Коррекция смещения при чтении : 48
Способность читать области Lead-in и Lead-out : Нет
Заполнение пропущенных сэмплов тишиной : Да
Удаление блоков с тишиной в начале и конце : Нет
Интерфейс : Установленный внешний ASPI-интерфейс
Обработка зазоров : Не обнаружено, добавлено к предыдущему треку

Выходной формат : Пользовательский кодировщик
Выбранный битрейт : 768 kBit/s
Качество : Высокий
Добавление ID3-тэга : Нет
Утилита сжатия : C:\Program Files\Exact Audio Copy\FLAC\FLAC.EXE
Дополнительные параметры : -6 -V -T "ARTIST=%a" -T "TITLE=%t" -T "ALBUM=%g" -T "DATE=%y" -T "TRACKNUMBER=%n" -T "GENRE=%m" -T "COMMENT=%e" %s -o %d


TOC извлечённого CD

Трек | Старт | Длительность | Начальный сектор | Конечный сектор
––––––––––––––––––––––––––––––––––-
1 | 0:00.00 | 3:10.00 | 0 | 14249
2 | 3:10.00 | 5:32.00 | 14250 | 39149
3 | 8:42.00 | 7:28.00 | 39150 | 72749
4 | 16:10.00 | 4:07.00 | 72750 | 91274
5 | 20:17.00 | 5:23.00 | 91275 | 115499
6 | 25:40.00 | 6:40.00 | 115500 | 145499
7 | 32:20.00 | 5:02.00 | 145500 | 168149
8 | 37:22.00 | 9:11.00 | 168150 | 209474
9 | 46:33.00 | 6:28.00 | 209475 | 238574
10 | 53:01.00 | 6:02.00 | 238575 | 265724
11 | 59:03.00 | 3:56.00 | 265725 | 283424
12 | 62:59.00 | 8:40.00 | 283425 | 322424
13 | 71:39.00 | 7:28.00 | 322425 | 356024


Трек 1

Имя файла E:\TORRENT\The Letters - Italian Guide to KC (2004)\CD1\01 - frame by frame.wav

Пиковый уровень 98.0 %
Качество трека 100.0 %
CRC теста 34F5E66B
CRC копии 34F5E66B
Трек не обнаружен в базе AccurateRip
Копирование… OK

Трек 2

Имя файла E:\TORRENT\The Letters - Italian Guide to KC (2004)\CD1\02 - diamond diamond.wav

Пиковый уровень 99.3 %
Качество трека 100.0 %
CRC теста D7546430
CRC копии D7546430
Трек не обнаружен в базе AccurateRip
Копирование… OK

Трек 3

Имя файла E:\TORRENT\The Letters - Italian Guide to KC (2004)\CD1\03 - the talking drum.wav

Пиковый уровень 98.1 %
Качество трека 100.0 %
CRC теста 3B359D69
CRC копии 3B359D69
Трек не обнаружен в базе AccurateRip
Копирование… OK

Трек 4

Имя файла E:\TORRENT\The Letters - Italian Guide to KC (2004)\CD1\04 - cat food.wav

Пиковый уровень 99.5 %
Качество трека 100.0 %
CRC теста 13B11F1B
CRC копии 13B11F1B
Трек не обнаружен в базе AccurateRip
Копирование… OK

Трек 5

Имя файла E:\TORRENT\The Letters - Italian Guide to KC (2004)\CD1\05 - discipline.wav

Пиковый уровень 100.0 %
Качество трека 100.0 %
CRC теста F5E77786
CRC копии F5E77786
Трек не обнаружен в базе AccurateRip
Копирование… OK

Трек 6

Имя файла E:\TORRENT\The Letters - Italian Guide to KC (2004)\CD1\06 - one more red nightmare.wav

Пиковый уровень 98.4 %
Качество трека 100.0 %
CRC теста 74B8AA0D
CRC копии 74B8AA0D
Трек не обнаружен в базе AccurateRip
Копирование… OK

Трек 7

Имя файла E:\TORRENT\The Letters - Italian Guide to KC (2004)\CD1\07 - the sailor's tale.wav

Пиковый уровень 99.1 %
Качество трека 100.0 %
CRC теста 1D6FD3C9
CRC копии 1D6FD3C9
Трек не обнаружен в базе AccurateRip
Копирование… OK

Трек 8

Имя файла E:\TORRENT\The Letters - Italian Guide to KC (2004)\CD1\08 - one time.wav

Пиковый уровень 98.6 %
Качество трека 100.0 %
CRC теста 621B1BC3
CRC копии 621B1BC3
Трек не обнаружен в базе AccurateRip
Копирование… OK

Трек 9

Имя файла E:\TORRENT\The Letters - Italian Guide to KC (2004)\CD1\09 - lark's tongues in aspic part 2.wav

Пиковый уровень 98.5 %
Качество трека 100.0 %
CRC теста 67AE31F3
CRC копии 67AE31F3
Трек не обнаружен в базе AccurateRip
Копирование… OK

Трек 10

Имя файла E:\TORRENT\The Letters - Italian Guide to KC (2004)\CD1\10 - inner garden I and II.wav

Пиковый уровень 96.5 %
Качество трека 100.0 %
CRC теста 528736F0
CRC копии 528736F0
Трек не обнаружен в базе AccurateRip
Копирование… OK

Трек 11

Имя файла E:\TORRENT\The Letters - Italian Guide to KC (2004)\CD1\11 - the great deceiver.wav

Пиковый уровень 100.0 %
Качество трека 100.0 %
CRC теста 3A8443FD
CRC копии 3A8443FD
Трек не обнаружен в базе AccurateRip
Копирование… OK

Трек 12

Имя файла E:\TORRENT\The Letters - Italian Guide to KC (2004)\CD1\12 - formentera lady.wav

Пиковый уровень 98.8 %
Качество трека 99.9 %
CRC теста 2B24900C
CRC копии 2B24900C
Трек не обнаружен в базе AccurateRip
Копирование… OK

Трек 13

Имя файла E:\TORRENT\The Letters - Italian Guide to KC (2004)\CD1\13 - starless.wav

Пиковый уровень 98.8 %
Качество трека 100.0 %
CRC теста D215431E
CRC копии D215431E
Трек не обнаружен в базе AccurateRip
Копирование… OK

Ошибок не произошло

Конец отчёта
[CUETools log; Date: 25.07.2014 15:32:00; Version: 2.0.9]
[CTDB TOCID: JvawejwSgMIRLGxDyYe3i34S2dU-] disk not present in database.
[AccurateRip ID: 00236f31-0169f429-b2128b0d] disk not present in database.

Track Peak [ CRC32 ] [W/O NULL] [ LOG ]
– 100,0 [808C2B4B] [5334FB00]
01 98,0 [FE7DC00A] [34F5E66B] W/O NULL
02 99,3 [45253EFB] [D7546430] W/O NULL
03 98,1 [FAAAD8B1] [3B359D69] W/O NULL
04 99,5 [25896A0B] [13B11F1B] W/O NULL
05 100,0 [EA9E26D8] [F5E77786] W/O NULL
06 98,4 [71A74317] [74B8AA0D] W/O NULL
07 99,1 [6DE2FE75] [1D6FD3C9] W/O NULL
08 98,6 [4CE62F68] [621B1BC3] W/O NULL
09 98,5 [78A0C098] [67AE31F3] W/O NULL
10 96,5 [506CE455] [528736F0] W/O NULL
11 100,0 [4D29CFC1] [3A8443FD] W/O NULL
12 98,8 [FCF00848] [2B24900C] W/O NULL
13 98,8 [6CA28B99] [D215431E] W/O NULL
Exact Audio Copy V0.99 prebeta 1 from 25. May 2007

Отчёт EAC об извлечении, выполненном 9. марта 2010, 21:39

Various / The Letters - an unconventional italian guide to King Crimson disc 2

Дисковод: PIONEER DVD-RW DVR-212D Adapter: 1 ID: 1

Режим чтения : Достоверность
Использование точного потока : Да
Отключение кэша аудио : Да
Использование указателей C2 : Нет

Коррекция смещения при чтении : 48
Способность читать области Lead-in и Lead-out : Нет
Заполнение пропущенных сэмплов тишиной : Да
Удаление блоков с тишиной в начале и конце : Нет
Интерфейс : Установленный внешний ASPI-интерфейс
Обработка зазоров : Не обнаружено, добавлено к предыдущему треку

Выходной формат : Пользовательский кодировщик
Выбранный битрейт : 768 kBit/s
Качество : Высокий
Добавление ID3-тэга : Нет
Утилита сжатия : C:\Program Files\Exact Audio Copy\FLAC\FLAC.EXE
Дополнительные параметры : -6 -V -T "ARTIST=%a" -T "TITLE=%t" -T "ALBUM=%g" -T "DATE=%y" -T "TRACKNUMBER=%n" -T "GENRE=%m" -T "COMMENT=%e" %s -o %d


TOC извлечённого CD

Трек | Старт | Длительность | Начальный сектор | Конечный сектор
––––––––––––––––––––––––––––––––––-
1 | 0:00.00 | 8:59.00 | 0 | 40424
2 | 8:59.00 | 3:47.00 | 40425 | 57449
3 | 12:46.00 | 7:24.00 | 57450 | 90749
4 | 20:10.00 | 4:50.00 | 90750 | 112499
5 | 25:00.00 | 5:06.00 | 112500 | 135449
6 | 30:06.00 | 5:13.00 | 135450 | 158924
7 | 35:19.00 | 8:34.00 | 158925 | 197474
8 | 43:53.00 | 5:02.00 | 197475 | 220124
9 | 48:55.00 | 13:07.00 | 220125 | 279149
10 | 62:02.00 | 3:17.00 | 279150 | 293924
11 | 65:19.00 | 4:37.00 | 293925 | 314699
12 | 69:56.00 | 6:55.00 | 314700 | 345824
13 | 76:51.00 | 4:23.00 | 345825 | 365549


Трек 1

Имя файла E:\TORRENT\The Letters - Italian Guide to KC (2004)\CD2\01 - epitaph.wav

Пиковый уровень 96.6 %
Качество трека 100.0 %
CRC теста AD0F0F69
CRC копии AD0F0F69
Трек не обнаружен в базе AccurateRip
Копирование… OK

Трек 2

Имя файла E:\TORRENT\The Letters - Italian Guide to KC (2004)\CD2\02 - lady of the dancing water.wav

Пиковый уровень 96.6 %
Качество трека 100.0 %
CRC теста 72290D45
CRC копии 72290D45
Трек не обнаружен в базе AccurateRip
Копирование… OK

Трек 3

Имя файла E:\TORRENT\The Letters - Italian Guide to KC (2004)\CD2\03 - pictures of a city.wav

Пиковый уровень 96.6 %
Качество трека 100.0 %
CRC теста 735AF8F1
CRC копии 735AF8F1
Трек не обнаружен в базе AccurateRip
Копирование… OK

Трек 4

Имя файла E:\TORRENT\The Letters - Italian Guide to KC (2004)\CD2\04 - prince Rupert awakes.wav

Пиковый уровень 95.2 %
Качество трека 100.0 %
CRC теста D8844ECE
CRC копии D8844ECE
Трек не обнаружен в базе AccurateRip
Копирование… OK

Трек 5

Имя файла E:\TORRENT\The Letters - Italian Guide to KC (2004)\CD2\05 - providence.wav

Пиковый уровень 95.6 %
Качество трека 100.0 %
CRC теста 321D740F
CRC копии 321D740F
Трек не обнаружен в базе AccurateRip
Копирование… OK

Трек 6

Имя файла E:\TORRENT\The Letters - Italian Guide to KC (2004)\CD2\06 - i talk to the wind.wav

Пиковый уровень 96.6 %
Качество трека 100.0 %
CRC теста 3AFBB771
CRC копии 3AFBB771
Трек не обнаружен в базе AccurateRip
Копирование… OK

Трек 7

Имя файла E:\TORRENT\The Letters - Italian Guide to KC (2004)\CD2\07 - exiles.wav

Пиковый уровень 96.6 %
Качество трека 100.0 %
CRC теста B1BC9F17
CRC копии B1BC9F17
Трек не обнаружен в базе AccurateRip
Копирование… OK

Трек 8

Имя файла E:\TORRENT\The Letters - Italian Guide to KC (2004)\CD2\08 - cadence and cascade.wav

Пиковый уровень 95.2 %
Качество трека 100.0 %
CRC теста 51E32103
CRC копии 51E32103
Трек не обнаружен в базе AccurateRip
Копирование… OK

Трек 9

Имя файла E:\TORRENT\The Letters - Italian Guide to KC (2004)\CD2\09 - lark's tongues in aspic part 1.wav

Пиковый уровень 93.1 %
Качество трека 99.9 %
CRC теста C99BEFE1
CRC копии C99BEFE1
Трек не обнаружен в базе AccurateRip
Копирование… OK

Трек 10

Имя файла E:\TORRENT\The Letters - Italian Guide to KC (2004)\CD2\10 - moonchild.wav

Пиковый уровень 96.6 %
Качество трека 100.0 %
CRC теста E0A83988
CRC копии E0A83988
Трек не обнаружен в базе AccurateRip
Копирование… OK

Трек 11

Имя файла E:\TORRENT\The Letters - Italian Guide to KC (2004)\CD2\11 - matte kudasai.wav

Пиковый уровень 95.1 %
Качество трека 100.0 %
CRC теста 0B2BF039
CRC копии 0B2BF039
Трек не обнаружен в базе AccurateRip
Копирование… OK

Трек 12

Имя файла E:\TORRENT\The Letters - Italian Guide to KC (2004)\CD2\12 - in the court of the Crimson King.wav

Пиковый уровень 95.5 %
Качество трека 100.0 %
CRC теста 20DB6EC3
CRC копии 20DB6EC3
Трек не обнаружен в базе AccurateRip
Копирование… OK

Трек 13

Имя файла E:\TORRENT\The Letters - Italian Guide to KC (2004)\CD2\13 - sex sleep eat drink dream.wav

Пиковый уровень 95.0 %
Качество трека 99.9 %
CRC теста 8BC01DD7
CRC копии 8BC01DD7
Трек не обнаружен в базе AccurateRip
Копирование… OK

Ошибок не произошло

Конец отчёта
[CUETools log; Date: 25.07.2014 15:33:38; Version: 2.0.9]
[CTDB TOCID: OJ7bljdWDGkBL.b5E9VnfqvNz8Q-] disk not present in database.
[AccurateRip ID: 0027dc1a-018df045-ae130a0d] disk not present in database.

Track Peak [ CRC32 ] [W/O NULL] [ LOG ]
– 96,6 [5A0632E0] [47D9FEB8]
01 96,6 [F4DD5461] [AD0F0F69] W/O NULL
02 96,6 [325A3375] [72290D45] W/O NULL
03 96,6 [1EAFBAC8] [735AF8F1] W/O NULL
04 95,2 [E925A983] [D8844ECE] W/O NULL
05 95,6 [FEBAFCE6] [321D740F] W/O NULL
06 96,6 [98906A48] [3AFBB771] W/O NULL
07 96,6 [C28E3455] [B1BC9F17] W/O NULL
08 95,2 [64A069C9] [51E32103] W/O NULL
09 93,1 [3FE1FCC3] [C99BEFE1] W/O NULL
10 96,6 [8E4B1878] [E0A83988] W/O NULL
11 95,1 [4C7FE1B0] [0B2BF039] W/O NULL
12 95,5 [15A719C7] [20DB6EC3] W/O NULL
13 95,0 [E94A0A18] [8BC01DD7] W/O NULL
Exact Audio Copy V0.99 prebeta 1 from 25. May 2007

Отчёт EAC об извлечении, выполненном 9. марта 2010, 21:55

Various / The Letters an unconventional italian guide to King Crimson disc 3

Дисковод: PIONEER DVD-RW DVR-212D Adapter: 1 ID: 1

Режим чтения : Достоверность
Использование точного потока : Да
Отключение кэша аудио : Да
Использование указателей C2 : Нет

Коррекция смещения при чтении : 48
Способность читать области Lead-in и Lead-out : Нет
Заполнение пропущенных сэмплов тишиной : Да
Удаление блоков с тишиной в начале и конце : Нет
Интерфейс : Установленный внешний ASPI-интерфейс
Обработка зазоров : Не обнаружено, добавлено к предыдущему треку

Выходной формат : Пользовательский кодировщик
Выбранный битрейт : 768 kBit/s
Качество : Высокий
Добавление ID3-тэга : Нет
Утилита сжатия : C:\Program Files\Exact Audio Copy\FLAC\FLAC.EXE
Дополнительные параметры : -6 -V -T "ARTIST=%a" -T "TITLE=%t" -T "ALBUM=%g" -T "DATE=%y" -T "TRACKNUMBER=%n" -T "GENRE=%m" -T "COMMENT=%e" %s -o %d


TOC извлечённого CD

Трек | Старт | Длительность | Начальный сектор | Конечный сектор
––––––––––––––––––––––––––––––––––-
1 | 0:00.00 | 5:13.00 | 0 | 23474
2 | 5:13.00 | 11:17.00 | 23475 | 74249
3 | 16:30.00 | 4:02.00 | 74250 | 92399
4 | 20:32.00 | 5:56.00 | 92400 | 119099


Трек 1

Имя файла E:\TORRENT\The Letters - Italian Guide to KC (2004)\CD3\01 - red.wav

Пиковый уровень 98.8 %
Качество трека 100.0 %
CRC теста B5218B30
CRC копии B5218B30
Трек не обнаружен в базе AccurateRip
Копирование… OK

Трек 2

Имя файла E:\TORRENT\The Letters - Italian Guide to KC (2004)\CD3\02 - we'll let you know & fracture.wav

Пиковый уровень 98.8 %
Качество трека 100.0 %
CRC теста F53703DE
CRC копии F53703DE
Трек не обнаружен в базе AccurateRip
Копирование… OK

Трек 3

Имя файла E:\TORRENT\The Letters - Italian Guide to KC (2004)\CD3\03 - lament.wav

Пиковый уровень 98.8 %
Качество трека 100.0 %
CRC теста 8423AE55
CRC копии 8423AE55
Трек не обнаружен в базе AccurateRip
Копирование… OK

Трек 4

Имя файла E:\TORRENT\The Letters - Italian Guide to KC (2004)\CD3\04 - the great deceiver.wav

Пиковый уровень 98.8 %
Качество трека 99.9 %
CRC теста F36763E8
CRC копии F36763E8
Трек не обнаружен в базе AccurateRip
Копирование… OK

Ошибок не произошло

Конец отчёта

––––––––––––––––––––––––––––––

Exact Audio Copy V0.99 prebeta 1 from 25. May 2007

Отчёт EAC об извлечении, выполненном 9. марта 2010, 21:56

Various / The Letters an unconventional italian guide to King Crimson disc 3

Дисковод: PIONEER DVD-RW DVR-212D Adapter: 1 ID: 1

Режим чтения : Достоверность
Использование точного потока : Да
Отключение кэша аудио : Да
Использование указателей C2 : Нет

Коррекция смещения при чтении : 48
Способность читать области Lead-in и Lead-out : Нет
Заполнение пропущенных сэмплов тишиной : Да
Удаление блоков с тишиной в начале и конце : Нет
Интерфейс : Установленный внешний ASPI-интерфейс
Обработка зазоров : Не обнаружено, добавлено к предыдущему треку

Выходной формат : Пользовательский кодировщик
Выбранный битрейт : 768 kBit/s
Качество : Высокий
Добавление ID3-тэга : Нет
Утилита сжатия : C:\Program Files\Exact Audio Copy\FLAC\FLAC.EXE
Дополнительные параметры : -6 -V -T "ARTIST=%a" -T "TITLE=%t" -T "ALBUM=%g" -T "DATE=%y" -T "TRACKNUMBER=%n" -T "GENRE=%m" -T "COMMENT=%e" %s -o %d


TOC извлечённого CD

Трек | Старт | Длительность | Начальный сектор | Конечный сектор
––––––––––––––––––––––––––––––––––-
1 | 0:00.00 | 5:13.00 | 0 | 23474
2 | 5:13.00 | 11:17.00 | 23475 | 74249
3 | 16:30.00 | 4:02.00 | 74250 | 92399
4 | 20:32.00 | 5:56.00 | 92400 | 119099


Трек 1

Имя файла E:\TORRENT\The Letters - Italian Guide to KC (2004)\CD3\01 - red.wav

Пиковый уровень 98.8 %
Качество трека 100.0 %
CRC теста B5218B30
CRC копии B5218B30
Трек не обнаружен в базе AccurateRip
Копирование… OK

Трек 2

Имя файла E:\TORRENT\The Letters - Italian Guide to KC (2004)\CD3\02 - we'll let you know & fracture.wav

Пиковый уровень 98.8 %
Качество трека 100.0 %
CRC теста F53703DE
CRC копии F53703DE
Трек не обнаружен в базе AccurateRip
Копирование… OK

Трек 3

Имя файла E:\TORRENT\The Letters - Italian Guide to KC (2004)\CD3\03 - lament.wav

Пиковый уровень 98.8 %
Качество трека 100.0 %
CRC теста 8423AE55
CRC копии 8423AE55
Трек не обнаружен в базе AccurateRip
Копирование… OK

Трек 4

Имя файла E:\TORRENT\The Letters - Italian Guide to KC (2004)\CD3\04 - the great deceiver.wav

Пиковый уровень 98.8 %
Качество трека 99.9 %
CRC теста F36763E8
CRC копии F36763E8
Трек не обнаружен в базе AccurateRip
Копирование… OK

Ошибок не произошло

Конец отчёта
[CUETools log; Date: 25.07.2014 15:34:05; Version: 2.0.9]
[CTDB TOCID: 3XzjX7bF5K6Q1nhRm_LhYaSWuCs-] disk not present in database.
[AccurateRip ID: 0004b7e9-0012d771-29063404] disk not present in database.

Track Peak [ CRC32 ] [W/O NULL] [ LOG ]
– 98,8 [13B8B599] [BB0204E7]
01 98,8 [C5AB524E] [B5218B30] W/O NULL
02 98,8 [6BE640FA] [F53703DE] W/O NULL
03 98,8 [C7177D19] [8423AE55] W/O NULL
04 98,8 [225F0EDA] [F36763E8] W/O NULL
Thanks to
Fragile59