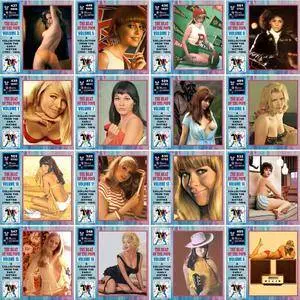 V.A. - The Beat Of The Pops (34CDs, 2007)
Beat, Pop, Rock & Roll, Doo Wop | MP3 CBR 320 kbps | 5,48 Gb
Label: Rato Records | Release Year: 2007
Beat music, British beat, or Merseybeat (after bands from Liverpool and nearby areas beside the River Mersey) is a pop and rock music genre that developed in the United Kingdom in the early 1960s. Beat music is a fusion of rock and roll (mainly Chuck Berry guitar style and the midtempo beat of artists like Buddy Holly), doo-wop, skiffle and R&B. The genre provided many of the bands responsible for the British Invasion of the American pop charts starting in 1964, and provided the model for many important developments in pop and rock music, including the format of the rock group around lead, rhythm and bass guitars with drums. The Beat Of The Pops - excellent selection of beat tracks.
Tracklist:Volume 1
1. The Shadows - Mustang (2:40)
2. Cliff Richard - Summer Holiday (2:07)
3. The Beatles - Do You Want To Know A Secret (1:56)
4. The Exciters - Tell Him (2:32)
5. Peter & Gordon - A World Without Love (2:39)
6. Roy Orbison - Only The Lonely (2:25)
7. Dionne Warwick - Make The Music Play (2:24)
8. Johnny Burnette - Dreamin' (2:19)
9. Peter Paul & Mary - Blowin' In The Wind (2:56)
10. Linda Scott - I've Told Every Little Star (2:17)
11. Chubby Checker - Let's Twist Again (2:19)
12. The Applejacks - Like Dreamers Do (2:31)
13. Millie - My Boy Lollipop (1:57)
14. Rolling Stones - Little Red Rooster (3:05)
15. Elvis Presley - Can't Help Falling In Love (3:00)
16. Duane Eddy - Pepe (2:03)
17. Bobby Darin - Things (2:32)
18. Annette Funicello - Surfer Boy (2:09)
19. The Everly Brothers - Let It Be Me (2:36)
20. Joe Brown - A Picture Of You (2:18)
21. Ray Charles - I Can't Stop Loving You (4:12)
22. Martha Reeves & The Vandellas - Heat Wave (2:44)
23. Tommy Roe - Susie Darlin' (2:16)
24. Brenda Lee - Weep No More My Baby (3:00)
25. The Fortunes - Caroline (1:59)
26. The Stereos - I Really Love You (2:18)
27. The Shirelles - Will You Love Me Tomorrow (2:42)
28. Johnny Rivers - You Can Have Her (3:19)
Volume 2
1. Tony Sheridan & The Beatles - My Bonnie (2:41)
2. Cliff Richard - On The Beach (2:26)
3. Nicky James - My Colour Is Blue (2:17)
4. Carl Wayne & The Vikings - Your Loving Ways (2:17)
5. Connie Francis - Valentino (2:33)
6. Bobby Vee - Pledging My Love (2:42)
7. Roy Orbison - Oh Pretty Woman (2:57)
8. Ventures - Blue Tango (2:38)
9. Eydie Gorme - Blame It On Bossa Nova (2:29)
10. Ernie Maresca - Shout! Shout! (2:09)
11. Ricky Valance - Tell Laura I Love Her (2:40)
12. Tommy Bruce & The Bruisers - Ain't Misbehavin' (2:07)
13. Avons - Cool And Cosy (1:46)
14. Helen Shapiro - Little Miss Lonely (2:55)
15. Bobby Hendricks - Psycho (2:27)
16. Elvis Presley - Devil In Disguise (2:21)
17. Ann Margret - Oh Lonesome Me (2:34)
18. Merseybeats - Wishin' And Hopin' (2:32)
19. Beatles - If I Fell (2:19)
20. Shadows - Atlantis (Stereo Version) (2:47)
21. Joe Dowell - Wooden Heart (2:01)
22. Marcie Blane - Bobby's Girl (2:24)
23. Clyde Mcphatter - Lover Please (1:55)
24. Paul & Paula - Young Lovers (2:32)
25. Ricky Nelson - I'm Through With You (2:45)
26. Johnny Kidd & The Pirates - Shakin' All Over (2:20)
27. Manfred Mann - Got My Mojo Working (3:08)
28. Brian Poole & The Tremeloes - Twist And Shout (2:05)
Volume 3
1. Beatles - A Hard Day's Night (2:28)
2. Gerry & The Pacemakers - I Like It (2:14)
3. Lesley Gore - Sometimes I Wish I Were A Boy (2:04)
4. Dion & The Belmonts - Swinging On A Star (2:23)
5. Three Bells - Steady Date (1:57)
6. Searchers - Love Potion No. 9 (2:04)
7. Elvis Presley - I Got Lucky (2:10)
8. Petula Clark - Tender Love (3:01)
9. Pat Boone - Moody River (2:37)
10. Chordettes - Never On Sunday (2:42)
11. Paul Anka - Puppy Love (2:36)
12. Duane Eddy - Because They're Young (1:55)
13. Marcels - Blue Moon (2:17)
14. Del Shannon - Little Town Flirt (2:48)
15. Julie Grant - Up On The Roof (2:13)
16. Cliff Richard - Please Don't Tease (2:57)
17. Shelley Fabares - The Things We Did Last Summer (2:27)
18. Santo & Johnny - And I Love Her (2:10)
19. Roy Orbison - Beautiful Dreamer (2:17)
20. Jackie De Shannon - When You Walk In The Room (2:35)
21. Beach Boys - I Get Around (2:12)
22. Honeys - The One You Can't Have (1:54)
23. Animals - She Said Yeah (2:18)
24. Brian Poole - Someone, Someone (2:56)
25. Sue Thompson - Sad Movies (Make Me Cry) (3:16)
26. Sam Cooke - Cupid (2:36)
27. Ruby & The Romantics - When You're Young And In Love (2:27)
28. Miracles - What's So Good About Goodbye (2:20)
29. Shadows - Stars Fell On Stockton (2:15)
Volume 4
1. The Ran-Dells - Martian Hop (2:15)
2. The Hitmakers - Let's Go (3:03)
3. Patsy Ann Noble - Sour Grapes (1:55)
4. Madeline Bell - You Don't Love Me No Mor (2:01)
5. Paul Anka - A Steel Guitar And A Glass Of Wine (2:13)
6. The Everly Brothers - Cathy's Clown (2:24)
7. The Duprees - You Belong To Me (2:44)
8. Maurice Willams & The Zodiacs - Stay (1:35)
9. Barbara George - I Know (You Don't Love Me No More) (2:23)
10. Bobby Comstock - Let's Stomp (1:59)
11. The Rivieras - California Sun (2:24)
12. Chet Atkins - Oh, Lonesome Me (2:19)
13. Shelly Fabares - True Love (2:32)
14. Elvis Presley - There's Always Me (2:17)
15. Dion - Tonight, Tonight (2:37)
16. The Shirelles - It's Love That Really Counts (2:14)
17. Susan Maughan - Bobby's Girl (2:32)
18. The Regents - Barbara Ann (2:15)
19. The Crystals - Da Doo Ron Ron (2:15)
20. Harmonica Fats - Tore Up (2:37)
21. Roy Orbison - Love Hurts (2:28)
22. The Beatles - Baby's In Black (2:05)
23. Johnny Burnette - Let's Think About Living (1:58)
24. The Ronettes - When I Saw You (2:43)
25. The Blenders - Daughter (2:06)
26. The Cascades - Rhythm Of The Rain (2:32)
27. The Beau-Marks - Clap Your Hands (2:00)
28. The Flares - Foot Stomping (Part 1) (2:15)
29. Linda Scott - I Don't Know Why (2:23)
30. The Honeys - Love On The Run (1:49)
Volume 5
1. Ventures - Walk Don't Run (2:09)
2. Bobby Vee - Susie Q (1:39)
3. Brian Poole & The Tremeloes - South Street (2:18)
4. Tony Jackson Group - This Little Girl Of Mine (2:28)
5. Little Peggy March - Dream World (2:13)
6. Roy Orbison - Here Comes That Song Again (2:42)
7. Paris Sisters - I Love How You Love Me (2:04)
8. Cliff Richard - Theme For A Dream (2:05)
9. Link Wray & The Ray Men - The Shadow Knows (2:27)
10. Joey Dee & The Starliters - Peppermint Twist Part 1 (1:59)
11. Jerry Lee Lewis - Baby, Baby, Bye Bye (1:57)
12. Gerry & The Pacemakers - How Do You Do It (1:55)
13. Johnny Sandon & The Remo Four - Lies (2:06)
14. Jeannie & The Big Guys - Boys (2:07)
15. Searchers - Sweets For My Sweet (2:26)
16. Brenda Lee - Pretend (2:51)
17. Billy J Kramer & The Dakotas - I Know (2:05)
18. Helen Shapiro - Beyond The Sea (3:28)
19. Joe Brown - It Only Took A Minute (1:55)
20. Beatles - Things We Said Today (2:35)
21. Shadows - Find Me A Golden Street (2:48)
22. Joanie Sommers - Johnny Gets Angry (2:31)
23. Ricky Nelson - Young World (2:24)
24. Brian Hyland - Ginny Come Lately (2:47)
25. Connie Stevens - Why'd You Wanna Make Me Cry (2:06)
26. Johnny Horton - Honky Tonk Man (2:12)
27. Sensations - Let Me In (3:04)
28. Lettermen - All I Have To Do Is Dream (3:11)
29. Elvis Presley - Are You Lonesome Tonight (3:08)
Volume 6
1. Walter Wanderley - Baby Rock (2:44)
2. Connie Stevens - A Little Kiss Is A Kiss Is A Kiss (2:22)
3. Iain Gregory - Time Will Tell (2:18)
4. Pat Reader - Cha Cha On The Moon (1:45)
5. Ronnie Cord - Who's Sorry Now (2:11)
6. The Flee - Rekkers - Lone Rider (2:24)
7. Cliff Richard - A Girl Like You (2:28)
8. Sandie Shaw - There's Always Something There To Remind Me (2:39)
9. The Drifters - Mexican Divorce (2:31)
10. Tommy Hunt - I Just Don't Know What To Do With Myself (2:49)
11. The Ventures - Calcutta (2:08)
12. Chris Kenner - I Like It Like That (Part 1) (1:51)
13. Jackie Frisco - Sugar Baby (2:18)
14. Barbara English & The Fashions - We Need Them (2:14)
15. Skeeter Davis - My Last Date (With You) (2:32)
16. The Nashville Teens - Need You (2:54)
17. Peter & Gordon - Barbara Allen (2:43)
18. Shape & Sizes - Rain On My Face (2:12)
19. The Beatles - I'm A Loser (2:28)
20. The Swinging Blue Jeans - Good Golly Miss Molly (2:03)
21. Them - One Two Brown Eyes (2:33)
22. The Rolling Stones - If You Need Me (2:01)
23. The Vernon Girls - Only You Can Do It (2:35)
24. The Essex - A Walkin' Miracle (2:17)
25. Elvis Presley - One Broken Heart For Sale (1:45)
26. Simon & Garfunkel - Peggy-O (2:23)
27. Barbara Lewis - Hello Stranger (2:33)
28. Bobby Darin - Baby Face (2:06)
29. Tommy Quickly & Remo Four - Kiss Me Now (1:53)
30. The Twangles - Hippy Hippy Shake (1:28)
Volume 7
1. The Ventures - Telstar (2:46)
2. Ronnie Cord - Oh Carol (2:28)
3. John Leyton - There Must Be (2:33)
4. Brenda Lee - The End Of The World (3:05)
5. The Deuce Coupes - Tijuana Gasser (2:17)
6. Martha Reeves & The Vandellas - Tears On My Pillow (2:49)
7. Mark Wynter - Only You (2:02)
8. The Rolling Stones - Congratulations (2:27)
9. Ruby & The Romantics - What A Difference A Day Makes (2:28)
10. Connie Francis - Oh! Lonesome Me (2:14)
11. Trini Lopez - Lemon Tree (2:47)
12. Peter, Paul & Mary - Gone The Rainbow (2:40)
13. The De-Fenders - Taco Wagon (2:04)
14. Pamela Blue - My Friend Bobby (2:09)
15. Beryl Marsden - When The Lovelight Starts Shining Thru' His Eyes (2:37)
16. Bobby Vee - Anonymus Phone Call (2:14)
17. Clyde McPhatter - Spanish Harlem (2:54)
18. Lavern Baker & Jimmy Ricks - You're The Boss (2:18)
19. Tippie & The Clovers - Bossa Nova Baby (2:01)
20. The Crazy Rockers - Buona Sera (2:42)
21. The Shadows - In The Mood (2:15)
22. Annette Funicello - Pajama Party (1:47)
23. The Four Pennies - Juliet (2:20)
24. Pat Boone - Big Cold Wind (2:09)
25. Earl Jean - I'm Into Something Good (2:47)
26. Janice Nicholls - I'll Give It Five (2:02)
27. The Searchers - Listen To Me (2:09)
28. Helen Shapiro - When I'm With You (1:50)
29. Cliff Richard - What've I Gotta Do (2:29)
30. The Beatles - I'll Follow The Sun (1:46)
Volume 8
1. The Surfaris - Surfing Drums (3:03)
2. Manfred Mann - 5-4-3-2-1 (1:56)
3. Elvis Presley - Kissin' Cousins (2:11)
4. Sandie Shaw - Girl Don't Come (2:09)
5. Ben E. King - That's When It Hurts (3:09)
6. Mabel John - You Made A Fool Out Of Me (2:21)
7. Roy Orbison - Bye - Bye Love (2:13)
8. The Applejacks - Hello, Josephine (2:15)
9. The Beatles - I Should Have Known Better (2:40)
10. The Animals - Baby Let Me Take You Home (2:18)
11. Randy & The Rainbows - Denise (1:55)
12. Claudine Clark - Party Lights (2:20)
13. Skip & Flip - Cherry Pie (2:12)
14. Ron Holden - Love You So (3:24)
15. Lenny Welch - Since I Fell For You (2:52)
16. The Innocents - Gee Whiz (2:28)
17. Cliff Richard - Do You Remember (2:53)
18. Gale Garnett - Oh Brandy Leave Me Alone (2:42)
19. Tommy Roe - Sensations (1:54)
20. Rick Nelson - Lucky Star (2:15)
21. The Marvelettes - So Long Baby (2:49)
22. Debbie Dean - But I'm Afraid (2:50)
23. The Searchers - Sea Of Heartbreak (2:22)
24. The Beach Boys - Good Vibrations (3:33)
25. Bob Dylan - All I Really Want To Do (4:01)
26. Simon & Garfunkel - Go Tell It On The Mountain (2:04)
Volume 9
1. The Hunters - Teen Scene (2:03)
2. The Pearlettes - (I'm The) Duchess Of Earl (2:15)
3. Eddie Hodges - Mugmates (2:15)
4. The Rolling Stones - I'm A King Bee (2:35)
5. Dodie Stevens - Yes, I'm Lonesome Tonight (3:33)
6. Elvis Presley - Wild In The Country (1:53)
7. The Lettermen - Michael Row The Boat Ashore (2:42)
8. Bob Dylan - Don't Think Twice, It's All Right (3:39)
9. Simon & Garfunkel - He Was My Brother (2:47)
10. The Tornados - Earthy (1:59)
11. Mike Berry - Tribute To Buddy Holly (2:57)
12. Tommy Forget & The Blue Velvets - Have You Ever Been Lonely (2:18)
13. Brenda Lee - Is It True (2:20)
14. Manfred Mann - Don't Ask Me What I Say (2:57)
15. Little Eva - Please Hurt Me (2:46)
16. The Beatles - And I Love Her (2:29)
17. Steve Lawrence - Come Back Silly Girl (2:10)
18. Jimmie Rodgers - The Wreck Of John B (2:47)
19. The Fireballs - Nearly Sunrise (2:27)
20. The Fireballs - Guess What (1:52)
21. Jose Feliciano - Walk Right In (2:46)
22. The Supremes - I'm Giving You Your Freedom (2:37)
23. Johnny Tillotson - You Can Never Stop Me Loving You (2:43)
24. The Searchers - Twist & Shout (2:45)
25. Pat Harris & The Black Jacks - The Hippy Hippy Shake (2:24)
26. The Angels - Hully Gully Baby (1:57)
27. Brian Poole & The Tremeloes - 3 Song Medley (4:57)
Volume 10
1. Bert Kaempfert - Chicken Talk (2:29)
2. The Vibrations - The Watusi (2:33)
3. Carole Deene - Some People (2:04)
4. Joe Brown - There's Only One Of You (2:32)
5. Johnny Burnette - Love Me (2:45)
6. The Tammys - What's So Sweet About Sweet Sixteen (2:37)
7. Lou Christie - Pot Of Gold (2:38)
8. Mark Wynter - It's Almost Tomorrow (2:25)
9. The Shadows - Walkin' (2:43)
10. Cliff Richard & The Shadows - Wonderful Life (Alt Version) (2:18)
11. Helen Shapiro - Queen For Tonight (2:07)
12. Roy Orbison - Come Back To Me (My Love) (2:26)
13. Petula Clark - I'm Counting On You (2:22)
14. Diane Renay - Navy Blue (2:26)
15. Oscar Brown Jr. - The Work Song (2:30)
16. The Contours - Do You Love Me (2:51)
17. Dave Berry - The Crying Game (2:39)
18. The New Band Of Spike Jones - If I Had A Hammer (2:27)
19. Royal Showband Waterford - The Huckle Buck (2:23)
20. Sharon Marie - Run-Around Lover (1:49)
21. Tommy Steele - What A Little Darling (2:45)
22. Bobby Vee - Young Love (2:43)
23. Sam Cooke - Sad Mood (2:37)
24. June Christy - Fly Me To The Moon (3:12)
25. Ray Charles - Unchain My Heart (2:48)
26. Tommy Roe - Heart Beat (1:59)
27. The Shangri-Las - Leader Of The Pack (2:57)
28. Bobby Rydell - I Wanna Thank You (2:24)
Volume 11
1. The Trashmen - Bird Bath (2:35)
2. Eddie Cochran - Sweetie Pie (2:10)
3. Rick Nelson - Again (1:52)
4. Lydia - Take These Chains From My Heart (2:23)
5. Sonny James - Apache (2:45)
6. Kathy Kirby - Acapulco 1922 (2:29)
7. Johnny Cymbal - Dum Dum Dee Dum (2:02)
8. Herb Alpert & The Tijuana Brass - Limbo Rock (2:08)
9. Chubby Checker - Hey, Bobba Needle (2:22)
10. Annette Funicello - Lonely Girl (2:46)
11. The Everly Brothers - Like Strangers (2:01)
12. Johnny Burnette - If I Were An Artist (2:17)
13. Sue Thompson - Angel, Angel (2:36)
14. Lonnie Donegan - Sorry, But I'm Gonna Have To Pass (2:25)
15. The Champs - La Cucaracha (1:52)
16. Johnny Tillotson - Princess Princess (2:15)
17. The Fleetwoods - Gone (2:31)
18. The Sharades - Dumb Head (2:00)
19. Jenny Moss - Please Don't Say Goodbye (2:10)
20. The Beatles - Words Of Love (2:09)
21. Buddy Holly - Bo Diddley (2:20)
22. Gunilla Thorn - Merry-Go-Round (2:07)
23. Tony Orlando - Dream Lover (2:47)
24. The Fireballs - Torquay (1:55)
25. Kenny Chandler - Heart (2:37)
26. The Demensions - Seven Days A Week (2:14)
27. Jack Scott - What A Wonderful Night Out (2:34)
28. Jackie De Shannon - Needles And Pins (2:36)
29. The Searchers - Oh My Lover (2:22)
30. Del Shannon - Keep Searchin' (We'll Follow The Sun) (2:11)
Volume 12
1. Bill Black's Combo - Josephine (2:26)
2. Fats Domino - It Keeps Rainin' (2:42)
3. Lavern Baker - Mañana (2:09)
4. Ray & Bob - Air Travel (2:17)
5. The Blue Diamonds - Let It Be Me (2:46)
6. Lucille Starr - Release Me (2:30)
7. Barney Kessel & His Men - Moon River Cha Cha (2:31)
8. Tony Orlando - Will You Love Me Tomorrow (2:43)
9. Annette Funicello - I Dream About Frankie (2:15)
10. Judy Proctor - Storm In My Heart (2:21)
11. The Passions - Just To Be With You (2:24)
12. Santo & Johnny - Love Letters In The Sand (2:16)
13. Al Caiola - Midnight In Moscow (2:46)
14. Ral Donner - To Love (2:23)
15. The Caravelles - You Don't Have To Be A Baby To Cry (1:58)
16. Jimmy Gilmer & The Fireballs - Sugar Shack (2:00)
17. Joe Dowell - Little Red Rented Rowboat (2:30)
18. The Hollies - To You My Love (2:05)
19. The Beatles - No Reply (2:15)
20. The Fireballs - In A Little Spanish Town (2:36)
21. Adam Faith - What Have I Got (1:59)
22. Cliff Richard - So I've Been Told (2:24)
23. Bobby Rydell - A World Without Love (2:47)
24. Tommy Roe - Blue Ghost (2:00)
25. Linda Scott - It's All Because (2:35)
26. The Surfaris - Apache (2:57)
27. Connie Stevens - Love Of The Month Club (2:03)
28. Millie Small - I'm In Love Again (1:56)
29. Eddie Hodges - Seein' Is Believin' (2:34)
30. Craig Douglas - Rainbows (2:15)
Volume 13
1. Bert Kaempfert - Cha Cha Brasilia (2:30)
2. Ann-Margret - Please Don't Talk About Me (2:02)
3. The Cascades - Dreamin' (2:23)
4. The Browns - Buttons And Bows (1:58)
5. Bern Elliott & The Fenmen - New Orleans (2:40)
6. The Big Three - By The Way (2:07)
7. Kathy Kirby - Dance On (2:26)
8. The Shadows - Geronimo (2:18)
9. Brook Benton - The Boll Weevil Song (2:38)
10. Joe Jones - You Talk Too Much (2:33)
11. Roy Orbison - Blue Angel (2:49)
12. Connie Francis - When The Boy In Your Arms (Is The Boy In Your Heart) (2:42)
13. Rick Nelson - You Are The Only One (2:38)
14. Elvis Presley - Slowly But Surely (2:11)
15. The Hunters - Pepe (1:59)
16. Manfred Mann - Do Wah Diddy Diddy (2:21)
17. Johnny Kidd & The Pirates - Baby, You've Got What It Takes (2:00)
18. Peter & Gordon - Lucille (2:04)
19. The Rocky Fellers - Killer Joe (2:18)
20. The Routers - Telstar (2:56)
21. The Rolling Stones - Tell Me (4:01)
22. Breand Lee - Emotions (2:47)
23. Bobby Deacon - A Fool Was I (1:53)
24. Davy Jones - Amapola (2:08)
25. Mark Wynter - Love Hurts (2:26)
26. Santo & Johnny - Theme From ''Come September'' (1:51)
27. Bobby Vee - Well… All Right (2:15)
28. Tommy Steele - Where Have All The Flowers Gone (3:22)
29. The Everly Brothers - So Sad (2:32)
30. Fabian - This Friendly World (2:00)
Volume 14
1. Ray Conniff - Around The World (2:40)
2. Johnny Cymbal - Teenage Heaven (3:09)
3. The Cascades - Was I Dreamin' (2:15)
4. Connie Francis - I Walk The Line (2:10)
5. Duane Eddy - Theme From Dixie (1:51)
6. Bobby Darin - Clementine (3:11)
7. Perry Como - Caterina (2:06)
8. Eddie Cochran - Three Steps To Heaven (2:21)
9. Bo Diddley - You Can't Judge A Book By It's Cover (3:10)
10. Bob Thompson - Joie De Vivre (2:30)
11. Cliff Richard - Willie And The Hand Jive (2:45)
12. The Playing's - My Heart Belongs To Daddy (2:07)
13. Brenda Lee - Danke Schoen (2:36)
14. The Bruvvers - All Things Bright And Beautiful (1:51)
15. Joe Brown - Just Like That (2:17)
16. The Teen Tones - Sands Of Arabia (2:37)
17. Billy Storm - Puppy Love Is Here To Stay (2:22)
18. Paul Anka - It Only Lasts For A Little While (2:41)
19. Helen Shapiro - Are You Lonesome Tonight (2:45)
20. Peter, Paul & Mary - Hush-A-Bye (2:19)
21. Stanley Black - Melodie D'amour (2:17)
22. The Serendipity Singers - Don't Let The Rain Come Down (2:43)
23. Elvis Presley - Doin' The Best I Can (3:16)
24. Miss X - Christine (2:44)
25. Rollet Polley - Blue Rumba (3:03)
26. Del Shannon - Two Kinds Of Teardrops (2:29)
27. The Kingston Trio - Greenback Dollar (2:52)
28. Nat King Cole - All Over The World (2:21)
Volume 15
1. Manuel & The Music Of The Mountains - Quando, Quando, Quando (2:51)
2. The Top Notes - Twist And Shout (2:04)
3. Ann-Margret - I Just Don't Understand (2:36)
4. Roy Orbison - Dream Baby (2:31)
5. The Everly Brothers - So How Come (No One Loves Me) (2:13)
6. Little Eva - He Is The Boy (2:57)
7. The Beatles - All My Loving (2:05)
8. Ginny & The Gallions - Hava Nagila (2:58)
9. Johnny Cash - Understand Your Man (2:41)
10. Sunny & The Sunglows - Talk To Me (2:42)
11. Dale & Grace - Stop And Think It Over (2:31)
12. Connie Francis - Teddy (2:45)
13. The Blue Diamonds - Oh! Carol (2:18)
14. Santo & Johnny - Lazy Day (2:24)
15. Eddie Holland - Take A Chance On Me (2:33)
16. Mable John - Actions Speak Louder Than Words (2:48)
17. The Temptations - Your Wonderful Love (2:45)
18. Elvis Presley - Starting Today (2:03)
19. Bill Black's Combo - Blue Tango (2:01)
20. The Rolling Stones - Time Is On My Side (2:50)
21. Billy Abbott & The Jewels - Groovy Baby (2:13)
22. Bobby Rydell & Chubby Checker - Teach Me To Twist (2:28)
23. Wanda Jackson - You're The One For Me (1:57)
24. The Hustlers - Inertia (2:45)
25. The Orlons - Not Me (2:29)
26. Don Covay - The Popeye Waddle (2:27)
27. Cliff Richard - ''D'' In Love (2:25)
28. Trini Lopez - Unchain My Heart (3:01)
Volume 16
1. The Revels - Intoxica (2:18)
2. Martha Reeves & The Vandellas - Just One Look (2:32)
3. Tony Sheridan & The Beatles - Why (2:58)
4. Ronnie & The Hi-Lites - I Wish That We Were Married (2:48)
5. Richard Chamberlain - Three Stars Will Shine Tonight (Theme From Dr. Kildare) (2:37)
6. Dickey Lee - I Saw Linda Yesterday (1:59)
7. The Beach Boys - Surfin' Safari (2:03)
8. Paul Anka - The End Of The World (2:55)
9. Arthur Alexander - Call Me Lonesome (2:55)
10. Lesley Gore - If That's The Way You Want It (2:23)
11. The Hindus - Theme Of Etiquette (2:13)
12. Tony Jackson Group - Watch Your Step (2:41)
13. Them - Gloria (2:35)
14. Brian Poole & The Tremeloes - Do You Love Me (2:21)
15. Helen Shapiro - Not Responsible (2:38)
16. John D. Loudermilk - Road Hog (2:14)
17. Bobby Darin - Not For Me (2:17)
18. Sandy Nelson - Drum Party (2:14)
19. Buddy Holly - Because I Love You (2:37)
20. The Swans - The Boy With The Beatle Hair (2:26)
21. The Beatles - I Feel Fine (2:19)
22. Dodie Stevens - Hello Stranger (2:05)
23. The Jelly Beans - I Wanna Love Him So Bad (2:49)
24. The Tornados - Love And Fury (2:41)
25. Mike Berry - It's Just A Matter Of Time (2:09)
26. Don Charles - Walk With Me My Angel (3:07)
27. Heinz - When Your Loving Goes Wrong (2:18)
28. Brenda Lee - You Can Depend On Me (3:30)
Volume 17
1. The Jordans - Blue Star (2:34)
2. The Cousins - Kathleen (2:34)
3. The Exciters - It's So Exciting (1:57)
4. Jay and The Americans - Only In America (2:10)
5. Solomon Burke - You Can't Love 'em All (2:44)
6. Betty Harris - His Kiss (2:46)
7. Dion - Drip Drop (2:31)
8. Irene Reid - My Heart Said (2:42)
9. Herb Albert and The Tijuana Brass - El Lobo (3:00)
10. Cathy Carroll - I'm Available (2:25)
11. Gene McDaniels - A Hundred Pounds Of Clay (2:20)
12. The Velvets - Tonight (2:07)
13. The G-Clefts - I Understand (2:46)
14. Cilla Black - You're My World (3:00)
15. Mike Clifford - Close To Cathy (2:54)
16. Garry Miles - Look For A Star (2:26)
17. Nancy Wilson - (You don't know) How Glad I Am (2:36)
18. John Barry Orchestra - Time Out (2:51)
19. Adam Faith - I Did What You Told Me (1:54)
20. Shirley Anne Field - It's Legal (1:43)
21. The Regents - Sunday Kind Of Love (2:26)
22. Brian Hyland - Rosemary (2:18)
23. Donna Loren - I Think, You Think (1:54)
24. The Shadows - Fandango (2:22)
25. Chubby Checker - Hooka Tooka (2:11)
26. The Hippies - Memory Lane (2:42)
27. The Orions - Knock! Knock! (2:33)
28. The Raindrops - The Kind Of Boy You Can't Forget (2:10)
29. Elvis Presley - It's A Wonderful World (1:49)
Volume 18
1. The Rumblers - Night Scene (2:10)
2. Annette Funicello - The Rock-A-Cha (3:14)
3. Otis Blackwell - All Shook Up (1:45)
4. The Sensations - Eyes (2:23)
5. Paul Anka - Adam and Eve (2:26)
6. The Exotics - Cross My Heart (2:29)
7. Cliff Richard - A Matter Of Moments (2:55)
8. The Shadows - Theme For Young Lovers (2:37)
9. Dale Ward - Letter From Sherry (2:49)
10. The Demensions - Over The Rainbow (3:17)
11. Arthur Alexander - You Better Move On (2:45)
12. Teddy Randazzo - The Way Of A Clown (2:40)
13. Petula Clark - My Friend The Sea (2:34)
14. The Jets Blacks - Apache (2:49)
15. The Beatles - Thank You Girl (2:00)
16. Blues By Five - Boom Boom (2:18)
17. Blue Rondo's - Little Baby (2:34)
18. The Animals - House Of The Rising Sun (4:28)
19. The Flee-Rekkers - Sunday Date (2:51)
20. Skeeter Davis - Optimistic (1:59)
21. Shelly Fabares - Johnny Angel (2:16)
22. Brook Benton - Think Twice (2:34)
23. The Pearlettes - Because We're Very Young (2:00)
24. Toni Wine - A Girl Is Not A Girl (2:27)
25. The Rockin' Berries - He's In Town (2:35)
26. Dale & Grace - Let The Good Times Roll (1:41)
27. Pat Boone - Walking The Floor Over You (2:23)
28. Francoise Hardy - Find Me A Boy (2:32)
Volume 19
1. Al Hirt - Java (1:57)
2. Jimmy Soul - Go Away Christina (3:12)
3. Chad & Jeremy - A Summer Song (2:37)
4. Barbara Lynn - You'll Lose A Good Thing (2:22)
5. Andy Williams - Almost There (2:56)
6. Bobby Goldsboro - Me Japanese (2:25)
7. Eddie Cochran - Cherished Memories (1:50)
8. The Beatles - Long Tall Sally (2:00)
9. Annette Funicello - Ride The Wild Surf (2:11)
10. The Ventures - Mexico (2:50)
11. Trini Lopez - If I Had A Hammer - Live (3:06)
12. Bob Dylan - It Ain't Me, Babe (3:32)
13. Roy Orbison - Leah (2:42)
14. Kris Jensen - Torture (2:09)
15. Bobby Darin - You're The Reason I'm Living (2:26)
16. Trade Martin - That Stranger Used To Be My Girl (2:49)
17. The Castells - So This Is Love (2:44)
18. The Dynamics - Misery (2:24)
19. The Cousins - Kana Kapila (2:01)
20. Bill Blacks Combo - White Silver Sands (2:30)
21. Cliff Richard - Gee Whiz It's You (2:10)
22. Chubby Checker - Limbo Rock (2:23)
23. The Orions - South Street (2:13)
24. The Tymes - So Much In Love (2:05)
25. Elvis Presley - Sentimental Me (2:32)
26. Helen Shapiro - I Walked Right In (2:42)
27. The Searchers - It's In Her Kiss (2:14)
28. The Rolling Stones - Off The Hook (2:34)
29. Brian Poole & The Tremeloes - We Know (1:50)
Volume 20
1. Carl Stevens - Yellow Rose of Texas (2:23)
2. Marvelettes - Please Mr. Postman (2:28)
3. Smokey Robinson & Miracles - You Really Got a Hold On Me (2:57)
4. Beatles - Misery (1:47)
5. Bachelors - Whispering (2:26)
6. Pyramids - Bikini Drag (2:03)
7. Donna Loren - Love's a Secret Weapon (2:24)
8. Bikini Beach Cast - Bikini Beach (1:55)
9. Cliff Richard - Spanish Harlem (2:56)
10. Val Doonican - Walk Tall (2:34)
11. Ral Donner - You Don't Know What You've Got (2:14)
12. Bobby Curtola - Fortuneteller (2:46)
13. Essex - Easier Said Than Done (2:09)
14. Dick & Dee Dee - Turn Around (2:40)
15. Shadows - - Quartermaster's Stores (2:22)
16. Rolling Stones - You Better Move On (2:40)
17. Dion & Belmonts - In The Still Of The Night (2:40)
18. Don Lang - Don't Open That Door (2:12)
19. Jackie De Shannon - He's Got The Whole World In His Hands (2:18)
20. Duane Eddy - Shazam (1:59)
21. Everly Brothers - When Will I Be Loved (2:02)
22. Helen Shapiro - Aren't You The Lucky One (2:19)
23. Brian Poole & Tremeloes - You Don't Love Me Any More (2:05)
24. Bobby Rydell - Little Bitty Girl (2:25)
25. Martha Reeves & Vandellas - If I Had a Hammer (2:16)
26. Puppets - Poison Ivy (2:09)
27. Undertakers - What Aabout Us (2:40)
28. Emile Ford - Don't (3:06)
29. Gerry & Pacemakers - Ferry Cross The Mersey (2:19)
30. Elvis Presley - Fame And Fortune (2:31)
Volume 21
1. Sandy Nelson - Big Noise From Winnetka (2:13)
2. The Jarmels - A Little Bit Of Soap (2:12)
3. Solomon Burke - Cry To Me (2:28)
4. Helen Shapiro - You Don't Know (2:40)
5. Searchers - Where Have You Been (2:40)
6. Jack Nitzsche - Ebb Tide (2:16)
7. Dave Clark Five - Do You Love Me (2:44)
8. Johnny Tillotson - Empty Feeling (2:25)
9. Crazy Rockers - I Can Tell (2:55)
10. Gil Hamilton - Tell Her (2:26)
11. Isley Brothers - Twist & Shout (2:33)
12. Gene Pitney - If I Didn't Have A Dime (2:28)
13. Ruth McFadden - Pencil & Paper (2:42)
14. Ben E. King - Gypsy (2:41)
15. The Rockadays - Hold On Baby (2:31)
16. Dick Dale - Riders In The Sky (2:13)
17. Rolling Stones - Poison Ivy (2:06)
18. Animals - Dimples (2:51)
19. Arthur Alexander - Anna (Go To Him) (2:43)
20. Brenda Lee - Lover, Come Back To Me (2:34)
21. Applejacks - What's The Matter Little Girl (2:43)
22. Elvis Presley - Stuck On You (2:19)
23. Paul Anka - Jambalaya (2:43)
24. Kathy Kirby - Let Me Go, Lover (2:12)
25. Ventures - Never On Sunday (2:27)
26. Marv Johnson - Come On & Stop (2:11)
27. Mustangs - Baby Let Me Take You Home (2:06)
28. Roy Orbison - (I'd be) A Legend In My Time (3:07)
29. Orlons - The Wah-Watusi (2:30)
30. Gudrun Jenkins - Letkiss (2:11)
Volume 22
1. The King Pins - Door Banger (1:34)
2. Brenda Lee - Dum Dum (2:25)
3. Marcy Joe - Ronnie (2:28)
4. Russell Byrd - You'd Better Come Home (2:19)
5. Lulu - Here Comes The Night (2:53)
6. Johnny Kidd & The Pirates - Restless (2:12)
7. The Techniques - Dream Theme (2:01)
8. Jimmy Justice - I Understand (2:51)
9. The Bermudas - Donnie (2:12)
10. Anita & The So-n-So's - Joey Baby (2:28)
11. Doris Troy - Just One Look (2:25)
12. The Chandelles - El Gato (2:24)
13. The Yardbirds - Boom Boom (2:26)
14. The Fourmost - Hello Little Girl (1:51)
15. The Merseybeats - I Think Of You (2:30)
16. Rick Nelson - For Your Sweet Love (2:17)
17. The Nashville Teens - La Bamba (2:10)
18. The Tiaras - Mexican Rock (2:28)
19. Linda Gail Lewis - Ain't Nothing Shakin' (2:00)
20. Johnny Wade - Looking For Me (2:25)
21. The Chariots - Problem Girl (2:09)
22. Gloria Dennis - Richie (2:39)
23. Patty Lace & The Petticoats - Sneaky Sue (2:21)
24. Cathy Carroll - Poor Little Puppet (2:33)
25. Wes Dakus' Rebels - Sour Biscuits (2:26)
26. The Shangri-Las - Give Him A Great Big Kiss (2:13)
27. The Ikettes - Camel Walk (2:40)
28. The Rolling Stones - Carol (2:31)
29. The Searchers - Needles And Pins (2:12)
30. The Beatles - Rock And Roll Music (2:33)
Volume 23
1. The Van-Dells - Slumber Party (2:28)
2. The Rivingtons - Papa-Oom-Mow-Mow (2:25)
3. The Murmaids - Popsicles And Icicles (2:36)
4. The Hollywood Argyles - Alley-Oop (2:45)
5. The Lancasters - Satan's Holiday (1:54)
6. The Innocents - Honest I Do (1:57)
7. Roy Orbison - Cryin' (2:50)
8. Martha Reeves & The Vandellas - Can't Get Used To Losing You (2:10)
9. Richard Chamberlain - All I Have To Do Is Dream (2:26)
10. Polly Bergen - Autumn Leaves (3:03)
11. The Teen Beats - Califf Boogie (1:54)
12. The Cinderellas - Baby, Baby (2:37)
13. Andrea Carroll - It Hurts To Be Sixteen (2:01)
14. Ray Charles - That Lucky Old Sun Just Rolls Around Heaven (4:23)
15. Etta James - Seven Day Fool (3:03)
16. The Atlantics - Glassy Walls (2:03)
17. Jimmy Soul - Treat 'Em Tough (2:13)
18. Aretha Franklin - Runnin' Out Of Fools (2:33)
19. Chad & Jeremy - Yesterday's Gone (2:31)
20. Booker T. & The MG's - Soul Dressing (3:00)
21. The Shepherd Sisters - Don't Mention My Name (2:46)
22. Janie Black - Lonely Sixteen (2:27)
23. The Beatles With Tony Sheridan - Take Out Some Insurance On Me, Baby (2:55)
24. Percy Faith Orchestra - Lemon Tree (2:45)
25. Peter, Paul & Mary - Five Hundred Miles (2:47)
26. Pat Boone - Welcome New Lovers (2:29)
27. Cathy Jean & The Roomates - Please, Love Me Forever (2:54)
28. Peter & Gordon - Freight Train (2:05)
29. Shelby Flint - Angel On My Shoulder (2:19)
Volume 24
1. Ventures - Let's Go (2:20)
2. Majors - What Have You Been Doing (2:24)
3. Fleetwoods - Every Little Beat (2:15)
4. Exciters - Do Wah Ditty Ditty (2:25)
5. Jelly Beans - Baby Be Mine (3:13)
6. Cliff Richard - Look Don't Touch (1:42)
7. Helen Shapiro - The End of the World (2:45)
8. Del Shannon - So Long Baby (2:00)
9. Shangri-Las - Walkin' in the Sand (2:41)
10. Gladiators - The Trek to Rome (2:09)
11. Outlaws - Will You Still Love Me Tomorrow (2:58)
12. Boulder Rollers - Play Money (1:53)
13. Lord Suctch - Monster In Black Tights (2:06)
14. Billy Boyle - My Babys Crazy (2:35)
15. Elvis Presley - Western Union (2:11)
16. Paul & Paula - Hey Paula (2:29)
17. Joe Brown & the Bruvvers - Thats What Love Will Do (2:24)
18. John D. Loudermilk - Language Of Love (1:47)
19. Anita Kerr Singers - My Last Date (with you) (2:47)
20. Tornadoes - Scales Of Justice (2:05)
21. Righteous Brothers - Try To Find Another Man (2:22)
22. Searchers - This Empty Place (2:07)
23. Beatles - A Taste Of Honey (2:02)
24. Four Seasons - Connie-O (2:27)
25. Connie Francis - High Noon (3:22)
26. Walk Don't Run (1:57)
27. Lyn Cornell - Demon Lover (2:58)
28. Willie Harris - Little Bitty Girl (2:19)
29. G-Men - Someone Someone (3:16)
30. Simon & Garfunkel - Sunday Morning 3 A M (2:16)
Volume 25
1. Duane Eddy - My Blue Heaven (2:27)
2. John D. Loudermilk - The Great Snowman (2:33)
3. Dixie Cups - You Should Have Seen The Way He Looked At Me (2:30)
4. Beatles - Theres A Place (1:50)
5. Orchides - That Boy Is Messin` Up My Mind (2:51)
6. Four Seasons - Stay (1:57)
7. Cliff Richard - True Love Will Come To You (2:41)
8. Gerry Granger - Just Tell Him Jane Said Hello (2:26)
9. Champions - Circlerama (2:11)
10. Ginger & Snaps - I'm No Run Around (2:38)
11. Meteors - High Class Baby (1:48)
12. Janis Martin - Cry Guitar (2:29)
13. Shorty Long - Devil With the Blue Dress (3:14)
14. Kim Westin - Love Me All the Way (2:53)
15. String-a-longs - Matilda (2:29)
16. Roy Orbisson - Up Town (2:06)
17. Georgia Lynn - Sugar Shack Queen (2:12)
18. Bartell Dache - Not Just Tomorrow But A;lways (2:49)
19. Sammi Lynn - You Should Know I'm Still Your Baby (2:30)
20. Damita Jo - I'll Be There (2:47)
21. Fireballs - Carioca (2:04)
22. Brenda Holloway - I'll Always Love You (2:51)
23. G-Men - Memories Linger On (2:46)
24. Joanne Black - He'll Have To Stay (2:43)
25. King Curtis - Soul Twist (2:48)
26. Frankie Avalon - Beach Party (2:05)
27. Cast - Bikini Beach (1:55)
28. Chubby Checker - Mary Ann Limbo (2:52)
29. Marilyn Michaels - Tell Tommy I Miss Him (2:46)
30. Bill Kimber & The Courters - Johnny B Goode (2:31)
Volume 26
1. Ventures - Blue Moon (2:14)
2. Elvis Presley - No More (2:22)
3. Gene Pitney - I'm Gonna Be Strong (2:14)
4. Arthur Alexandra - Where Have You Been (2:40)
5. Marcels - Find Another Fool (2:36)
6. Hunters - Theme For A Dream (1:54)
7. Cliff Richards - Fall In Love With You (2:30)
8. Brenda Lee - Kansas City (2:37)
9. Fats Domino - What A Price (2:22)
10. Kathy Kirby - I'll Get By (2:12)
11. Al Caiola - Bounty Hunter (2:21)
12. Beatle-Ettes - Only Seventeen (1:55)
13. Manfred Mann - Sha La La (2:31)
14. Kathy Lynn & Playboys - I Got A Guy (1:56)
15. Jimmy Elledge - Funny How Time Slips Away (2:50)
16. Goldie & Gingerbreads - Skinny Vinnie (2:03)
17. Floyd Kramer - On The Rebound (2:08)
18. Bobby Bare - Detroit City (2:48)
19. Percells - Hully Gully Guitar (2:48)
20. Dickie Loader & Bluejeans - Love Is Just For Fools (2:10)
21. Skeeter Davis - I Can't Stay Mad At You (2:07)
22. Johnny & The G Men - Lucy (2:46)
23. Al Casey & KC Ettes - Guitars Guitars Guitars (2:02)
24. Johnny Kongos & G Men - Wind & Warm (2:13)
25. Johnny Kongos & G Men - Over The Mountain (2:34)
26. Lesley Gore - You Don't Own Me (2:30)
27. Damita Jo - I'll Save The Last Dance For You (2:14)
28. Swinging Blue Jeans - Ol' Man Mose (3:10)
29. Ruby & Romantics - Our Day Will Come (2:31)
30. Flee Rekkers - Lone Rider (2:27)
Volume 27
1. Cliff Richard - Seven Days To A Holiday (3:12)
2. The Shadows - Les Girls (2:00)
3. Ann Margret - What Do You Want From Me (2:32)
4. Bobby Darin - Beyond The Sea (La Mer) (2:50)
5. Edmundo Rios - Miami Beach Rumba (2:35)
6. Patsy Cline - Leavin' On Your Mind (2:28)
7. The Everly Brothers - I Walk The Line (2:38)
8. Jack Scott - Cool Clear Water (2:30)
9. The Crests - Let True Love Begin (2:53)
10. Reg Owen & Orchestra - Kazoo (2:17)
11. Bruce Forsyth - Saturday Sunshine (2:19)
12. Johnny Sandon & The Remo Four - Magic Potion (2:18)
13. The Eagles - Wishin' And Hopin' (1:57)
14. The Ventures - Lady Of Spain (1:56)
15. Bobby Vee - Summertime Blues (2:00)
16. Al Chaney - Return To Sandra (2:14)
17. Brian Hyland - Baby Face (1:56)
18. The Hunters - It's Now Or Never (2:14)
19. Elvis Presley - Something Blue (3:00)
20. Red Foley & The Jordaniars - No Tears In Heaven (2:36)
21. Connie Francis - Tonight's My Night (2:34)
22. Craig Douglas - The Heart Of A Teenage Girl (2:25)
23. Bob Thompson - The Best Thing For You (2:28)
24. The Jet Blacks - Rhythm Of The Rain (2:01)
25. Don Gibson - Sea Of Heartbreak (2:34)
26. Billy Fury - In Summer (2:44)
27. Tommy Roe - That'll Be The Day (2:08)
28. Bruce Channel - Hey Baby (2:23)
29. Lesley Gore - It's My Party (2:23)
30. Gerry & The Pacemakers - You'll Never Walk Alone (2:41)
Volume 28
1. Duane Eddy - Kommotion (2:51)
2. Burl Ives - Among My Souvenirs (2:41)
3. Wanda Jackson - I Need You Now (2:17)
4. Echoes - Baby Blue (2:28)
5. Mel Gadson - Comin' Down With Love (2:04)
6. Etta James - All I Could Do Was Cry (2:55)
7. Keith Colley - Enamorado (1:55)
8. Jon Thomas - Heartbreak (It's Hurtin' Me) (2:48)
9. Shirley & Lee - I've Been Loved Before (2:32)
10. Jerry Sparks - Mighty Strong Love (2:28)
11. Elvis Presley - Echoes Of Love (2:38)
12. Bill Black's Combo - Don't Be Cruel (2:01)
13. LaVern Baker - Tiny Tim (2:19)
14. Dorsey Burnette - (There Was A) Tall Oak Tree (2:09)
15. The Delicates - Too Young To Date (1:41)
16. Charlie Flener - Moon In My Window (2:13)
17. Fats Domino - My Girl Josephine (1:58)
18. Johnny & The Hurricanes - Beatnik Fly (2:07)
19. Bo Diddley - Road Runner (2:47)
20. Sandy Carney - Teena (1:58)
21. Johnny Tillotson - Poetry In Motion (2:26)
22. The Bobbettes - I Shot Mr Lee (2:12)
23. Don Gibson - Love Has Come My Way (1:58)
24. Jerry Martin - Sweetheart (2:35)
25. Roy Hamilton - You Can Have Her (2:45)
26. The Ventures - Perfidia (2:04)
27. Johnny Burnette - You're Sixteen (1:56)
28. Leroy Van Dyke - Heartaches By The Number (2:15)
29. Patsy Cline - You Took Him Off My Hands (2:59)
30. Marv Johnson - I Love The Way You Love (2:37)
31. Jimmy Clanton - Venus In Blue Jeans (2:19)
32. The Drifters - Save The Last Dance For Me (2:33)
Volume 29
1. Al Tousan & His Piano - Naomi (2:12)
2. The Beatles - Eight Days A Week (2:44)
3. Johnny Horton - Hey Daddy (1:53)
4. James Gilreath - Little Band Of Gold (2:23)
5. Dion & The Belmonts - In The Still Of The Night (2:37)
6. Rosie & The Originals - Angel Baby (2:47)
7. Preston Epps - Bongo Rock (2:07)
8. Tobin Mathews - Ruby Duby Du (2:47)
9. Donnie Brooks - Mission Bell (2:26)
10. Bobby Vee - More Than I Can Say (2:27)
11. Faron Young - Down by the River (2:52)
12. Timi Yuro - Hurt (2:27)
13. Dorsey Burnette - Hey Little One (2:17)
14. Lee Hazlewood With Duane Eddy - The Girl On Death Row (2:47)
15. Billy Joe and the Checkmates - Percolator (Twis) (2:13)
16. Chris Montez - Let's Dance (2:24)
17. The Kingsmen - Louie Louie (2:43)
18. The Jive Five - My True Story (2:29)
19. Jerry Wallace - There She Goes (2:44)
20. Vernon Taylor - Mystery Train (2:29)
21. Buddy Knox - Lovey Dovey (2:13)
22. Bobby Darin - Somebody To Love (2:11)
23. Ben E King - Spanish Harlem (2:58)
24. Kathy Young & The Innocents - A Thousand Stars (3:09)
25. The Coasters - Wait A Minute (2:37)
26. Four Seasons - Rag Doll (2:53)
27. Jerry Lee Lewis - What'd I Say (2:25)
28. Johnny Crawford - Cindy's Birthday (2:05)
29. Curtis Lee - Pretty Little Angel Eyes (2:43)
30. The Corsairs - Smoky Places (2:57)
31. The Spotnicks - La Valentina (Save the last dance for me) (2:14)
Volume 30
1. Al Caiola & His Orchestra - The Magnificent Seven (2:02)
2. Swinging Blue Jeans - Long Tall Sally (1:46)
3. The Searchers - Hungry For Love (2:22)
4. Ronnie Hawks - Bo Diddley (2:52)
5. Chubby Checker - Ann Rosie (2:27)
6. The Elektras - All I Want To Do Is Run (2:41)
7. ZZ & The Maskers - Greensleeves (2:16)
8. Billy & The Essentials - Maybe You'll Be There (1:50)
9. Kathy Liden - So In Love With You (2:28)
10. The Drifters - Sweets For My Sweet (2:35)
11. Brenda Lee - Heart In Hand (2:27)
12. Ray Peterson - Suddenly (2:34)
13. The Ramrods - Riders In The Sky (2:34)
14. The Spiders - Christina (2:20)
15. Tommy Steele - Happy-Go-Lucky Blues (2:20)
16. Ral Donner - I Got Burned (2:16)
17. The Paris Sisters - Be My Boy (1:53)
18. Eddie Holland - Just Ain't Enough Love (2:25)
19. Miriam Johnson - Lonesome Road (2:27)
20. Ricky Lyons - Shim Sham Shuff (2:11)
21. Jo Ann Campbell - Kookie Little Paradise (2:24)
22. The Rocky Fellers - We Got Love (2:02)
23. Tommy Roe - There Will Be Better Years (2:09)
24. The Beatles - Everybody's Trying To Be My Baby (2:26)
25. Sue Thompson - Paper Tiger (2:25)
26. Frank Ifield - Wolverton Mountain (2:52)
27. Eddie Cochran - Weekend (1:50)
28. Jimmy Clanton - I Care Enough (To Give The Very Best) (2:42)
29. Johnny Burnette - Girls (2:02)
30. The Clovers - Lovey (2:28)
31. Tina Robin - Play It Again (2:34)
32. The Marcels - Over The Rainbow (2:38)
33. Fats Domino - What A Party (1:50)
Volume 31
1. Booker T & The MGs - Green Onions (2:50)
2. Dean and Jean - Mack the Knife (2:20)
3. Beatles - Honey Don't (2:57)
4. Blossoms - Write Me a Letter (2:33)
5. Kerry Adams - Everyboy Like Me (2:15)
6. Little Eva - The Loco-Motion (2:25)
7. Brian Poole & The Tremeloes - Keep On Dancing (1:56)
8. Bert Weedon - Big Beat Boogie (1:54)
9. Fats Domino - Tell Me That You Love Me (2:01)
10. Connie Francis - I Can't Stop Loving You (2:49)
11. Brenda Lee - Only You (2:55)
12. Lenny Dee - Baby Elephant Walk (2:01)
13. Pat & The Californians - Be Billy (2:02)
14. Roy Young - Four An' Twenty Thousand Kiss (2:06)
15. Carol Connors - Big Big Love (2:21)
16. Shadows - Main Theme (2:10)
17. Grant Tracy - The Great Matchmaker (2:01)
18. Crickets - He's Old Enough To Know Better (1:50)
19. Majors - She's A Troublemaker (2:27)
20. Ace Cannon - Blues (Stay Away From Me) (2:24)
21. Cliff Richard - The Night Is So Lonely (2:40)
22. Arthur Alexander - You're the Reason (2:25)
23. Lita Roza - Mama (He Treats Your Daughter Mean) (2:52)
24. Larry Finnegan - Pretty Suzy Sunshine (2:02)
25. Ventures - Bulldog (2:23)
26. Jerry Wallace - Shutters and Boards (2:52)
27. Accents - You Better Watch Out Boy (2:44)
28. Del Shannon - The Swiss Maid (2:04)
29. Rivingtons - The Bird's The Word (2:08)
30. Vernons Girls - I'm Gonna Let My Hair Down (1:43)
31. Bobby Freeman - What Can I Do (3:07)
32. Carter, Lewis & The Southerne - Will it Happen to Me (2:02)
33. Dennis Turner - Lover Please (1:51)
34. Chubby Checker - Dancin' Party (2:23)
Volume 32
1. Kenny Ball - The Green Leaves of Summer (2:48)
2. Eddie Hodges - Bandit Of My Dreams (1:57)
3. Bill Kimber And The Couriers - Hippy Hippy Shake (2:03)
4. Ernie K-Doe - A Certain Girl (2:42)
5. Maureen Moore - Do You Want To Know A Secret (1:54)
6. Jim Reeves - Caroline Moon (2:28)
7. Drifters - Stranger On The Shore (2:39)
8. Duane Eddy - Ring Of Fire (2:19)
9. Meteors - Meadowlands (2:56)
10. Brian Hyland - Itsy Bitsy Teenie Weenie (2:21)
11. Jimmie Rodgers - English Country Garden (2:38)
12. Galens - Love Bells (2:18)
13. Ann-Margret - Heartbreak Hotel (2:26)
14. Gerry & The Pacemakers - It's Just Because (2:15)
15. Sunsets - Man Hunt (2:11)
16. Ray Ellington - The Madison (2:31)
17. Garnet Mimms - As Long As I Have You (2:38)
18. Elvis Presley - Almost Always True (2:21)
19. Kathy Liden - We Had Words (2:21)
20. Outlet - Young Love (2:07)
21. Estelle Brown - You Got Just What You Asked For (2:16)
22. Spotnicks - Espaсa Cani (1:51)
23. Dickie Loader & The Blue Jeans - Lawdy Miss Claudy (2:26)
24. Chiffons - One Fine Day (2:07)
25. Tommy Steele - Nairobi (1:58)
26. Kathy Kirbyy - Big Man (2:23)
27. Fourmost - Just In Case (2:40)
28. Herman's Hermits - Show Me Girl (2:33)
29. Springfields - Island of Dreams (2:36)
30. Beach Boys - Surfin' USA (2:25)
31. Searchers - Saturday Night Out (1:43)
32. Dana - Welcome Home (2:03)
33. Kai Winding - Time Is On My Side (3:10)
Volume 33
1. Leiber-Stoller Orchestra - Cafe Espresso (2:06)
2. Shirley Bassey - In Other Words (Fly Me To The Moon) (3:32)
3. Matt Monro - Walk Away (3:05)
4. Frankie Avalon - Don't Throw Away Those Teardrops (2:29)
5. Bert Kaempfert & His Orchestr - Afrikaan Beat (2:23)
6. Crickets - (They Call Her) La Bamba (2:36)
7. Chubby Checker - (We're Gone) Surfin' (2:04)
8. Johnny Kongos & The G-Men - C'mon Everybody (1:58)
9. Herb Alpert & The Tijuana Bra - All My Loving (1:56)
10. Donna Loren - Dream World (2:36)
11. Roy Orbison - Blue Bayou (2:27)
12. Ketty Lester - But Not For Me (2:04)
13. Blossoms - Hard To Get (2:33)
14. Charlie Rich - Just A Little Bit Sweet (2:19)
15. Moody & the Deltas - Everybody Come Clap Your Hands (2:46)
16. Bruce & Terry - Summer Means Fun (2:15)
17. Paul Anka - Memories Are Made Of This (2:11)
18. Enchanters - I Wanna Thank You (2:51)
19. Marcels - Peace Of Mind (2:31)
20. Bachelors - No Arms Can Ever Hold You (3:02)
21. Cliff Richard - Perhaps, Perhaps, Perhaps (2:24)
22. Tommy Roe - Piddle De Pat (1:49)
23. Librettos - Great Balls Of Fire (2:41)
24. Swinging Blue Jeans - Three Little Fishes (2:10)
25. Ventures - Wheels (1:55)
26. Brian Poole & The Tremeloes - Over The Mountain, Across The Sea (2:24)
27. Babs Tino - What's Wrong With Me And You (2:19)
28. Grant Tracy & The Sunsets - Pretend (2:34)
29. Applejacks - Too Much Monkey Business (2:50)
30. Roy Hamilton - You Can Count On Me (2:21)
31. Ian & Sylvia - Four Strong Winds (3:24)
32. Butterflys - Good Night Baby (2:50)
Volume 34
1. Rolling Stones - 2120 South Michigan Avenue (2:06)
2. Rolling Stones - Around And Around (3:03)
3. Beatles - She Loves You (2:18)
4. Dickie Loader & The Blue Jeans - Summertime Blues (2:01)
5. Brenda Lee - Dynamite (1:56)
6. Shadows - Dance On! (2:22)
7. Muhammad Ali (as Cassius Clay) - Stand By Me (2:11)
8. Gerry & The Pacemakers - Away From You (2:07)
9. Bobby Vinton - Blue Velvet (2:48)
10. Jim Reeves - Welcome To My World (2:22)
11. Joan Baez - Stewball (2:57)
12. Ray Peterson - The Wonder Of You (2:34)
13. Bob Dylan - The Times They Are A-Changin' (3:11)
14. Dakotas - The Cruel Sea (2:13)
15. Naturals - I Should Have Known Better (2:09)
16. Spotnicks - She She Little Sheila (2:31)
17. Fantastic Baggys - Tell 'Em I'm Surfin' (2:05)
18. Astro-Jets - Boom-A-Lay (2:37)
19. Claudine Clark - Disappointed (3:02)
20. Kathy Liden - If You Really Love Me (Take Me Home) (2:49)
21. Hockadays - Hold On Baby (2:29)
22. Skeeter Davis - Gonna Get Along Without You Now (2:21)
23. Mike Sheridan And The Nightriders - What A Sweet Thing That Was (2:28)
24. Meteors - Step Out (2:42)
25. Christine Kittrell - I'm A Woman (2:31)
26. Liverbirds - It's Got To Be You (3:02)
27. Peter, Paul & Mary - Puff, The Magic Dragon (3:27)
28. Keith Powell And The Valets - The Answer Is No (2:26)
29. Bert Weedon - Twist A Napoli (2:12)
30. Bill Kimber And The Couriers - That's What I Want (2:15)
31. Swinging Blue Jeans - You're No Good (2:13)
32. Chubby Checker - I Could Have Danced All Night (2:09)