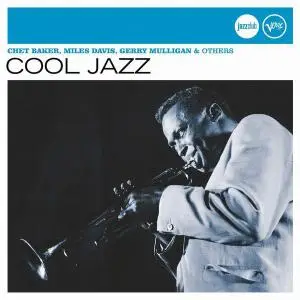 Chet Baker, Miles Davis, Gerry Mulligan & others - Cool Jazz [Recorded 1957-1965] (2006)
EAC Rip | FLAC (image+.cue+log) - 377 MB | MP3 CBR 320 kbps (LAME 3.93) - 186 MB | Covers (3 MB) included
Genre: Jazz | RAR 3% Rec. | Label: Universal Music (06024 9841867)
The Jazz Club series is an attractive addition to the Verve catalogue. With it's modern design and popular choice of repertoire, the Jazz Club is not only opened for Jazz fans, but for everyone that loves good music. This 16 track compilation is so cool, it's hot! Tracks from Miles Davis, Chet Baker, Max Roach, Stan Getz, Lee Konitz, Wes Montgomery and others make this one sensational platter of Jazz magic.
Tracklist:
01. Art Farmer-Benny Golson Jazztet - The Cool One
02. Miles Davis - Au Bar Du Petit Bac
03. Ed Thigpen - Harper
04. Chet Baker - I Wish You Love
05. Wes Montgomery - What's New?
06. Max Roach - Crackle Hut
07. Dizzy Gillespie - Coolie
08. Al Cohn-Zoot Sims Quintet - Angel Eyes
09. Paul Gonsalves - Cleo's Asp
10. Stan Getz - Serenade In Blue
11. Jimmy Giuffre - The Easy Way
12. Roy Haynes Quartet - Snap Crackle
13. Lee Konitz - Foolin' Myself
14. Hans Koller - The Gentle Art Of Love
15. Gerry Mulligan & Paul Desmond - Wintersong
16. Barney Wilen - Nuages
Total time:
01:17:33
Exact Audio Copy V0.99 prebeta 5 from 4. May 2009

Отчёт EAC об извлечении, выполненном 22. февраля 2013, 23:05

Various / Jazzclub Highlights - Cool Jazz

Дисковод: ASUS SBC-06D1S-U Adapter: 2 ID: 0

Режим чтения : Достоверность
Использование точного потока : Да
Отключение кэша аудио : Да
Использование указателей C2 : Нет

Коррекция смещения при чтении : 102
Способность читать области Lead-in и Lead-out : Нет
Заполнение пропущенных сэмплов тишиной : Да
Удаление блоков с тишиной в начале и конце : Нет
При вычислениях CRC использовались нулевые сэмплы : Да
Интерфейс : Встроенный Win32-интерфейс для Win NT/2000

Выходной формат : Пользовательский кодировщик
Выбранный битрейт : 768 kBit/s
Качество : Высокий
Добавление ID3-тэга : Нет
Утилита сжатия : C:\Program Files (x86)\Exact Audio Copy\Flac\flac.exe
Дополнительные параметры : -6 -V -T "ARTIST=%a" -T "TITLE=%t" -T "ALBUM=%g" -T "DATE=%y" -T "TRACKNUMBER=%n" -T "GENRE=%m" -T "COMMENT=%e" %s -o %d


TOC извлечённого CD

Трек | Старт | Длительность | Начальный сектор | Конечный сектор
––––––––––––––––––––––––––––––––––-
1 | 0:00.00 | 3:02.63 | 0 | 13712
2 | 3:02.63 | 2:56.05 | 13713 | 26917
3 | 5:58.68 | 2:37.13 | 26918 | 38705
4 | 8:36.06 | 3:12.28 | 38706 | 53133
5 | 11:48.34 | 6:12.40 | 53134 | 81073
6 | 18:00.74 | 5:46.70 | 81074 | 107093
7 | 23:47.69 | 3:39.28 | 107094 | 123546
8 | 27:27.22 | 3:14.70 | 123547 | 138166
9 | 30:42.17 | 6:46.01 | 138167 | 168617
10 | 37:28.18 | 3:55.69 | 168618 | 186311
11 | 41:24.12 | 5:56.47 | 186312 | 213058
12 | 47:20.59 | 4:08.01 | 213059 | 231659
13 | 51:28.60 | 7:02.11 | 231660 | 263320
14 | 58:30.71 | 4:58.46 | 263321 | 285716
15 | 63:29.42 | 8:11.66 | 285717 | 322607
16 | 71:41.33 | 5:51.24 | 322608 | 348956


Характеристики диапазона извлечения и сообщения об ошибках

Выбранный диапазон

Имя файла F:\EAC_AdvantiX\Jazzclub Highlights - Cool Jazz\Jazzclub Highlights - Cool Jazz.wav

Пиковый уровень 99.9 %
Качество диапазона 100.0 %
CRC копии 0E2CD631
Копирование… OK

Ошибок не произошло


AccurateRip: сводка

Трек 1 точное извлечение (доверие 13) [749719F9]
Трек 2 точное извлечение (доверие 13) [F8E1D649]
Трек 3 точное извлечение (доверие 13) [71339390]
Трек 4 точное извлечение (доверие 13) [8D24955D]
Трек 5 точное извлечение (доверие 13) [F315EF5F]
Трек 6 точное извлечение (доверие 13) [4E751783]
Трек 7 точное извлечение (доверие 13) [6DFF505E]
Трек 8 точное извлечение (доверие 13) [FDDC7375]
Трек 9 точное извлечение (доверие 13) [BA66609B]
Трек 10 точное извлечение (доверие 14) [657C4841]
Трек 11 точное извлечение (доверие 14) [7783C735]
Трек 12 точное извлечение (доверие 13) [BD8002E6]
Трек 13 точное извлечение (доверие 14) [4E09E96D]
Трек 14 точное извлечение (доверие 14) [07492062]
Трек 15 точное извлечение (доверие 14) [F57FD930]
Трек 16 точное извлечение (доверие 14) [2A8D8CD3]

Все треки извлечены точно

Конец отчёта

––––––––––––––––––––––––––––––

Exact Audio Copy V0.99 prebeta 5 from 4. May 2009

Отчёт EAC об извлечении, выполненном 22. февраля 2013, 23:05

Various / Jazzclub Highlights - Cool Jazz

Дисковод: ASUS SBC-06D1S-U Adapter: 2 ID: 0

Режим чтения : Достоверность
Использование точного потока : Да
Отключение кэша аудио : Да
Использование указателей C2 : Нет

Коррекция смещения при чтении : 102
Способность читать области Lead-in и Lead-out : Нет
Заполнение пропущенных сэмплов тишиной : Да
Удаление блоков с тишиной в начале и конце : Нет
При вычислениях CRC использовались нулевые сэмплы : Да
Интерфейс : Встроенный Win32-интерфейс для Win NT/2000

Выходной формат : Пользовательский кодировщик
Выбранный битрейт : 768 kBit/s
Качество : Высокий
Добавление ID3-тэга : Нет
Утилита сжатия : C:\Program Files (x86)\Exact Audio Copy\Flac\flac.exe
Дополнительные параметры : -6 -V -T "ARTIST=%a" -T "TITLE=%t" -T "ALBUM=%g" -T "DATE=%y" -T "TRACKNUMBER=%n" -T "GENRE=%m" -T "COMMENT=%e" %s -o %d


TOC извлечённого CD

Трек | Старт | Длительность | Начальный сектор | Конечный сектор
––––––––––––––––––––––––––––––––––-
1 | 0:00.00 | 3:02.63 | 0 | 13712
2 | 3:02.63 | 2:56.05 | 13713 | 26917
3 | 5:58.68 | 2:37.13 | 26918 | 38705
4 | 8:36.06 | 3:12.28 | 38706 | 53133
5 | 11:48.34 | 6:12.40 | 53134 | 81073
6 | 18:00.74 | 5:46.70 | 81074 | 107093
7 | 23:47.69 | 3:39.28 | 107094 | 123546
8 | 27:27.22 | 3:14.70 | 123547 | 138166
9 | 30:42.17 | 6:46.01 | 138167 | 168617
10 | 37:28.18 | 3:55.69 | 168618 | 186311
11 | 41:24.12 | 5:56.47 | 186312 | 213058
12 | 47:20.59 | 4:08.01 | 213059 | 231659
13 | 51:28.60 | 7:02.11 | 231660 | 263320
14 | 58:30.71 | 4:58.46 | 263321 | 285716
15 | 63:29.42 | 8:11.66 | 285717 | 322607
16 | 71:41.33 | 5:51.24 | 322608 | 348956


Характеристики диапазона извлечения и сообщения об ошибках

Выбранный диапазон

Имя файла F:\EAC_AdvantiX\Jazzclub Highlights - Cool Jazz\Jazzclub Highlights - Cool Jazz.wav

Пиковый уровень 99.9 %
Качество диапазона 100.0 %
CRC копии 0E2CD631
Копирование… OK

Ошибок не произошло


AccurateRip: сводка

Трек 1 точное извлечение (доверие 13) [749719F9]
Трек 2 точное извлечение (доверие 13) [F8E1D649]
Трек 3 точное извлечение (доверие 13) [71339390]
Трек 4 точное извлечение (доверие 13) [8D24955D]
Трек 5 точное извлечение (доверие 13) [F315EF5F]
Трек 6 точное извлечение (доверие 13) [4E751783]
Трек 7 точное извлечение (доверие 13) [6DFF505E]
Трек 8 точное извлечение (доверие 13) [FDDC7375]
Трек 9 точное извлечение (доверие 13) [BA66609B]
Трек 10 точное извлечение (доверие 14) [657C4841]
Трек 11 точное извлечение (доверие 14) [7783C735]
Трек 12 точное извлечение (доверие 13) [BD8002E6]
Трек 13 точное извлечение (доверие 14) [4E09E96D]
Трек 14 точное извлечение (доверие 14) [07492062]
Трек 15 точное извлечение (доверие 14) [F57FD930]
Трек 16 точное извлечение (доверие 14) [2A8D8CD3]

Все треки извлечены точно

Конец отчёта
[CUETools log; Date: 09.10.2018 23:07:30; Version: 2.1.4]
[CTDB TOCID: p5P4FOti3colCW0WtnD5WQE4JBQ-] found.
Track | CTDB Status
1 | (45/45) Accurately ripped
2 | (45/45) Accurately ripped
3 | (44/45) Accurately ripped
4 | (44/45) Accurately ripped
5 | (45/45) Accurately ripped
6 | (45/45) Accurately ripped
7 | (45/45) Accurately ripped
8 | (45/45) Accurately ripped
9 | (44/45) Accurately ripped
10 | (45/45) Accurately ripped
11 | (45/45) Accurately ripped
12 | (45/45) Accurately ripped
13 | (43/45) Accurately ripped
14 | (43/45) Accurately ripped
15 | (43/45) Accurately ripped
16 | (43/45) Accurately ripped
[AccurateRip ID: 0027b66d-01ede0d2-c9122c10] found.
Track [ CRC | V2 ] Status
01 [749719f9|a0c9108a] (13+19/32) Accurately ripped
02 [f8e1d649|d2b766f4] (13+19/32) Accurately ripped
03 [71339390|1ff0dbba] (13+18/31) Accurately ripped
04 [8d24955d|b4a88b66] (13+19/32) Accurately ripped
05 [f315ef5f|b47185d1] (13+20/33) Accurately ripped
06 [4e751783|ad23c127] (13+20/33) Accurately ripped
07 [6dff505e|15663b84] (13+20/33) Accurately ripped
08 [fddc7375|57eab127] (13+19/32) Accurately ripped
09 [ba66609b|56e05b24] (13+20/33) Accurately ripped
10 [657c4841|91bfe204] (14+20/34) Accurately ripped
11 [7783c735|4603c4b9] (14+20/34) Accurately ripped
12 [bd8002e6|0bd67934] (13+20/33) Accurately ripped
13 [4e09e96d|fc761388] (14+20/34) Accurately ripped
14 [07492062|da6271ca] (14+20/34) Accurately ripped
15 [f57fd930|ae8f9824] (14+20/34) Accurately ripped
16 [2a8d8cd3|db17daee] (14+20/34) Accurately ripped

Track Peak [ CRC32 ] [W/O NULL] [ LOG ]
– 99,9 [0E2CD631] [99D09EA4]
01 75,4 [E5C53036] [0B0145C6] [0E2CD631]
02 87,7 [8E75C85D] [EFD564F7] [0E2CD631]
03 62,3 [EFD3F3D3] [B00754FC]
04 66,8 [650550C1] [A9520C25]
05 93,9 [B38275C3] [D9F6AACD]
06 74,6 [D27674B9] [36DACAC8]
07 66,8 [6A6E1905] [9198D2C9]
08 62,4 [5C3B607E] [ADFF84B4]
09 63,0 [5A7A3B10] [1ED50044]
10 57,2 [18FDAC48] [A19D0F54]
11 98,8 [0B3D3A97] [11833ED5]
12 76,8 [BA3481BB] [88EA9942]
13 79,4 [BB1F9024] [8B5A62C0]
14 35,2 [D025CD9A] [DF2BC6DF]
15 99,9 [948BF469] [932C9B1F]
16 80,9 [5C23E274] [24108549]
Thanks to
JVA