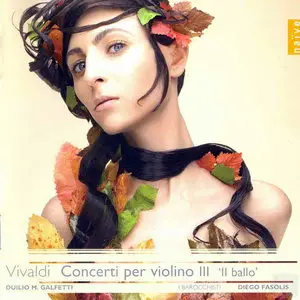 Vivaldi: Concerti per Violino III, "Il ballo"
Classical | Easy CD-DA, FLAC (tracks), No CUE, No Log | 1 CDs, Covers 200ppi | 447MB
CD date: March 2009 | NAIVE
Diego Fasolis' strong sense of rhythm coupled with the fluidity and virtuostic ease of Galfetti's playing render this cd irresistible. The Vivaldi Edition: a recording venture conceived by the Italian musicologist Alberto Basso and the independent label Naïve, is one of the most ambitious recording projects of the twenty-first century. Its principal objective is to record the massive collection of Vivaldi autograph manuscripts preserved today in the Biblioteca Nazionale Universitaria in Turin, some 450 works in all. This treasure trove is none other than the private library of scores Vivaldi had at home at the time of his death in Vienna in 1741 and includes his extant operas, hundreds of concertos, sacred compositions and cantatas.
Composer
: Antonio Vivaldi
Performer
: Duilio Galfetti
Conductor
: Diego Fasolis
Orchestra/Ensemble
: I Barocchisti
Track Listings
01. RV 352 in la maggiore per violino e archi (Allegro Molto) - 2:10
02. RV 352 in la maggiore per violino e archi (Largo) - 1:48
03. RV 352 in la maggiore per violino e archi (Allegro) - 2:40
04. RV 307 in sol magiore per violino e archi (Allegri e Molto) - 3:09
05. RV 307 in sol magiore per violino e archi (Adagio) - 2:43
06. RV 307 in sol magiore per violino e archi (Allegro) - 3:51
07. RV 268 in mi maggiore per violino e archi (Allegro) - 3:45
08. RV 268 in mi maggiore per violino e archi (Largo) - 3:23
09. RV 268 in mi maggiore per violino e archi - 3:54
10. RV 333 in sol minore per violine e archi (Allegro) - 5:06
11. RV 333 in sol minore per violine e archi - 2:38
12. RV 333 in sol minore per violine e archi (Allegro) - 4:44
13. RV 210 in re maggiore per violine e archi (Allegro) - 4:42
14. RV 210 in re maggiore per violine e archi - 2:39
15. RV 210 in re maggiore per violine e archi (Allegro) - 4:28
16. RV 312 in sol maggiore per vioino e archi (Allegro Molto) - 3:01
17. RV 312 in sol maggiore per vioino e archi (Larghetto) - 1:53
18. RV 312 in sol maggiore per vioino e archi (Allegro) - 3:04
19. RV 350 in la maggiore per violino e archi (Allegro molto, molto) - 3:56
20. RV 350 in la maggiore per violino e archi (Largo) - 2:16
21. RV 350 in la maggiore per violino e archi (Allegro) - 4:07