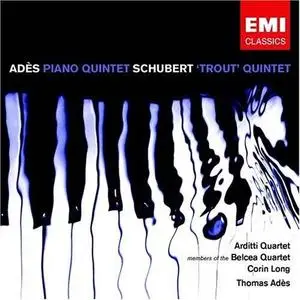 Thomas Adès: Piano Quintet / Franz Schubert: "Trout" Quintet (1993)
EAC (APE & CUE) | Classical | 1 CD | 236 MB
_____________________
The combination of the most famous of all piano quintets, Schubert's 1819
"Trout" Quintet
and Thomas Adès's
Piano Quintet
, composed in 2001, seems to be a contrast between classical convention and modernist disembodiment, between the familiar and the newly imagined. But the juxtaposition between these two pieces tells another story, in which Schubert's familiar music is rendered strange by Adès's piece, and Schubert's piece in turn releases the connections between Adès's piece and the classical tradition.
The themes of the Quintet are recognizably tonal, and are closely related to one another in their melodic contours. But these simple building blocks are the starting points for rich and intricate processes of transformation. The long exposition is full of subtle metrical juxtapositions, with the piano and string quartet often playing in different time signatures simultaneously. Yet this is not simply a pitting of various pulses against one another. Where Adès's previous works have suspended musical styles and created different levels of allusions and reference, the
Piano Quintet
extends that principle of reimagination to its entire structure
_____________________
Thomas Adès: Piano Quintet | Franz Schubert: "Trout" Quintet
EMI Classics 57664-2
Released 2005
Thomas Adès
1. Piano Quintet
2. Piano Quintet
3. Piano Quintet
Arditti String Quartet
with
Thomas Adès, Piano
Franz Schubert
4. I: Allegro Vivace
5. II: Andante
6. III: Scherzo (Presto)
7. Thema: (Andantino)
8. Variation I
9. Variation II
10. Variation III
11. Variation IV
12. Variation V
13. Allegretto
14. V: Finale (Allegro Giust)
Thomas Ades, Piano
Corin Long, Double Bass
Corina Belcea, Violin
Krzysztof Chorzelski, Viola
Alasdair Tait, Cello
Out of respect for the rights of composers and artists who are involved, as well as organizations that are affiliated, with this recording, please consider buying the album. Besides, not only are you adding great music to your collection, you're also helping a great cause.
<b><i><u>IMPORTANT! READ FIRST</u></i></b>
For those who are new to my downloads, I ask that you take the time to
read and follow
the instructions written in the RAR files prior to each download. Please do not resort to premature judgments, let alone post your rants, before taking the above advice into consideration. Otherwise, I'm willing to help those who might have problems beyond their control. It's also worth noting that all my files are password-free and come with all the available mirrors that FTP2Share provides. I hope this is enough to show that I am not interested in collecting points of any kind. Moreover, NEVER post any links in the open. This should not be taken lightly. As much as I love
avant-garde
music and equally enjoy sharing with you, I will not tolerate anyone who brazenly disregard this simple request and will cease all publications immediately without further notice. You have been warned.
Happy listening!