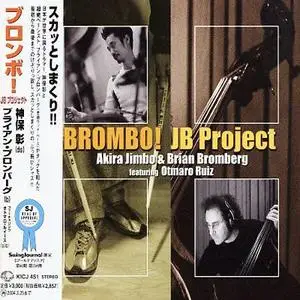 Akira Jimbo, Brian Bromberg - Brombo I.
Jazz | MP3 | 69,77MB | 192 Kbps
You thought Marcus Miller and Jaco and Stanley Clark were funky? They are indeed but they don't play the double bass. Brian Bromberg displays absolute chops that Charles Mingus would have wanted. Akira Jimbo as usual with his unbelievable groove keeps the whole album going and Otomaro Ruiz is one hell of a pianist. With this CD you CAN'T go wrong. It has a fantastic rendition of Beethoven's 9th Ode to joy which doesn't destroy it but puts it in a contemporary setting, much like Jacque Loussier or Eugen Cicero would have. Advice: There's an album around there with Brian Bromberg, Dennis Chambers and Gonzalo Rubalcava, you would think the pairing of Chambers and Bromberg would make for a great album, but Rubalcava spoils everything with his boring Diva piano. This is amuch better album, don't miss it!
1. Giant Steps
2. And I Love Her
3. Mambo No.5
4. An Die Freude
5. Leisure Sweet
6. Summer Breeze
7. So What
8. Brombo
9. Wishful
http://rapidshare.de/files/35099477/akira_jimbo___brian_bromberg_-_brombo__jb_project.zip