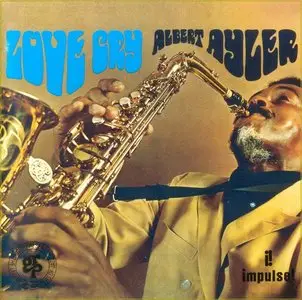 Albert Ayler - Love Cry
Jazz | 1991 | MP3 320Kbps¬133 MB | Time 54:12 | Covers
Recorded at Capitol Studios, New York City on August 31, 1967 (#1-6), and February 13, 1968 (#7-11) From the time he was signed to Impulse in 1966, it was assumed that Albert Ayler's releases on that label would be motivated by an attempt at commercialism. While the music was toned down from his earlier ESP recordings, by no means did Ayler ever make commercial records. Much in the same way John Coltrane's later-period Impulse releases weren't commercial, Ayler simply took advantage of a larger record company's distribution, trying to expose the music to more people. Ayler's uncompromising musical freedom mixed with his catchy combination of nursery rhythms and brass band marches remained prominent on Love Cry. The interplay between the Ayler brothers also remained fiery as younger sibling Donald is heard playing trumpet for the last time on a recording with his brother. Donald was fired from the band (at the suggestion of Impulse) and, unfortunately, was committed to a mental institution for a short stay after these sessions were made. The rhythm section of Alan Silva on bass and Milford Graves on drums continually instigates and propels this music into furious militaristic march territory. Unhappily, the four tracks in which Call Cobbs is featured on harpsichord tend to drag the music down; it's unfortunate his gospel-inspired piano or organ playing couldn't have been utilized instead. The CD reissue contains alternate takes of "Zion Hill" and "Universal Indians."
Tracks:
*01.-Love Cry
*02.-Ghosts
*03.-Omega
*04.-Dancing Flowers
*05.-Bells
*06.-Love Flower
*07.-Love Cry II
*08.-Zion Hill (Alternate Take)
*09.-Universal Indians (Alternate Take)
*10.-Zion Hill
*11.-Universal Indians
Personnel:
*Albert Ayler: alto saxophone, tenor saxophone, vocals
*Donald Ayler: trumpet
*Call Cobbs: harpsichord
*Alan Silva: bass
*Milford Graves:drums
My Blog. Enjoy }i{