This is last album by
Amr Diab
. He is a super pop star of Arabic music.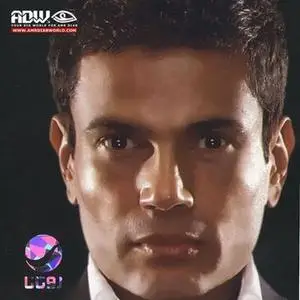 Artist:
Amr Diab
Album:
Kammel Kalamak
Year:
2005
Playtime: 39:36
Quality: MP3-320Kb
Size: 95Mb
www.amrdiabworld.com
Amr Diab (Amr Abd-Albaset Abd-Alaziz Diab), a new born star for his phenomenal singing talent had his first glow to life on the 11th of October 1961 in Port Said, Egypt. His father was the chairman of Marine Construction & Shipbuilding. He played a great role to igniting the early sparks of musical inspiration towards Diab's early stages in his professional music career. Amr at the age of six sang at the July 23rd Festival in Port Said, he was surprisingly rewarded with a guitar from the governor for his excellence.

Amr Diab had earned his bachelor degree in Arabic Music and graduated at the Cairo Academy of Arts in 1986.

Professionally, Amr Diab entered the musical arena and introduced his first album "Ya Taree'" (1983), integrated with the audience and gained lots of attention and success. Amr followed on producing several great albums: "Ghanny Men Albak" (1984), "Hala Hala" (1986), "Khalseen" (1987), "Mayyal" (1988), "Shawa'na" (1989) and "Matkhafesh" (1990).

Amr was chosen to perform and represent Egypt at the 5th Tournament of African Sports in 1990 where he sang in English, French and predominantly Arabic. Decisively and during the same year the star decided to invade the cinema with a role in the film "El Afareet" with Madiha Kamel. Then came his other hit albums "Habibi" (1991), "Ayyamna" (1992) and "Ya Omrena" (1993). In 1992 and 1994, Amr played two more roles in the cinema in "Ice Cream Fe Glim" and "Dehk Wele'b Wegad Wehob"–which additionally was chosen as the opening film in the Egyptian Film Festival.

Amr Diab's musical career stemmed and kept growing, aiming for musical excellence. He followed on and released the album "Weylomony" (1994). Amr Diab officially established himself as the super star of the Arab world, demarcating the launch of "Rag'een" (1995) and the popular "Nour El Ein" album (1996) which was not only a success in the Middle East but in the whole world, and "Awedony" (1998).

Amr Diab thereafter made a break through with one of his best smashing hits "Amarain" album (1999), Diab engaged with two singers during this album and produced amazing duets, one with the Algerian-French based Cheb Khaled song "Alby" and the second with the Greek Angela Dimitriou song "Bahebbak Aktar".

The years 2000, 2001 & 2003 witnessed the compilation of all Amr Diab's past experience put together and release of Amr Diab's most magnificent albums ever "Tamally Ma'ak" , "AKtar Wahed" and "Allem Alby", as he engraved his quality of voice singing incorporated with astonishing sense of composer and musical arrangements. Amr always favored innovation of new music, form and style. He merged the Arabian oriental theme of music and the western style of musical beats, arrangements and finalization.

Respectively, Amr Diab has achieved the World Music Awards twice, as best selling middle eastern singer in both his albums "Nour El Ain" in 1998 and "Aktar Wahed" in 2002. Also received a Platinum Award for the sales of "Nour El Ain". Visit the awards section in this site to know more about Amr's awards.

2004's summer witnessed, the release of "Leily Nehary" album, Diab gave his fans what they've been longing for, a dazzling hit which blew their minds off and topped their sensations. "Leily Nehary" according to the production company "Rotana" and the fans is to be one of the most successful albums out in the market. "Kammel Kalamak" was released by December 2005 after a long anticipation from Amr's fans, according to the big sales records, the album was worth the wait! The album contains 10 tracks representing a year and half of continuous studio efforts.

Amr Diab's domestic life is just as rewarding as his musical career, married to Zena Ashoor, his children are Nour (girl), the twin Abdu-Allah (boy) & Kenzy (girl), and Jana (girl). The father Amr Diab is a great family man, who dedicates and cherishes his time to his family.

Amr Diab's hard work and passion to creating quality music and new stylized musical techniques was his ultimate aim throughout the years. He has certainly and clearly delivered to all his multi-national fans around the globe and proved that he is one of the best Middle Eastern singers with extraordinary talent, determination, charisma and charming appearance.


Amr Diab 2005's most anticipated album, Kammel Kalamak, has been released on CDs and cassettes by Rotana Inc. on Wenesday, December 7th, 2005 at 05:00 AM CLT.
The album contains 10 tracks representing a year and half of continuous studio efforts.
Tracks listing:
1- Kammel Kalamak (Finish your words).
2- We Maloh (What if!).
3- Hekaytak Eih (What's your story?).
4- Ayyam We Ben'eshha (Days we're living).
5- Allah La Yehremny Mennak (God..keep you with me).
6- Oddam Oyounak (Facing your eyes).
7- Ma'ak Begad (With you truely).
8- Aywa Ana Aref (Yes I know).
9- Betkhabby Leih (Why you hiding?).
10- Agheeb (Away I become).