- once again for lovers -

Rachmaninov – The Four Piano Concertos
Vladimir Ashkenazy, piano – Concertgebouw Orchestra, Cond. Bernard Haitink
Recording location: Grote Zaal, Concertgebouw, Amsterdam
1984, 1985, 1986
DECCA Release from 1987 DDD

CD 1 Playing Time: 71:36
CD 2 Playing Time: 62:22

ape 402-537 kbps | ID3tags, Cover Playlists
CD1: 245 MB rar-packed in 3 parts, each about 83MB
CD2: 230 MB rar-packed in 3 parts, each about 80MB

Cover and booklet included.

Downloads from rapidshare, megaupload or files.to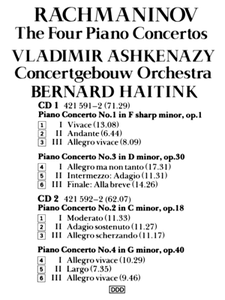 So if you are familiar with this great music, composed by a famous russian artist
of the past, and so extensively interpreted by this famous russian artist of the present,
(Should this be an appreciation of our Russian host's???)
then just scroll down to get the monkeys.
Or you read more…

Biography by Michael Rodman

Sergey Vasilyevich Rachmaninov, born in Semyonovo, Russia, on April 1, 1873, is today remembered as one of the most formidable pianists of all time and the last truly great composer in the Russian Romantic tradition. Rachmaninov came from a music-loving, land-owning family; young Sergey's mother fostered the boy's innate talent by giving him his first piano lessons. After a decline in the family fortunes, the Rachmaninovs moved to St. Petersburg, where Sergey studied with Vladimir Delyansky at the Conservatory. As his star continued to rise, Sergey went to the Moscow Conservatory, where he received a sound musical training: piano lessons from the strict disciplinarian Nikolay Zverev and Alexander Siloti (Rachmaninov's cousin), counterpoint with Taneyev, and harmony with Arensky. During his time at the Conservatory, Rachmaninov boarded with Zverev, whose weekly musical Sundays provided the young musician the valuable opportunity to make important contacts and to hear a wide variety of music…
And if you're new to this great music and first you would like to get some short impressions of Rachmaninov's Piano Concertos, then please have a look at
DECCA
and use search. You will find tracking lists and additional information of these recordings for the Piano Concerto
No.1
,
No.2 & 4
and
No.3
as well.
Cause there is a good posting from
iceshoweronfire
in the same matter,
and the links for the mp3-files are still working fine
(btw: thanks to
iceshoweronfire
for all your interesting posts!)
I decided to offer only the lossless waves.
So if you're interested in mp3-sizes, please first have a look
here
.
And if you really need a mp3-version of the newer recordings, then feel free to ask for.
Okay, now here're waiting for you…
Enjoy and have a nice weekend!