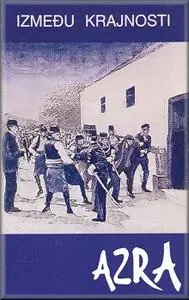 AZRA "Između krajnosti" | 1987 | Genre: rock
MP3 | CBR 192 Kbps | 44800 kHz | Stereo
Azra was a rock band from Zagreb, Croatia that was popular in the 1980's. Azra was formed in 1977 by its frontman Branimir Johnny Stulic. Other two members were Miso Hrnjak and Boris Leiner. Azra was named after a verse "Ja se zovem El Muhamed - Iz plemena starih Azra" (trans. "My name is El Muhamed - From tribe of old Azra") from a sevdalinka "Kraj tanahna sadrvana", which is a translation of Heinrich Heine's song Der Asra. They are considered to be one of the most influential bands from the New Wave era. They released their first single in 1979 with songs "Balkan" and "A sto da radim". The first album named "Azra" and published in 1980 achieved commercial success and popularized Azra. Here is the album "Između krajnosti", 1987.
AZRA - Između krajnosti