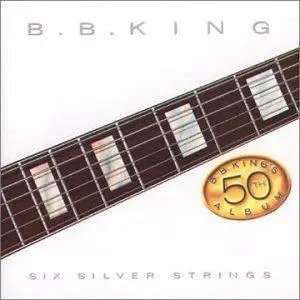 Artist:
B.B. King
Title:
Six Silver Strings
Label:
MCA Records
Genre:
Blues
Released:
1988
Format:
MP3
Bitrate:
320 kBit/s
Size: 73.7 MB (incl. 5% Recovery record)
For a recording fervently hyped as a special occasion – B.B. King's 50th album and all that – this one is surprisingly patchy in concept and erratic in execution. Five of the tracks are Miami sessions prosaically produced by longtime King cohort Dave Crawford, who also co-wrote most of them with Luther Dixon. The routine pop/rock backing tracks produce an often apathetic response from King; even Dixon's "Big Boss Man" is depressingly routine. Oddly enough, the only numbers that have any grit are the three co-produced by filmmaker John Landis (of the Blues Brothers notoriety) and Ira Newborn from the soundtrack to the former's film Into the Night. Indeed, Newborn's "My Lucille," the ultimate apotheosis to King's beloved guitar, is an underrated signature classic – even Lucille herself gets a lot of space to sing out – and "In the Midnight Hour" also strikes fire. Buy it for "My Lucille," if you don't mind the filler and the fact that the album offers appallingly short weight at just under 34 minutes.
by Richard Ginell
Producers: David Crawford, John Landis, Ira Newborn. Recorded at The Studio, Hialeah, Florida. Includes liner notes by Ruth A. Robinson, John E. Abbey. SIX SILVER STRINGS, B.B. King's 50th album, bears the unmistakable sound of the era in which it was released. After the understated title track–a heartfelt lament to romantic loss resulting from B.B.'s love affair with music–things pick up in sprightly fashion. His version of the blues standard "Big Boss Man" sounds eerily like Michael Jackson's "Billie Jean." "Into the Night," King's song for the 1985 movie of the same name, is heavy on synthesizers and programmed drums (the film's director John Landis even gets a production credit for the song). "My Lucille" has a similarly slick '80s feel. "Memory Lane" features romantic spoken-word narration, textured keyboards and a conspicuous absence of guitar. Elsewhere, King takes a fairly straightforward approach to the classic "In the Midnight Hour." "My Guitar Sings the Blues" is this record's timeless blues number. Like many classic King cuts, it begins "I asked my baby…" Basically, any song that begins this way means we are firmly in B.B. King territory–get ready for a deluxe delivery of the blues.
Tracklist:
01. Six Silver Strings
02. Big Boss Man
03. In The Midnight Hour
04. Into The Night
05. My Lucille
06. Memory Lane
07. My Guitar Sings The Blues
08. Double Trouble
Download