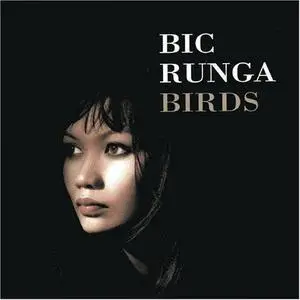 Artist:
Bic Runga
Title of Album:
Birds
Date of Release:
December 5, 2005
Genre:
Rock, Adult Alternative Pop/Rock, Singer/Songwriter
Web:
http://www.bicrunga.com/main.htm
Total Time:
44:44
Total Size:
103 Mb
Bitrate/Quality:
MP3 CBR / Lame / 320 kb/s / 44.1 Khz / Stereo
Bic Runga, or Briolette Kahbic Runga which is here actual name, makes music the way spiders spin webs: instinctively, alone with a simple beauty and seeming ease belying the strength of her creations. "I remember the first song that I wrote" says Bic, who started on drums at age 11 and picked up guitar at 14. "I remember bringing it to a band and suddenly thinking it wasn't my song anymore. That's when I decided that I wanted to do my own thing." When the native New Zealander says "I do my own thing," she means it - in every way. Bic Runga penned every song on her debut DRIVE (1997), played an assortment of instruments and produced it as well. Although she comes from a family of musicians (her mother sang in Malaysian night clubs and both of her older sisters play in bands), Bic is the first to point out how unusual her position is: "People find it hard to believe and I understand why. I'm 21 and just starting and there aren't many 21 year-olds who write, play and produce their own debut albums, but I like to take control and feel like it's all mine." The result is an album of beguiling and unique songs: the charming jangle of "Sway," the earily appealing "Swim," the thunder-in-a-jar percussion of "Sorry." The quiet intimacy and less-is-more nature of the album as a whole portray Bic as a special, yet accessible, artist... human but with a somewhat otherworldly edge. At the age of 18, Bic left her hometown of Christchurch in New Zealand's sparsely populated South Island, for Auckland in the North. Center of New Zealand's music scene, Auckland is known to indie pop aficionados around the world as the base of Flying Nun Records, purveyors of the clean yet quirky distinctly New Zealand sound (the Clean, the Chills, Garageland, et. al.). "Flying Nun does invade your consciousness," says Bic. "It's been an indirect influence on me. My album is not as polished as most big budget productions, it's got a certain rawness a lot of New Zealand bands have."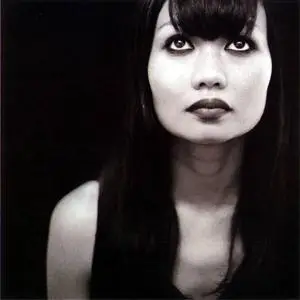 Absorbing the sounds around her in Auckland, Bic began writing, playing cafe gigs and recording with characteristically steadfast conviction. "Eventually, I got a demo tape together and took it up to Sony and they liked it" says Bic. "The first single that came out in New Zealand was one of those demo tracks - they released it as it was." Remarkable? Even more so is the fact that said single - since re-recorded as the delicately powered title track of DRIVE - was written just minutes before her first solo performance in Auckland. "I didn't have enough songs to make up a 40 minute set," she recalls. "I feel the best songs write themselves, in a sort of stream of consciousness way - they aren't labored over." Not that Bic doesn't have a serious work ethic. After getting her record deal, she released two more successful singles, headlined shows, opened for the likes of Crowded House's Neil and Tim Finn, then threw herself into DRIVE. She gladly accepted guidance from legendary producer/manager Peter Asher, whom she had met at a music conference. "He knew I wanted to produce the record myself and so offered support without stepping on my toes," says Bic. She hand-picked a few musicians from the Auckland scene and went about the business of making her art in her own way. "Recording studios can be quite antiseptic places, so I recreated a home environment with lamps and rugs and things," she says. "Also, most of the vocals were recorded in my home. I just took the gear from the studio home with me." Having completed recording, Bic hooked up with Matt Wallace (Faith No More, John Hiatt) and went to Los Angeles, where Wallace mixed the album. Bic then returned to New Zealand and delivered DRIVE to Sony. The album entered the New Zealand charts at #1, where it remained for a month, and by the end of 1997, DRIVE had been a fixture in the Top 10 for 20 consecutive weeks. Bic has ensured the album's success by touring, fronting the band she assembled to interpret her music in an acclaimed live setting; Bic's live performances with her band are intense and mesmerising. One of the album's hallmarks is its uncluttered, spacious quality. "If you've got a good song, you're halfway there," Bic reasons. "you don't need to crowd it with much else." On DRIVE, restraint yields radiance, simplicity equals style and Bic Runga redefines the term DIY. "Whether people like the album or not doesn't worry me because I've made myself happy with it," she says. "It's actually reassuring to know that it's all on my head." On her head, via her soul, from her heart, DRIVE is going places and Bic Runga is at the wheel...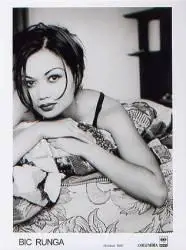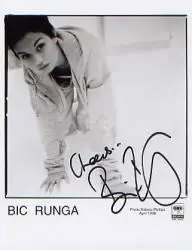 A superstar in her native New Zealand while still in her teens, singer/songwriter Bic Runga was born in Christchurch in 1976; the product of a musical family -- her mother was a Malaysian nightclub performer during the 1960s -- she began playing the drums at the age of 11, and within a few years was also singing with local jazz groups. Upon learning guitar and keyboards, Runga began composing her first songs, and in 1994 she relocated to Auckland to pursue a professional music career. In 1995, aged 19, she made her Sony label debut with the single "Drive," which rocketed into the Top Ten on the New Zealand pop charts and garnered her the prestigious 1996 Silver Scroll award, an honor given for excellence in songwriting. After touring in support of Neil and Tim Finn, Runga issued a follow-up single, "Bursting Through," followed in 1997 by the Top Ten smash "Sway." Her self-produced debut LP Drive appeared later that same year and garnered New Zealand's top music awards. In the late '90s, Bic Runga spent some time based in New York City, where she began writing songs for her follow-up album. She continued to work on new songs after returning to New Zealand, and embarked on a NZ tour with Tim Finn and Dave Dobbyn in August and September 2000, resulting in the 2001 release Together in Concert: Live. Runga's Beautiful Collision hit stores in 2002; it was released internationally, and went 4x platinum in New Zealand, inspiring a re-release with a bonus disc the following year. 2003 also saw Runga found the record label Nu Shoo before kicking off another tour. ~ Jason Ankeny & Joslyn Layne, All Music Guide.
URL:
Bic Runga - Birds - 2005.part1
Bic Runga - Birds - 2005.part2
Pass:
pshvetik